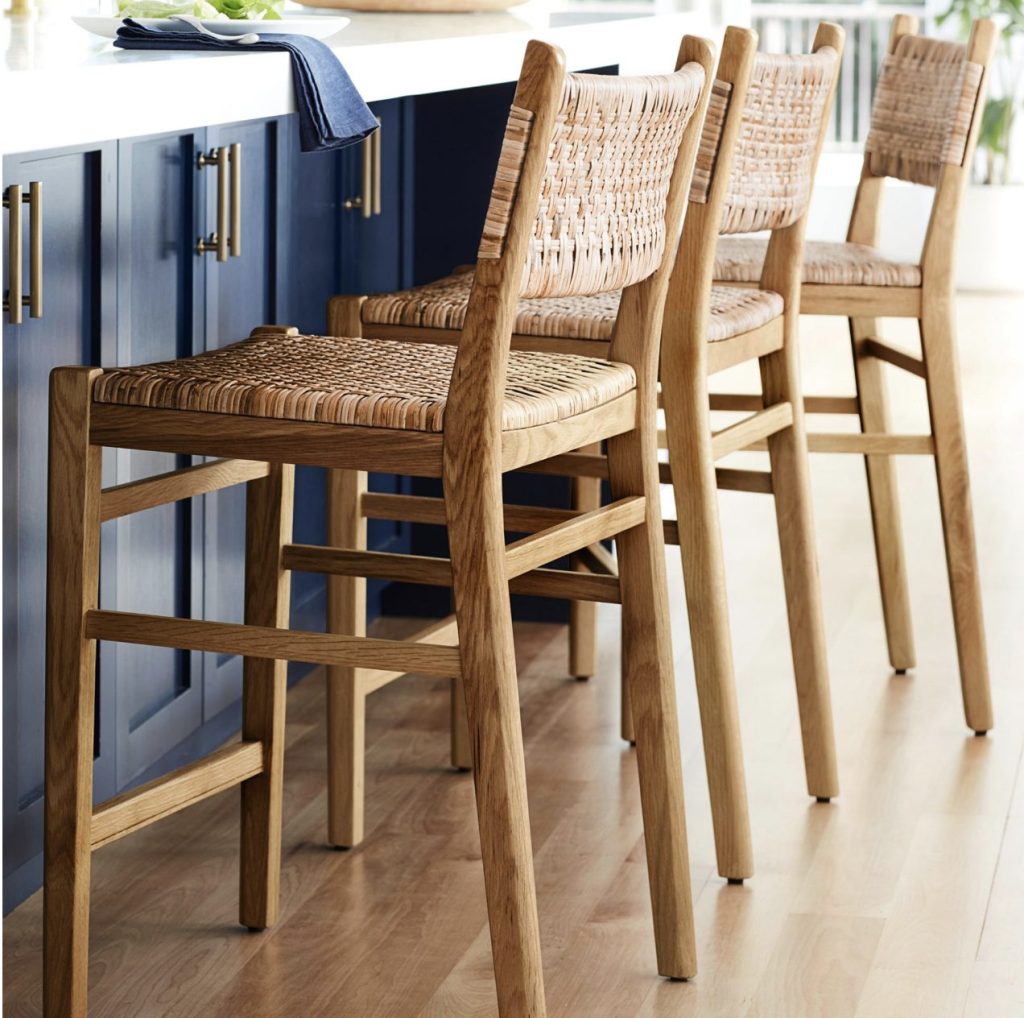 Rattan stools come in a wide range of styles, from simple and minimalistic designs to intricate and ornate patterns. They are a versatile choice that can be used in various settings, from homes to cafes and restaurants, and can easily blend in with different decor styles. Whether you are looking for a functional seating solution or a decorative accent piece, rattan stools are a great option to consider.
1. Are rattan bar stools comfy?
Yes! Rattan chairs are surprisingly comfortable. Rattan is made by weaving materials together, and when used as a seat, it conforms to the curve of your body as you sit down and equally distributes your weight. 
2. What style of bar stool is most comfortable? 
It boils down to personal preference, but barstools with backs are often considered to be more comfortable than backless stools. These stools provide better support compared to those without. Backed bar stools also encourage better posture, prolonging comfort for guests
3. What is the difference between a bar stool and a kitchen stool? 
The main difference between bar stools and kitchen stools is seat height. Bar stools range in height from 28" to 32", whereas counter stools are generally 22" to 28" inches high.
Rattan Bar Stools

Rattan gives any space a sophisticated, laid-back warmth. The Balboa Rattan Counter Stool boasts subtly angled lines to the brass end caps on each. The sturdiness of the mahogany frame is topped with a cozy cushion in your fabric of choice. Switch out cushions to easily change your stool's appearance!
The Riviera Bar and Counter Stool is the traditional Parisian bistro chair reinvented. Each rattan frame is made using a traditional handmade French method, bent and shaped by hand until the desired shape is formed. These stools are family-friendly and perfect for any dining area.

The Riviera Rattan Stool is also available in a stunning sun-washed option.
21″ W x 22″ D x 39″ H
The Avalon Rattan Swivel Bar & Counter Stool's natural beauty relaxes the room. Made of hand-shaped and woven rattan, this stool's slim frame has a slight lean for comfort and a woven seat that swivels 360 degrees.


A different approach to the traditional French bistro chair, the Riviera Rattan Backless Bar & Counter Stools are a timeless classic. This stool is available in two different heights, bar and counter, and five different rattan options.
View the Riviera Rattan Backless Bar & Counter Stool in the sun-washed option!



22" D x 22" L X 22" W
With a neutral-colored metal frame and handwoven synthetic rattan seat, the Tobias rattan stool gives off a breezy, coastal vibe that can be blended into any room or patio. Prepare to spend the entire summer sitting outside– this stool is completely outside-friendly and equipped to withstand any weather condition.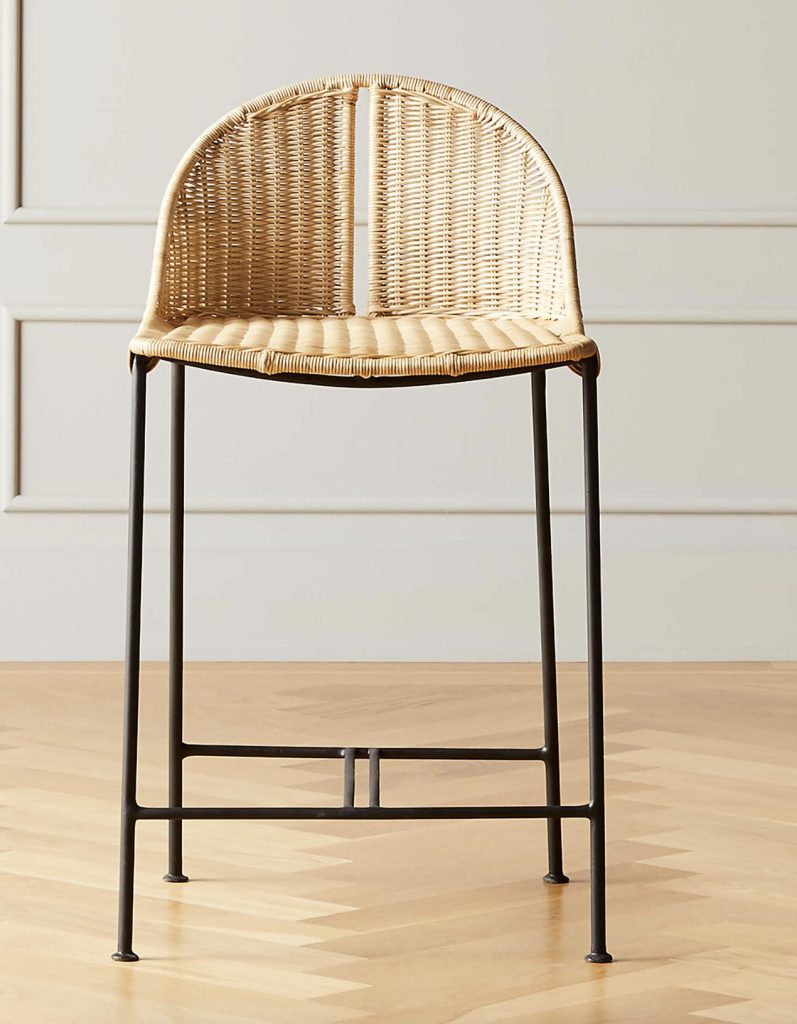 18″ W x 19″ D x 33″ H
The Cesta boasts a thin black metal frame wrapped in beautifully woven rattan. The stool design pays homage to the wicker cesta used to toss and catch the ball in the Basque game of jai alai. This stunning stool will blend seamlessly into any decor style.

Häti Home's Stool #2 is a counter-height stool crafted from synthetic rattan and locally sourced high-grade teak. The UV-treated rattan and outdoor finished teak make this stool suitable for indoor and outdoor use.
The Grove Woven Bar & Counter Stool features a stunning woven rattan seat with a sleek black iron frame. The wraparound seat offers casual, deep comfort at either bar or counter height. Informal yet elegant, the Grove will shine in any seating area.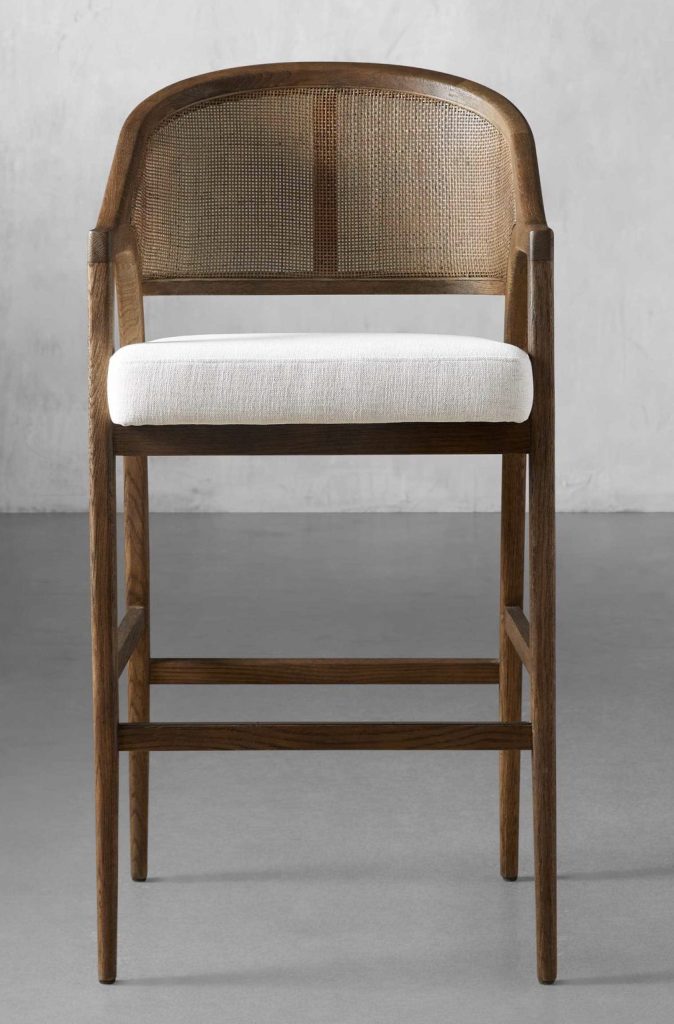 The Aimee barstool features a softly curved back, two-tone rattan, and sleek flared legs. It honors the aesthetics of both French antiques and midcentury contemporary. With a solid oak frame and generously sized upholstered cushion, this stool offers welcoming comfort.


20″ W x 22″ D x 38″ H
Te Amolea counter stool is made from honey-hued rattan that is tightly woven in a linear pattern, set within a wood frame, and topped with an antique acorn finish. This chic two-tone counter chair adds a beautiful simplicity to any kitchen or dining area while retaining a cozy, inviting look.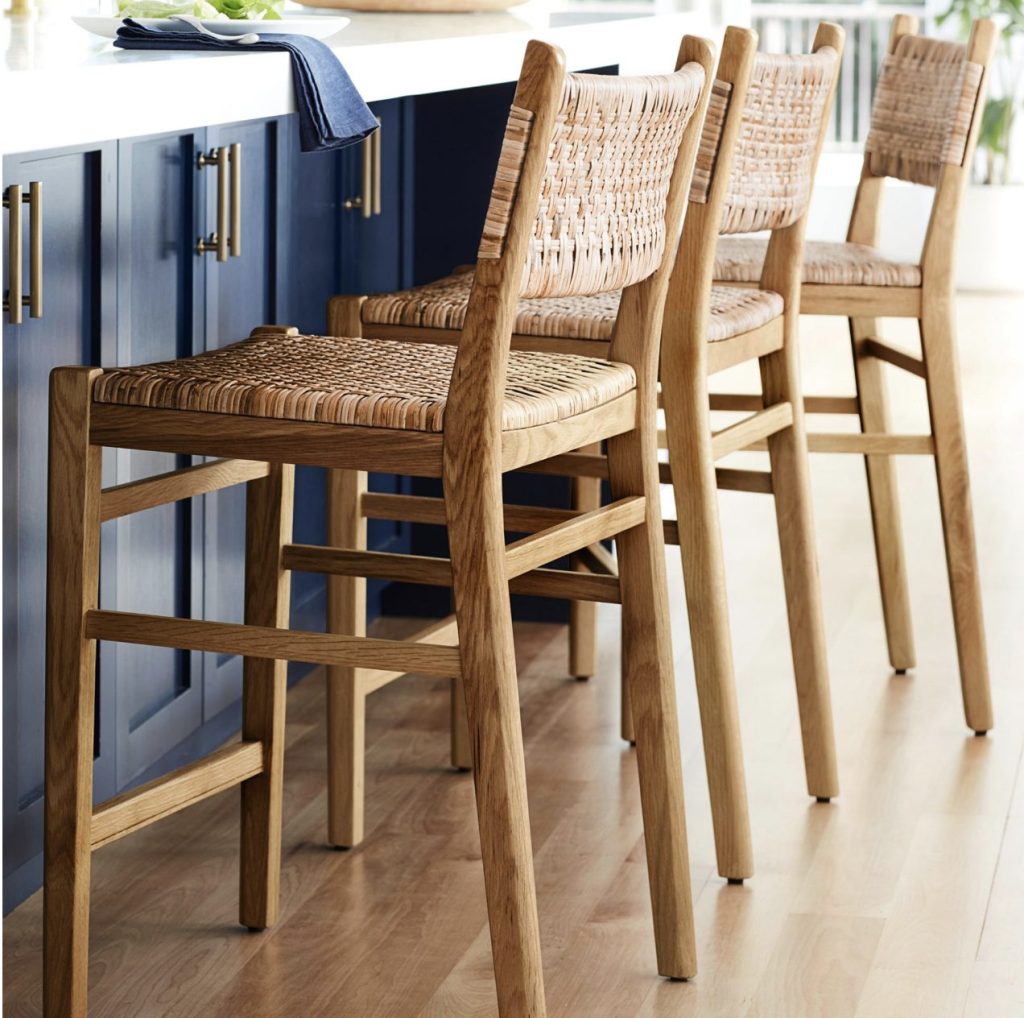 18″ W x 20″ D x 37″ H
The Sullivan Woven Counter Stool combines a casual and timeless design with a very sturdy wood frame and a hand-wrapped traditional basketweave rattan seat and back. The naturally varying rattan shading creates each piece's rich finish. Select from three finishes: natural, heritage grey, or ebony. 

20″ W x 22″ D x 35″ H
The Astrid cushioned rattan counter stool is beautiful from every angle. It's supported by tapering environmentally friendly wood legs with a curved back made of woven rattan. This open weave gives it a light and airy appearance. The well-cushioned seat is covered with linen-like performance fabric, making for worry-free use.


43″ H X 22″ W X 27″ D
The Bailey Woven Stool is all about cool comfort with its low curved armrests and roomy seat. All-weather wicker is hand woven in an airy box weave with a strong metal frame. The khaki cushion with micro-tufting adds a touch of durable luxury.
18" W x 14" D x 25" H
The Mojave Rattan Counter Height Barstool will add a touch of classic appeal to your bar or kitchen counters. This counter-height stool is made of rattan and has a saddle-like seat for a hint of farmhouse charm. The Mojave easily mixes into any decor style.

31" H x 21" W x 20" D
The Landis Woven-Backed Counter-Height Bar Stool adds a rustic, industrial vibe to any area. This counter-height stool has a black metal frame, a woven jute-like seat, and a white cushion for comfort and contrast. Tubular, slanted legs are finished with chic foot rails at the bottom. This versatile stool may be utilized at various surface heights.
29" H x 14" W x 14" D
The Perry Rattan Backless Woven Bar Stool provides classic flair and practicality to any dining room, kitchen, or bar area. This backless bar stool is made with a natural rattan frame for durability and has a circular seat with a contrasting woven pattern. It gives you a stylish and comfortable seating choice that perfectly matches any type of décor.

24" D x 19" D x 48" H
With a seat and back made of all-weather wicker, the Pier Rattan Bistro Bar Stool is made by hand from sturdy, naturally bent rattan. The beautiful white seat contrasts its natural rattan frame. Use it indoors or outdoors, wherever you need an extra seat. 

26" H x 22" D x 22" W
The Nordic Rattan Barstool offers a simple and stylish design. The seat is crafted from hand-woven rattan and supported by a beautifully contrasting black iron frame. These stools are sold as a set of two and are suitable for both indoor and outdoor use.

17″ D x 17″ W x 34″ H
The Zesthouse Counter Stool is perfectly designed for a mid-century modern interior. It offers a cleaner, more logical geometric look that fosters a minimalist mood. The steel frame beautifully compliments a hand-woven rattan backrest and upholstered seat cushion. Choose from several boucle, leather, or velvet options.

18″ D x 21″ W x 41″ H
The Baxton Studio Orchard Modern Bar Stool is made of a natural rattan frame and adorned with woven embellishments. This stool's rounded frame boasts sloping armrests and a striking silhouette. Its warm, natural colors go well with any home design.

23″ D x 13″ W x 43″ H
The South Shore Balka Rattan Stool looks stellar in any kitchen. Teak wood and natural rattan create an exotic yet charming look. A perfectly placed footrest and aerated backrest make for a highly comfortable fit. 

22″ W x 23″ D x 43″ H
The Savannah Swivel Bar & Counter stool boasts an open weave that brings your kitchen a fresh, casual look. Hand-woven natural rattan rests on a sturdy wooden foundation. The seat cushion is upholstered in performance fabric for easy-to-clean comfort.

22″ W x 22″ D x 45″ H
Add casual flare to your kitchen seating with the Kota Bar & Counter Stool. Kota is made using long-lasting, beautiful, and durable materials. Its open low back and wrapped corner joints make for a comfortable and supportive sit.

21″ W x 15″ D x 31″ H
The Whitaker beautifully combines rattan wicker and mahogany wood for a relaxed look. These stools are designed to provide sturdy, versatile seating for your kitchen, dining area, or entertainment room in a bright, simple style.

18″ W x 18″ D x 32″ H
The Isla Rattan Swivel Counter Stools offer relaxed and casual vibes. With woven natural rattan and bamboo, this half-backed stool brings an inviting warmth to your kitchen island or counter. The swivel mechanism allows you to turn a full 360°.

23″ W x 21″ D x 46″ H
The Alanis Rattan Bar & Counter Stool is a chic update on the classic bistro chair. Masterfully handwoven rattan makes up the back and seat. The earthy yet delicate texture is characterized by graceful curves and hand-wrapped bindings. This timeless piece will look great in any space.

22″ DIAM x 24″ H
Bring a cozy touch of French style into your home with the Parisian Woven Backless Bar & Counter Stools. Crafted from natural rattan and bamboo, this stool is finished and sealed by hand. Tuck the backless stools under countertops to clear space when not in use.

21″ W x 22″ D x 39″ H
Casual yet chic, the Cafe Bistro Rattan Swivel Counter Stool looks as though it could have been plucked out of a Parisian corner bistro. The swivel design allows you to pivot in any direction for easy conversation. This stool is constructed of naturally renewable rattan, one of our favorite and most ethical materials.
Final Thoughts
Measuring your counter or table height is imperative when shopping for new stools. You'll then need to determine whether you need a bar or kitchen stool. Most retailers will have a filter for height when searching for stools, so be sure to select the right option! With so many beautiful rattan stool options on the market, we know you'll find one you love.