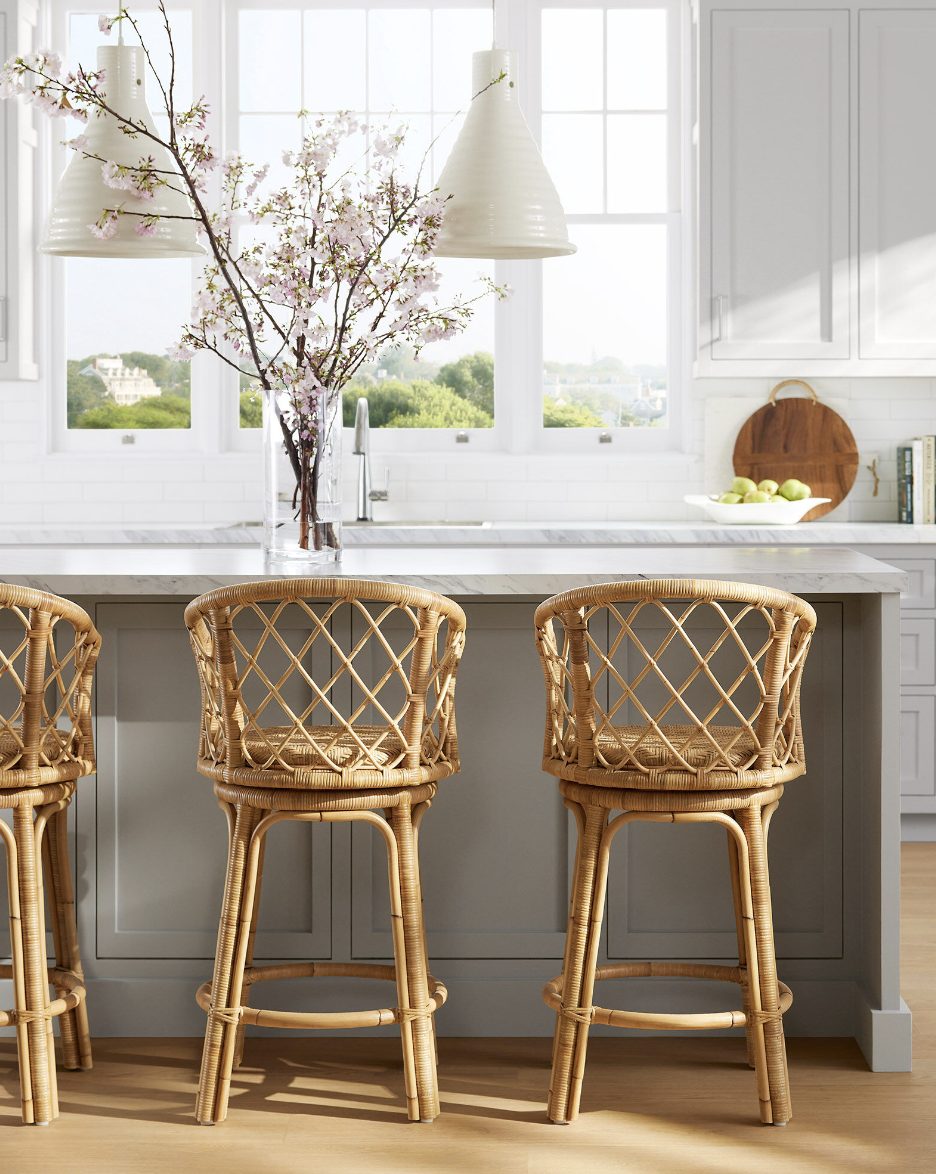 Bar stools are a great way to add seating to kitchen counters and high-top tables. Whether you prefer wood, rattan, leather, or upholstered, there are thousands of beautiful options from which to choose. Let's dive into the different types and styles of stools.
What can I use instead of bar stools?
Bar stools are a great, casual, and generally less expensive option for seating at kitchen islands and high-top tables. However, if you're looking for a more comfortable option designed for more prolonged use in these areas, counter-height stools are a great option! 

What is the difference between a bar stool and a counter stool? 
When you imagine a barstool, you may think of a traditional restaurant or bar sitting area. Tall and designed to sit at eye level with a standing person, it allows for more relaxed meals and casual conversation. These stools are generally between 28" and 32" high. 
Counter stools more closely resemble chairs, have a 24" to 27" seat height, and are meant to be used on a bar counter, kitchen top or working space, or a dining area. Counter stools are designed to be the same height as a kitchen counter and provide a more relaxed seating option than a formal table. They are ideal for overhanging countertops at kitchen islands.
Looking to add stools to the seating options in your home? Here is a list of some of our favorites:
Backless Bar Stools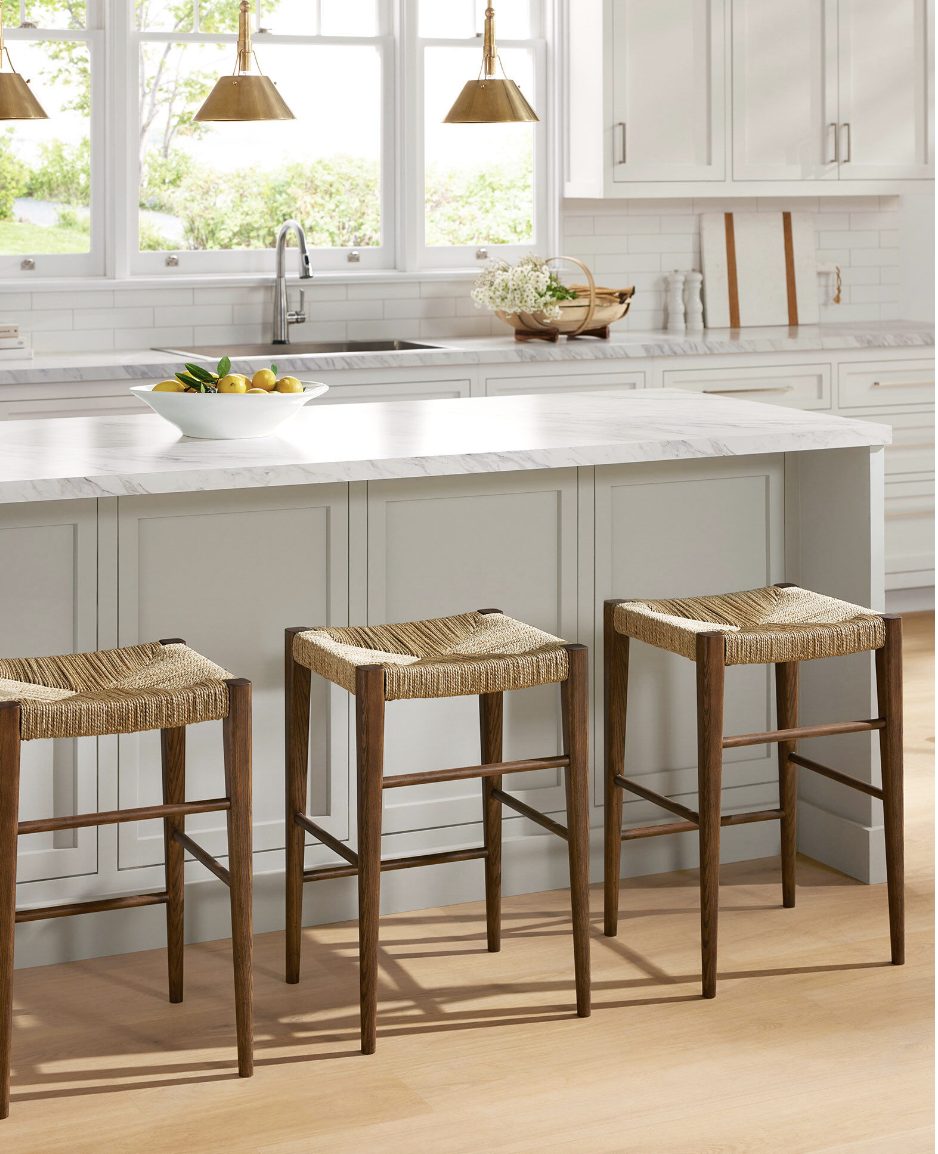 The Portside backless counter stool offers a distinctive, rustic aesthetic. A rich, earthy stain highlights the wood grains and tonal variations of the frame. Slightly tapered legs provide a contemporary edge, while soft curves keep it cozy.
The Tibetan barstool's dramatic angles and cozy curves give it an Eastern aesthetic and a functional shape that fits any space. Its rustic appearance is enhanced by visible joinery and a hand-stained finish.
The Riviera Backless Bar Stool is the traditional Parisian bistro chair reinvented. Each rattan frame is made using a traditional handmade French method, bent and shaped by hand until the desired shape is formed. These stools are family-friendly and perfect for any dining area.
The Riviera Rattan Backless Stool is also available in a stunning sun-washed option.
Postwar design elements combine with mid-century Danish aesthetics to create the Andalusia Saddle Backless Stool. It features slim styling and color contrast to create an effortless style. A warm ash frame supports Andalusia's saddle-shaped bench.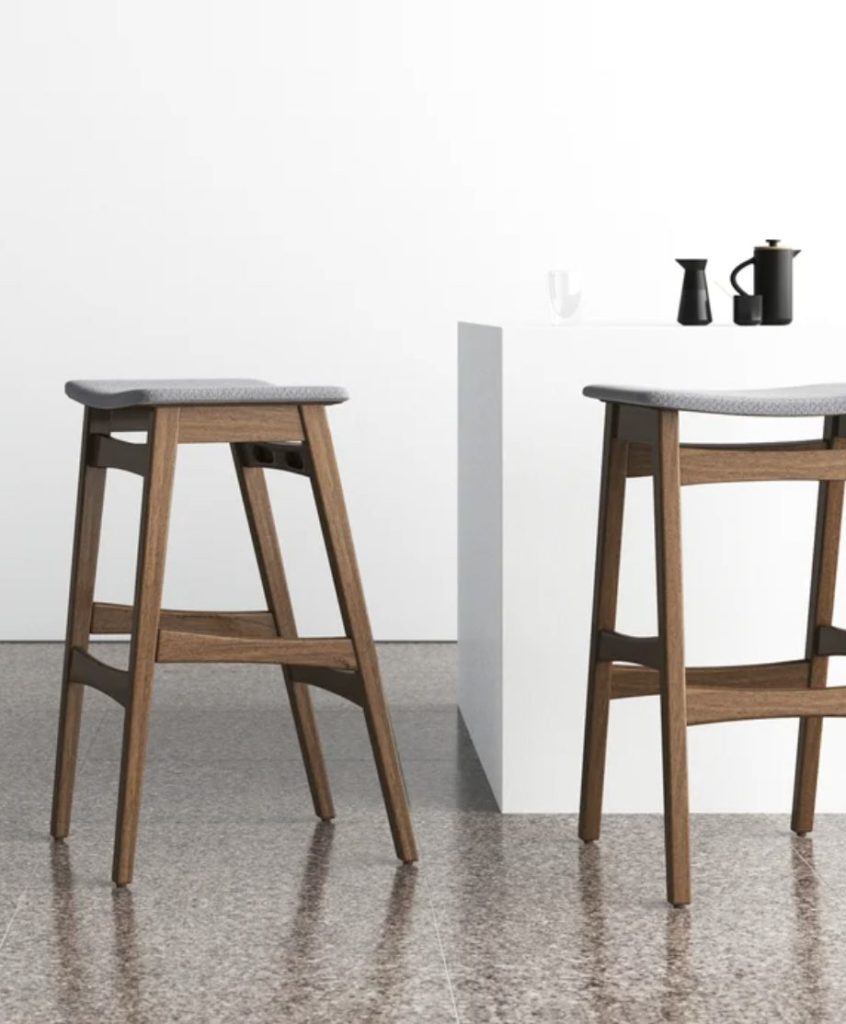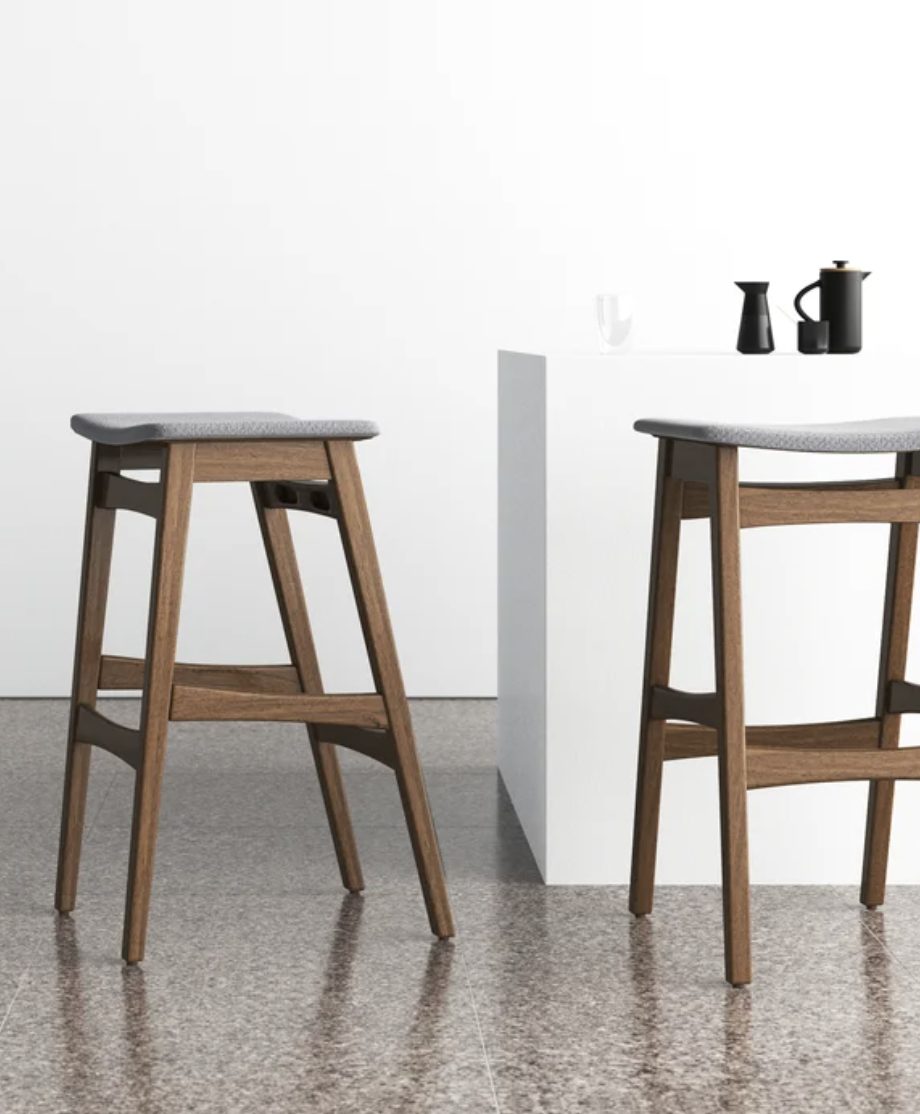 The Callahan Bar Stool offers relaxed seating with a side of Scandi style, thanks to its combination of warm wood grains and neutral upholstery. The backless design and angular, pared-back base of this solid rubberwood chair keep sightlines clear, while footrests lend stability. Sold in sets of two.
Thanks to its dramatic angles and comfortable curves, the Tibetan Counter Height Stool has an Eastern style and versatile shape at home in any room. Visible joinery lends a rustic appearance. All sides are finished with a hand-applied water-based finish and sealed with a lacquer topcoat.
The Peg Upholstered Counter Stool brings utility and style to the counter. This piece is supported by four matte black legs with the traditional circle for resting feet. Boucle upholstery adds depth to the seat by layering a white texture over a black base.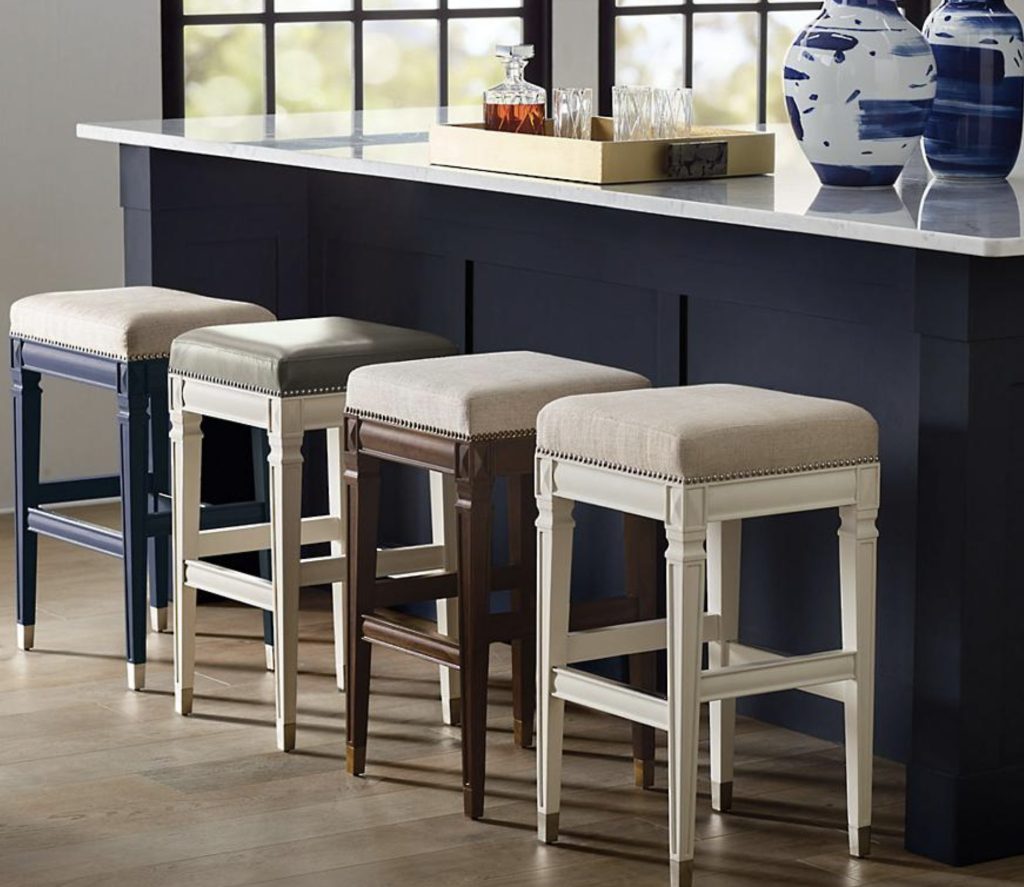 Straight lines and cleanly beveled accents give the Wexford Barstool a refined, architectural appearance that complements any tabletop or bar. It is made of solid hardwood and has a carefully upholstered seat with hand-applied nailhead trim.
The Karmen Bar & Counter Stool by Orren Ellis boasts round lines, a thick, comfy upholstered seat, and a sturdy metal frame. The frame is made of North American steel and finished with a scratch-resistant finish. You'll love having this half-rounded stool in your home.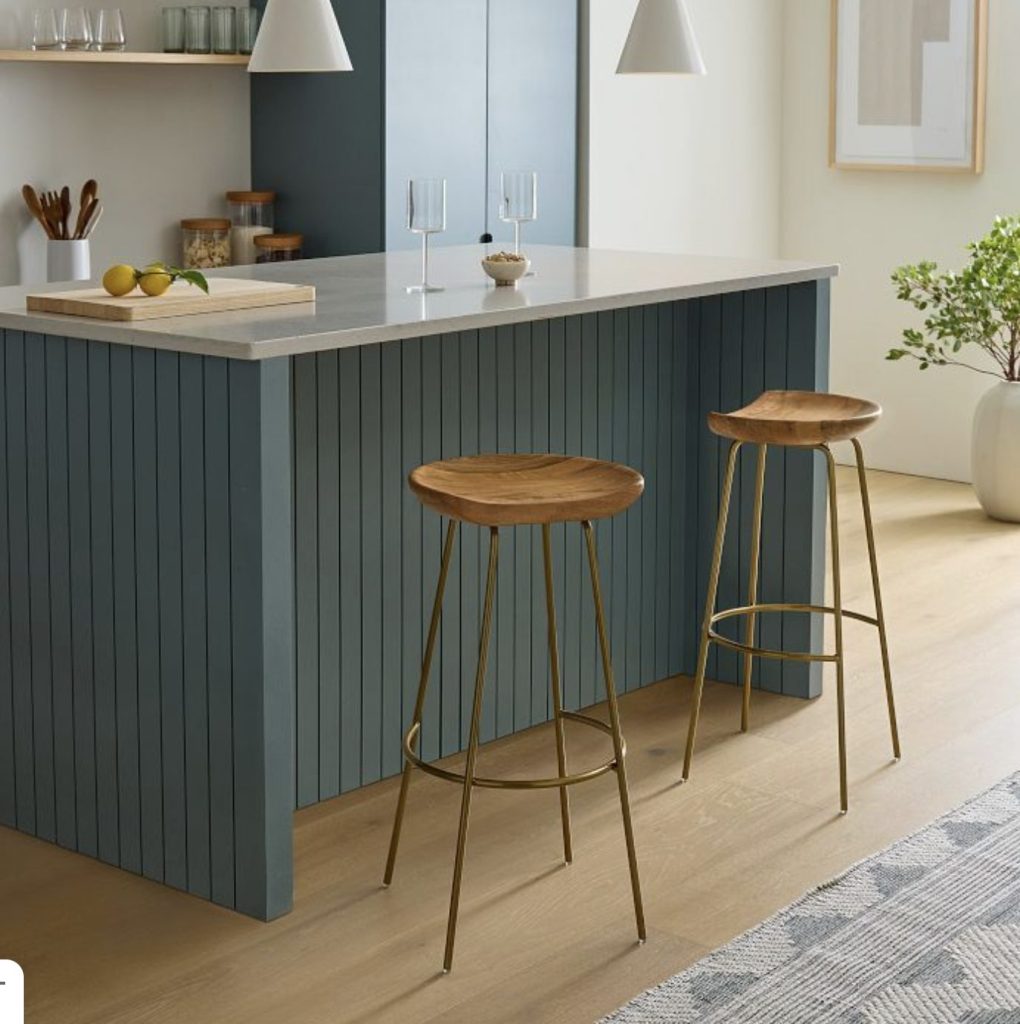 The Alden Stool combines a rustic carved mango wood bucket seat with a petrol blue powder-coated finish for a modern take on the iconic tractor seat. It is contract-grade and designed to satisfy the needs of both commercial and residential use.
The Cora Counter Stool is inspired by '80s design with a nod to industrial style. This stool's contemporary comfort completes kitchens and dining rooms with its footrest and cushy seat hand upholstered in either genuine or vegan leather. 
The Modern Petal Backless Stool is an update to the traditional school chair. Named for its shapely, comfortably curved seat, this stool's backless design makes it simple to tuck under counters, and its leather upholstery and contract-grade frame are designed to last.

The Modern Petal Backless Counter Stool is also available with fabric upholstery!
Bar Stools for Kitchen Island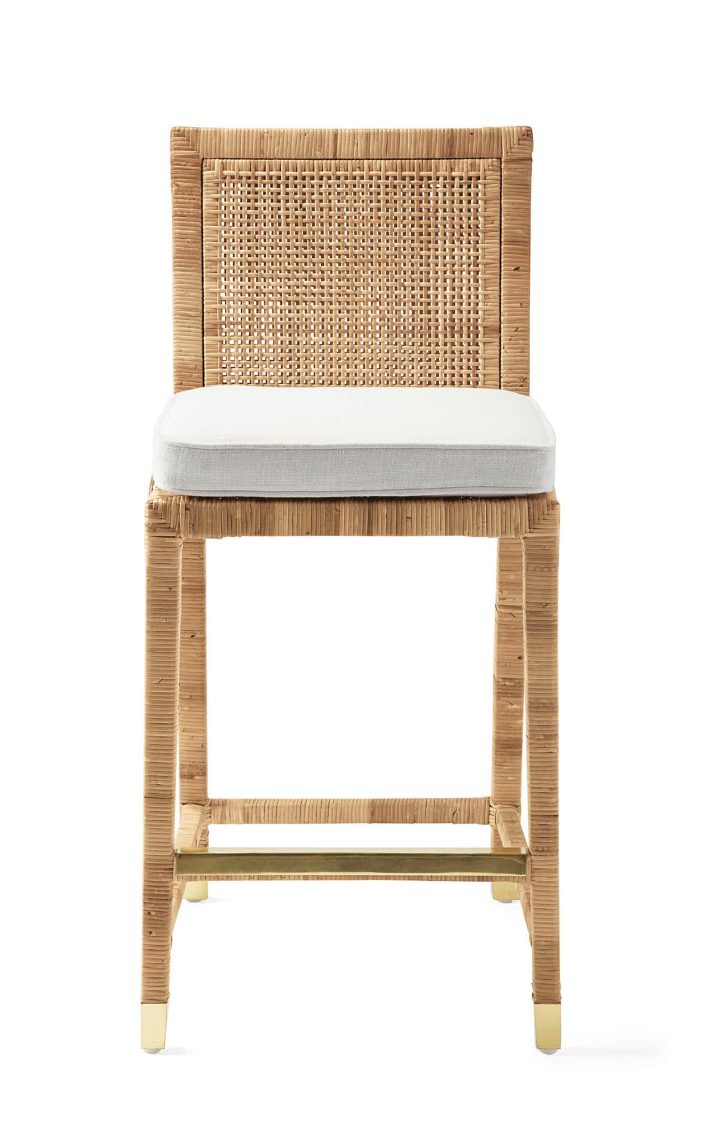 Rattan adds an elevated, casual warmth to any space. With the Balboa Counter Stool, craftsmen begin with a beautifully proportioned mahogany frame and achieve gorgeous texture by weaving the rattan to show slight variations in tone. Everything about this stool, from the gently angled lines to the brass end caps on each limb, screams thoughtful design.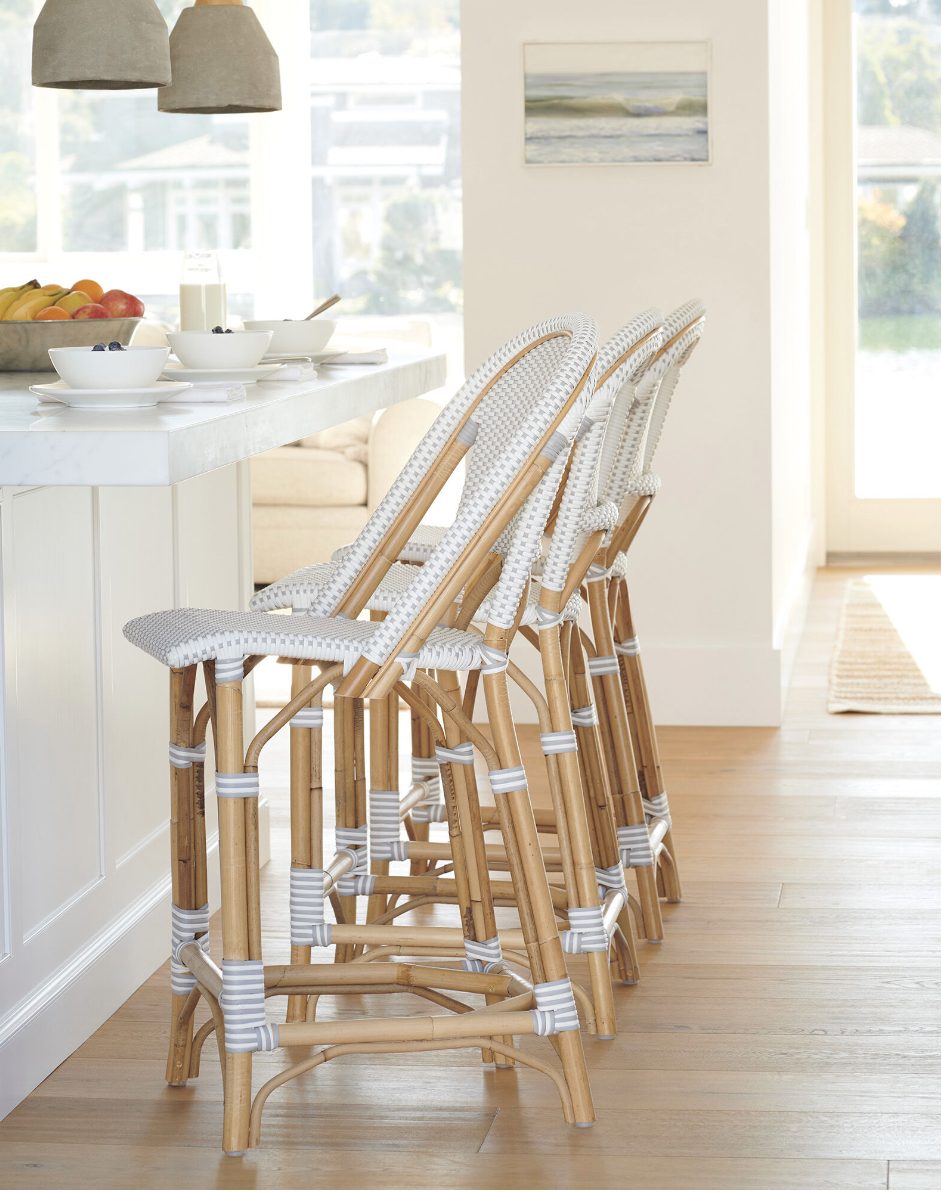 The Riviera Backless Bar Stool is the traditional Parisian bistro chair reinvented. Each rattan frame is made using a conventional handmade French method, bent and shaped by hand until the desired shape is formed. The handwoven seats and backs offer the perfect amount of support. These stools are family-friendly and perfect for any dining area. 
The Riviera Rattan Bar Stool is also available in a stunning sun-washed option.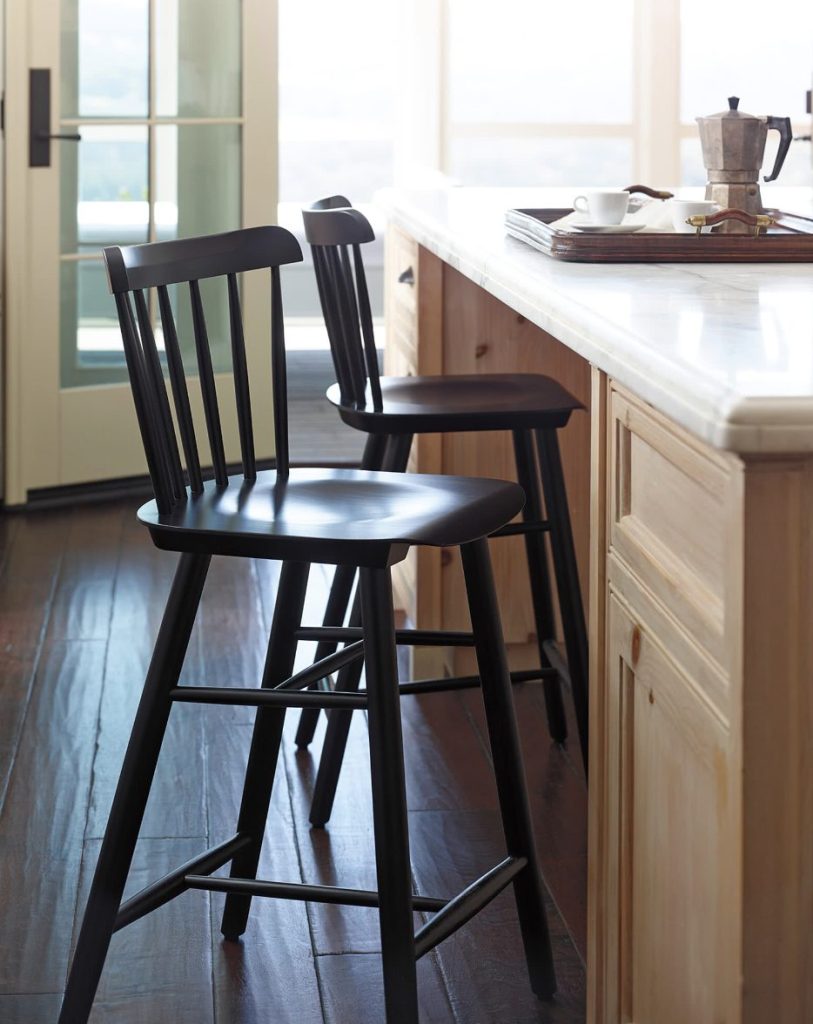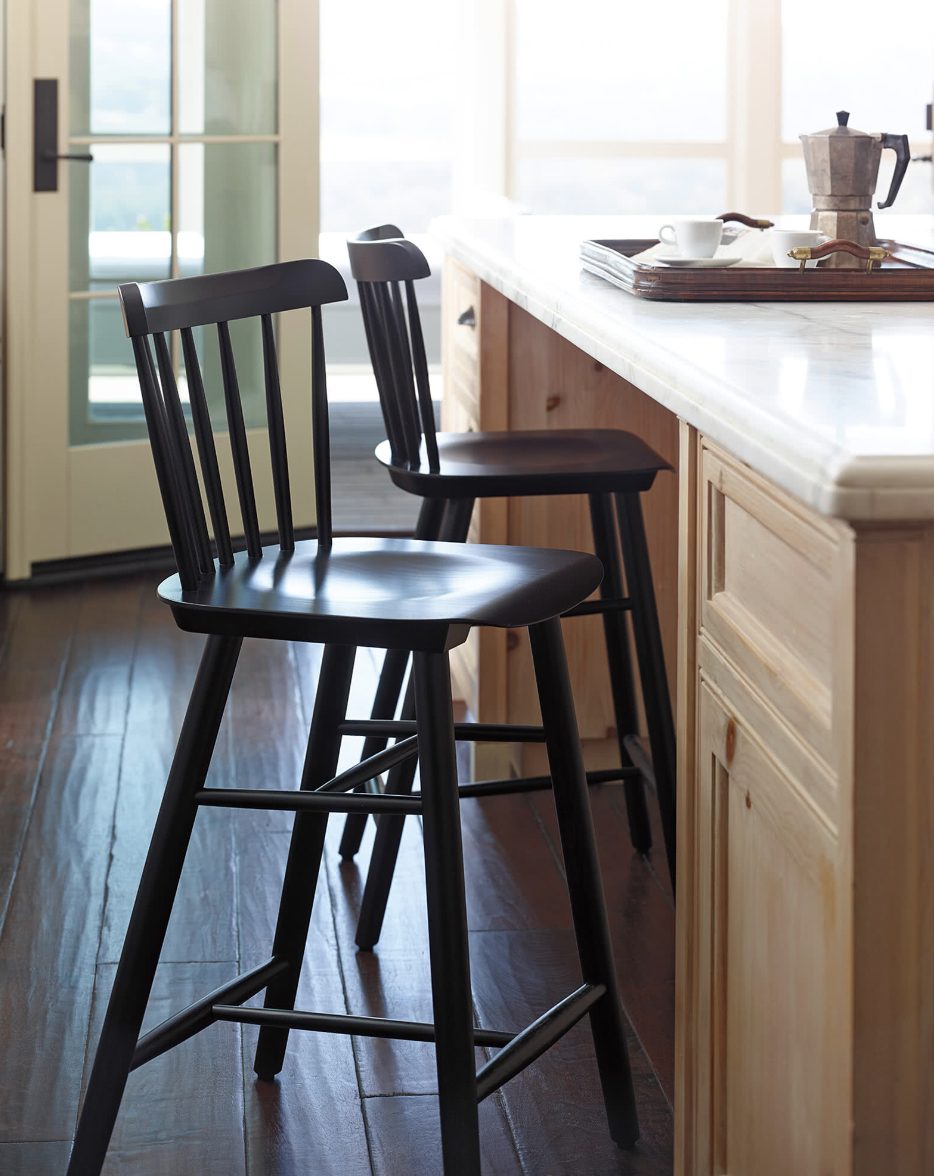 The time-honored silhouette of the iconic Windsor chair has been reimagined as a counter stool. The Tucker Counter Stool has a basic curved back, an updated profile, and a more compact frame. The dip in the seat comfortably cradles you, and the natural color of the stool blends seamlessly into any kitchen design.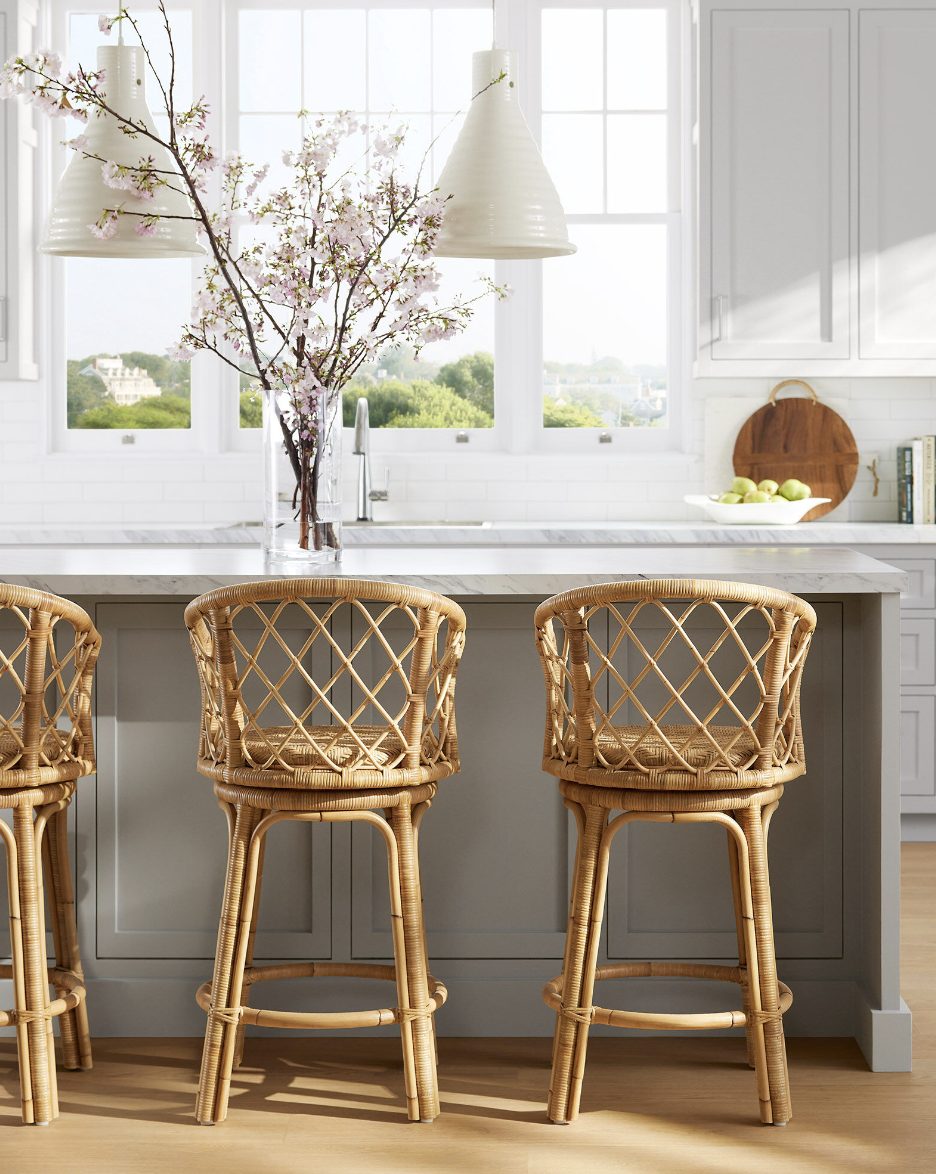 The Avalon Rattan Swivel Bar & Counter Stool's natural beauty relaxes the room. Made of handwoven rattan, this stool's slim frame has a slight lean for comfort and a woven seat that swivels 360 degrees.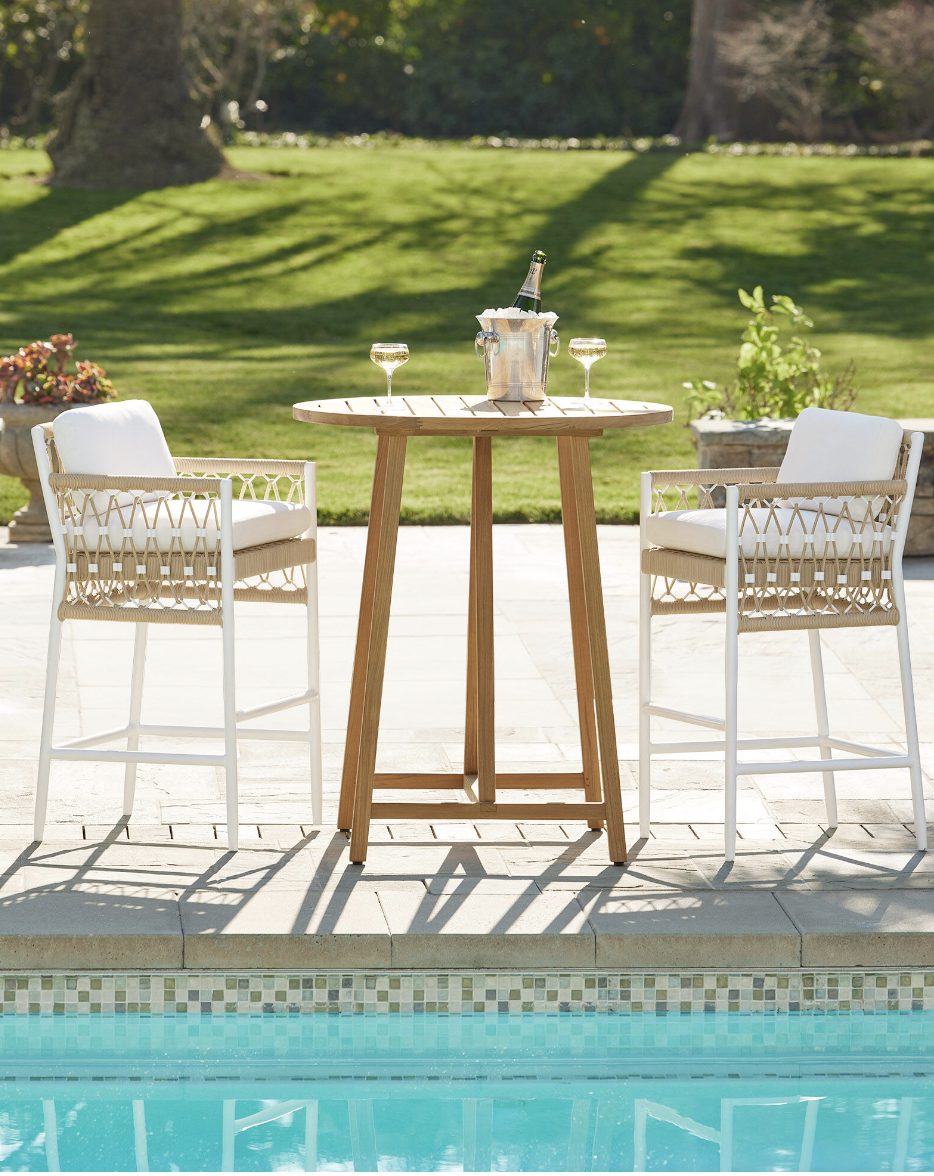 The Salt Creek Bar Stool is perfect for indoor or outdoor use. Its powder-coated metal frame is sleek and weather resistant. Hnad-wrapped and remarkably soft performance fibers add a pleasant nautical twist reminiscent of sailing rope.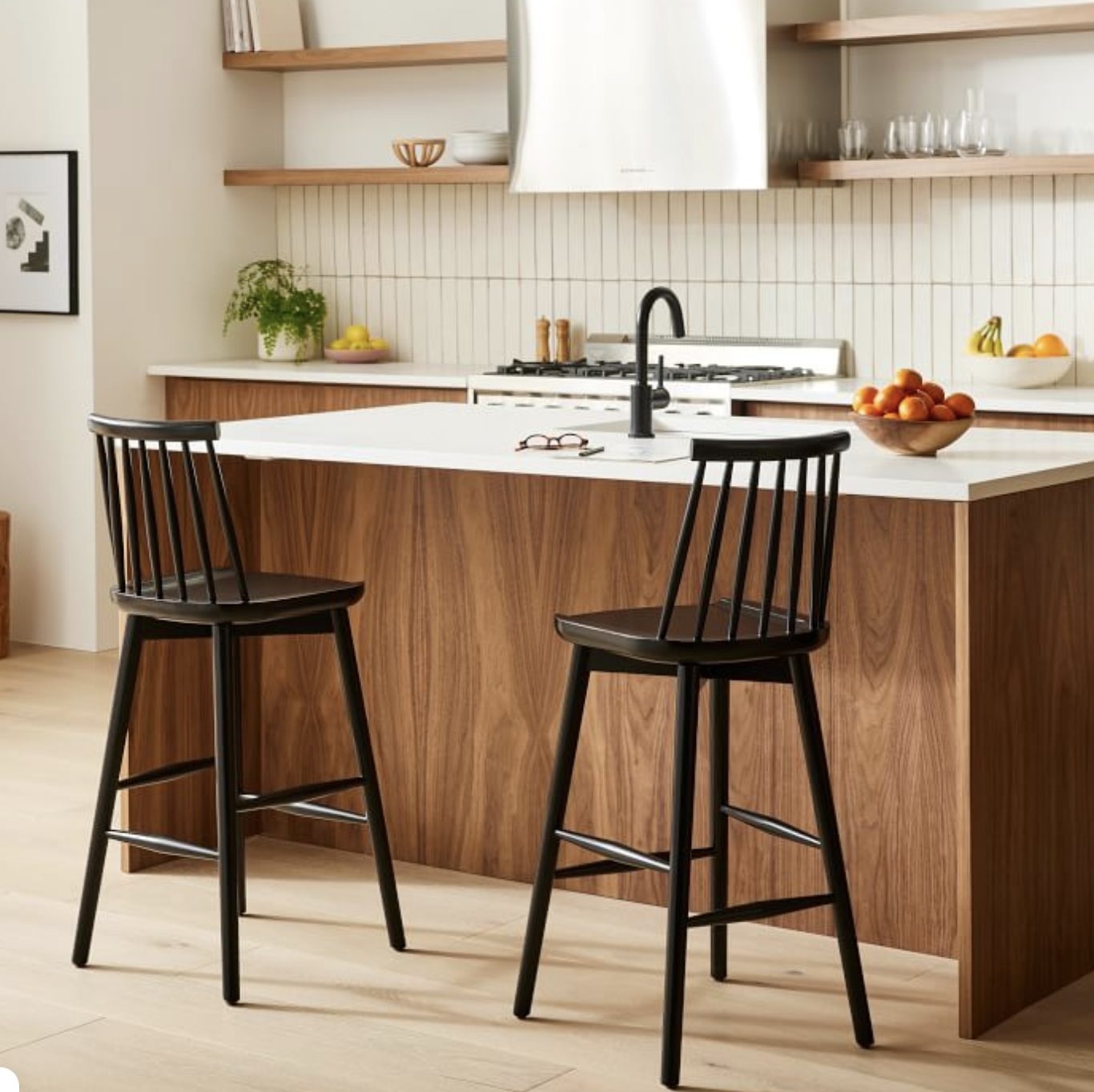 The Windsor Counter Stool is an elegant play on a classic silhouette, making a chic statement in any kitchen. Its sculpted seat and slender spindle wood recall the classic 16th-century design. The solid rubberwood frame and legs are pretty perch at any counter or bar.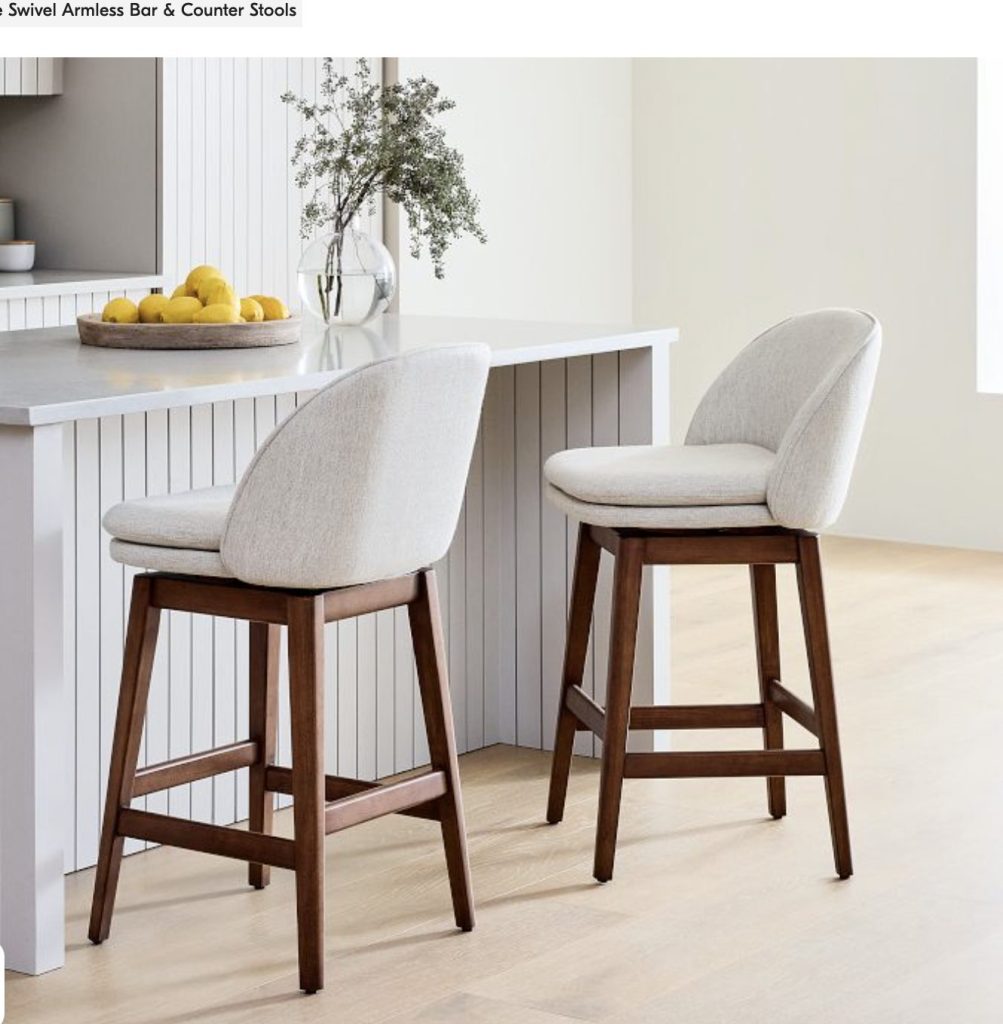 The Wayne Bar & Counter Stool is a nod to timeless mid-century design with subtly tapered legs and contemporary proportions. With a sleek, upholstered seat that features a softly rounded back, this stool adds a little luxury to your counter or bar.
The Halsey Leather Bar & Counter Stool features graceful cylindrical legs that are counterbalanced by structured leather cushions. The detachable cushions make these stools a breeze to clean and allow you to switch up the look of your stools easily.
Nia's streamlined seat is wrapped in decoratively stitched foam-filled faux leather, making for happier happy hours and cozier coffees. Its open metal sled base has a perfectly placed footrest and sits atop plastic glides to keep your floors in perfect condition. Sold as a set of two.
The Bailey Woven Bar & Counter Stool exudes cool comfort. With low-contoured arms and a generous box-weave seat, you'll find your guests staying even longer. All-weather wicker and a sturdy metal frame make this stool perfect for indoor or outdoor use.
The Neilsen Counter Stool is a delectable combination of textures and materials. A basketweave of handwoven seagrass encases the back rest, while a wide linen-blend cushion forms the seat. Nailsen's natural hard wood frame ensures durability for years to come.
The Blakely Bar & Counter Stool is a stylish combination of surprising textures. Handwoven seagrass backs and padded seagrass twill seats make this an extremely comfortable sit. With clean-lined wooden frames, these counter stools easily transition from traditional to contemporary kitchen decor.
The Phi Villa Counter Height stools are not only stunning and well-crafted but also ergonomic. These gold and white bar stools are framed in sturdy metal, generously padded, and upholstered in a sleek leatherette. Easy to clean, these stools are perfect in any kitchen.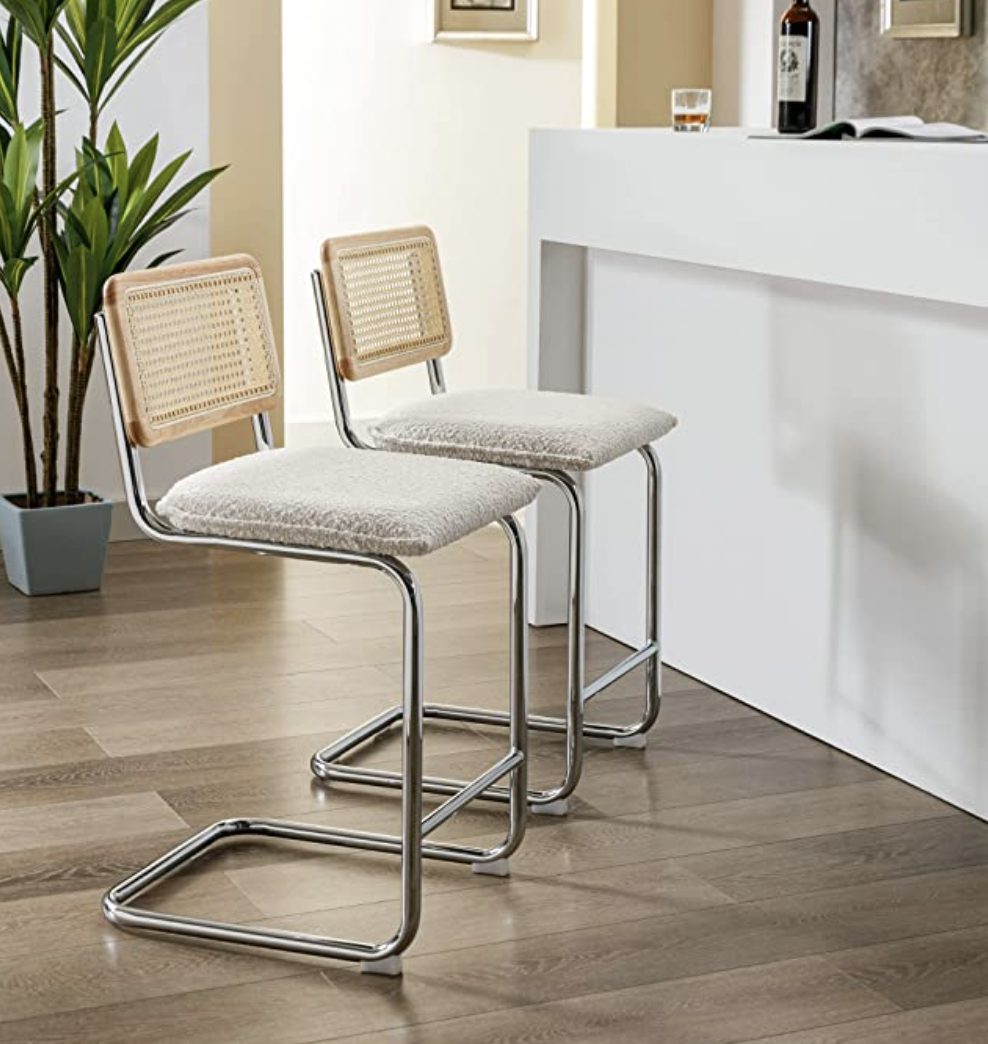 The ONEVOG Rattan Counter Height Bar Stool offers MidCentury Modern vibes while remaining extremely versatile. A stunning boucle upholstered seat and durable steel frame complement its beautiful woven backrest.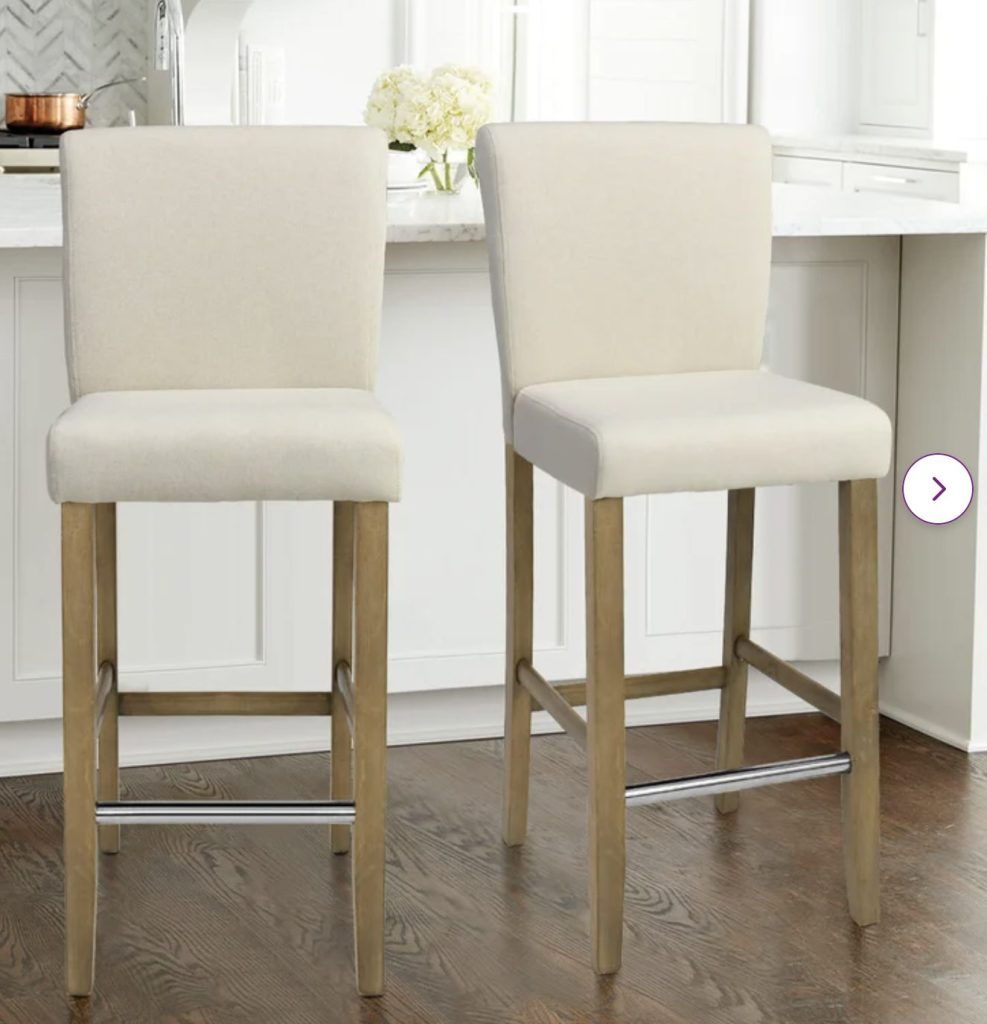 Pull up to your kitchen counter in style with these Arkansas Counter Stools. This stool's naturally hardwood frame is accented with a sleek steel footrest. Its padded square seats and full backs are upholstered in your choice of easy-care performance fabrics.
Wooden Bar Stools
Our Tibetan barstool has an Eastern style and a versatile shape that is at home in any area thanks to its dramatic angles and comfortable curves. Visible joinery lends a rustic touch. Legs are tongue-and-groove, and the bench is edge-glued, meaning this stool was built to last.
The Cline Counter Stool adds a touch of luxury to small-space dining. This stool is designed like a vintage chair, with simple curved details along the back. Crafted from sustainably harvested hardwood, you can feel good while sitting comfy.
The Caudillo bar stools can be used both indoors and outdoors. They are constructed of teal-colored solid acacia wood, making them sturdy and durable. Four slightly splayed legs with low open backs providing plenty of ventilation, these stools are great in any season. Sold in a set of four.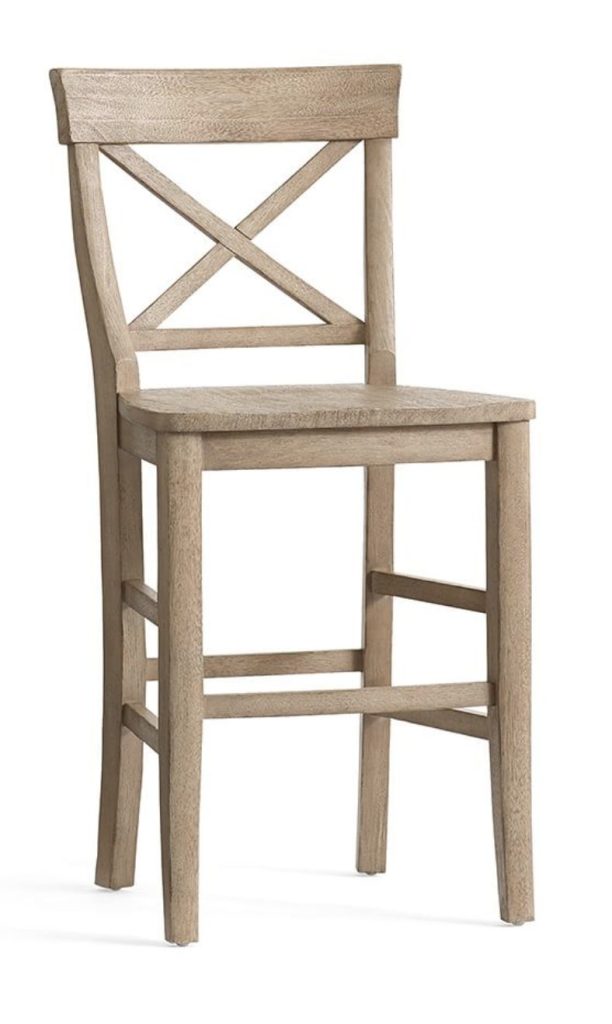 The Aaron Barstool is handcrafted from solid rubberwood by skilled artisans. Its perfectly symmetrical x-shaped back pairs with a contoured seat for ultimate comfort. Adjustable levelers help with stability on uneven surfaces.
The Corey Wood Counter Stool has the appearance of a treasured family farm heirloom. Its made of hardwood and has an extra broad seat curved like a Swiss tractor seat, making it ideal for casual perching. Choose from natural whitewash or black stain.
This bar and counter stool is a stunning combination of solid mango wood and rustic iron. The seat's curvature and semi-circle footrest allows you to sit comfortably and in style. Sold as a set of two.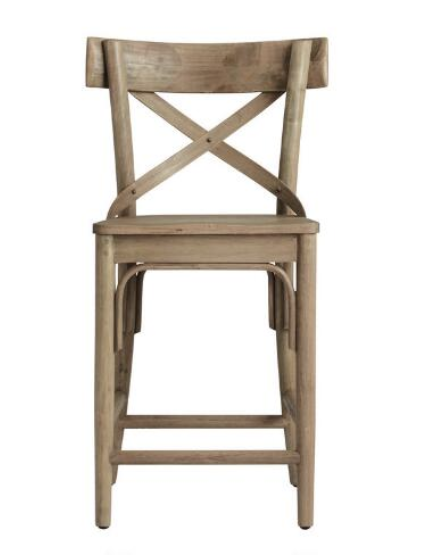 The Distressed Wood Bistro Counter Stool looks like it belongs in a Parisian patisserie. It's made of distressed timber in two neutral colors that go with farmhouse, mid-century, and modern decor. Guests are sure to enjoy the flat seat and swooping x-back design.
The Rexon Swivel Stool's seat is meticulously crafted from genuine pine wood. It swivels 360° and easily adjusts to any counter or bar height. The powder-coated iron base is sturdy and long-lasting. Thanks to thoughtful design, this stool's shorter back helps maintain sight lines in your kitchen.
The Bates Solid Wood Bar & Counter stool is perfect for smaller kitchen islands or pulled up to an eat-in kitchen table. This stool has a sawhorse-like form and saddle-style seat, adding a touch of traditional cottage flair to any room.
Simple yet stunning, the Wainscott Counter Stool is surprisingly comfortable. Crafted from natural mango wood with a rich and lively grain, this stool has a low profile, low back, and slim seat. 
The Paxton Bar & Counter Stool is made of solid acacia wood and features a simple design, streamlined profile, and soft linen-upholstered cushion seat. It boasts a simple style that lends itself to various decor styles. Offered in both bar and countered heights.
The Linon Natural Barstool is a classic stool with a sleek and elegant design. You can create a contemporary or classical look in your kitchen, dining room, or home pub area. Solid wood legs and a perfectly circular seat lend strength and durability, ensuring years of usage.
The Windsor Counter Height Barstool boasts comfort and solid wood construction, making it perfect for active families. It has a high fan back and a carved saddle seat to keep guests comfortable. These stools are a smart and stylish addition to any kitchen.
The Laketown Backless Wooden Barstool will transform your home into a place of sleek style, effortless comfort, and elegant design. Natural wood tones with black metal accents strike the ideal blend between casual rustic and sleek modern design.
Final Thoughts
In choosing a new stool for your space, you're given an opportunity to let your personality shine. A new stool also gives you the opportunity to refresh your space and fine-tune your design style. Whether you're on the hunt for a backless wooden barstool or an upholstered counter height stool, we hope this article has helped you find your perfect piece!