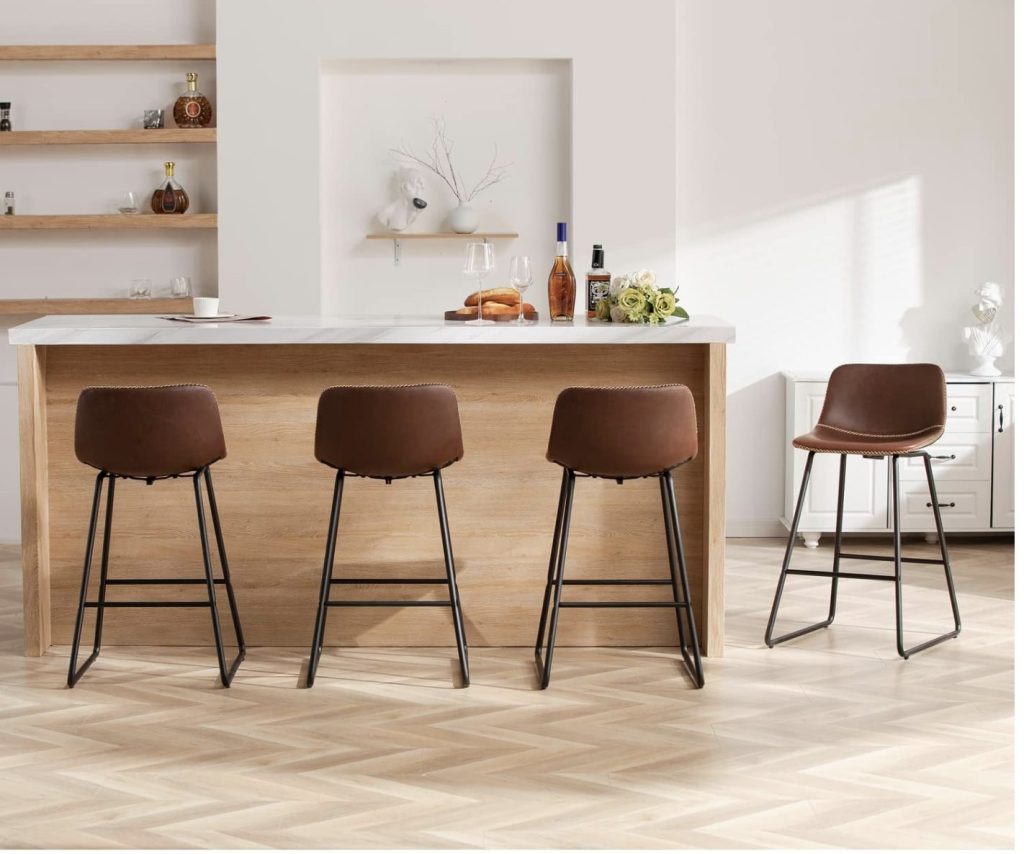 Kitchen islands are a coveted feature in modern home kitchens. Many of these islands include counter-style seating that allows for the use of bar stools. In the US alone, over $2 billion is spent on bar stool purchases yearly. 
Learn about proper spacing for bar stools, appropriate seat heights, and take a look at some of our favorite sets of four.
1. How long should a bar be for 4 stools?
To comfortably fit four bar stools, your bar should be, at minimum, 8 feet in length.
2. How much space is needed for 4 bar stools?
Allowing 28" – 30" of space per bar stool is recommended. 
3. What is a good seat height for a bar stool?
The standard seat height for bar stools ranges from 28" – 30" inches from floor to seat. This height is perfect for a counter or table height of 40" – 42".
4. What is the average size of a bar stool seat?
The majority of bar stools are built in one of these three seat widths: 15", 17", and 21".
Bar Stools Set of 4
20" D x 20" W x 24" H
These rattan bar stools feature a metal base, a natural rattan back, and black faux leather seats. This combination of traditional and industrial components makes these stools perfect for any room design.

19″ W x 18″ D x 35″ H
These modern velvet bar stools add the ideal combination of style and comfort to your home. The Omni House bar stools feature a chromed steel base and ergonomic swivel seat. Delicate foot caps protect your floors from scratches.

17″ L x 17″ W x 28″ H
This black metal and solid natural wood seat backless stool adds a modern flare to any bar-style seating area. The stackable design makes these Mainstays stools convenient to store when not in use, making them ideal for extra seating.
15" W x 17" D x 40" H
The EiweLive Bar Stools feature a sleek metal frame and soft, durable PU leather upholstered seats. These stools are easy to assemble, simple to clean, and suitable for indoor and outdoor use.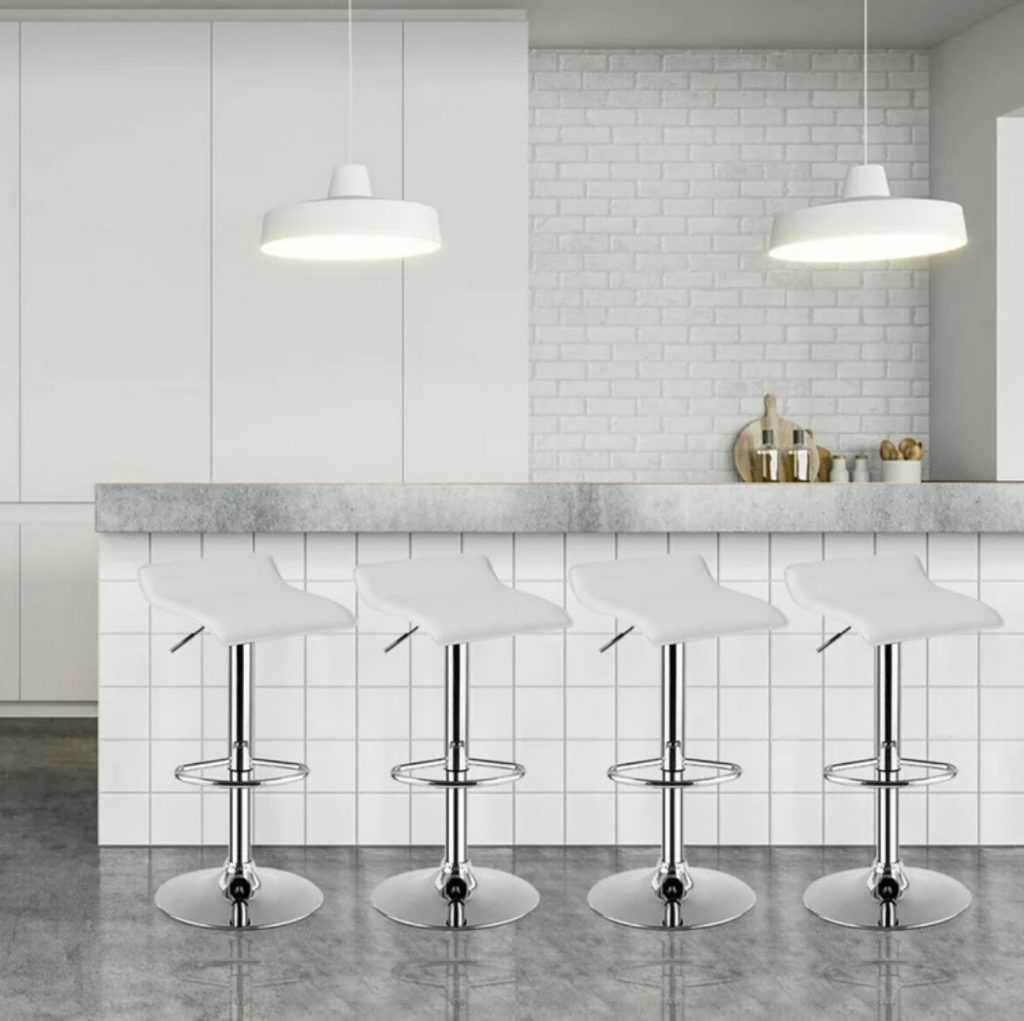 16" W x 15" D x 34" H
These Gymax Swivel Bar Stools are as sleek as they are timeless. High-density sponge filling upholstered in PU leather makes for a comfortable seat, while an adjustable steel base provides impeccable sturdiness.
21″ L x 17″ W x 37" H
The MoNiBloom Swivel Bar Stools are a perfect match for any modern kitchen. These stools feature a swiveling seat, built-in footrest, and medium-dense cushions upholstered in beautiful imitation leather. 
18″ W x 21″D  x 42″ H
The Topbuy wooden bar stools add comfort and vintage charm to any seating area. A sturdy base and high backrest crafted from rubber wood support the thick, foam-padded seat, ensuring optimal support.
16″x 17″x 37″ H
The Topbuy Mid Century Modern Bar Stools feature a sleek design constructed with durable materials. Four splayed beech wood legs support this stool's ergonomic, sponge-cushioned seat. Smooth PU leather upholstery makes these armless bar stools suitable for use indoors and out.
The Topbuy Backless Barstools are forged from high-strength iron and finished with a manufactured wood seat. Coated with rust-proof, corrosion-resistant paint, these stools can be enjoyed anywhere in or around your home. Push these stools under a counter or tabletop to maximize your space.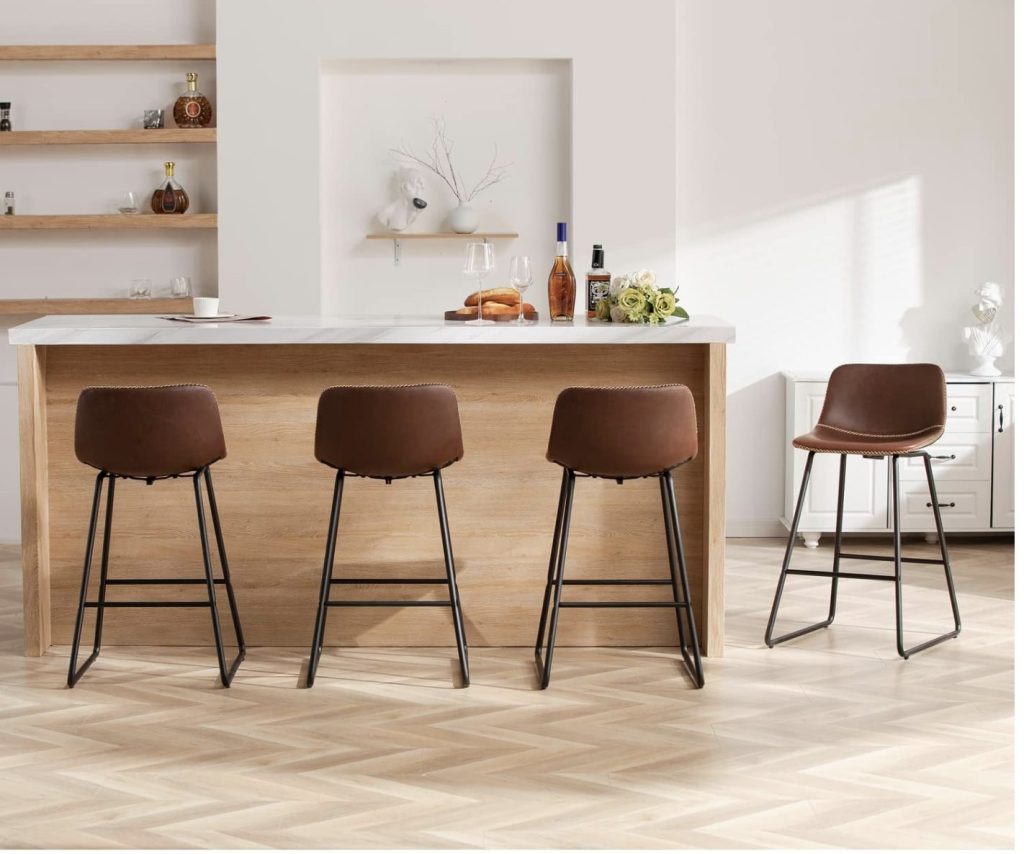 22″ D x 18″ W x 35″ H
These Mid-Century-Modern style bar stools were designed with comfort in mind. An ergometric low-backed seat and perfectly placed footrest allow guests to sit comfortably for long periods of time. The powder-coated steel base affords excellent durability, while waterproof PU leather seats make it easy to clean.
16″ D x 16″ W x 35″ H
These Sophia & William armless barstools feature a stunning polished gold base and crisp white seats. Three-inch padding and a footrest keep guests comfortable for long periods of time. The steel base and PU leather upholstery are perfect for al fresco dining and kitchen counters alike.
36" H x 17" W x 17" D
The Aklaus Metal Bar Stools bring a stylish, industrial vibe into any dining space. A sizeable wooden seat is perched atop a heavy-duty steel base. Choose from three different heights and four different steel finish options.
17″ D x 23″ W x 39″H
Let the classic style of the POINTANT Swivel Bar Stools improve your dining area. Each stool swivels 360° and offers an ergonomic seat back and footrest. High-quality plastic seats pair seamlessly with a sturdy metal base to give you lasting bar stools.
25″ D x 18″ W x 35″ H
Looking to increase the level of elegance in your dining area? Look no further! These stunning velvet bar stools feature thick, cushioned upholstered, luxurious black velvet and a strong metal frame. The bottom of each leg is wrapped in polished gold metal, solidifying the elegance of these stools.
21″ D x 19″ W x 36″ H
Bouclé is currently all the rage in furniture design. Why not bring this mega-cozy material into your dining area? The Yaheetech Boucle Bar Stools can help you do just that! The soft white upholstery is balanced out by sleek black metal legs, making this the perfect piece for your space.
16″ D x 17″ W x 33″ H
Modern meets charming in the design of this stool. A minimal metal base supports a soft PU leather upholstered seat. Distinguished stitching on the seat adds a level of sophistication to these barstools.
49" H x 20" W X 17" D
The Latitude Run Swivel Bar Stools boast sleek plastic seats and sturdy steel frames that feature sled-shaped feet. The 360° swivel design offers guests freedom of movement. Enjoy these barstools in any location! Choose from black or white stools.
35" H x 21" W x 22" D
Your kitchen island or bar will seem more fashionable and sophisticated with the addition of the 17 Stories Bar Stool. With its low-backed bucket seat and sleek lines, this design adds style by fusing contemporary and industrial appeal. An iron frame supports this stool's faux leather upholstered seat.
Final Thoughts
Barstools are an excellent investment if you have a kitchen island, bar-style seating, or high-top tables being used in your home. Before purchasing your next set of stools, be sure to measure both the width and height of your bar top to ensure you purchase stools that are the perfect size.