Rattan is an incredibly popular choice for furniture since it adds so much dimension and visual interest in a space. It is an easy way to elevate a boho, eclectic, or even retro space. So if you're creating a stunning boho space, or just a fan of the natural look of rattan—we have found the most gorgeous rattan dresser on the market. 
Let's dive in.
Rattan Dresser
Here are 20 rattan dressers that we know you'll love:
This Balboa Rattan Dresser is sure to elevate any space. It is made from a solid beechwood frame and is weaved with a stunning rattan in a varied pattern for extra depth. The drawer pulls and leg caps are a gorgeous brushed brass that both blend in and elevate the piece.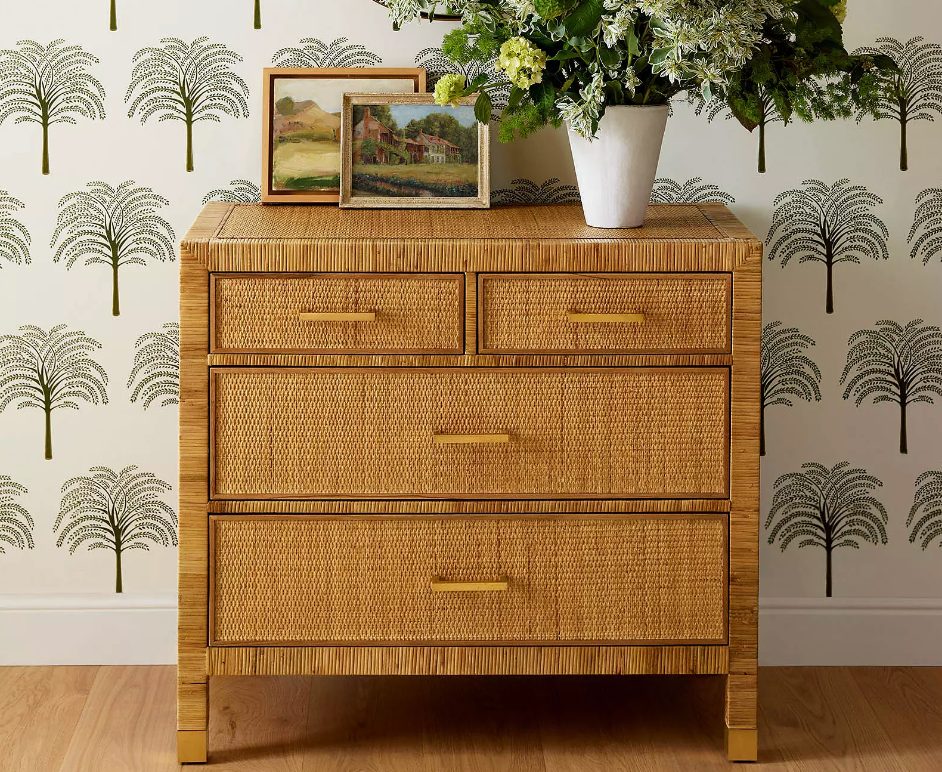 Just like the Dresser above—the Balboa Rattan Chest is a stunning rattan woven piece that is crafted from solid beechwood and adorned in brass finishings. These pieces would look stunning as a pair, or individually. This dresser would pair well in a boho, coastal, or relaxed chic space.
The Bungalow Wide Dresser is made from a nostalgic woven wicker. However, this piece stands out with its use of brass hardware on each of the drawer pulls to give it an elevated and modern flair. The woven wicker weave texture changes throughout the piece to give it even more visual interest and depth—making it ideal for those who prefer a clean yet interesting aesthetic.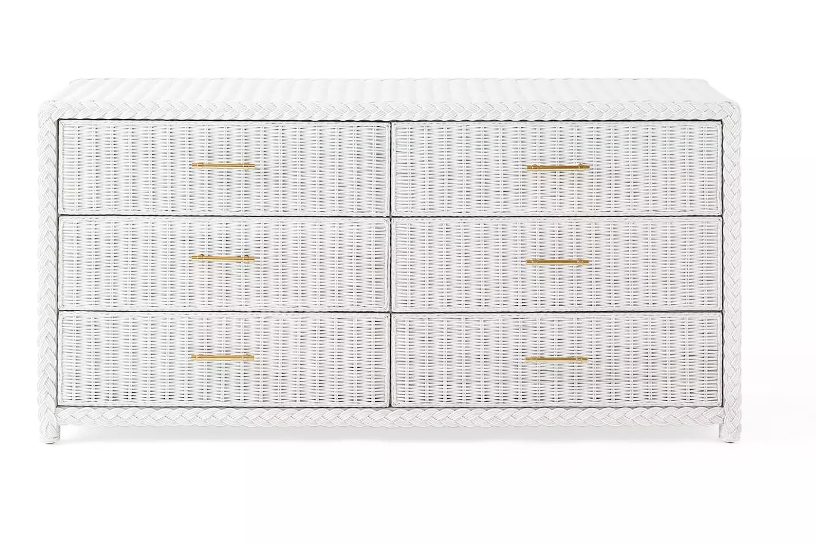 The Bungalow Chest is the sister piece to the Bungalow Wide Dresser above. This piece also has a gorgeous woven wicker with varying patterns throughout. These would go well as a pair or as individual statements. The brass finishings give this chest a sophisticated flair, making it ideal for those who prefer an elevated boho aesthetic. Choose between two colors—white and sunbleached wicker. 
The Lowden Accent Chest is a gorgeous mid-century modern inspired piece that features five wood framed drawers with stunning rattan drawer fronts. The circular knobs are made from the same solid oak wood as the rest of the frame. Each piece is one of a kind and will have natural variations in both the rattan and wood throughout.
The Amani Dresser balances mid-century modern design with a classic retro feel. This dresser features six rattan woven drawers with ample storage. The flared and tapered legs give this piece a retro feel while maintaining a timeless appeal. This dresser is ideal for those who like boho, mid-century modern, and retro style.
The Lockbourne Dresser is crafted from solid oak wood and features stunning rattan cutouts in each of the three drawer fronts. Each drawer pull is also crafted from the same solid oak wood, so natural variation in each piece is to be expected. The Lockbourne dresser is ideal for those who are in need of a great storage solution while maintaining a clean and timeless style.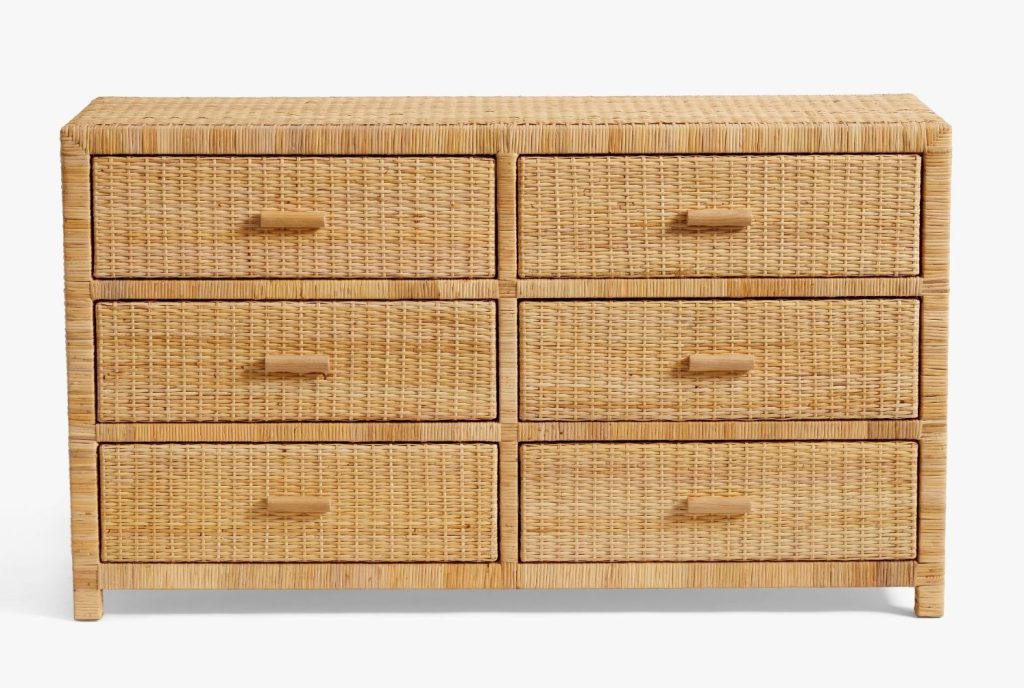 The Cala Rattan Dresser is a piece that is built to last both in construction and in style. The frame is carved from a solid mahogany wood and tightly woven in a sturdy natural rattan. The Cala dresser is also crafted with sustainability in mind since it is made from a rapidly renewable source and ethically harvested.
If you crave show stopping pieces that can be passed down for generations—the Sausalito Cane Armoire is an ideal choice. Each piece is crafted from a mixture of solid kiln-dried meranti and pine wood, and the doors are adorned with an expertly woven rattan. This piece is versatile and offers ample storage for almost any room in your home.
The ANBUY Dresser is a six drawer piece that sits on stunning tapered legs. Each drawer is framed in solid wood and features gorgeous rattan inserts that provide great ventilation for the items stored inside. If you're looking for a way to elevate the natural inspired aesthetic of your space—the ANBUY dresser is a very affordable way to do so.
If you're a lover of bohemian inspired decor—the Grafical Dresser is sure to be a showstopper. This three-drawer piece is crafted from sturdy MDF and finished with a gorgeously woven rattan in each of the three drawers. This not only elevates the texture and style of the piece, but provides great ventilation for the pieces stored within each drawer.
For those who crave a retro and timeless aesthetic—the QHITTY dresser is an ideal choice. This piece sits on extra tall tapered and flared legs that give this piece a classic retro silhouette, and each drawer features oval rattan cutouts that give this dresser even more visual interest. Choose between the natural, black, or white rattan dresser options.
If you're a lover of mid-century modern design that perfectly merges with the boho aesthetic—you'll be sure to love the Anmytek Dresser. This gorgeous dresser features three large drawers complete with woven rattan inserts and brushed metal pulls. The drawer slides are also a high-quality metal so you never have to worry about the drawers getting stuck or stiff to maneuver.
The Verano Chest stands out with its unique and intricate design. This dresser is designed in alignment with Brazilian Modernism that flourished post World-War one. This piece is dressed in expertly woven Lloyed loom wicker, and finished in a suar wood veneer. Each piece is handmade with love and care in Indonesia.
The Verano Dresser is the sister piece to the chest above, and is just as expertly and carefully crafted. This dresser features three gorgeous drawers with the same Lloyed loom woven wicker finishings. These pieces would work well together as a pair, or even individually.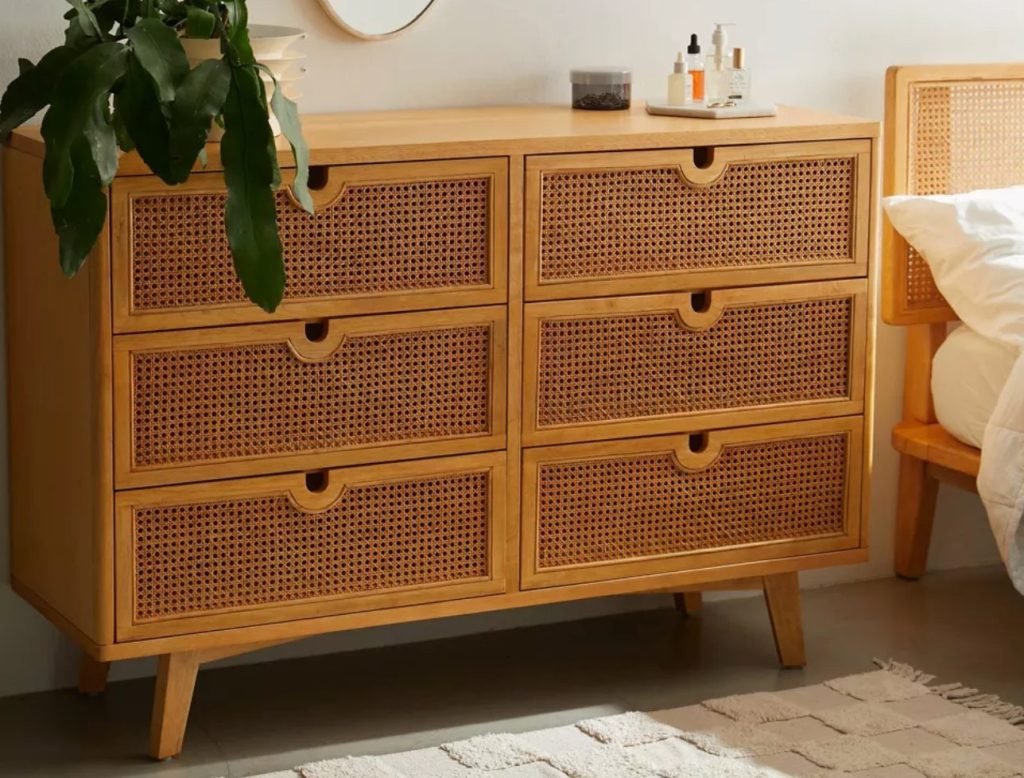 The Marte Dresser is a shining example of expert craftsmanship with its stunning cutout drawer pulls, delicately routed edges and removable carved and tapered legs. This piece features six large drawers that provide ample storage, with a wide and smooth top that is ideal for displaying art and other valuables. The Marte dresser is an ideal choice for lovers of boho, mid-century modern, and retro decor.
The Maribelle Dresser is a vintage-inspired piece that is crafted from solid MDF and handwoven rattan. This dresser features five drawers—three large and two small—making it an ideal storage solution for bedrooms, livingrooms, or hallways. This piece is built to last and has a timeless style that is sure to stand the test of time.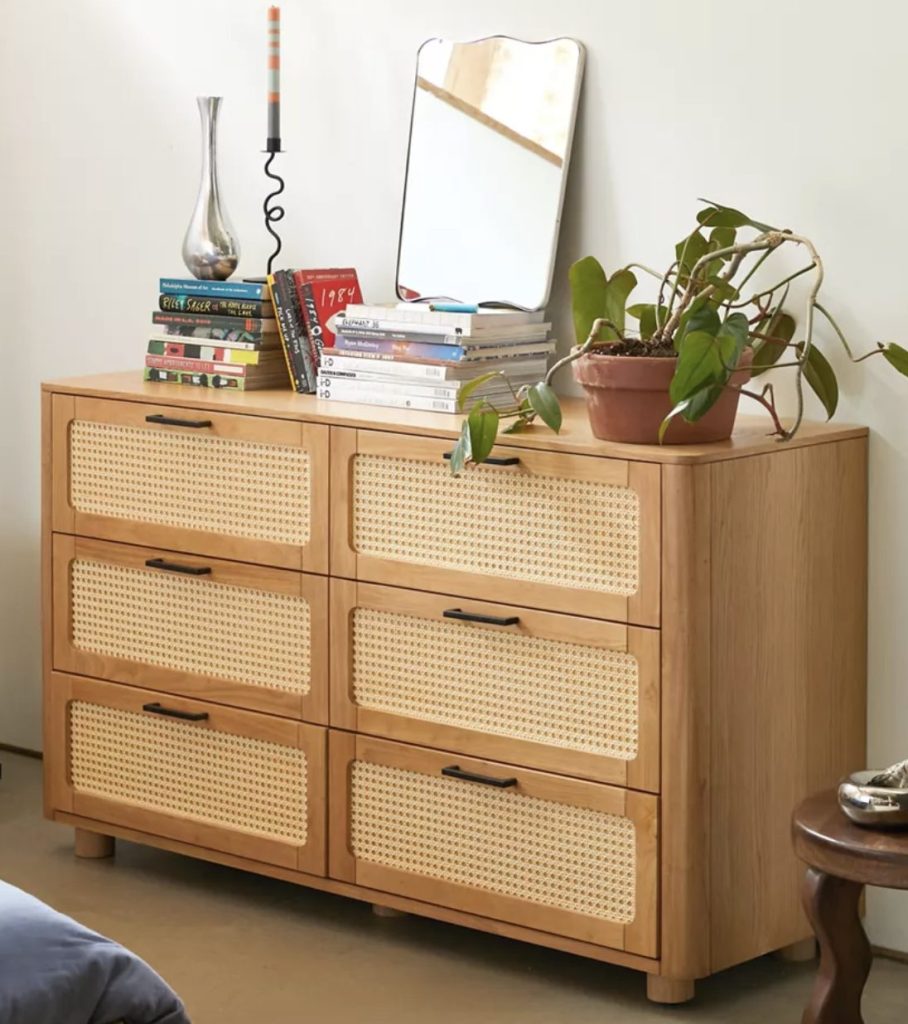 Just like the dresser above—the Maribelle Chest is another vintage and boho inspired piece that is expertly crafted from both MDF and handwoven rattan. This gorgeous chest features six large drawers and sits upon short circular legs. This piece is ideal for those who love the relaxed feel of the boho aesthetic while adding plenty of intrigue and texture. 
The Ria Dresser is a 70s inspired dresser that features gorgeous rounded edges, expertly carved cutout drawer pulls, and chevron weaved rattan drawer fronts. This piece struts six large drawers and sits upon a detailed linear base. The frame is carved from solid mindi wood and the drawer fronts are woven from an ethically sourced, high quality rattan.
The Lofted Dresser is a gorgeous black rattan dresser that perfectly mixes different texture, materials, and colors. Between the black painted wood, natural stained drawer frames, bronze brushed legs, and black metal drawer pulls—this dresser is a show-stopper. This dresser features six large drawers and stands tall on its stilted legs. 
Final Thoughts
Rattan is a material that can shapeshift with so many different styles and aesthetics, and is always sure to add a richness and depth that other materials cannot. If you're a lover of deep and robust textures, having a rattan dresser is a great way to elevate your space without adding clutter.
We hope you have found the perfect show-stopping rattan dresser for your space!