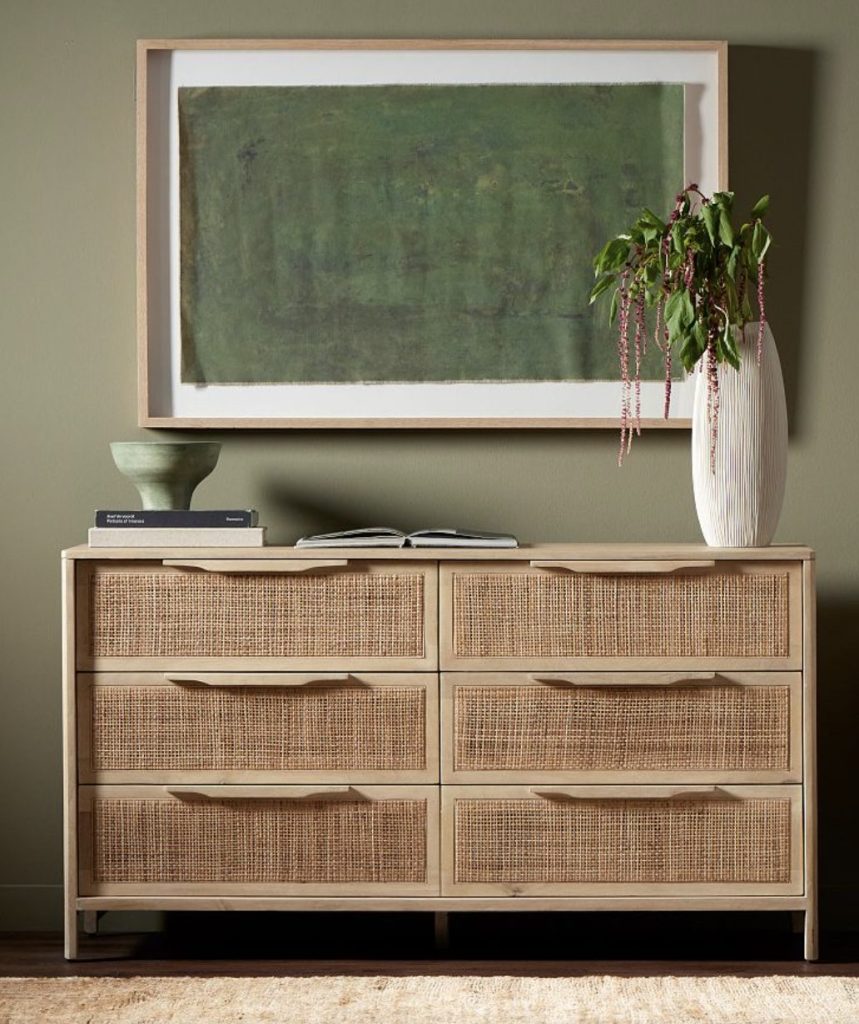 While cane is definitely a hot design trend at the moment, there is a reason that it has been around for so long. The elegant and long-lasting woven texture is ideal for adding a bit of flare to the bedroom, living area, or any other space. Its pale, golden hue quickly creates the atmosphere of a tropical paradise indoors. What more could you ask for from a piece of furniture?
Here is a list of our favorite trendy, yet timeless cane dressers.
Cane Dresser
60″ w x 18″ d x 34″ h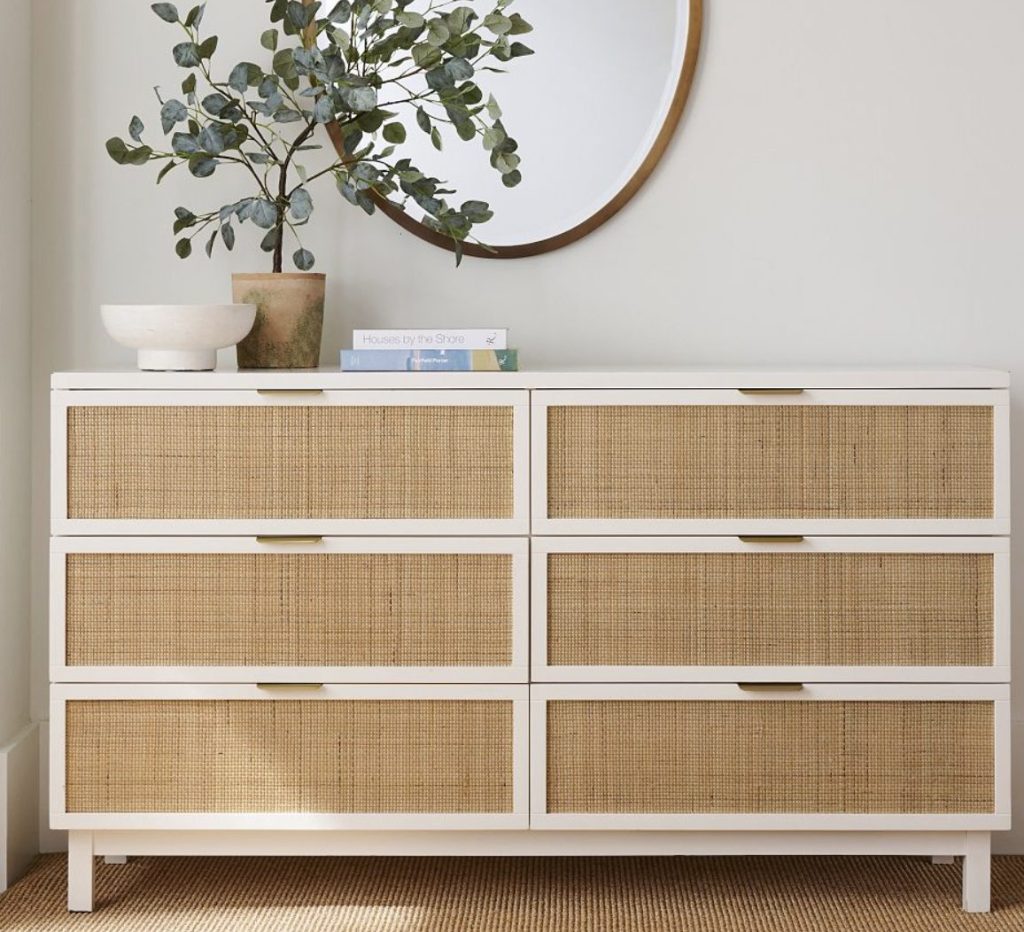 The Westly six-drawer dresser offers a touch of coastal chic with classic cain and a crisp white finish. You're sure to love how the weave's subtle tone adds visual dimension to this beautiful yet simple design.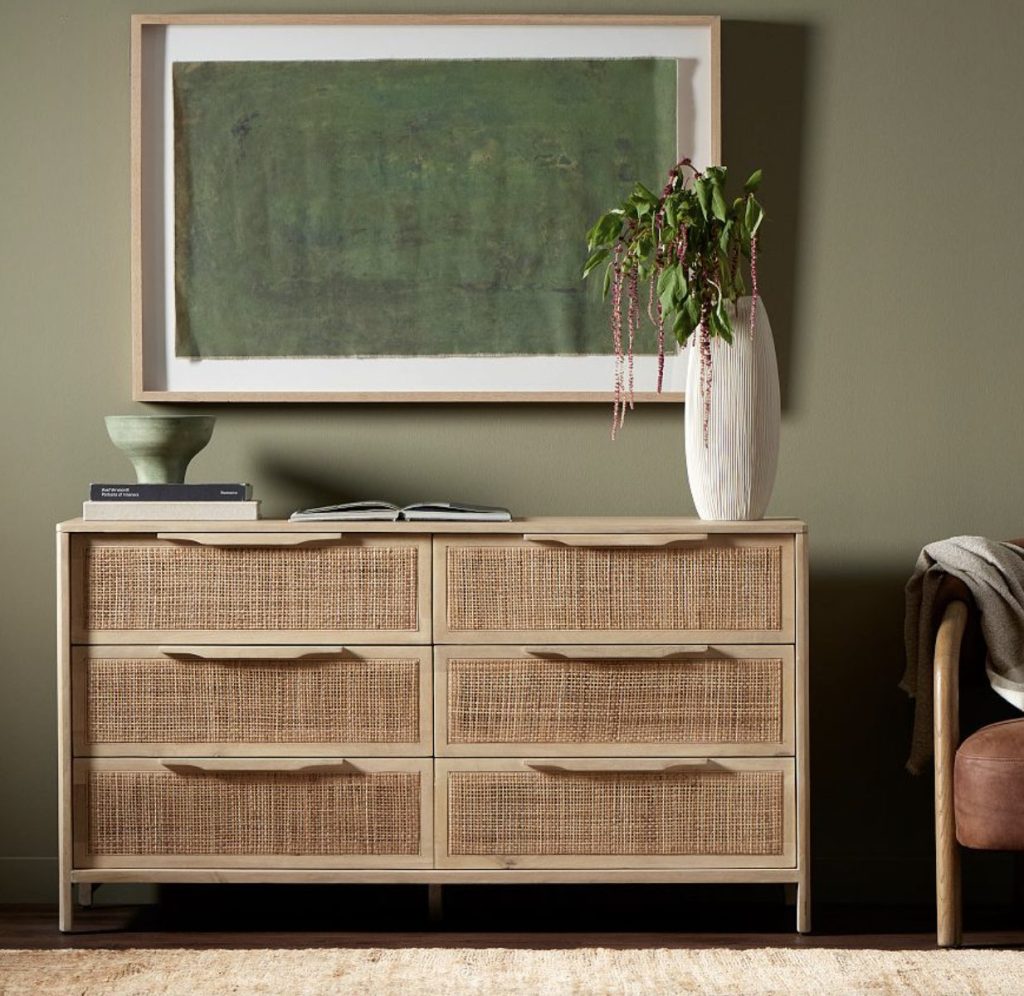 58″ w x 17″ d x 32″ h
The Dolores gets its airy, rustic charm from rich mango wood. The light finish on the frame allows the beauty of the wood to show through, while the finely hand-caned drawer faces highlight the tonal highs and lows of the caning. Mortise-and-tenon construction means this beautiful dresser is made to last.
60″ w x 17″ d x 33″ h
With a crafted yet industrial look, Neve features sleek black metal and bird's-eye caning. Brass-finished hardware centers each drawer, creating an ideal balance of warmth and something chic, sophisticated, and cool.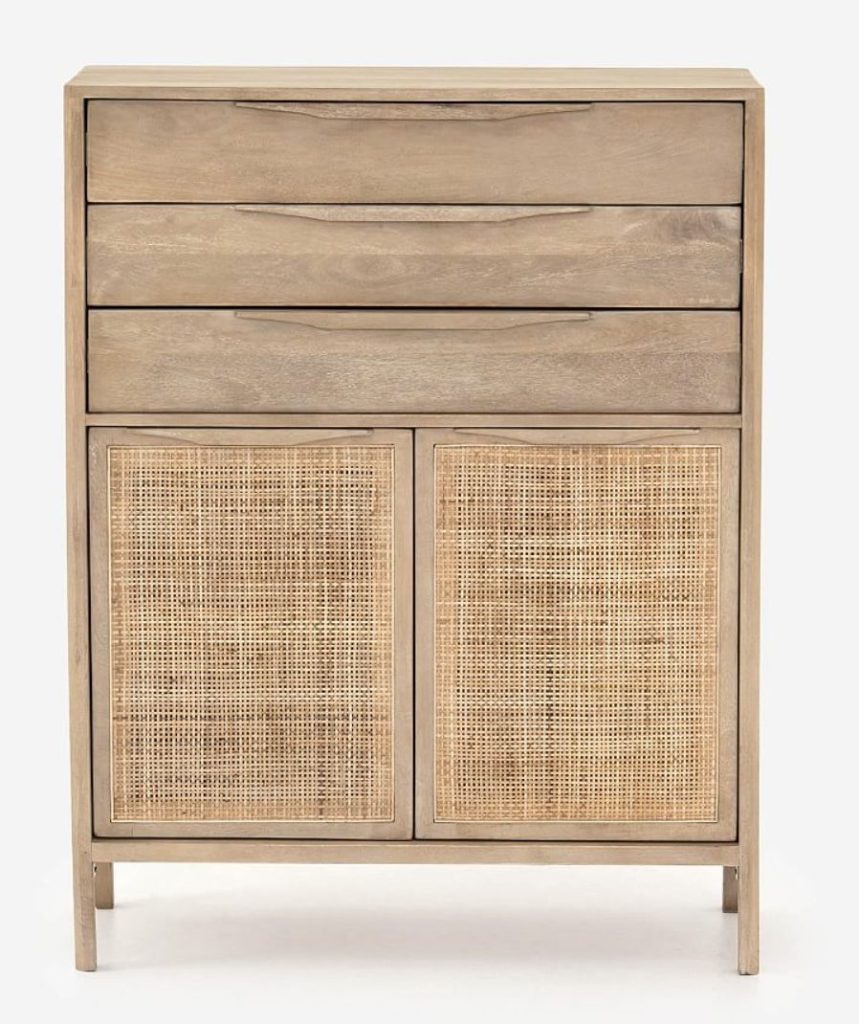 34″ w x 16″ d x 44″ h
The Dolores features beautiful hand-woven caning with an organic texture that perfectly complements each piece's elegant, airy appearance. This three-drawer dresser has a wooden frame and comes in three different finishes, allowing you to create your perfect piece.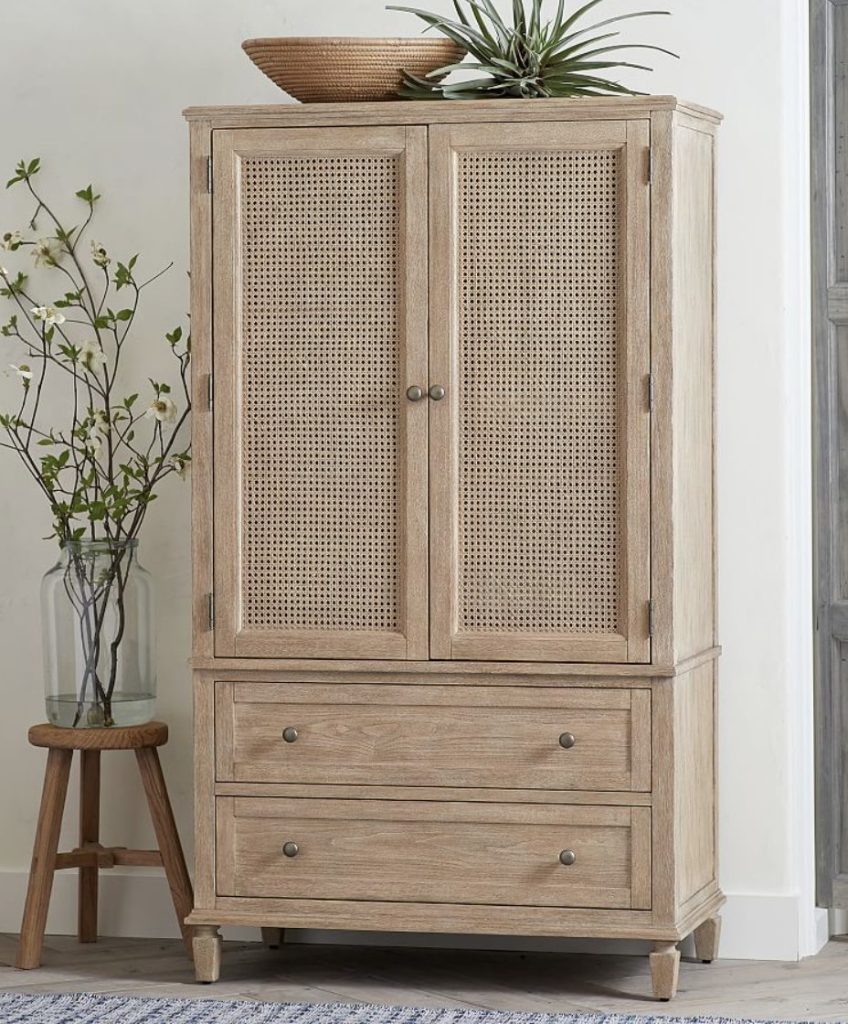 40″ w x 22″ d x 70″ h
The Sausalito Armoire is a stylish and functional storage solution for your bedroom. A solid mahogany frame and cane panel doors add a touch of rustic charm to your space. It features ample storage with two drawers and adjustable shelves, allowing you to customize the interior to suit your needs.


34" h X 50" w X 19" d
The Amani 6-Drawer Cane Dresser is a modern and sleek storage solution for your bedroom. Clean lines and minimalist design add a touch of contemporary elegance to any space. The dresser features six spacious drawers with cane panel accents, providing ample storage for your clothing and accessories while incorporating a stylish and on-trend cane texture.


62″ w x18″ d x 36″h
The Anaise Cane Six-Drawer Dresser from Crate and Barrel is a chic and functional addition to your bedroom. Its sleek white finish and cane panel drawer fronts create a fresh and modern look. With six spacious drawers, it offers ample storage space for your clothing, linens, and personal belongings while bringing a touch of contemporary style to your living space.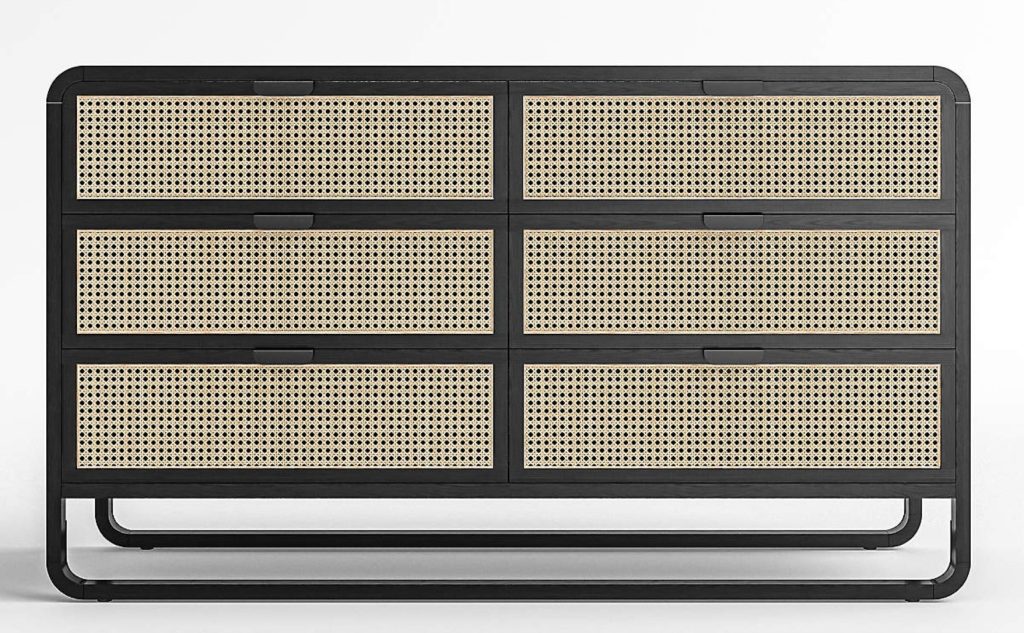 50″ w x 18″ d x 36″ h
The Anaise Cane 3-Drawer Chest is a stylish and compact storage solution for your bedroom or any other space in your home. Its sleek design and cane panel drawer fronts add a touch of elegance and texture to your decor. Three spacious drawers offer ample storage for smaller items, making it perfect for organizing clothes, accessories, or any other essentials.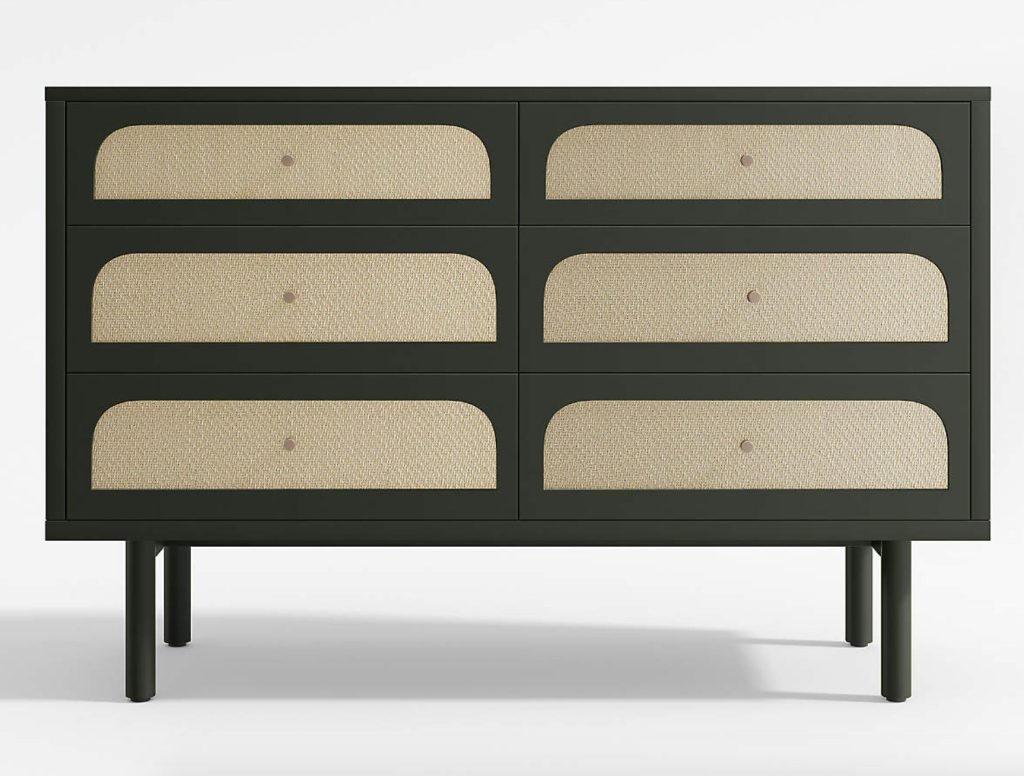 50″w x 17″d x 33″ h
The Maren Olive Green and Cane Wood 6-Drawer Dresser is as stunning as it is unique. Its olive green finish and cane wood accents create a stylish and sophisticated look. With six spacious drawers, it offers ample storage space while adding a touch of natural texture to your bedroom.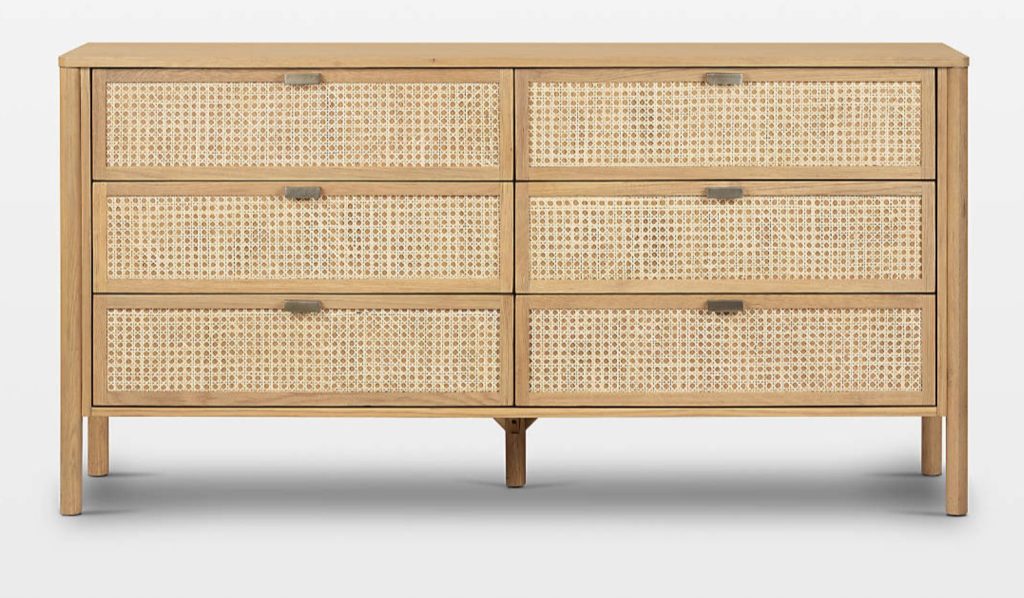 65" w x 20″ d x 33″h
The Tisdell Cane Dresser combines modern design with natural elements. Its khaki oak wood finish and cane drawer fronts bring your space a warm and inviting feel. Six drawers provide practical storage for your belongings while enhancing the overall aesthetic of your room.
This dresser also comes in a 9-drawer option!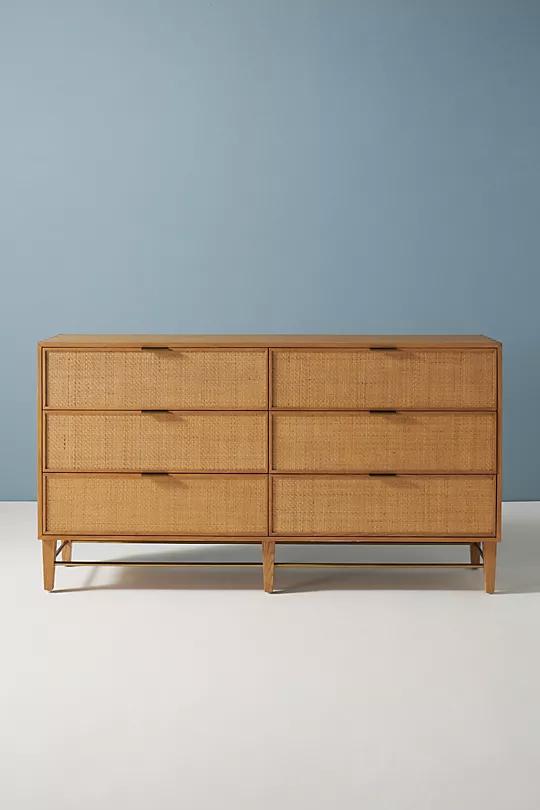 38″ h x 70″ w x 19″ d
The Wallace Cane and Oak Six-Drawer Dresser is a beautiful addition to any bedroom. Its cane detailing and oak wood construction create a timeless and natural look. With six drawers, it provides ample storage space while adding a touch of rustic charm to any room.

66″W x 17″D x 32″H
Suzette's classic style offers any room a timeless look. Round oak frames with grasscloth paneling give this dresser a pleasant, airy vibe with a lot of appealing natural texture. This dresser has plenty of surface space, six soft-close drawers, and a low profile.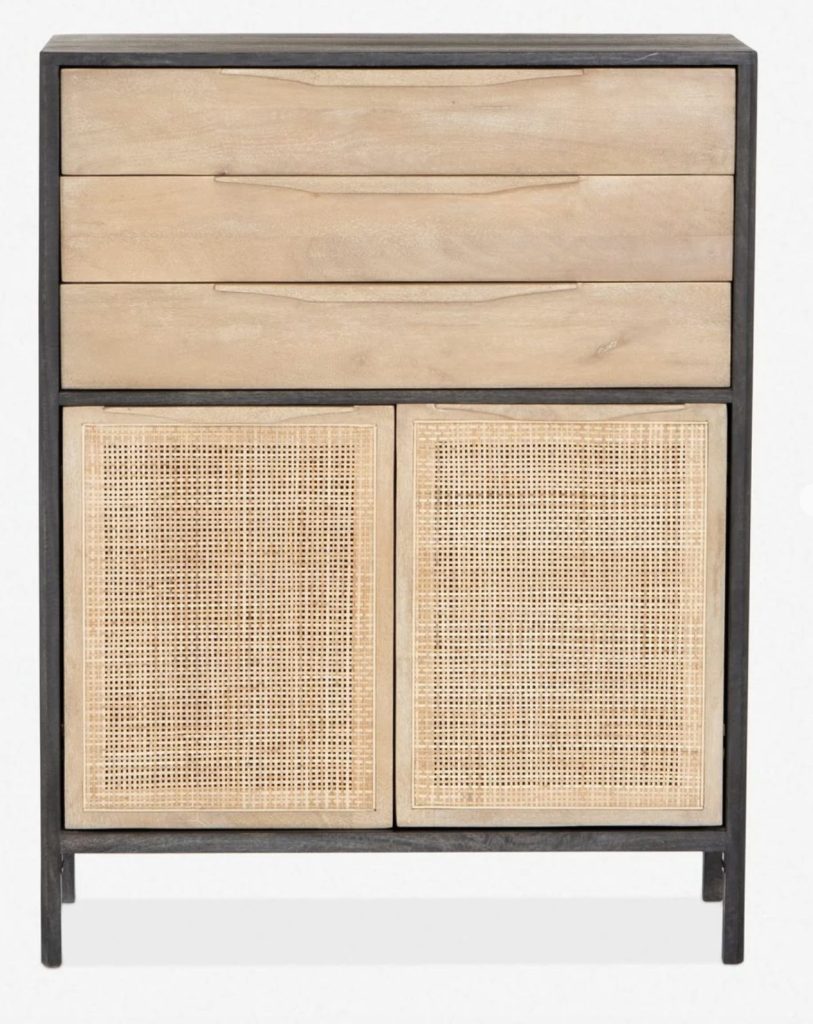 34″ w x 16″ d x 43″ h
The Hannah Dresser is a stunning and elegant piece of furniture that brings both style and functionality to your space. Its sleek white finish and gold accents exude a sense of sophistication. The dresser features three spacious drawers, providing ample storage for your clothing and accessories.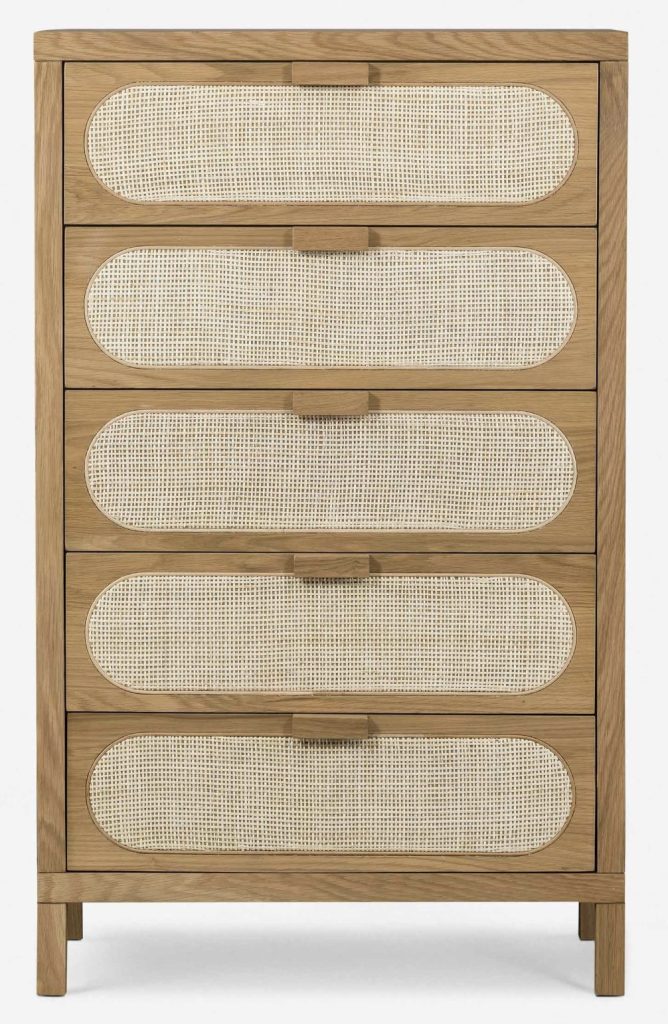 31″ W x 18″ D x 51″ H
The Verna is a stunning wooden dresser highlighted by wicker caned ovals on each drawer front, offering a perfect blend of transitional design elements. Simple squared legs and drawer pulls compliment its perfect aesthetic.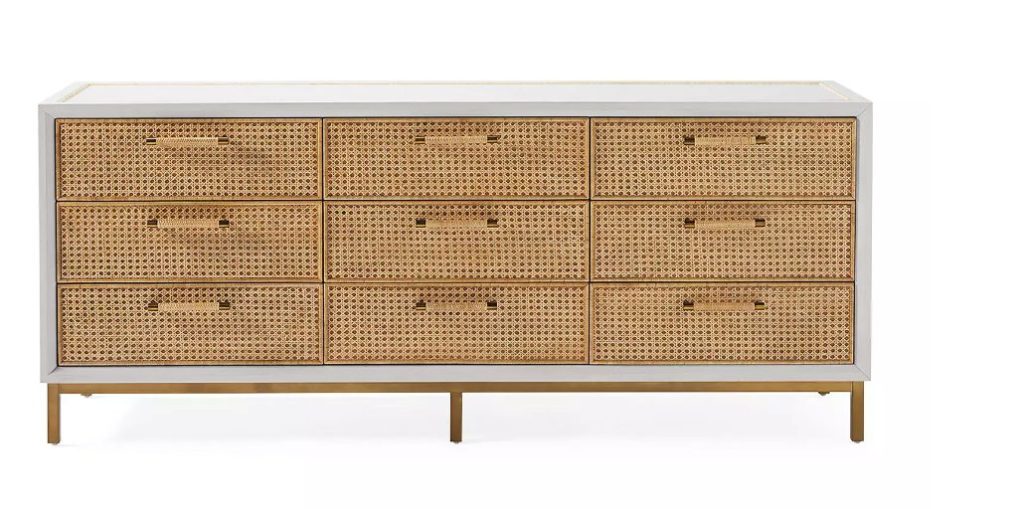 36"W x 21"D x 52"H
The Bar Island Dresser is a versatile and stylish storage solution for your home. Its clean lines, natural rattan accents, and white finish exude a coastal and contemporary charm. This dresser features ample storage with five drawers and a spacious top, making it perfect for organizing your belongings.


​60″ w x 18″ d x 31″ h
The Chrisney Black Wood and Natural Cane Dresser from World Market is a stunning blend of modern and rustic design. The sleek black wood frame beautifully contrasts with the natural cane drawer fronts, creating an eye-catching visual appeal. With its spacious drawers, this dresser offers both style and functionality, making it a striking addition to any bedroom or living space.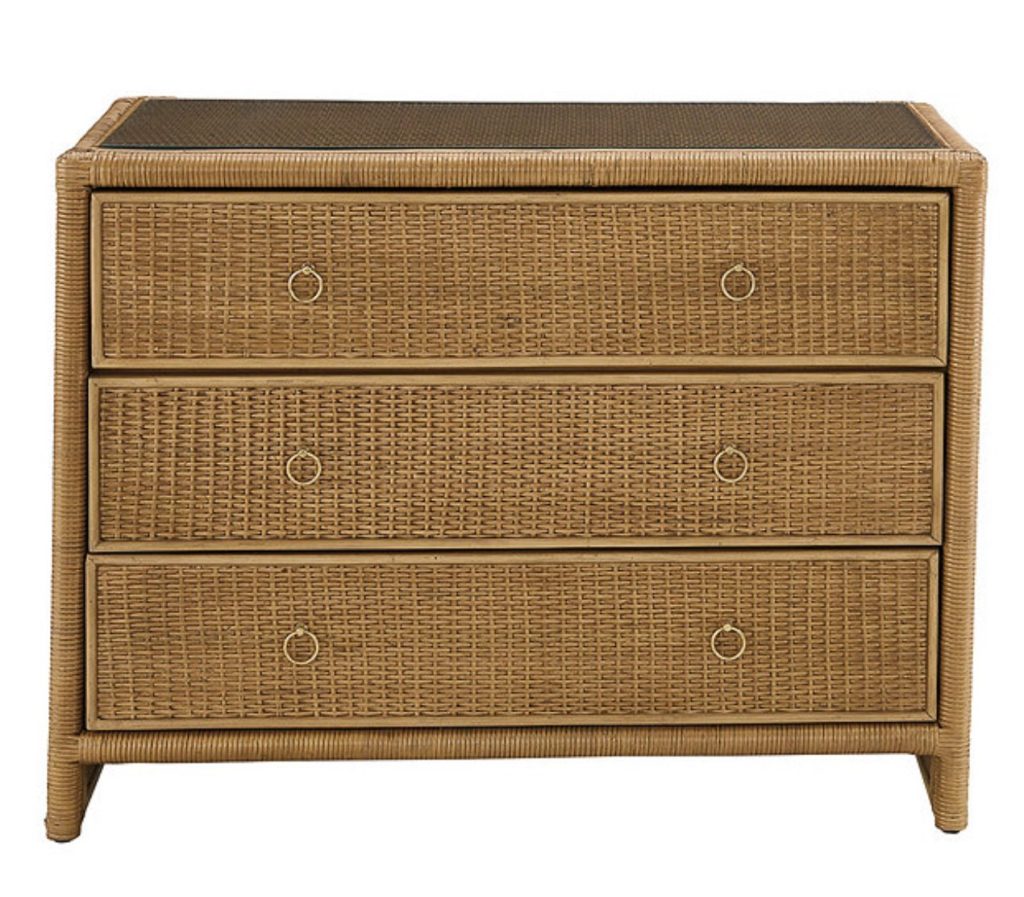 30″H X 40″W X 20″D
The Suzanne Kasler dresser is a timeless and elegant piece of furniture that adds sophistication to any space. The neutral color and clean lines effortlessly complement various decor styles. The spacious drawers offer practical storage while the overall design exudes a classic and refined aesthetic.

36" h X 50" w X 19" d
This six-drawer dresser offers a modern twist on the timeless midcentury modern style. The combination of clean design lines and woven rattan drawer fronts is visually appealing with a touch of natural charm. Amani's spacious storage capacity, accented drawer pulls, and solid legs effortlessly embody casual elegance, making it a versatile addition to any home decor, whether a coastal retreat or a downtown loft.
36" H X 46" W X 22" D
The Wildwood Borneo 4-Drawer Dresser is a stylish and functional piece for your bedroom. Crafted in light blue solid wood with rattan drawer fronts, it exudes a warm and tropical vibe. The four spacious drawers provide ample storage space, while the unique design elements, such as the bamboo-style edges and tapered legs add a touch of character.

30" h x 47" w x 19" d
The Soma 6-Drawer Dresser is a refreshing addition to any bedroom, featuring a stunning rattan weave design on the drawer fronts that adds an organic touch. With a natural wood grain finish, this double dresser blends style and practicality. Six full-extension gliding drawers provide plenty of storage capacity, while the splayed legs and non-marking foot pads assure stability and floor protection.
54" w x 18" d x 36" h
The Marsden Dresser by The Home Decorators Collection features six drawers accented with woven rattan fronts. With its simple wooden frame and oil-rubbed bronze hardware, this dresser easily adapts to any style.

55″ w x 18″ d x 37″ h
The Marte dresser boasts a minimalistic boho appearance featuring six drawers with rattan fronts. Three rows of two drawers each have cutout handles on the oak frames. This dresser is positioned atop self-leveling tapered legs, ensuring balance in any room.
​​36" w x 17″ d x 72″ h
The Mason Cane Storage Cabinet is a classy storage unit constructed out of MDF with birch wood veneer panes. The two-door design has three inside shelves for showcasing your prized possessions and two pull-out drawers with hardwood drawer slides for storing less eye-catching necessities.
Final Thoughts on Cane Dresser
We've recently discussed several different types of rattan furniture. Cane is the material that comes from the outer rattan stalk, allowing use of nearly the entire plant. Cane furniture is partly making a comeback due to the global movement focusing on more consciously produced goods. In purchasing a cane dresser for your space, you can feel good about both your design choice AND your contribution to environmental sustainability.