This post is sponsored by The Home Depot. All opinions are 100% my own. Thank you for supporting brands that I truly love and use!
We did it! We pulled it off! Baby boy nursery is just about complete (2 weeks to spare!) and I've been itching to show you my favorite detail of the room. For those of you that have been following along on IG (saved in highlights under Home Depot Paint) — you've seen just how much work had to be done. Previously Kevin's office, and the storage hub for that 'extra stuff' around the house we didn't know what to do with! The space boasts oversized ceilings with tremendous potential, but remained unkept and cluttered. It's quickly turned into one of my favorite areas of the house thanks to a little paint! In an effort to not overwhelm, I'll be splitting the nursery reveal in 2 parts. Wahoo! If you're looking for baby boy nursery ideas, then keep scrolling for inspo!
BABY BOY NURSERY REVEAL | PHASE ONE
---
PHASE ONE: PAINT COLORS & BARN DOOR REVEAL
I'm beyond excited to partner with The Home Depot TheProjectColor™ App to revive this space. (pinch me, seriously!) So much magic in the touch of a button, here's the rundown:
---
Using the ProjectColor™ App:
TheProjectColor™ App (15k 5 star reviews) has some outstanding features, but these are a few of my favorites:
SEE IT IN YOUR SPACE: upload photos of your space and see the paint colors on the walls.This one was huge for me! Being pregnant and incredibly indecisive — this feature helped relieve any doubts/fears with selecting the right color since I was able to see it in my space beforehand. I shared an example on my IG story (in highlights

here

).
ORDER PAINT SAMPLES FROM APP: easily order paint samples with the click of a button: after selecting paint options, I was able to order samples straight from the app to pick up in store! This eliminated weekend crowds and waiting in line. Such a win!
COLOR MATCHING: Easily link your Pinterest boards within the app to color match any favorite pins/spaces. I shared a video example on my IG story highlights, but probably used this feature the most! I knew I wanted to do something 'moody' and relied on my favorite pins to bring this to life. Personally, this feature is my favorite since I rely heavily on Pinterest for all things home decor inspiration. Being able to match colors to my favorite spaces online is HUGE! PS: Just to clarify — you can color match anything (not just via the Pinterest app). If there's an item of furniture in your house you'd like to 'match' simply take a photo, and match it via the app! It's so easy!
---
PAINT COLORS FOR BABY BOY NURSERY
---
Like I mentioned above, we have oversized ceilings so it was a bit more challenging. I didn't want furniture or paint to get 'lost' in the space. After sharing a poll on IG, the majority of you said to have one statement wall that was painted a different color. That's exactly what we did and it turned out beautifully! We used Intergalactic by Behr Paint in Behr Premium Plus Ultra Satin Finish for the statement wall and barn door. This allowed for only 2 coats (since the room had dark paint on previously). For the other 3 walls, we used Light Drizzle by Behr Paint in the same finish. Light Drizzle is featured in the 'Behr 2020 Color Trends' which is extra cool! I especially love the contrast that these colors have against one another! The barn door really pops and makes a serious statement!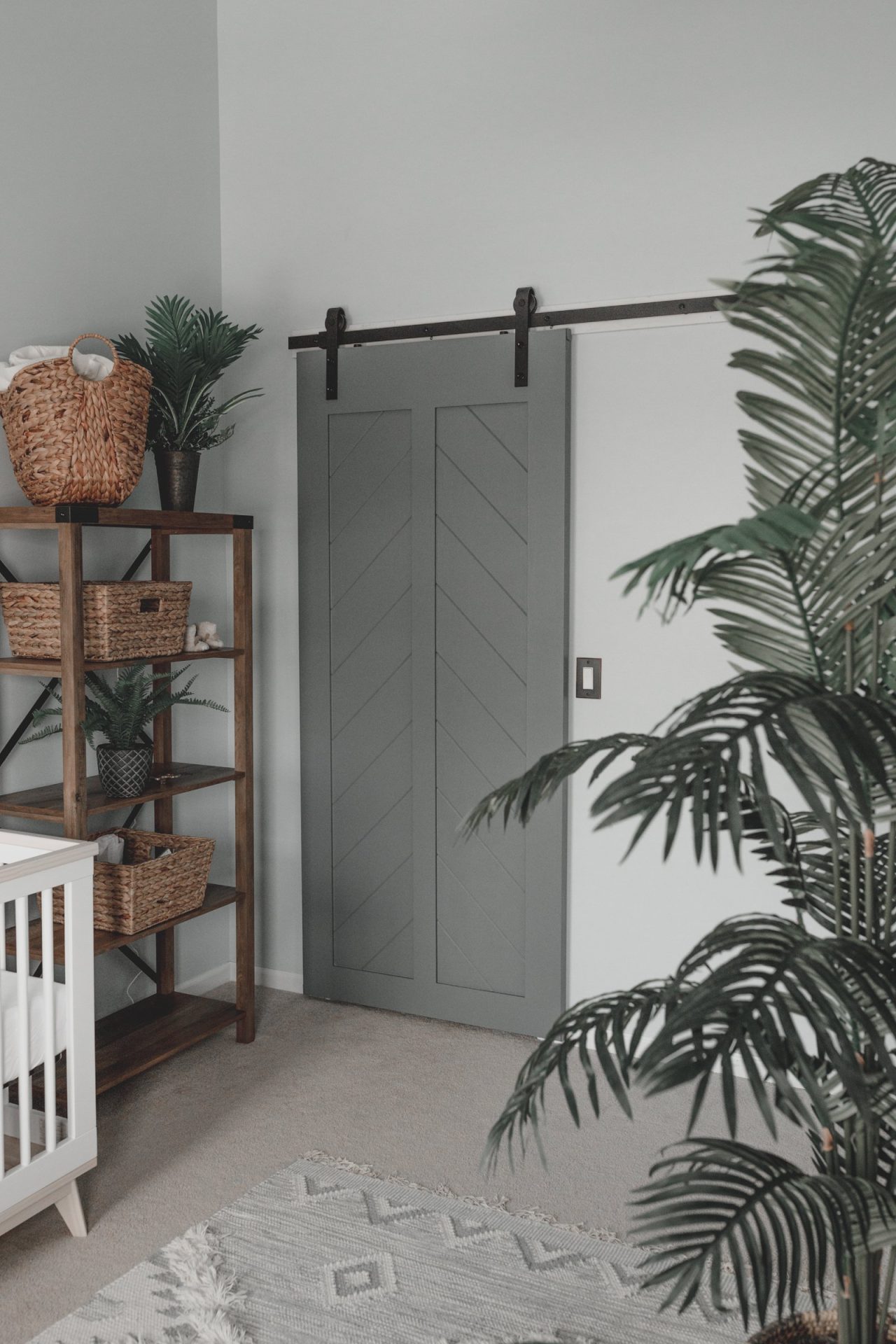 BARN DOOR & PAINT PROCESS
---
I decided to put a barn door in the space to add some character and dimension. Not to mention, I've always wanted a barn door in my house! Home Depot has so many amazing ones to choose from at every price point, and professional installation generally costs below $200. It's a relatively inexpensive project that will ultimately transform your entire space completely! Most people can do the install on their own, but
I immediately fell in love with this chevron door, and there was no going back. It looks absolutely stunning in white, but I wanted to add a pop of color to the space. I'm also growing tired of the 'all white everything' trend. The Intergalactic by Behr Paint makes this door look like a million bucks! Don't forget to pick out the hardware for the barn door! We settled on this one (popular on website) and it worked out perfectly. Painting the door was a breeze — took under 30 minutes to do! Let the kids help!
It's honestly amazing what some paint can do to a space! I'll be saving this project/journey on my IG highlights under 'Home Depot Paint' so you can stay inspired! Also make sure to find more goodies at The Home Depot blog! (Did you catch my holiday post?) I find so many wonderful ideas/tricks there from so many creatives around the world.
Baby Boy Nursery Plans | Baby Registry Must Haves
---
PRODUCTS USED IN BABY BOY NURSERY:
All purpose tarp (for barn door)
Wicker basket (more here)
Indoor house plant (Home Depot has so many amazing ones to choose from!)