Want to keep your space more organized or need a couch that can be moved and reassembled easily? You definitely want modular furniture! 
What Is Modular Furniture?
Modular furniture is furniture that can be adapted to your space and customized for your own needs and style. It aims to be functional, stylish, and comfortable while also being super versatile. You can adjust and rearrange modular furniture until you find the perfect configuration for your space.

Some of the most popular types of modular furniture are closet systems, sectional sofas, and shelving units. 

Modular sectionals and sofas have several separate seats that go together easily and can be adapted into multiple seating arrangements. 

Storage solutions like custom closets, shelving units, and other types of modular furniture systems have drawers and shelves that can be reconfigured, as well. 
Pretty much everyone can benefit from adaptable furniture, especially if you need customization or have small spaces! And because they come in individual lightweight pieces, they're effortless to deliver and move. 
What does modular mean in furniture?
n furniture, "modular" refers to a design concept where individual pieces can be combined or rearranged in various configurations to create different furniture setups. It allows for flexibility and customization to suit different spaces and personal needs.
Modular Furniture Brands 
There are a ton of modular furniture brands to choose from, so here are some of our favorites to make your search a bit easier. Just be careful not to fall in love with each one because they're honestly all amazing!
Burrow is all about convenience, style, affordability, comfort! Each of the modular furniture systems is thoughtfully designed and manufactured, which is a big deal when you're choosing a modular furniture brand.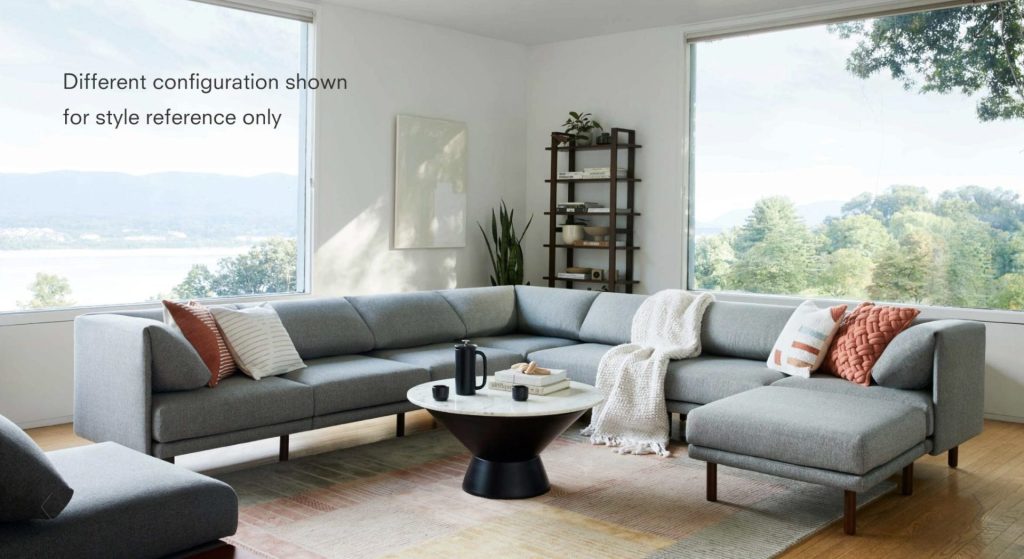 While they offer a wide range of versatile storage solutions and adaptable couches, their Range 6-Piece Open U Modular Sectional is something worth highlighting. 
It has six different pieces that you can arrange however you like. So whether you want a huge center sofa or some other arrangement (like a chaise, normal couch with ottomans, etc.) it's totally possible. Even better is it's free of harsh chemicals like formaldehyde and flame retardants. You can read more about it in this post!
The Container Store has more than just (yep, you guessed it…) containers! You can actually get some pretty awesome modular furniture from them like custom closet systems, pantry shelving, and SO much more. They're a favorite among so many organizing professionals, too (Home Edit, anyone?) and it's easy to see why!
You can transform any wall or floor plan with their shape-shifting desks, pantry storage, laundry room organization, and garage storage units.
But their true star just might be their custom closet systems, which give you just the right amount of storage space and nothing more or less. You can choose the orientation, number of shelves, rods for hanging, and anything else you could ever need.
Of course, we can't leave out the iconic Ikea in a post about modular furniture! We all know that Ikea offers really great home products on a budget, but they offer more than just bookshelves and storage cabinets.
IKEA is a Swedish company that's known for its affordable and stylish furniture. And while they don't focus solely on modular furniture, they do have a great selection of adaptable pieces.
One of our favorite IKEA modular furniture systems is the Komnit system. It's basically a bunch of different storage solutions that you can mix and match to create the perfect configuration for your space. The best part is it's very affordable!
Komnit is great for small spaces because you can choose exactly what you need and nothing more. And since it's all modular, you can add on or rearrange as your needs change.
IKEA also has a few different modular sofas that are perfect for small spaces. The Kivik sofa is a great option because it comes in multiple pieces that you can put together however you like. And like all IKEA furniture, it's very affordable!
Overall, IKEA offers amazing modular sectionals, closet systems, drawers, desks, and more that won't break the budget.
Maiden Home offers truly stylish and comfort-focused modular sofas that can be arranged to fit your space just right. 
One of their most well-known sofas is The Jones Modular. It can hold up to everyday life and be arranged in a variety of ways so that it fits your floor plan perfectly. You can choose to buy it as a sofa or sectional. Need even more customization? No worries – you can even build your own on their website Functional! Functional and fashionable? Yes, please!
You'll also find a few other great modular furniture options like The Tyler Modular Storage Ottoman and The Ellis Modular Cocktail Table.
Both are beautiful pieces that offer stylish storage solutions. The ottoman can be used as a coffee table, footrest, or extra seating, while the Ellis Cocktail Table can be used as a coffee table or side table.
Warning: this is possibly the most amazing modular furniture brand ever – or at least when it comes to couches! Lovesac allows you to completely customize your own modular sofa from the size, number of seats and sides, fabric, and more. So if you've always had a certain type of sofa or sectional in mind, you've just found your new favorite furniture brand.
And the best part is you're not stuck with your original idea. Once you get your couch, you can break down each section to move anywhere and rearrange them until they fit your room and style just right. They also offer changeable covers in over 200 options. (Whaaaat?!) Talk about the perfect couch for anyone! Of course, we also can't forget that they offer a 60 day home trial!
You can create the sofa of your dreams with Lovesac couches because their modular furniture system is simply one of the best and most thought out.
Overall, Lovesac is a top pick for modular furniture because of its endless customization options and high-quality construction.
If you want insanely beautiful, yet fully functional storage and modular furniture options, Crate & Barrel will make your heart sing. They have everything to do with modular furniture systems, from TV stands and bookshelves to dressers and clothing racks. And yes – they gave modular couches, too!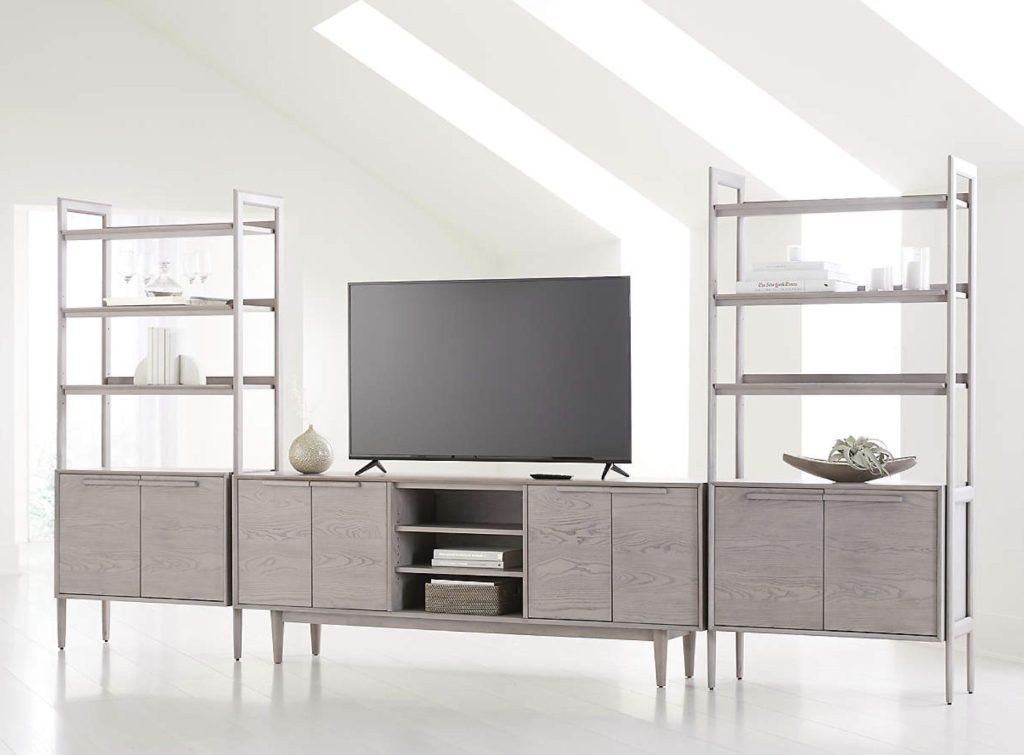 The Besta system from Crate & Barrel is a complete storage solution that comes in a variety of sizes and colors.  You can use it to create a library, office, bedroom storage, or living room entertainment center. And like all Crate & Barrel furniture, it looks amazing and is built to last.
Module furniture from Crate and Barrel is by far some of the prettiest we've come across, with lots of natural elements and even mid-century vibes. Their prices are super reasonable, too!
We've talked about West Elm in previous posts before and for good reason! Furniture from West Elm is high-quality, gorgeous, and very functional! 
While they don't have a lot of modular furniture options, the ones they do have are definitely worth considering. You can buy storage solutions that can be tailored to your specific storage needs, like entertainment centers and shelving. 
If you prioritize style and decor but don't want to sacrifice functional pieces, you'll be pleased with the functional furniture collection from West Elm. 
Visit here for more modular furniture options!
If you're into furniture with lots of personality and details that most brands don't have, you will love Anthropologie. They combine unique style with function so that you can get the most out of your furniture every single time. 
One of their most popular modular furniture systems is The Kori Collection. All of the half pieces in this collection are inspired by a mix of boho vibes and contemporary feel. You can get ottomans and seats with or without armrests in a variety of patterns and fabrics. They have more collections and series that are easy to fall in love with, too.
Anthropologie is one of the best modular furniture brands to buy from if you want something with a unique style and variety. You can build your perfect sectional on their website, from the color and shape to the fabric type and size within several different collections and price points.
Floyd Home is all about sustainability, style, and function. You'll find that their most popular furniture is the Floyd Shelving System, which you can add different units to for ultimate storage. Their sectional is another well-loved piece and can be configured in pretty much endless ways. Even better is it's designed to be used with The Modular Table so that you can create the perfect seating arrangement.
If you appreciate simple, minimalist style furniture from a brand that cares about people and the planet, you will love everything from Floyd Home.
Let's be honest…who doesn't love Pottery Barn?! 
While most of the brands mentioned above focus on modern or minimalist anesthetics, Pottery Barn features furniture with traditional style. You can even find modern farmhouse-inspired pieces!
If you want variety, you want Pottery Barn. They offer modular furniture systems for any need, from TV stands, buffets, and beds, they have it! And yes – sectionals, too!
Rounding It Up: The Best Modular Furniture Brands
If you need furniture and storage solutions that grow with your changing needs, you need to look at these modular furniture brands!
Each one has its own style and pros, but they're also meant to last for years while giving you all the customization you could ever desire.
To recap, the best modular furniture brands are:
You can't go wrong with any of these brands or their adaptable couches, shelving units, and closet systems!