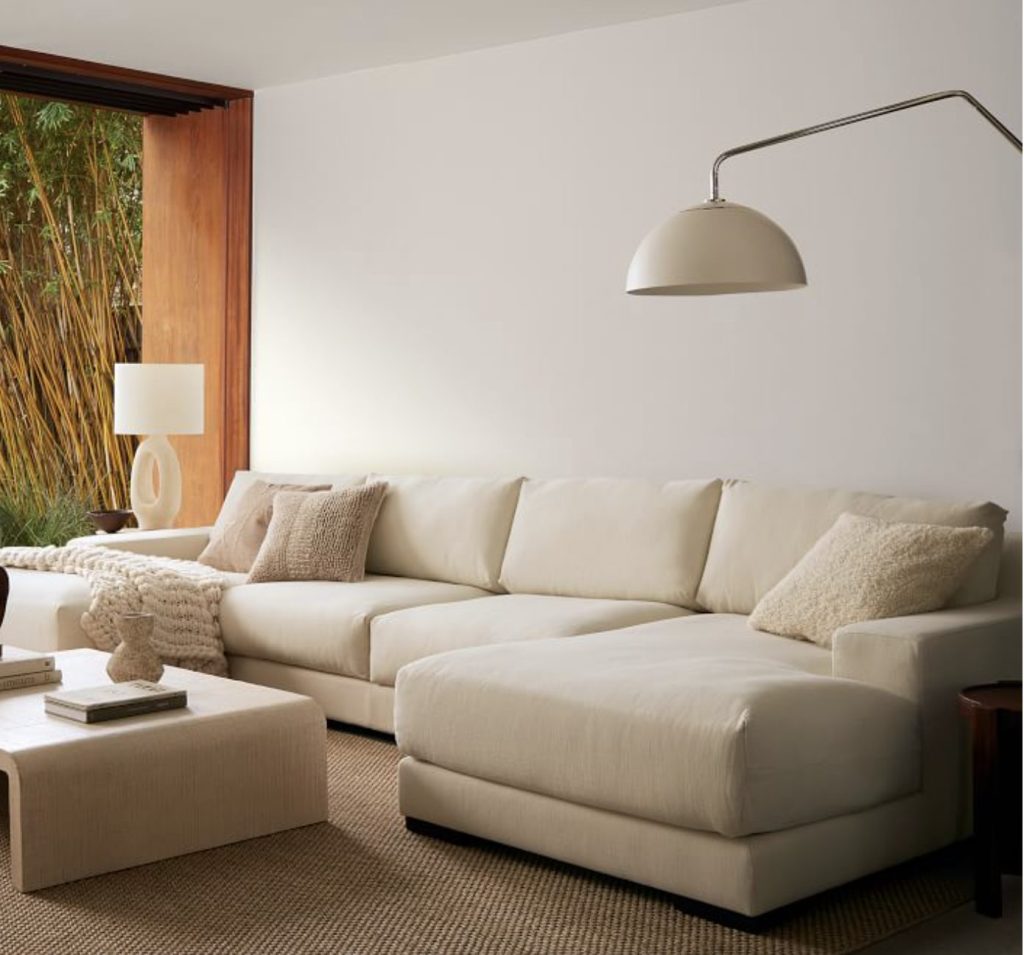 Double chaise sofas offer a multitude of advantages that make them an exceptional choice for both style and functionality in any living space. One of the main advantages is their spaciousness, providing ample room for lounging and relaxation. With two extended chaise sections, they offer comfortable seating for multiple individuals or even the option to stretch out alone.
Whether used for casual gatherings, movie nights, or simply unwinding after a long day, double chaise sofas elevate the comfort and aesthetic appeal of any living area.
What is a double chaise sofa?
Traditionally, a double chaise sofa is a large u-shaped sectional with chaise lounges flanking each side. Some of these sectionals now feature a single chaise lounge that is approximately double the width of a classic chaise lounge.
Why should you consider purchasing a double chaise sectional?
Double chaise sectionals are a super versatile furniture choice, offering double the comfort of other sofas and maximizing seating in any space. They're perfect for resting with family after Sunday supper or Netflix binging on a girls' night in. A double chaise sofa can even double as a guest bed!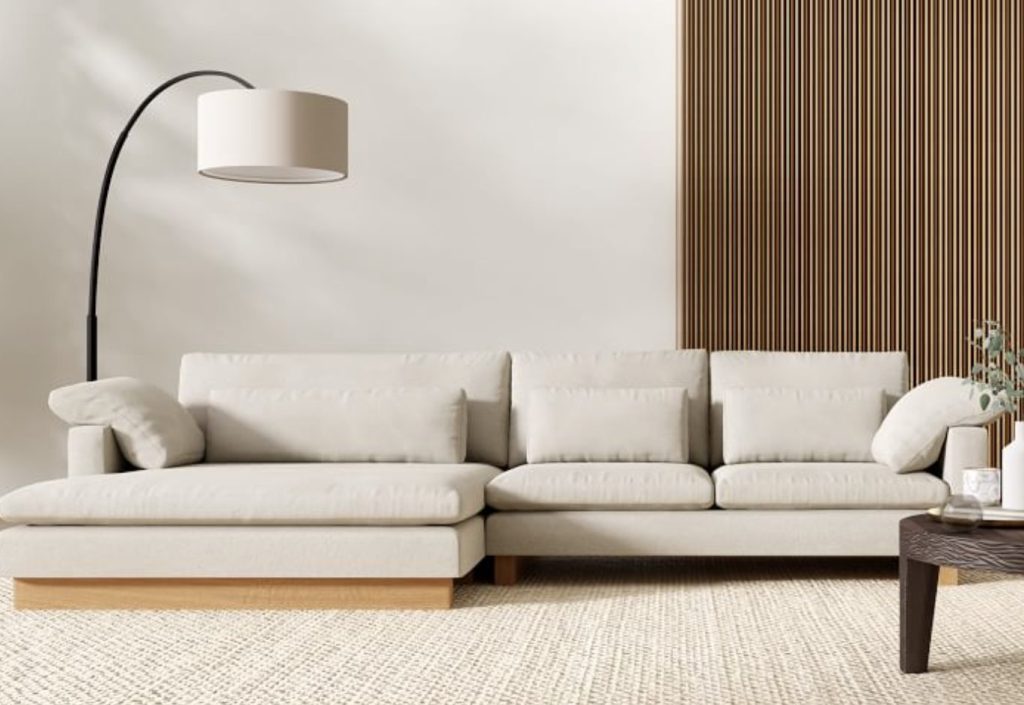 West Elm's Harmony 2-Piece Double Wide Chaise Sectional boats a deep seat, thick cushions, and moveable lumbar pillows. It features a low, clean-lined frame and your choice of hand-finished upholstery. Choose from three seat depth options to create your perfect piece.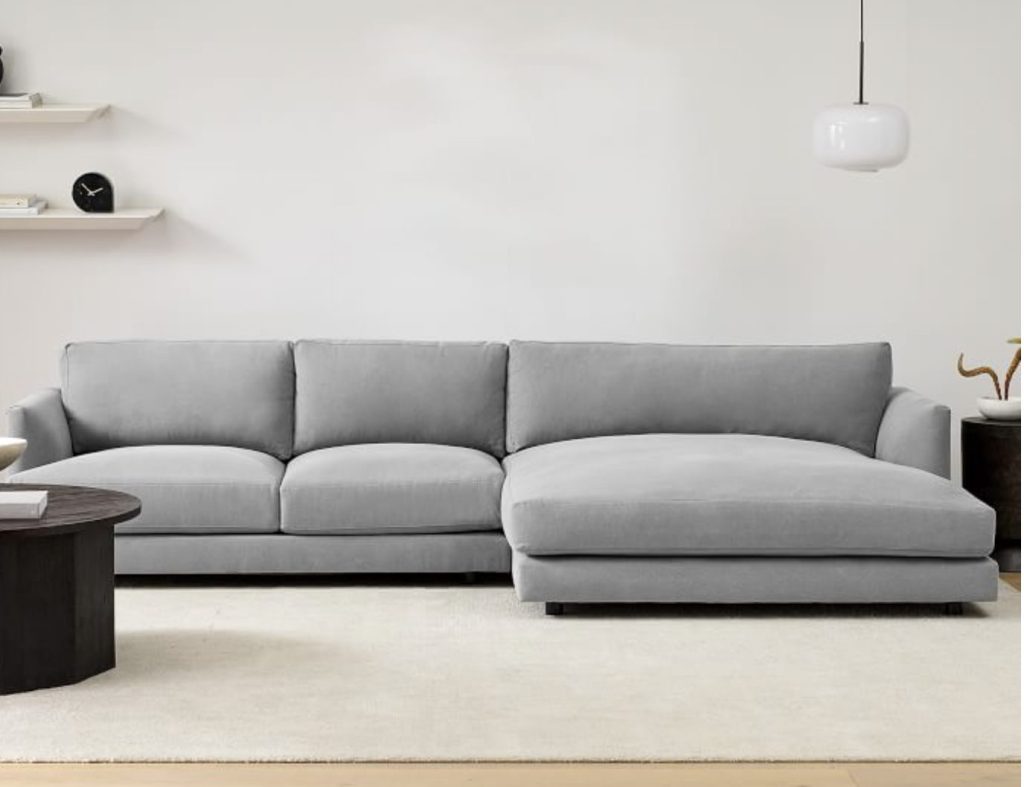 Appropriately named, the Haven Double Wide Chaise Sofa is somewhere you'll want to spend a lot of time. Its expansive double chaise lounge, padded arms, and deep seat offer irresistible comfort for the whole family. The loose, reversible cushions are made of high-resiliency polyurethane foam and wrapped in a down alternative.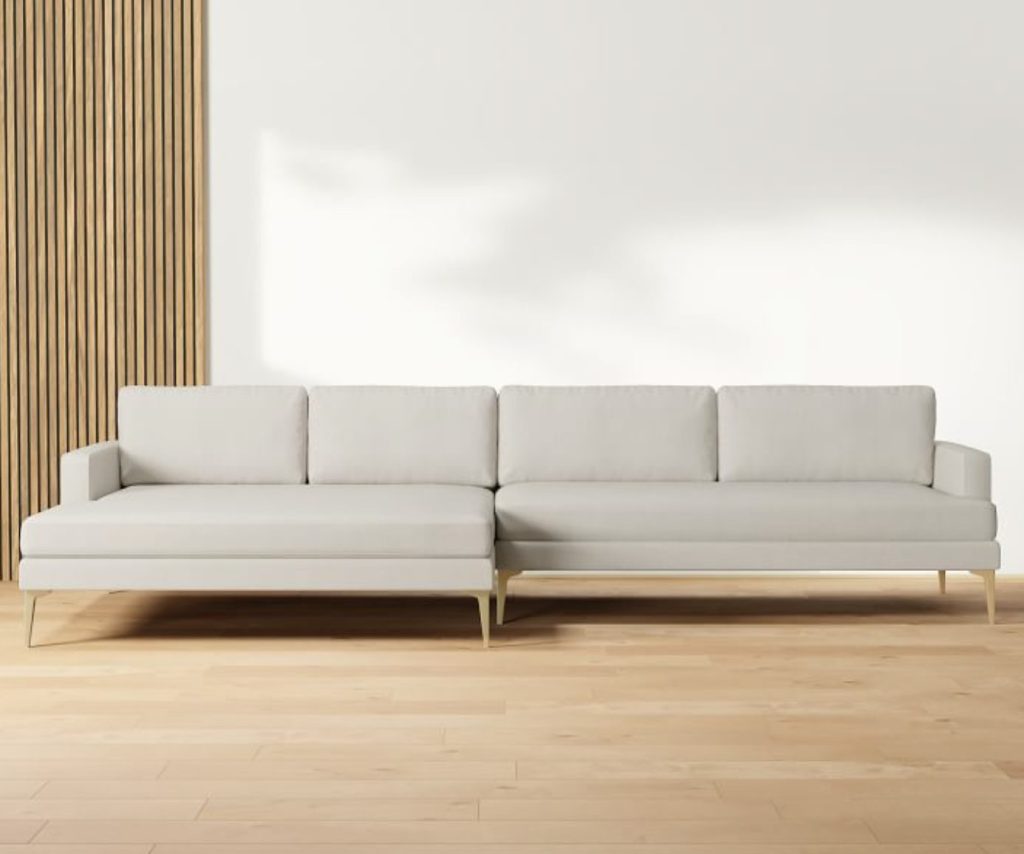 The Andes Double Wide Chaise Sectional is as beautiful as it is comfortable. The contemporary form, sharp tailoring, and shapely legs compliment the extra wide chaise– an ideal spot for relaxing. Customize this already perfect piece by selecting the colors and materials of your choice.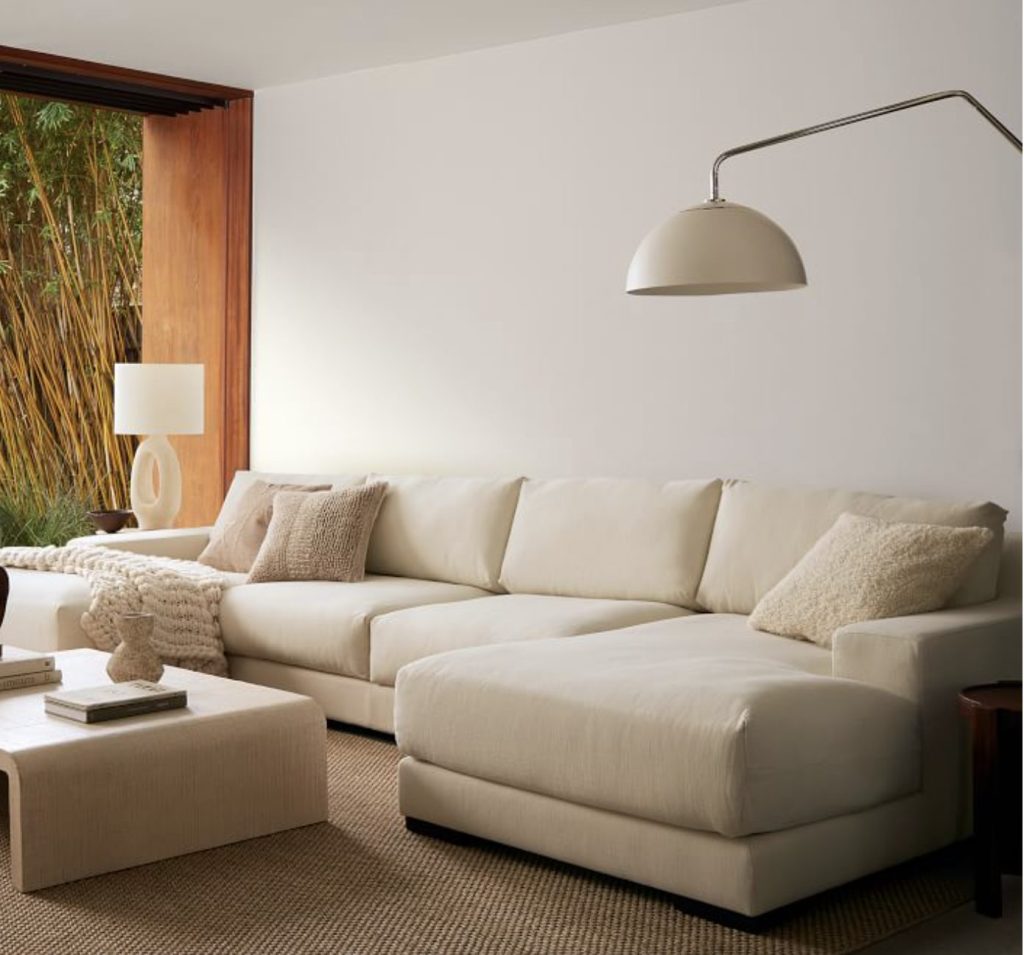 West Elm's Dalton Chaise Sectional aims to balance tradition and modernity. Its low profile boasts refined elegance, while sink-in cushions offer the highest comfort. Made with contract-grade materials, the Dalton is designed to last.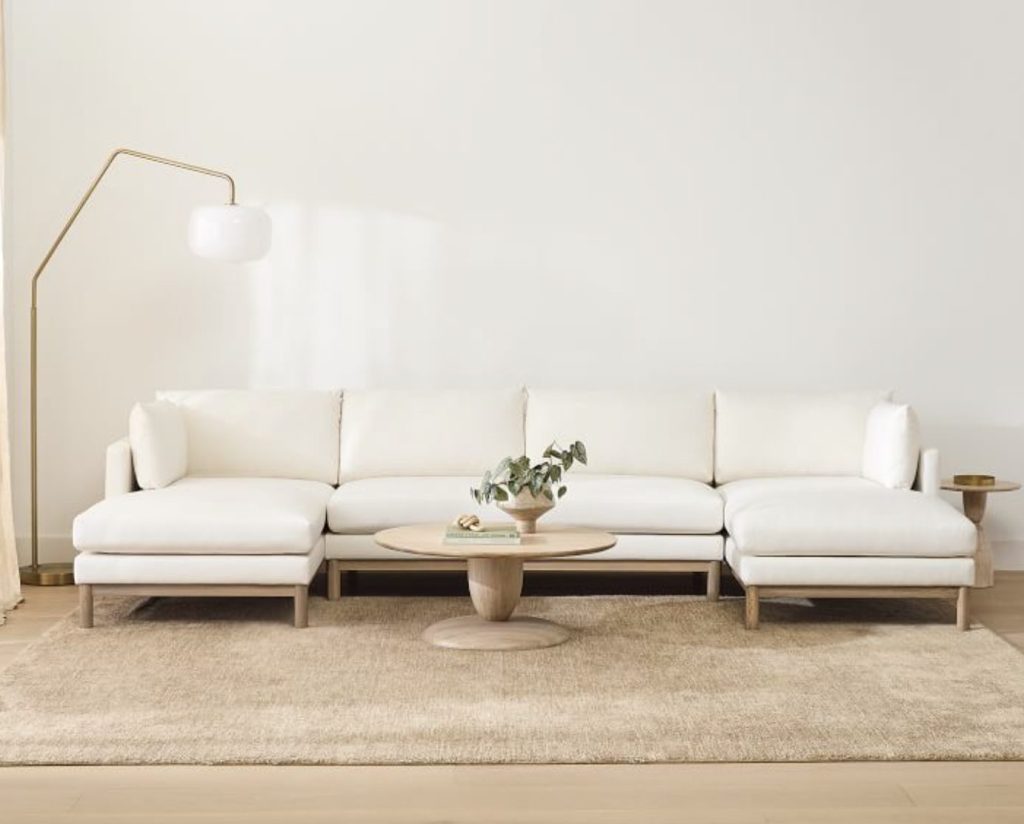 The Hargrove U-Shaped Chaise Sectional is beautifully crafted from sturdy ashwood and your choice of upholstery. Its profile and exposed wooden legs and base have a seaside contemporary feel to them. On a scale of 1 to 5, with five being the firmest, Hargrove is a 5, offering more supportive seating.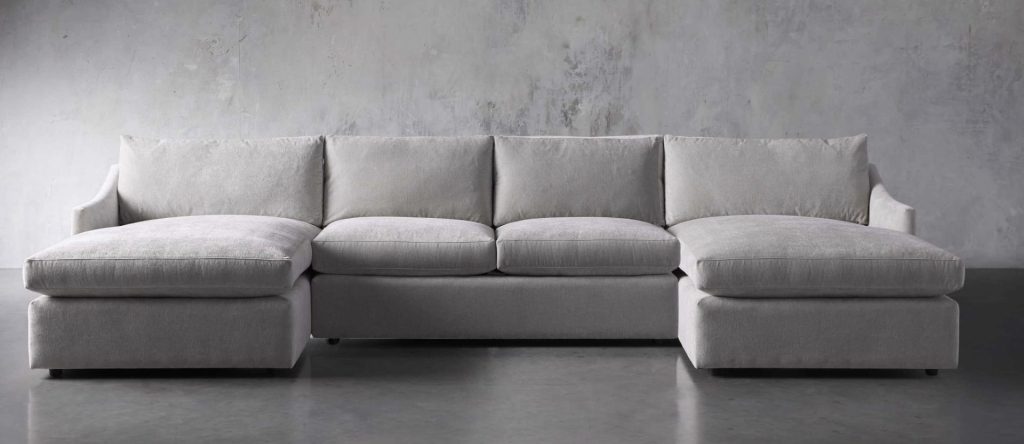 The Branson Double Chaise Sectional, ideal for compact living spaces, brings elegant, adaptable flair to your home. This sofa's narrow sloped arms are paired with a low profile, offering a cozy, stylish appeal. Branson's solid timber frames are handcrafted in the United States.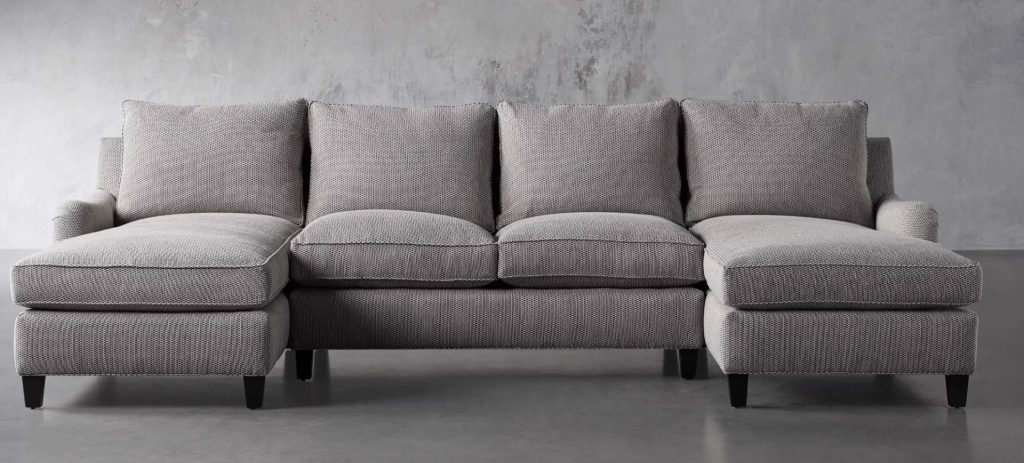 The Paxton Double Chaise Sectional was designed with a conventional silhouette, a low profile, and curved lines—all masterfully upholstered with either textured, menswear-inspired fabric or rich, hand-finished leather. Handcrafted from solid, reinforced hardwood, this sectional creates the ideal foundation for your living area.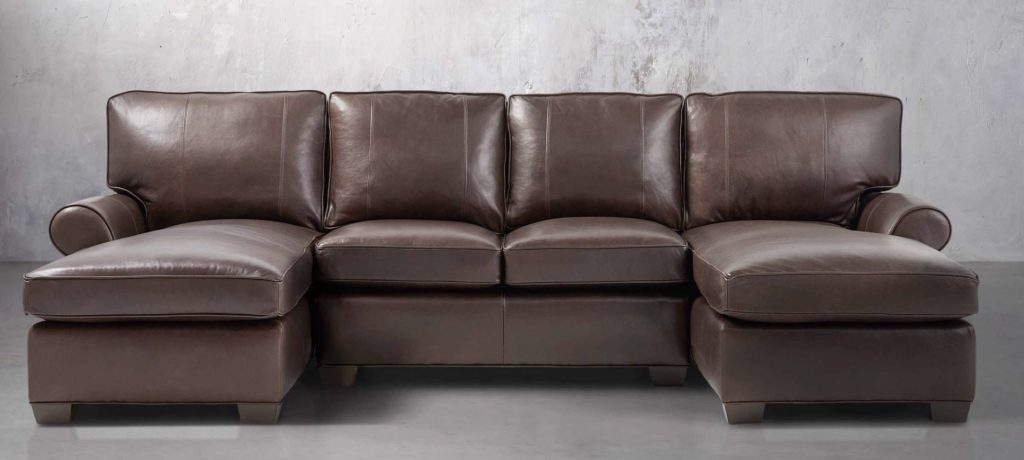 The Brentwood Leather Double Chaise Sectional is robust, supportive, and luxurious. Because of its timeless design, Brentwood may be used in a variety of settings, whether traditional or modern. Customize your sectional by choosing from over a dozen gorgeous leather options.

137″ W x 66″ D x 38″ H
The Landsbury Double Chaise Sectional boasts pure comfort and a timeless, transitional design to enhance any living space. Its wood-stained solid block feet, wrapped arms, matching toss pillows, padded upholstery, and deep seats will make this a fast family favorite.

191″ W x 71″ D x 34″ H
The Novoli Double chaise sectional is handcrafted by skilled craftsmen in North Carolina. This sectional is covered in luxurious, textured boucle performance fabric you'll want to sink into. Novoli, with its timeless, low-profile shape, may be dressed up or down to suit any style.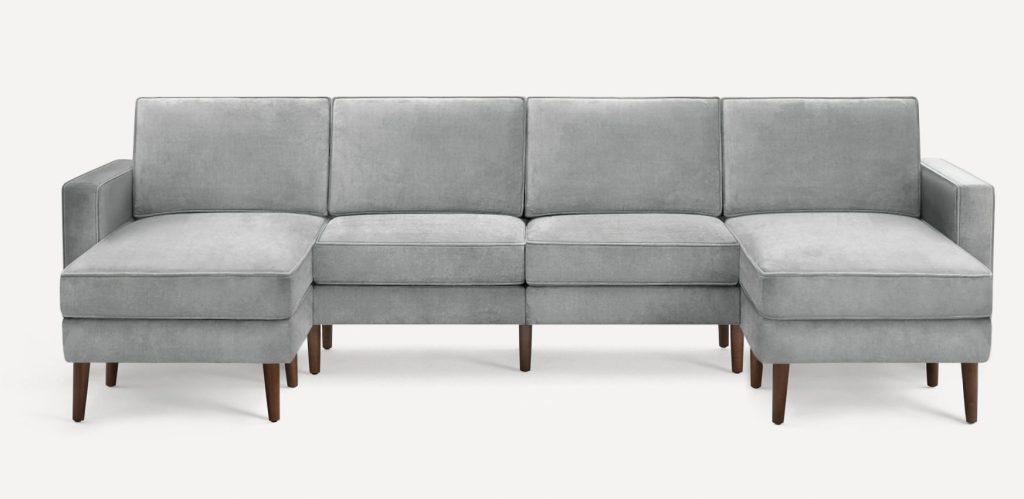 111″ W x 61″ D x 33″ H
No more fighting over the chaise lounge on movie night. The Nomad Velvet Double Chaise features a modular design and smart features like built-in USB chargers. Choose from several different upholstery options and wooden leg stain options.

The Big Sur Double Chaise Sectional is designed for the ultimate lounging experience. This modular sectional is casual yet ageless. The Big Sur Double Chaise Sectional raises the bar for comfort with spacious proportions and endless configuration options.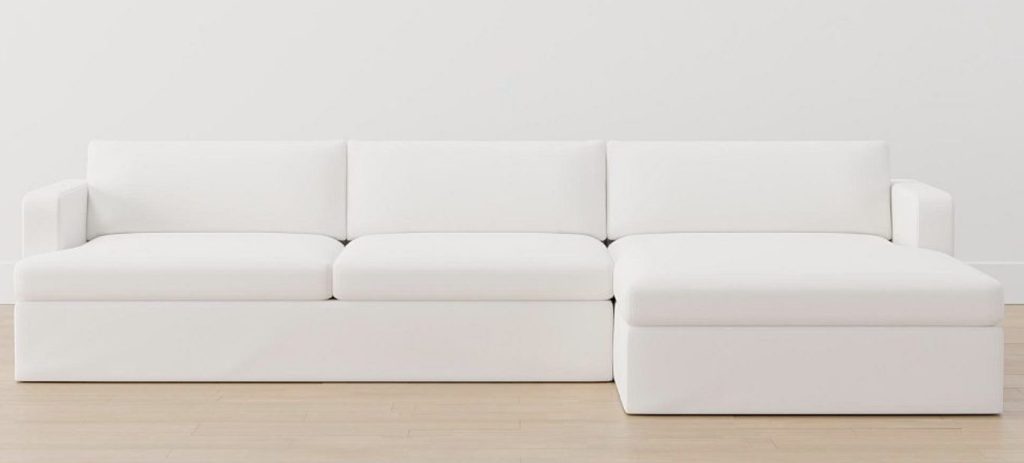 The Serene Slipcovered Double Chaise Sectional offers maximum comfort with a minimal aesthetic. As the name implies, it transforms any family area into a serene refuge. The seat cushions feature a cutting-edge foam core for curl-up comfort, creating a clean, plush design without looking bulky.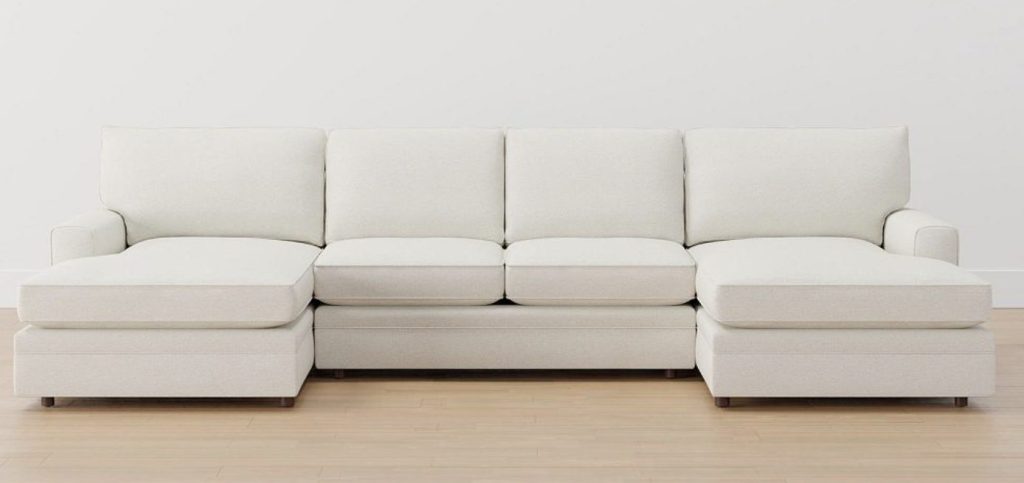 The Pearce Double Chaise Sectional's generous arm, deep seat, and comfortable down-blend cushions make it popular for reclining in the family room. It features a transitional design style that will look great in any setting.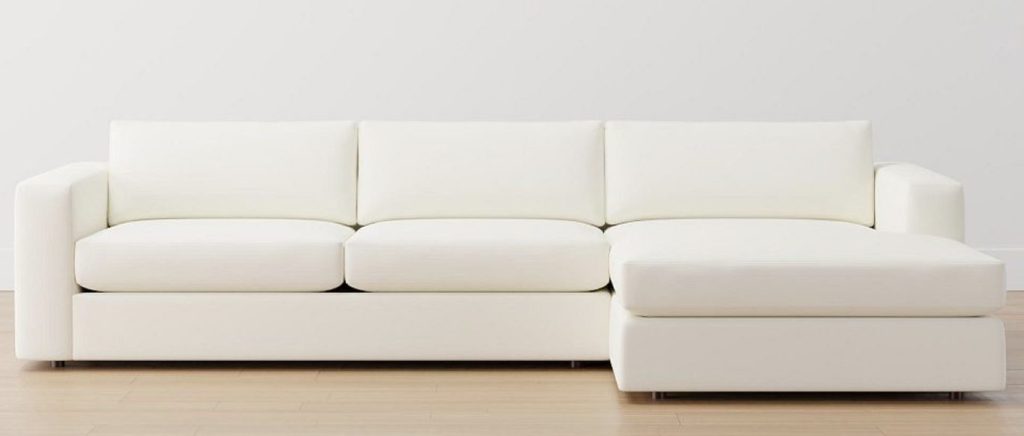 120″ W x 68″ D x 33″ H
The Carmel Double Chaise Sectional is a grand example of understated sophistication. Wide, structural square arms contrast with down-blend cushions for luxurious lounging, demonstrating the maxim "less is more."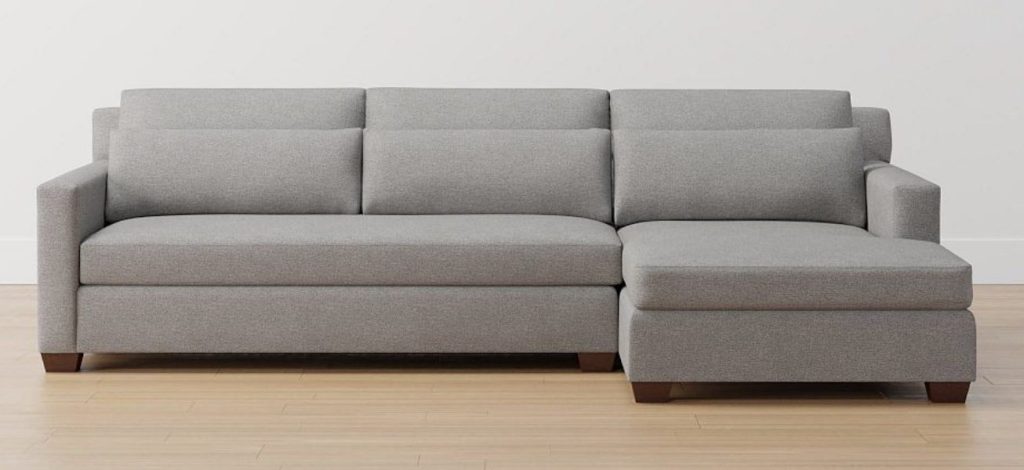 The York Double Chaise Sectional's elevated aesthetic captures the elegance of contemporary-style European seating. This deep-seated sectional offers a more spacious sitting experience, and its delightfully fluffy cushions provide extra support.
The York is also available upholstered with slope arms and slipcovered with slope arms.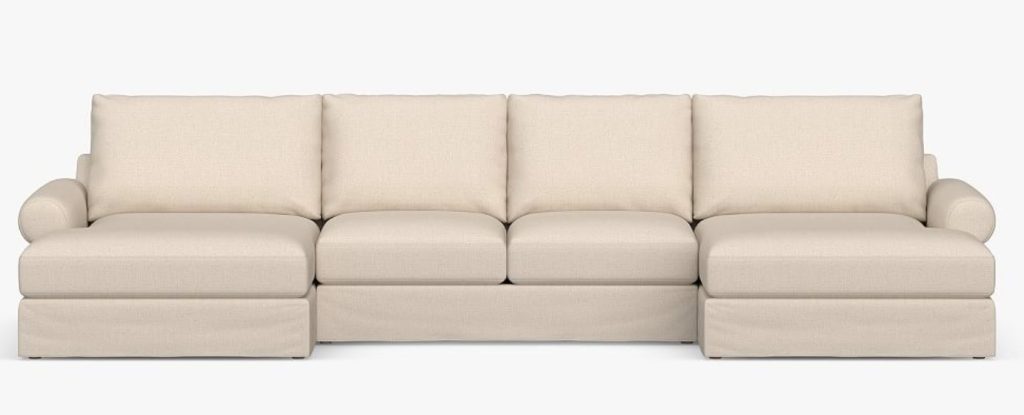 Modern form meets traditional comfort in the Canyon Double Chaise Sectional. It's made for sprawling out and has a low profile with giant cushions that make you feel like you're on cloud nine. Keep a variety of custom slipcovers on hand to quickly and simply change the look whenever you want.

The Jake Double Chaise Sectional combines excellent comfort with a clean silhouette for a stylish yet casual presence. This sectional's legs make it unique; the polished metal gives them a distinctly contemporary vibe that blends well into any room.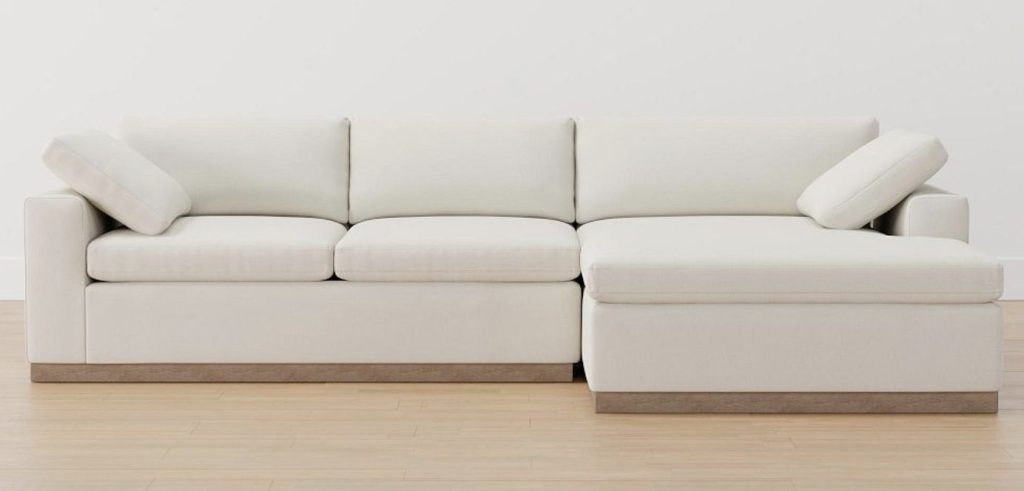 The days of sacrificing beauty for comfort are long gone. The Dream Double Chaise Sectional by Pottery Barn is sleek, adaptable, and incredibly comfy. Handcrafted by professional upholsterers, this sectional is made to order in your choice of fabric and color.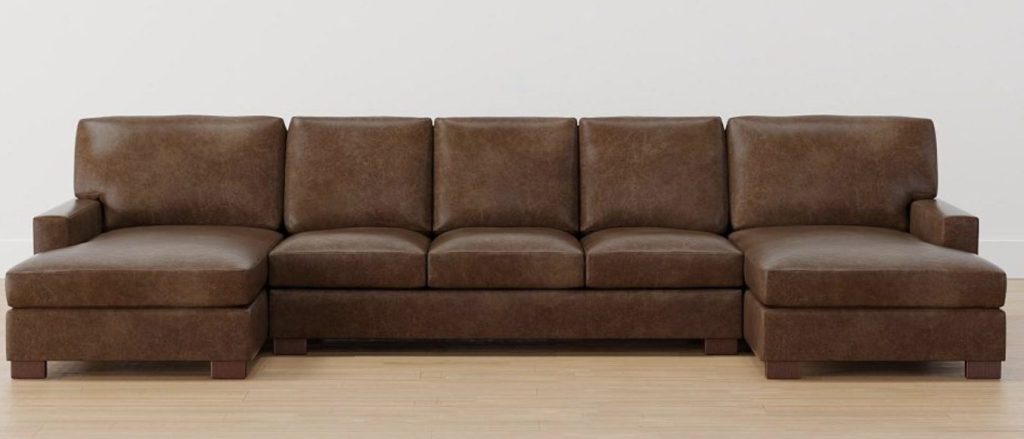 If you're looking for grand comfort at a grand size, look no further than the Turner Leather Double Chaise Sectional. Thanks to its high back and down-filled cushions, you'll adore its classic appearance and robust design year after year.

151″ W x 77″ D x 25″ H
The Tidal Double Chaise Sectional boasts deeply cushioned seats and pillow backs that offer the ideal reclining degree. These features are complemented by the sturdy, easy-to-clean fabric's luxuriously smooth micro-chenille weave. You can also enjoy the feel-good vibes of knowing that the upholstery on this sectional includes yarn made from recycled ocean plastics.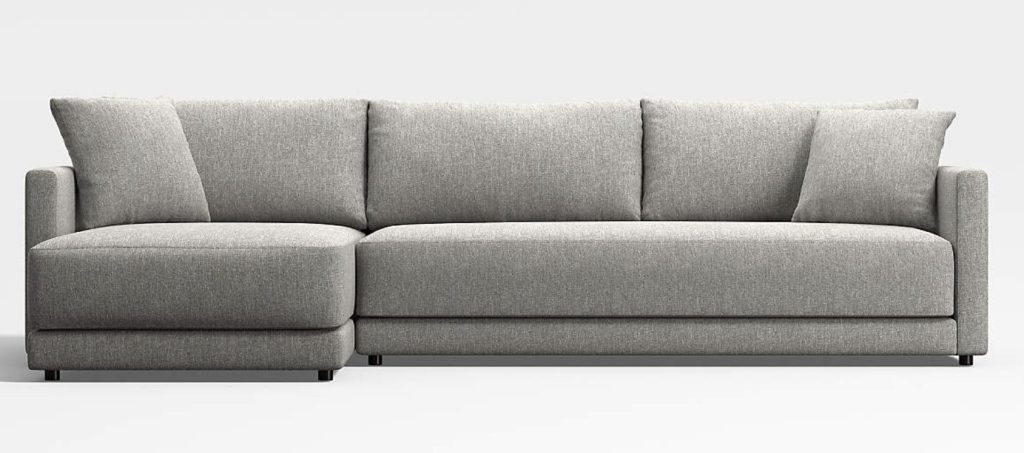 130″ W x 68″ D x 26″H
The Gather Chaise Sectional strikes the ideal mix of coziness and modern design. This contemporary, clean-lined chaise sofa boasts extra-plush seat cushions and a wider-than-usual chaise lounge to maximize comfort.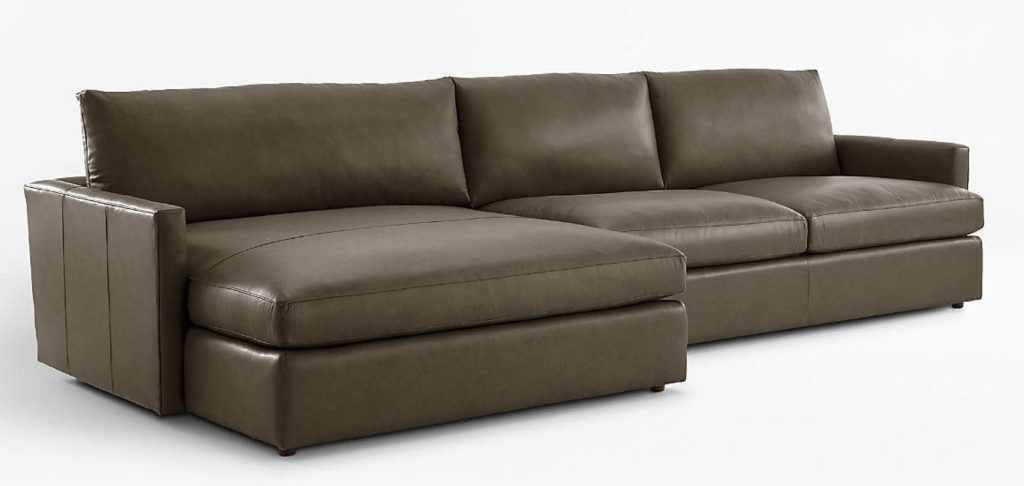 The Lounge Leather Double Chaise Sectional offers a luxurious design with a sink-right-in feel. Fully customize your perfect sofa by choosing its size, shape, depth, and leather upholstery. Its leather is finished with a single coat of wax to unify color, give it a smooth texture, and allow for the development of a rich patina over time.
The Oceanside Double Bumper Sectional features clean lines and a trendy, how-low-can-you-go seat. Soft yet firm cushions offer just the right amount of support, creating your family's new favorite lounging spot. Oceanside's wide arms are ideal for supporting books or acting as a comfortable perch for conversation.

154″ W x 76″ D x 27″ H
The Pacific Double Chaise Sectional boasts low, deep seating that compliments modern living spaces with an easy, made-for-lounging look. This perfectly proportioned sectional offers a cozy combination of pillow-back cushions, bolsters, and seamless, bull-nosed seat cushions. Pacific's medium-density seat cushions sit deep for the ultimate living room relaxation station.

Crate & Barrel's Unwind Slipcovered Double Chaise Sectional lives up to its name with plush cushions and cozy proportions. This five-piece sectional comes with durable linen slipcovers for easy cleaning.

144″ W x 75″ D x 31″ H
The Aris Double Chaise Sectional cozily transforms contemporary design, making it everyone's favorite relaxing spot. With broad decks and crisp track arms, Aris practically begs you to sink into the deep bench seats and plush back cushions.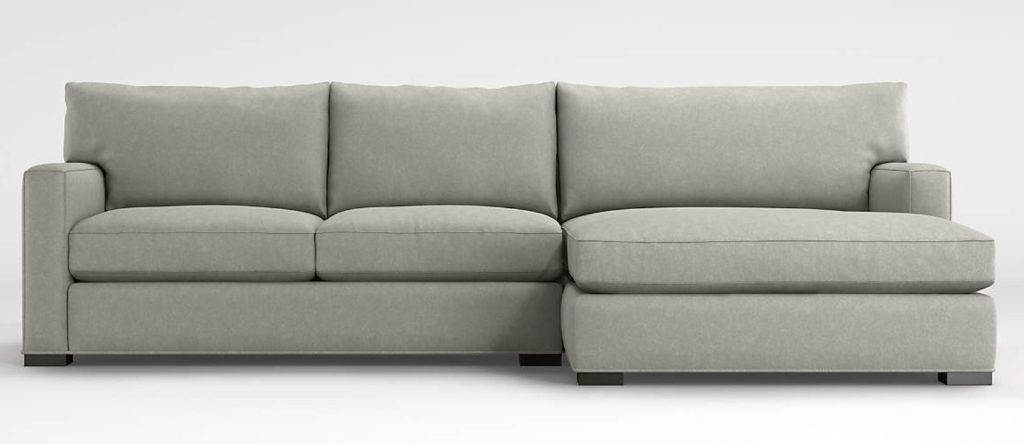 The Axis Double Chaise Lounge Sectional was made with family life in mind. In addition to being incredibly comfortable, this sectional is durable and adaptable, perfect for family rooms and informal living spaces. The Axis is entirely customizable– choose your preferred size, shape, orientation, fabric, and leg finish.

The Horizon Double Chaise Sectional has a low, relaxed seat, drawing inspiration from contemporary European furniture design. The sectional features 12-inch-wide armrests and thick bench seats with medium-soft padding that invites you to sink in.


Sunday is a day of rest. The Sunday Double Chaise Lounge was designed with rest in mind, yet refined enough for any design scheme. Simple recessed legs remove visual clutter and allow the light, airy frame and plush cushions to float. 

The Eva is a beautifully constructed double-chaise sectional with deep seats and stunning upholstery. Its tall, sleek metal legs are polished in a rich black to complete its exquisite appearance. Available in gray or cream colorways.
Final Thoughts
If you want to amp up the cozy level in your space, a double chaise sofa is the perfect addition! Measure your space (maybe even twice!) and pay close attention to the dimensions to ensure you're purchasing a sectional that's truly perfect for your space.