Looking for a boucle dining chair? Look no further! We have 15 amazing options at every price and style! We hope you find one you love!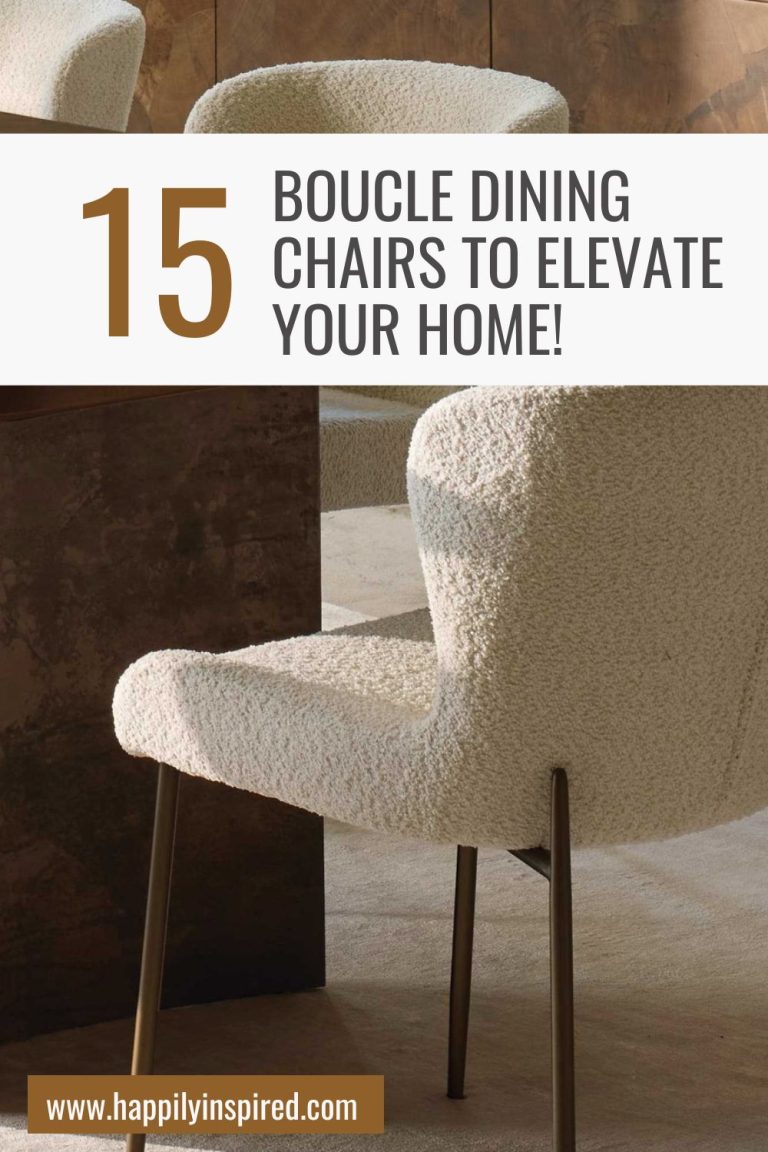 Boucle dining chairs elevate any home decor with their stylish and cozy design. Their textured fabric adds visual interest, while the comfortable seating enhances your dining experience. These chairs bring both aesthetic appeal and comfort to your living space.
Boucle Dining Chairs
15 Best Boucle Dining Chairs
1. Boucle Upholstered Side Chair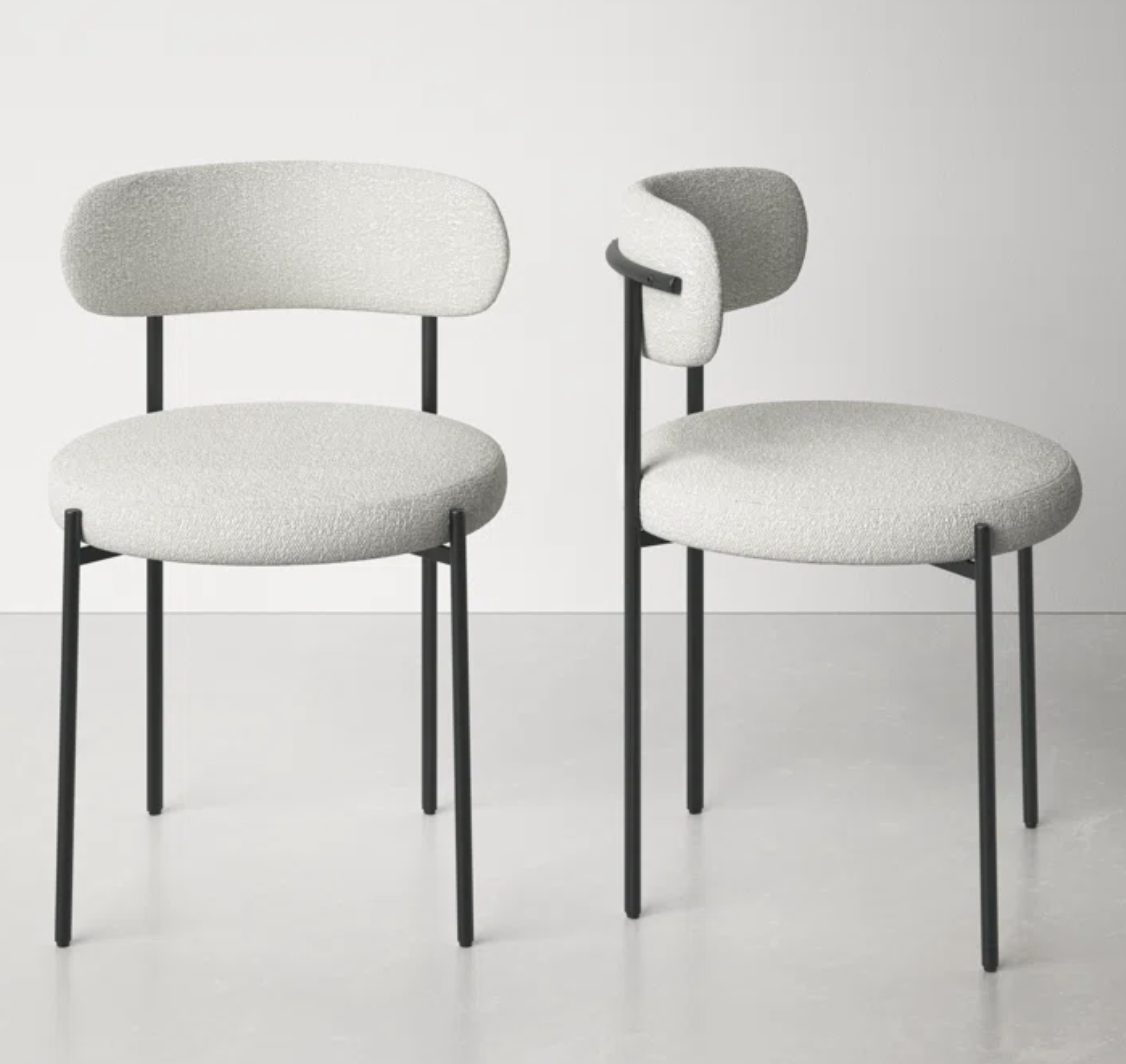 30" H x 22" W x 21" D
Light and luxurious, this side chair's circular seat and curved backrest are upholstered in bouclé fabric. The stunning black frames are constructed of tubular iron. The use of neutral colors keeps the style understated and minimalist-friendly. 
2. Inesse Boucle Dining Chair
This stunning side chair, designed by Omar De Biaggio of Italy, features a sturdy iron frame and bouclé upholstery. Inesse is sold in three colors and can be purchased individually or as a set of four.
3. Mazz Boucle Dining Chair by Leanne Ford
26″W x 22″D x 28″H
Leanne Ford's 'Mazz' dining chair makes modern style more comfortable and calm. Incredibly thin wood legs and the large, tubular cushion that flows naturally from arm to back give the chair playful dimensions.
4. Pula Warm Dining Chair
22″W x 24″D x 31″H
This upholstered dining chair by Caleb Zipperer has solid red oak sleigh legs and is inspired by Brazilian modernism. Pula's white bouclé upholstery pairs perfectly with the wood's rich tones
5. The Cooper Dining Chair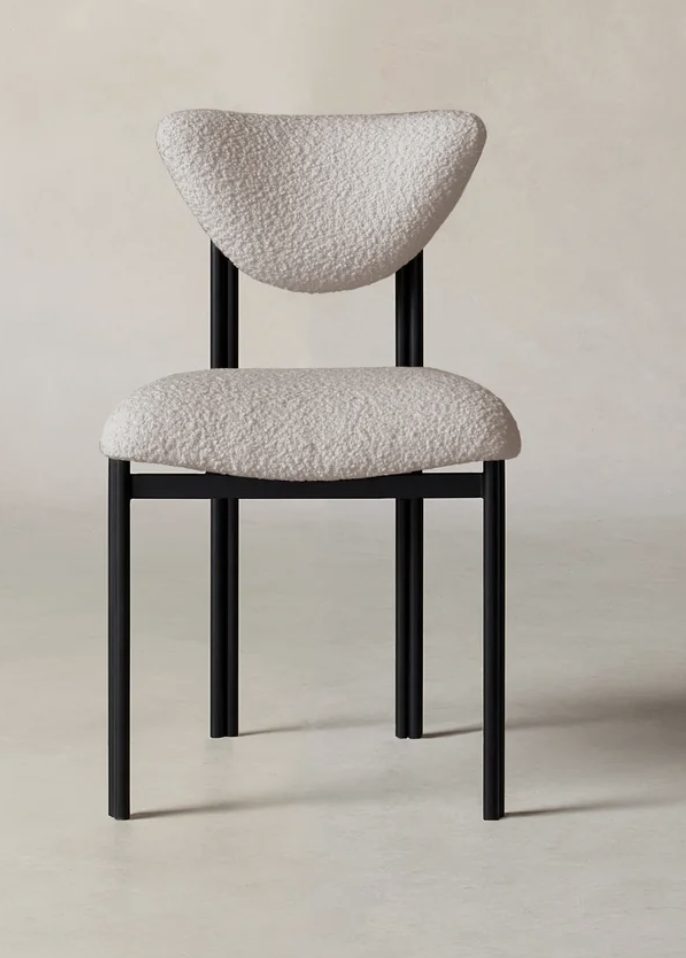 22″W x 24″D x 31″H
The Cooper chair embraces the essence of mid-20th-century organic modernism, skillfully blending bold lines and graceful curves. Its double-dowel frame and backrest support a luxurious bouclé upholstered seat and back.
6. Violeta White Dining Room and Kitchen Chair
With bouclé upholstery and gold legs, Violeta is very mid-century modern. These chairs are as adaptable as they are comfy. A solid wood frame and metal legs ensure longevity. Perfect for any room, desk, or vanity.
7. Japandi White Boucle Chair
18"W x 20"D x 35"H
Upholstered in a comfy and soft bouclé, the unique appearance of this contemporary dining chair provides a touch of modern style while also giving the space a welcoming and relaxed atmosphere. Built to last, this chair is crafted from bouclé, foam cushioning, and ashwood.
8. Azalea Chair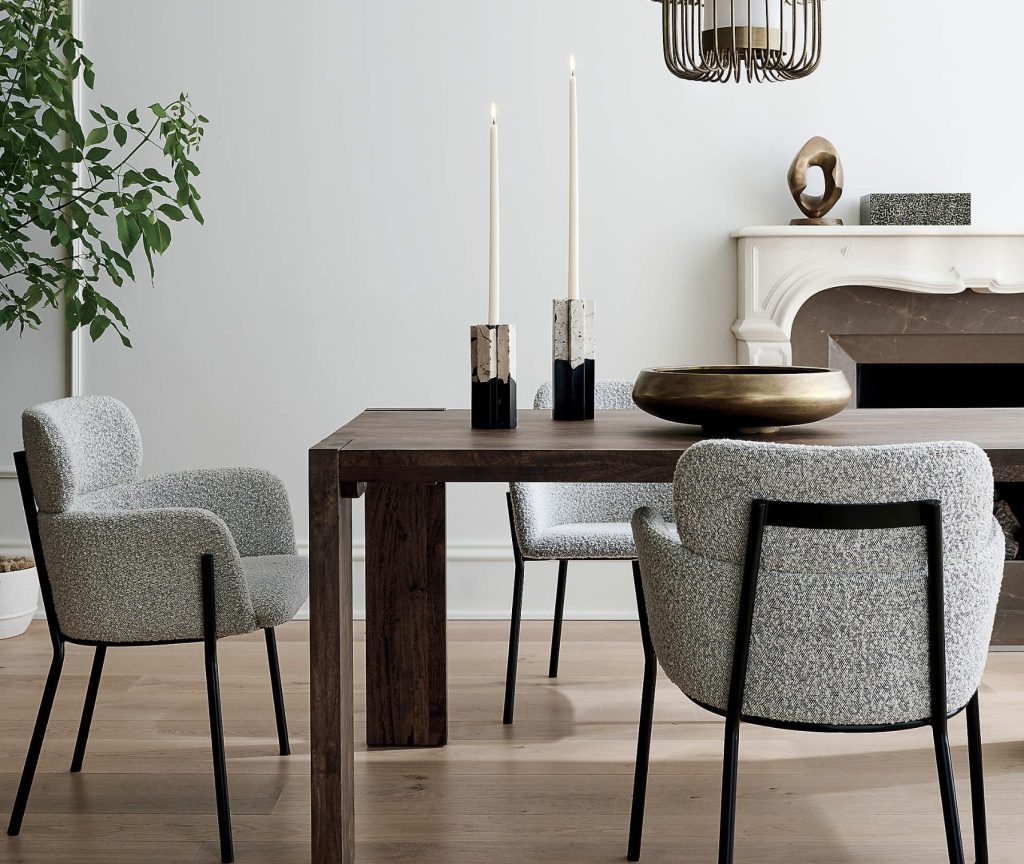 25″W x 23"D x 31″H
Another design by Caleb Zipperer, the Azalea Bouclé Chair is perfect for dining, as a side chair, or anywhere else you may require seating. Cozy bouclé upholstery complements a curved, two-tier design that beckons guests to stay.
9. Ceremony White Boucle Dining Chair
20"W x 32 H x 22 D
Named to represent the importance of sharing meals with loved ones, the Ceremony Chair invites you to sit and enjoy a lengthy meal and your guests. A spin on the wishbone chair, Ceremony features striking lines and an armless silhouette.
10. Black Boucle Dining Chair Set of 2
33" H x 22"W x 20"D
Add comfort and contrast to your kitchen with the Valdez Bouclé Dining Chairs. A plush bouclé seat and curved backrest are supported by thin steel legs, creating an open presence. 
11. Piers Henry Bouclé Chair
Handcrafted in England, the Bowden dining chairs are timeless and elegant. Their steel frames support a cream bouclé fabric base and back. Each chair is made to order and is available to purchase in custom sizes and colors.
12. Beacon Grey Bouclé Fabric Dining Chair
21"D x 22"W x 30"H
Add modern flare to any room with the Beacon Dining Chair in a stylish grey bouclé. A curved seat and backrest give ergonomic comfort, while its matte grey metal frame offers strong support. 
13. Sisak Dining Chair
22"D x 19"W x 34"D
The Sisak Dining Chair is the sleek, modern statement piece your dining area has been longing for. Its armless design, luxe bouclé upholstery, and brushed steel base invite friends and family to sink in and enjoy each other's company.
14. Josra Ivory Bouclé Oak Dining Chair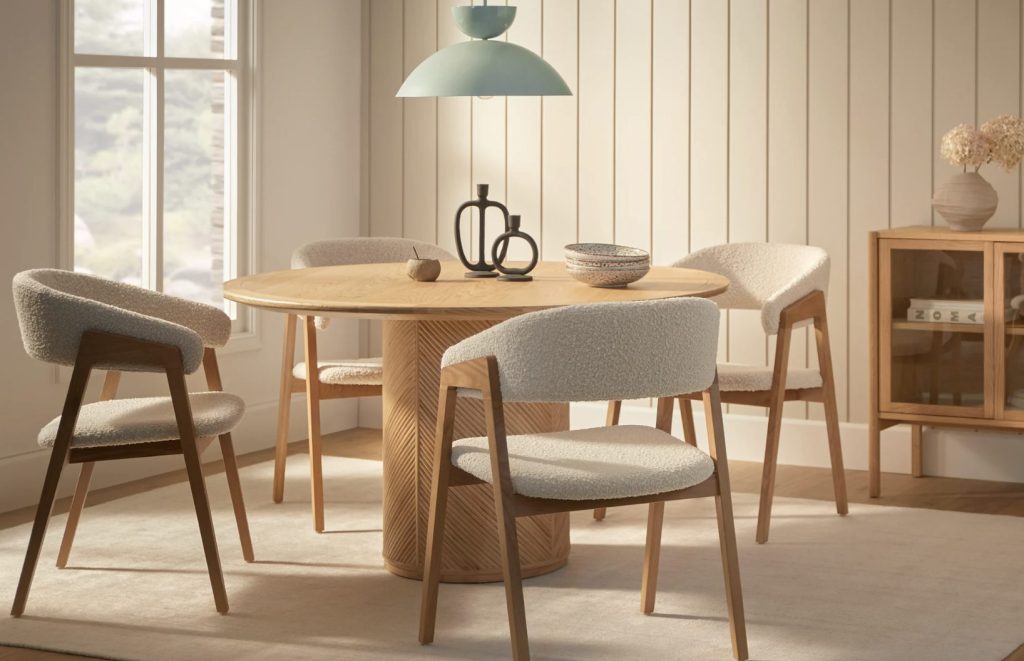 31″H x 24″W x 22″D
The Josra Dining Chair features a mid-century modern style with its slanted arms, a curved back, and solid wood legs. Soft, foam-padded upholstery invites guests to sit back and stay a while.
15. Kristen Dining Chair
With a chic scoop seat and subtly curved backrest, Kirsten features a sculpted silhouette, contemporary design, and unmatched comfort. It's upholstered in performance fabric and supported by an antique bronze finish that stands up to daily use.
You may also like:
Boucle Dining Chair FAQ:
Are bouclé chairs comfortable? 
YES! Bouclé fabric is renowned for its softness and dynamic texture, which gives a dining chair a warm and welcoming vibe. With proper padding and an ergonomic design, you may find yourself never wanting to leave the dining table.
Is boucle back in style? 
Boucle is back, baby! Though a timeless upholstery choice, there has been a recent resurgence of the popularity of bouclé in home furnishings. It has an incredibly enticing tactile surface and an eye-catching texture, making it a popular choice for designers to incorporate into their furniture.
How do you clean a boucle chair? 
Boucle chairs should be vacuumed once or twice a month to keep grit and debris from breaking down fibers. Blot any spills with a clean cloth and clean with gentle soap/detergent and water as needed. For bigger or more unmanageable stains, it may be a good idea to have it professionally cleaned. As always, read the provided care instructions for your specific chair and abide by them.
What is a bouclé chair? 
A bouclé chair is a style of furniture with textured bouclé fabric used for the upholstery, which is prized for its softness and aesthetic appeal. Bouclé chairs are a warm and fashionable option for dining chairs in any space.