There's nothing quite like coming home after a long day to snuggle with your pup on the couch. There's a reason dogs have been dubbed man's best friend! If you find yourself at the crossroads of needing a new sofa, yet hesitating to buy one with furry friends in the house, fear not! Plenty of stylish and durable pet-friendly fabrics that stand up to the wear and tear animals can often put on furniture. We're sharing the best leather couch for dogs below, so keep reading!
What kind of couch holds up best with dogs?
Of the more commonly used sofa upholstery options, leather and faux leather are the most durable and will better hold up to regular use by humans and dogs alike! Not only is a leather sofa more scratch resistant than its fabric counterparts, but properly maintained leather is less likely to absorb pet odors.
What kind of leather furniture is best with dogs?
In addition to scratches and blemishes, pet odor is often a concern among pet owners that are purchasing a new sofa. Though leather is naturally porous, a tanned leather sofa is much less porous than a fabric sofa, making it an excellent choice if you have pets in your home. Faux leather is also the best option for dog owners, as it is non-porous and easy to maintain. Additionally, look for protected leather treated with conditioning, as this will be more resistant to claw marks from your furry companions.
What is the most scratch-resistant leather?
Top-grain leather is the highest grade leather available, surpassing split-grain, suede, bonded, and faux leather. As a result, it's popular among pet owners because it is the most durable of leather choices. Though leather can show mild scratches and stains, they often disappear over time as the leather becomes even more worn and beautiful. 
29 Brown Leather Chairs for Every Design Style
Best Leather Couch For Dogs
With thousands upon thousands of leather sofas on the market, finding your perfect piece can feel like a daunting task. Here is a curated list of our favorite pet-friendly leather couches that will hopefully last a long time! PS: No muddy paws allowed!
85″ L x 35″ D x 33″ H
The Nomad Leather sofa is the ideal sofa for everyday use. Its top-grain leather upholstery holds up well to scratches and fading, making this sofa a great option for dog owners. The Nomad's modular design makes it easy to rearrange to suit your needs through the many stages of life. Additional features such as built-in USB chargers make this sofa even easier to love.
121″ L x 121″ D x 33″ H​
The Field Leather Sectional is an oversized, symmetrical corner couch with three seats on each side. This modular sofa was created to blend seamlessly into any interior style. Upholstered in top-grain Italian leather, this pet-friendly sofa comes in two beautiful finishes: camel or slate. The Field sectional is supported by minimalist wooden legs that come in three colors. Deep seats and plush cushions make this sofa perfect for lounging with your precious pooch. This is a popular choice for the entire family!
87″ W x 36″ D x 30″ H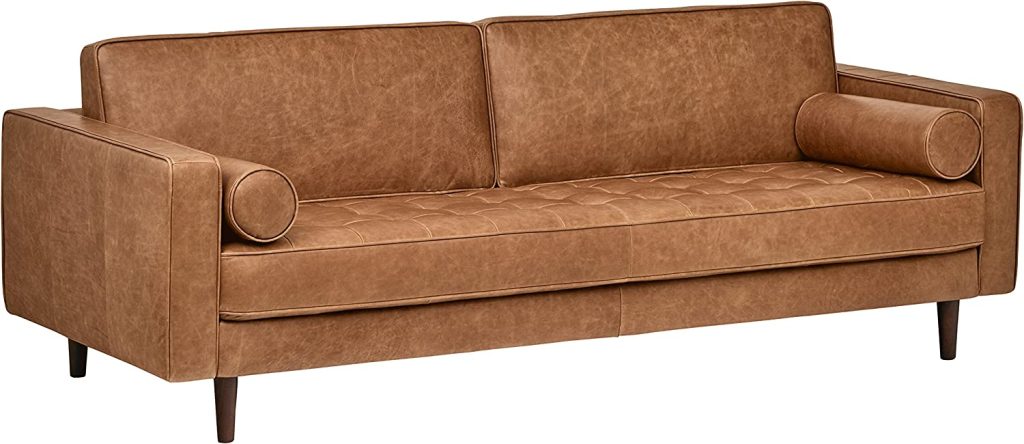 The Aiden is an elegant top-grain leather sofa that's perfect for dog owners. It has a mid-century style that is the perfect balance of luxury and modern flair. The Aiden has a beautiful tufted bench seat cushion, plush back cushions, tapered wooden legs, and neat bolster pillows. This couch is made for everyday use with a solid hardwood frame and durable leather upholstery. This is the best choice for people who aren't looking to spend a lot of money!
65″ W  x 39″ D x 31″ H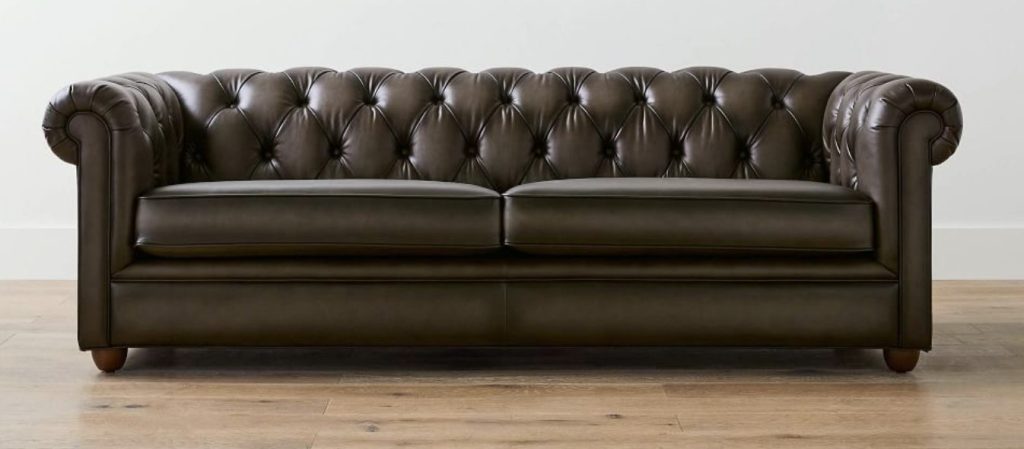 This Chesterfield Leather Sofa embodies luxury. Cushy roll arms, button-tufted leather upholstery, and no-sag springs combine to create the perfect lounging spot. Fully removable seat cushions are a pet owner's dream by making vacuuming dog hair out of your sofa a breeze. The chesterfield is fully made to order, allowing you to choose your sofa length, cushion style, seat width, and leather color. You'll definitely get a lot of use!
85" W x 35" D x 38" H
Add a stunning focal point to any living space with the Abbyson Leo Top Grain Leather Sofa. This large sofa is framed with kiln-dried hardwood, wrapped in soft foam, and covered with top-grain leather. Rest soundly knowing your sofa was made with the environment in mind. Abbyson, the creator of this beautiful, dog-friendly couch, has partnered with the Sustainable Furnishings Counsel to implement sustainable practices in its manufacturing.
73″ L x 28″ W x 31″ H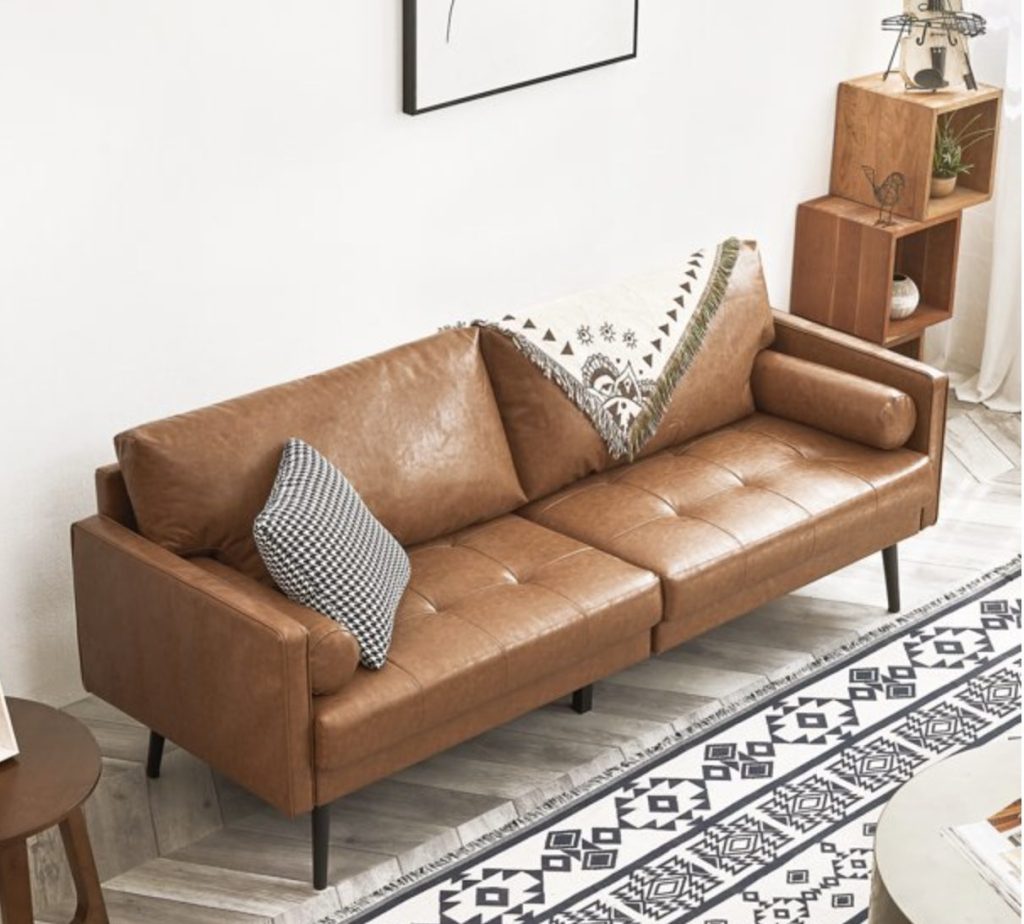 The Vonanda boasts a simple silhouette and mid-century modern charm. This couch is perfect for any home, apartment, or living room. You will enjoy all of the comforts of a regularly sized couch but with a smaller footprint. Its clean-lined eucalyptus frame is topped with luxurious cushions and wrapped in beautiful brown faux leather. The Vonanda's sturdy frame and 500lb weight limit are built to withstand even the rowdiest dog piles making it a great choice for pet parents! This is another good option for people on a budget (like myself!)
30″ D x 105″ W x 34″ H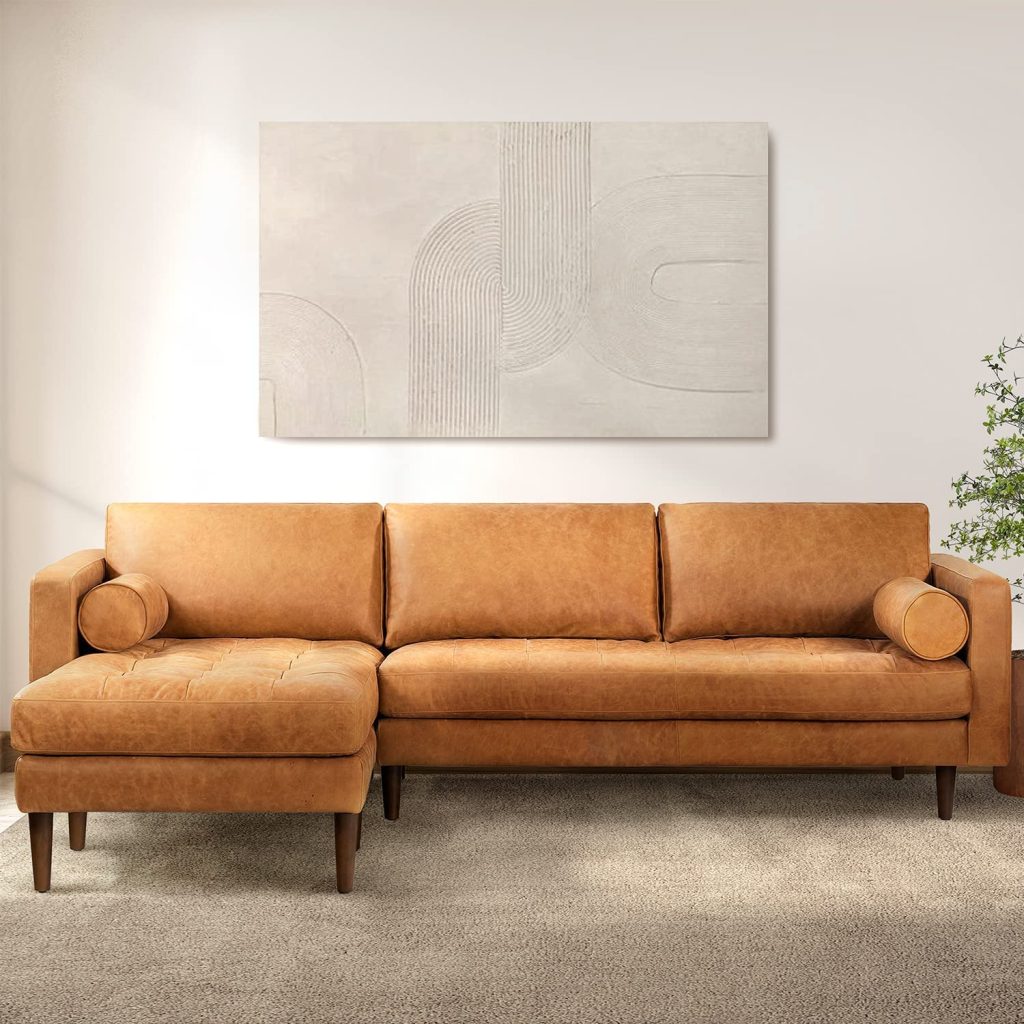 The Napa couch by POLY & BARK features full-grain Italian tanned leather upholstery for a sense of luxury and elegance that only high-end materials can provide. These dog-friendly sofas have a timeless cognac tan color that emphasizes the hide's natural beauty. This plush couch also has a tailored tufted seat back and armrests. It's a good choice for a pet-friendly home! One of our favorites for the best leather couch for dogs!
36" D x 37" W x 36" H
The Bella is a leather chair combining traditional and modern styling with a casual yet dignified appeal. The gently sloping track arm is accented with a sewn-in cushion silhouette on the inside arms, creating a stylish statement in your living space. Its cozy cushions are double-wrapped with hollow fill fiber and down feathers. Enjoy top-grain leather on all seating areas and armrests. The front rail, sides, and back are upholstered in split-grain leather. Bella is sure to become your pup's new favorite place to snooze.
Purchase the matching to up both your comfort level and storage space!
85″ W x 37″ D x 34″ H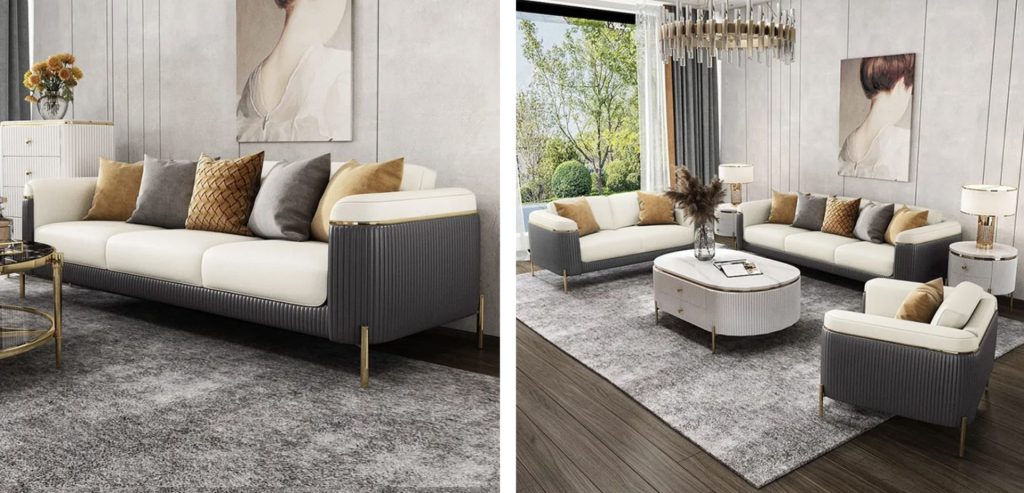 This three-seater sofa is elegant and stylish, and it will transform any living area into a luxurious lounge. The Nappa's leather upholstery and high-density foam seating provide optimum comfort when relaxing after a long day. This sofa's sturdy wood frame and stainless steel legs provide sturdy support and long-lasting performance. This sofa will add a touch of luxury to your sitting area, while holding up to regular use by you and your dog. It's a beautiful piece of furniture that your family will love! Another one of the best leather couch for dogs!
31" H x 95" W x 41" D
The Freddie showcases a timeless chesterfield silhouette. It is wrapped in luxurious Italian leather and has a crackled two-tone appearance while remaining soft and comfortable. This couch elevates furniture design into an art form with thoughtful details and meticulous craftsmanship. Removable cushions make Freddie a breeze to clean, and the durable leather stands up to even the most playful pup's jumps.
65″ W x 39″ d x 35″ h
The Turner Square Arm Leather Sofa has a classic look and style you'll enjoy season after season. This sofa's sleek, square profile blends seamlessly into any decor scheme. Turner's grand size, high back, and down-filled cushions create a luxurious lounging spot. Due to the nature of this top-grain leather, scratches, and marks disappear over time as the leather becomes more beautiful and worn. Customize your sofa by choosing the width, cushion style, and variety of colors.
Final Thoughts
Leather sofas suit most canine breeds, including those with sharp claws. But as with anything, an ounce of prevention is worth a pound of cure. Have your pet's claws trimmed and manicured regularly to minimize the risk of damage to your leather couch. To keep stains and odors at bay, apply a special leather sealant to your furnishings regularly. Proper leather care will also help easily eliminate any scratches or blemishes that may occur on your sectional sofa.
We hope you found a new couch that you and your pet will love! Let me know which couches are your favorite, and drop a pic of your pup in the comments. Cheers to being the best parents on the best pet-friendly furniture! Ha.