Arched cabinets are the perfect way to elevate your home! Whether you're looking for a black arched cabinet, or a wooden arched cabinet! We've got you covered! See 20 of our must-haves below!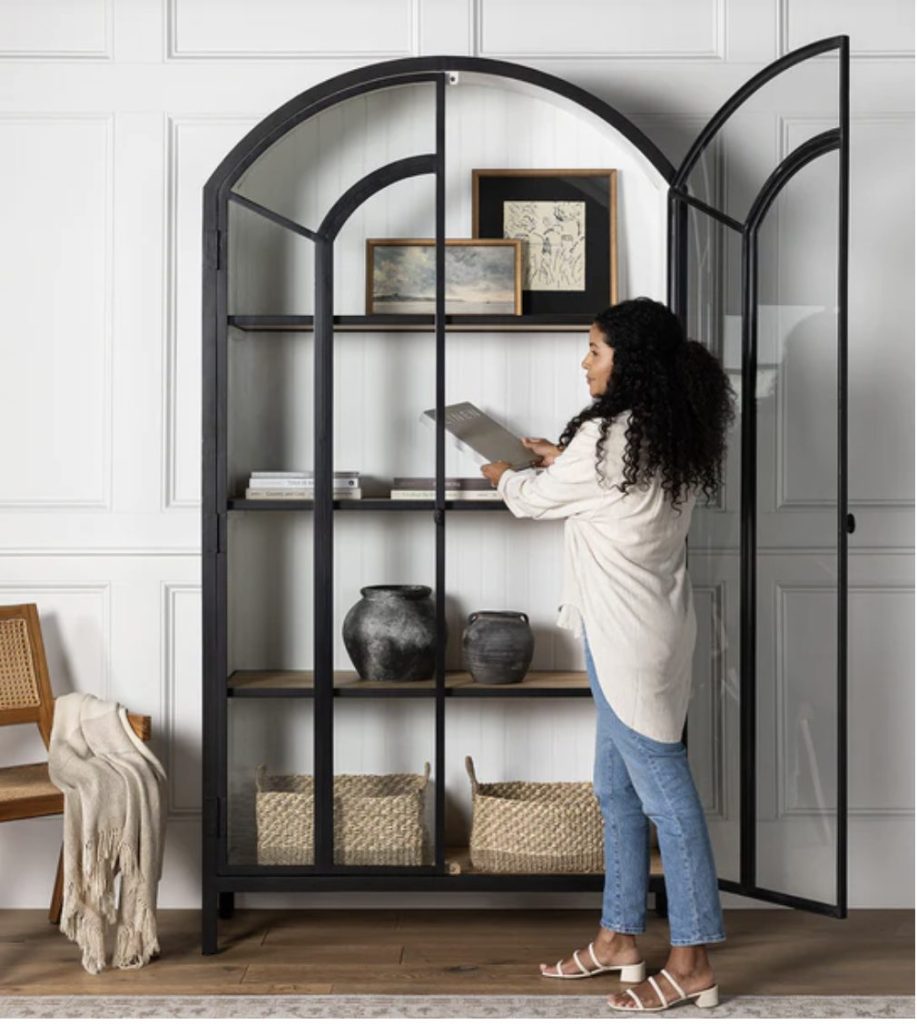 20 Arched Cabinets
Here are 20 of our favorite arched cabinets for your consideration.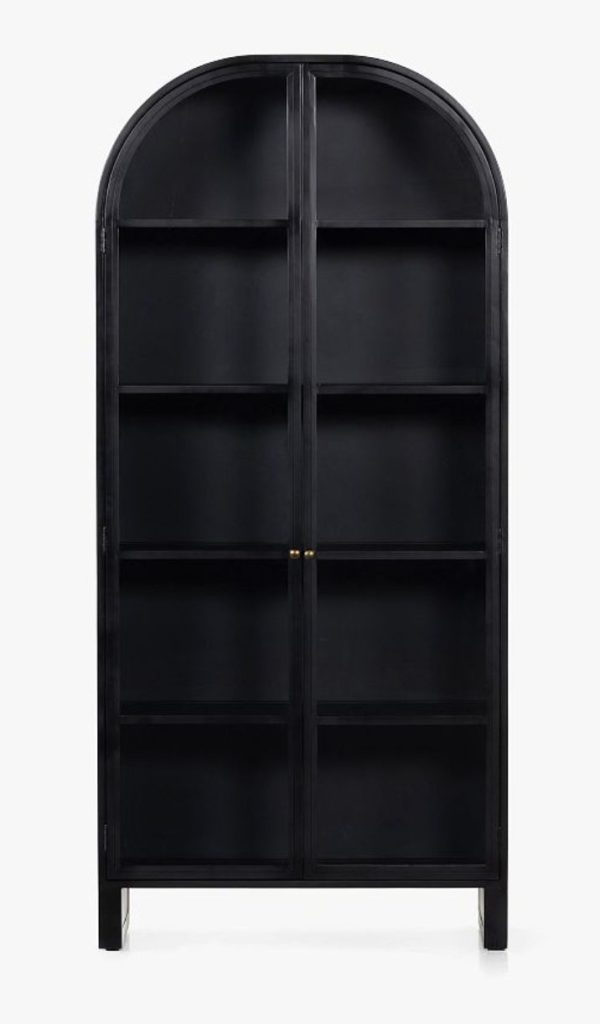 With a matte metal finish, the Beaumint Display Cabinet features a graceful arch and carved hardwood box with an industrial twist. Protective glass doors perfectly encase every memento, book, miniature sculpture, or anything else you wish to keep on display.
38″ W x 19″ D x 84″ H
This elegant curio cabinet, crafted from solid kiln-dried wood with antique brass fittings, features a stunning arched profile. It offers a perfect display space with two fixed and two adjustable glass shelves behind its glass doors, making it ideal for showing off your cherished collections, books, or fine china.
38″ W x 20" " D x 80″ H
With its sleek bentwood arches, white oak grain, and natural finish, Annie's curio cabinet combines traditional and modern elements. For flexible storage, it has long, rounded pulls that open to reveal one fixed and two adjustable shelves. It gives a contemporary, clean-lined style for home storage and was created by Leanne Ford.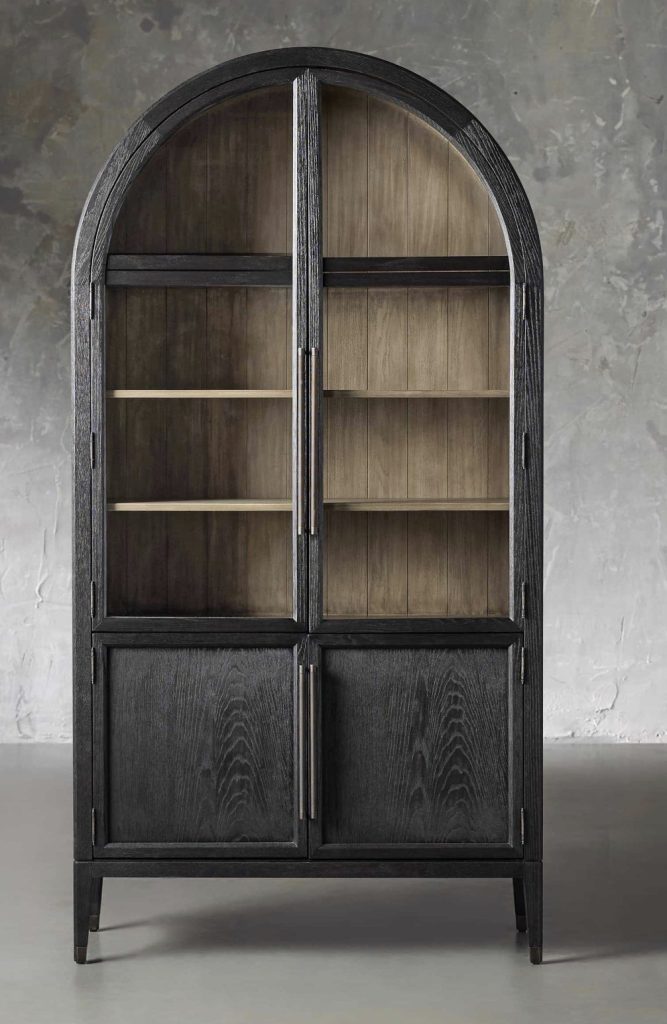 The artisan-made Hattie Open Bookcase is found at the intersection of soft curves and organic oak graining. Four visible shelves and two hidden shelves have copious room to display your favorite keepsakes and daily necessities alike. You'll love the shiplap paneling, brass foot camps, and cord management holes.
Hattie is also available without doors as an open arched bookcase.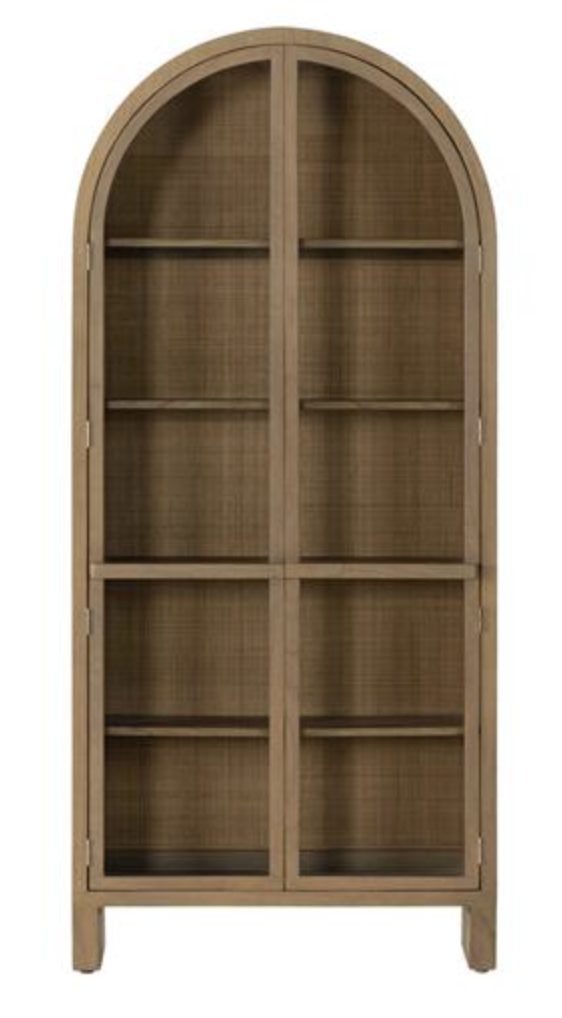 The stunning Iliana is constructed with solid mindi wood, a woven cane back, and two glass doors. Five spacious shelves allow you to store and display your favorite items. Choose between a clear finish and a natural finish.
72″ H x 28″ W x18″ D
The Fern Bookcase combines beauty and functionality in a charming arched shape. With four open shelves and three drawers, this stunning bookcase offers shelf space to display pretty things and drawers to conceal the not-so-pretty things.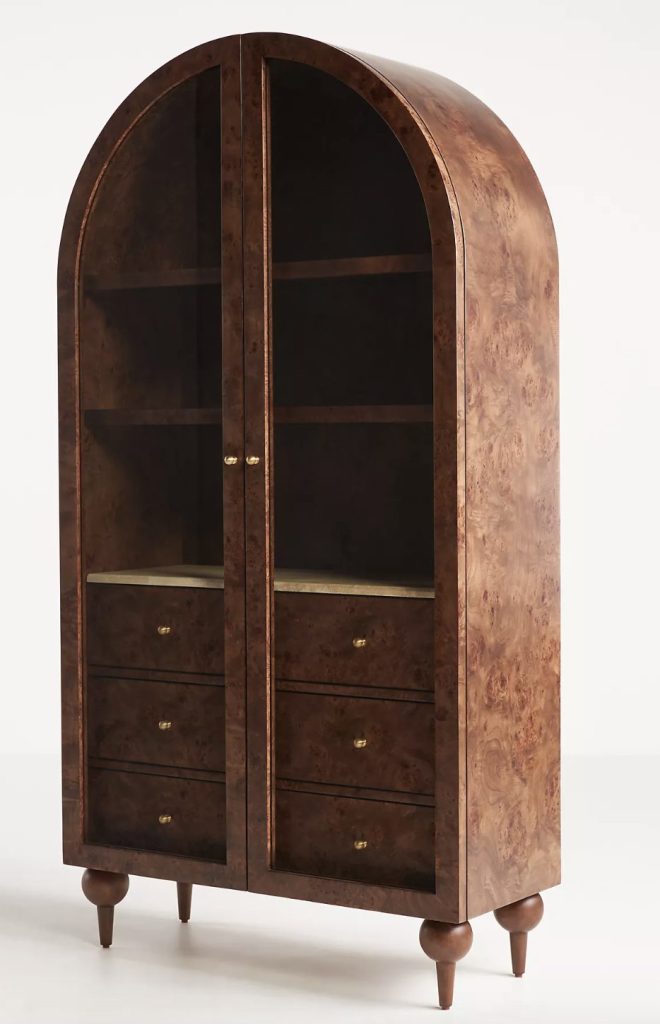 Similar to the Fern Bookcase, this lovely piece has both shelves and drawers. The most significant difference is that the Fern Storage Cabinet has two chic tempered glass doors on the front. Wrapped in burlwood veneer, this cabinet will be the star of any room.
66″ H x 35″ W x 17″ D
This impressive bar cabinet features the same darling balloon legs and sleek arch as other pieces from the collection. Rather than multiple drawers, this piece features a single drawer and ample wine/bottle storage. Built-in gold glass racks hold your favorite stemware, and two tempered glass doors keep your bar items dust-free.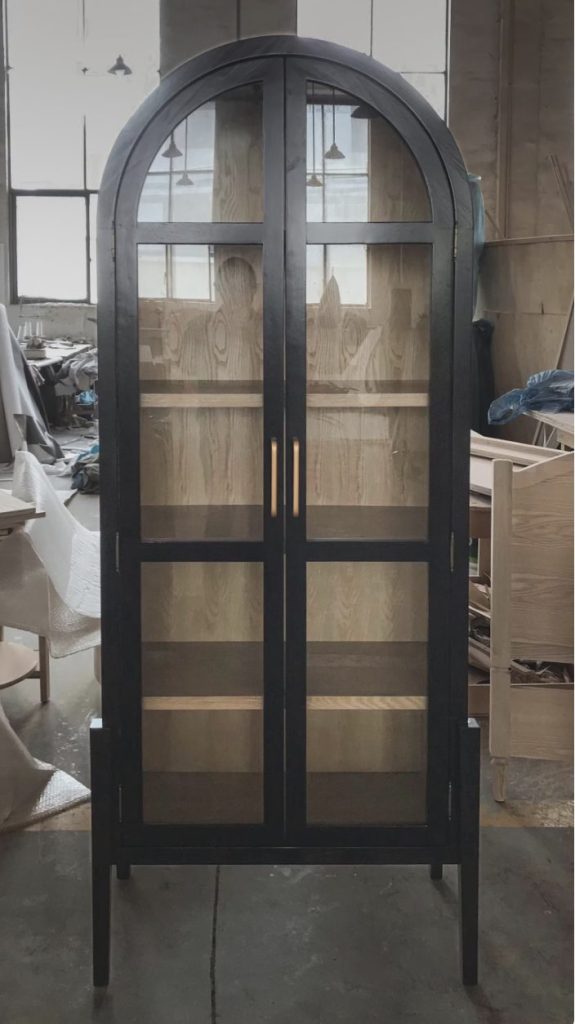 38" W x 81" Hx 18" D
The Emilia features a modern, sleek style that is crafted with premium materials. Each piece is custom-made, providing the perfect piece for your space. Choose your preferred dimensions, finish, and whether you want glass or solid wood doors.
Annetta stands 80″ tall and is made of genuine rubberwood with an acacia veneer. Tempered glass doors cover the four top shelves, leaving plenty of room to display your library, souvenirs, or fancy dinnerwear. The bottom two shelves are concealed by solid wooden doors, making it great for storing less-sightly items.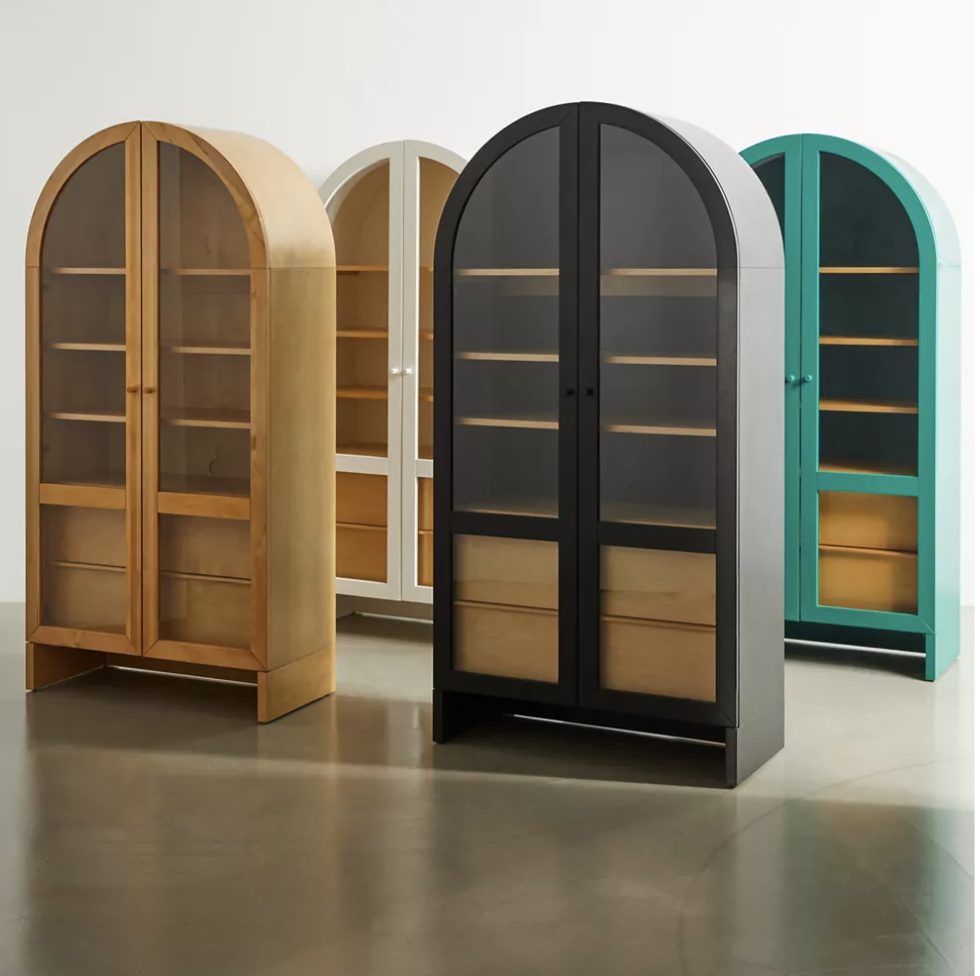 36″ L x 17″ W x 72″ H
The Mason Storage Cabinet is a stylish storage solution that is adored by many. Two glass-front doors open to expose three shelves and two drawers. The best part? This piece arrives fully assembled!
76″ H x 31″ W x 16″ D
The ever-charming Albany Bookcase features soft yet modern architecture and provides ample storage with a small footprint. Three open shelves are perfect for displaying your favorite pieces while two concealed lower shelves are perfect for storing games, linens, canned goods, and much more. Crafted from mahogany, these shelves are built to last.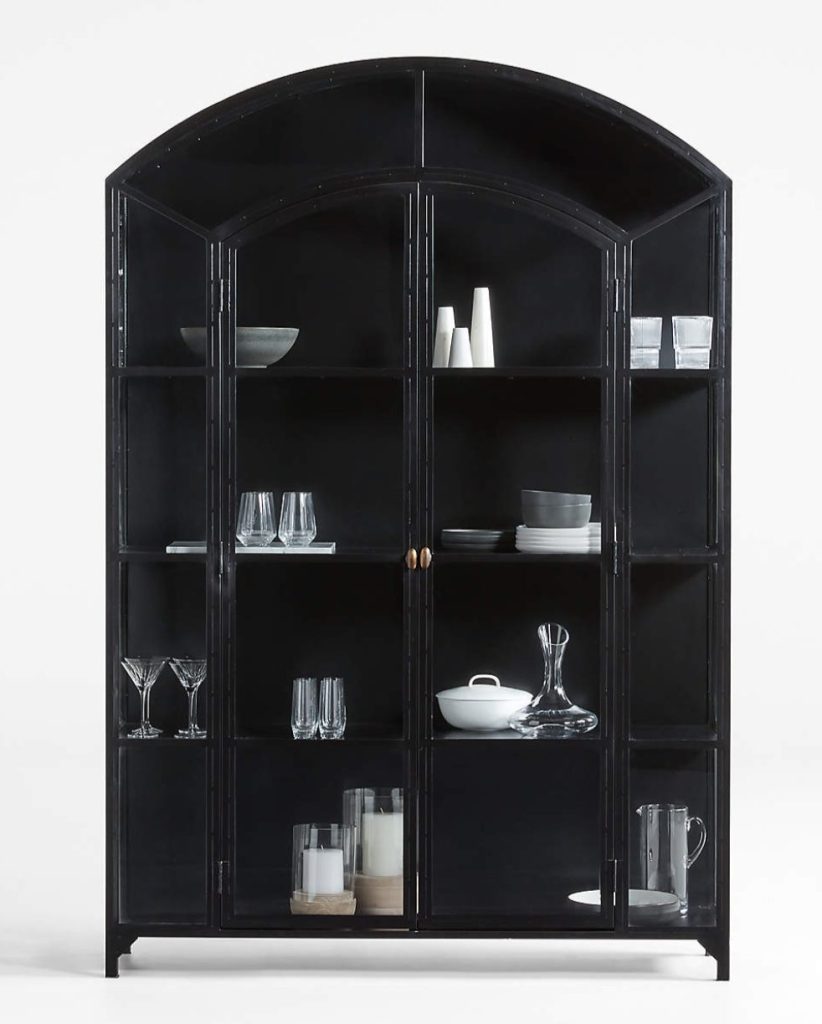 60″ W x 17″ D x 89″ H
Make a statement with Ventana. With an Old World arch, modern zinc-colored iron construction, light-reflecting tempered glass panes, and black shelves this piece demands attention. Oblong knobs made of antique brass provide a touch of contrast.
This stunning cabinet is also available in a smaller size.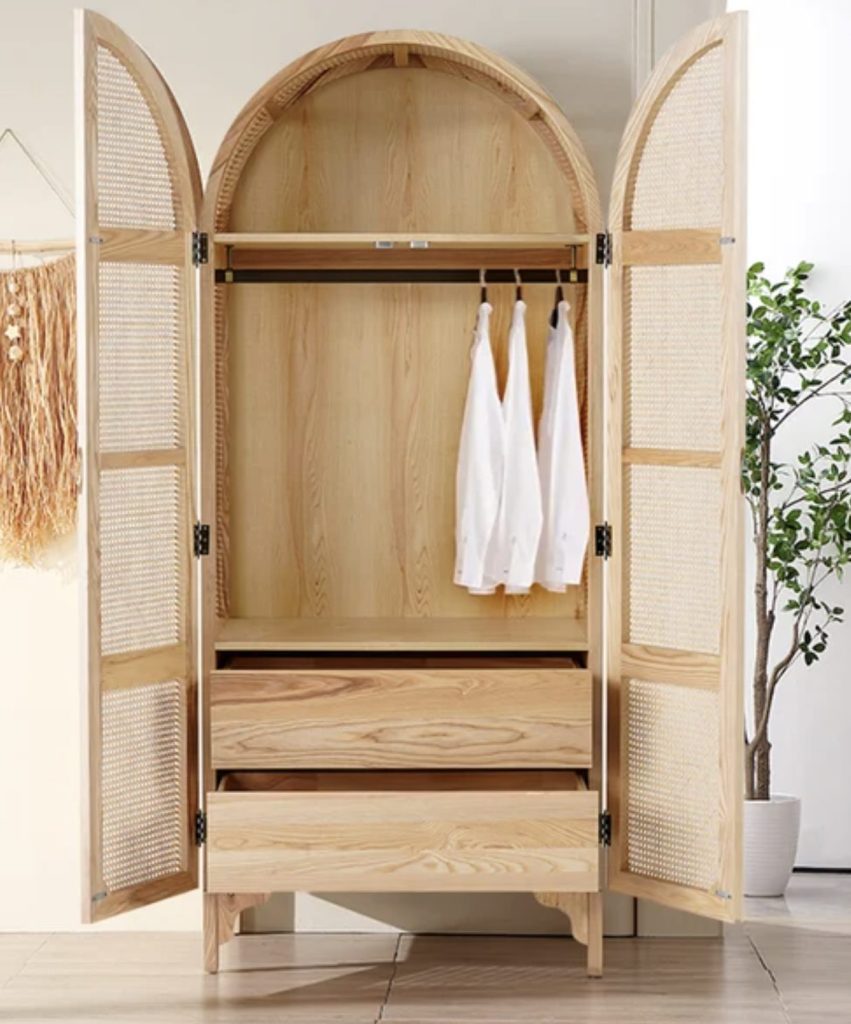 This premium rattan wardrobe fuses lasting quality with a relaxed, rustic appearance. It boasts a high-quality ash wood frame and hand-woven rattan. With two tall doors, two hidden drawers, two shelves, and a rail for hanging clothes/linens, you'll enjoy the ample storage space.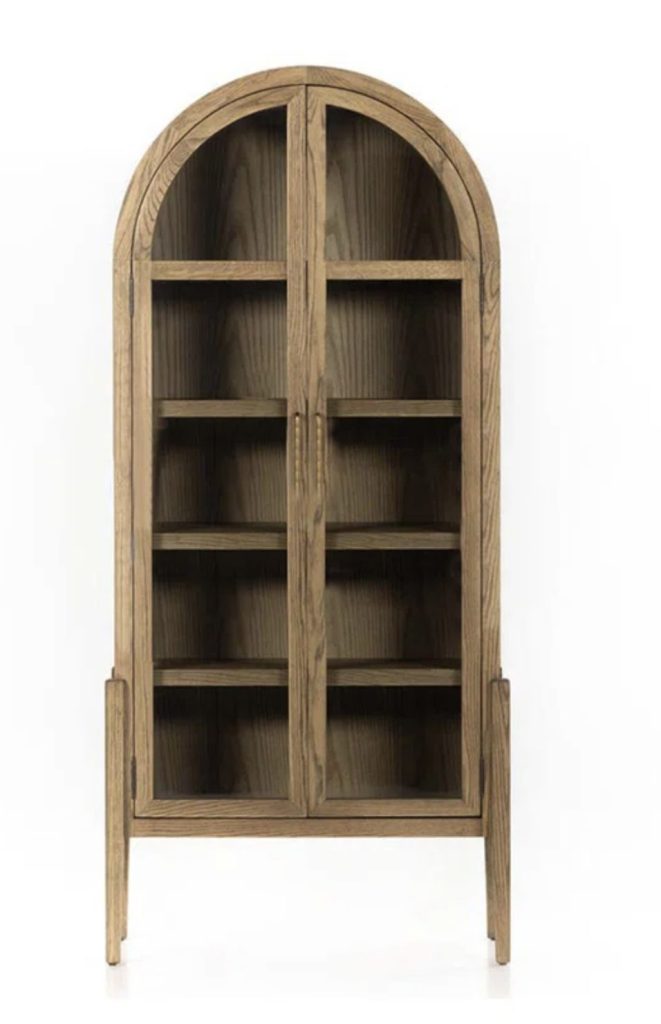 Elua is an incredibly versatile storage cabinet. Perfect for living rooms, restaurants, studies, and beyond, this cabinet features a durable finish and high-quality glass doors. Simple yet beautiful, Elua enhances the aesthetics in any space.
60" H x 28" W x 15" D
Elevate your storage with this Arched Wooden Cabinet by Threshold. Characterized by a graceful arch and beautifully woven door panels, this cabinet will seamlessly complement any decorating style and add so much storage space to your home.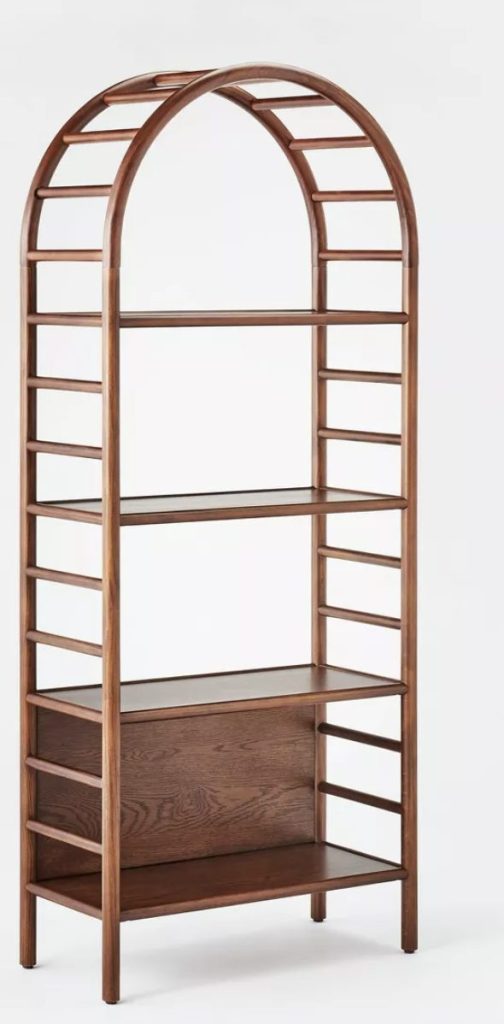 72" H x 30" W x 14" D
Effortlessly enhance your home with the Holladay Curved Wooden Bookcase. Its charming ladder-style wooden frame supports four open shelves that provide plenty of storage for your favorite items.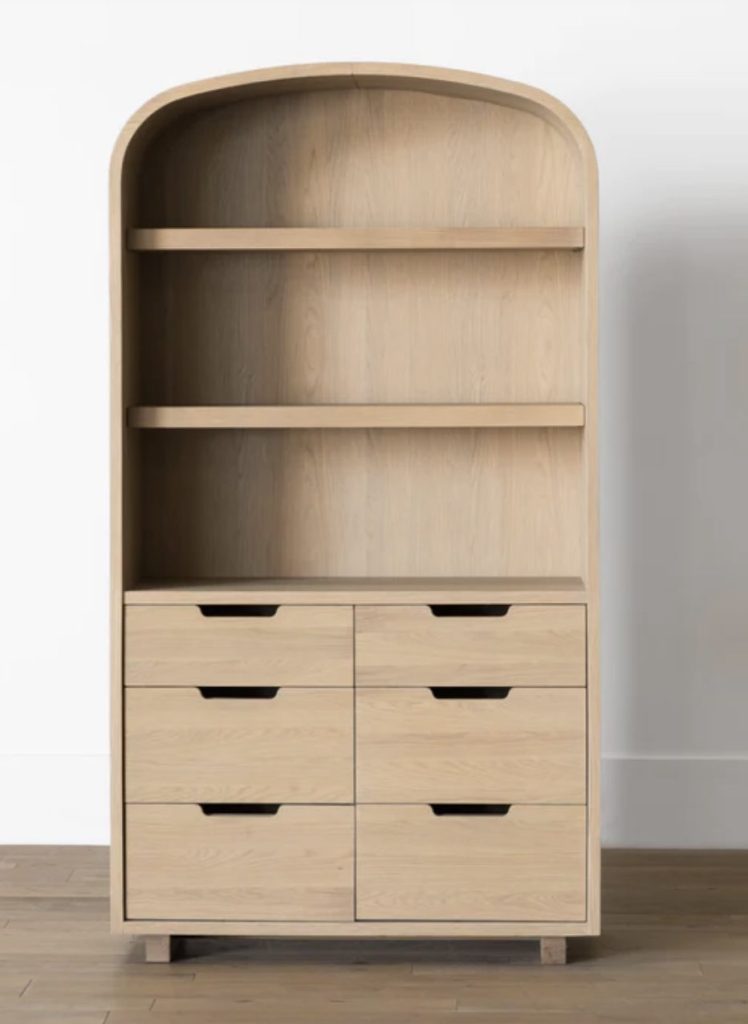 McGee & Co's Burnham Cabinet features an oak frame and sleek arched shape. Three open shelves are perfect for displaying your favorite books, trinkets, dishes, plants, and more. Enjoy the additional storage provided by six soft-close drawers.
30"L x 20"W x 81"H
Standing over 80" tall, the Celina Arched Cabinet commands attention. Woven cane beautifully contrasts this cabinet's solid wooden frame. Celina is anchored by sturdy iron legs with a timeless golden finish.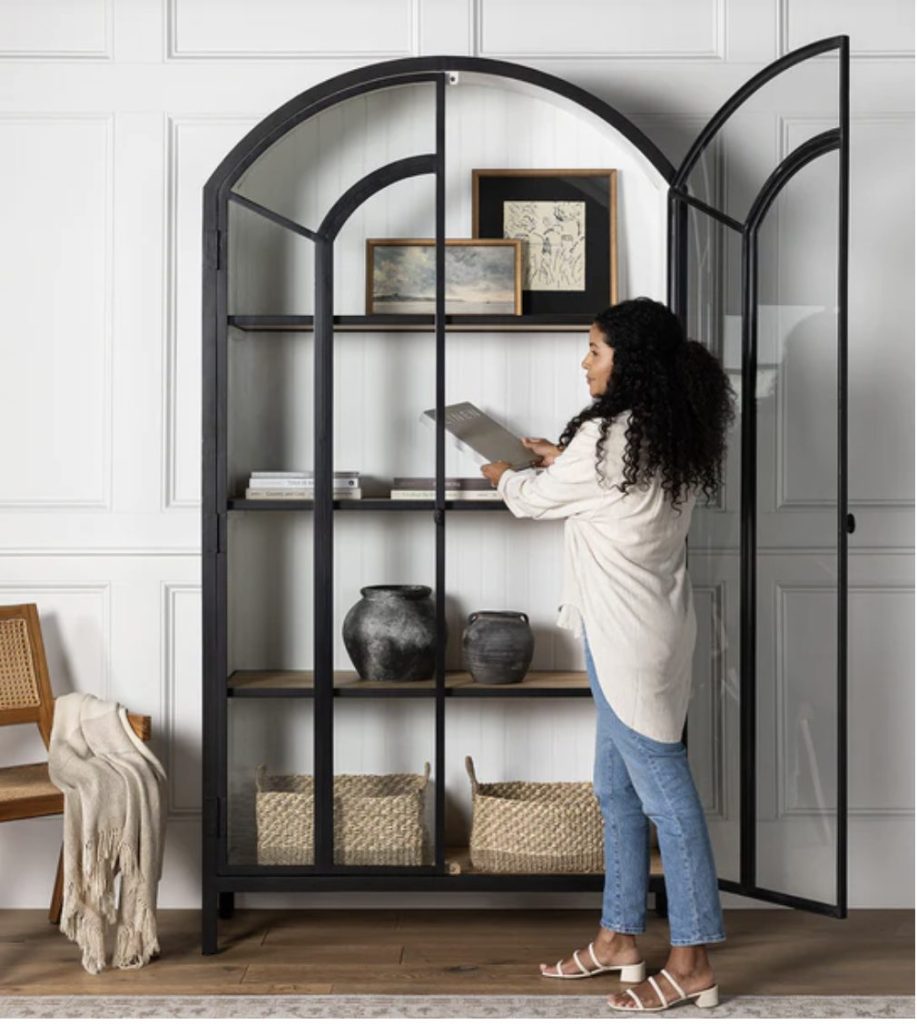 The Guthrie Cabinet was designed with meticulous attention to detail. An elegant curved design beautifully compliments it's powder-coated iron frame. Fully enclosed by two glass doors and a white beadboard back, four oak shelves will proudly display your favorite treasures.
Arched cabinets provide a timeless look that will seamlessly transition through the ages with you.