Mirrors have somewhat of a magical effect in a home and can be used for many different purposes when decorating. They are great for bringing in more light, making your space appear larger, giving your room a focal point, and so much more.
A recent trend lately is the oversized arched floor mirror, which surprisingly works for any home decor style and gives all other mirror shapes a run for their money!
Before we get into the best arched mirrors, let's go over the question I know you're asking…
Are Arched Mirrors in Style?
Yes, arched mirrors are in style (even in 2022)!
If you've scrolled through Instagram or Pinterest lately you've probably already noticed the wide range of arched mirrors and their decor uses.
From the minimalist oversized arched floor mirror to the vintage-inspired gold arched floor mirror, there's truly an option for practically any style and in nearly any size.
Let's get into the best arched floor mirrors of the year!
Best Oversized Floor Mirror
---
Looking for a minimalist arched floor length mirror that still makes a bold statement? Check out the Aluminum Alloy Framed Mirror from Latitude Run! I have this oversized arched floor mirror in my closet and it's a show stopper!
It's made with an upgraded aluminum alloy frame which makes it incredibly durable and lightweight, an HD mirror for the best reflection while also being safe and durable, plus it just looks great in any space with its simple design!
Choose from 6 different sizes for the perfect addition to your room.
Not sure if you want your oversized arched mirror on the floor or wall? Well with the Arched Top Full-length Free Standing Mirror from Overstock, you can have it both ways!
Its U-shaped bracket can make it a free standing floor mirror or it can be folded in to be hung on or leaned against the wall.
The mirror itself is HD and shatterproof, so this is a great choice if you have kids and the frame is very lightweight while still being sturdy.
Give your space more of a refined touch with the Tabitha Arc Mirror from Urban Outfitters.
It comes in three different sizes from vanity, floor, and XL floor sizes. The white oak wood frame comes in three different finishes, as well.
If you're looking for a modern minimalist oversized arched floor mirror that has craftsmanship quality, check this one out!
Want to add more wow-factor to your space? You'll definitely want to check out the Gloss Floor Mirror from CB2!
This oversized arched floor mirror has a beautiful arched top and a straight plate with an antique brass finish on the bottom for a luxurious mid-century modern touch.
It comes with anti-tip hardware and measures 36″x76″ in size, so it offers a lot of depth and extra flare in any space.
Soften up any room with this elegant large arched floor mirror from Pottery Barn!
The Milford Arch Floor Mirror is made with an iron frame that has a powder coated finish for durability, a beveled mirror for that little extra flare, and two 8″ singular legs for added height.
This beauty is even made in a Fair Trade Certified factory and comes with an anti-tip kit.
If you want to add a truly luxurious addition to your space that makes the room feel brighter and bigger, you definitely want the Arch Floor Mirror in Brass from Arhaus!
This chic gold arched floor mirror is handcrafted by Indonesian artisans with a steel frame that's finished in a soft metallic tone and mirrored glass for a high-end feel.
It has back-mounted French cleats for hanging and comes with an anti-tip kit, as well.
Give your space a sleek modern touch with the Streamlined Wide Arch Oversized Floor Mirror from West Elm.
The aluminum frame has wide rounded corners at the top and smaller rounded corners on the bottom, while coming in two different finish options.
This 72″ floor mirror can be propped up against the wall to enlarge the appearance of any room.
Leave guests speechless as they admire this well-known, vintage inspired gold arched floor mirror from Anthropologie!
The Gleaming Primrose Mirror has stunning features from top to bottom with its jeweled adornments, detailed floral accents, soft scrolls, and intricate curves and edges.
Its frame is handcrafted with resin, iron, and engineered hardwood, and it comes in the show-stopping gold finish or several other finishes to suit your unique style.
If you prefer a more understated vintage look, check out this elegant large arched floor mirror from World Market.
It has an aluminum frame with soft scrolling details and comes in two different antique finishes to give your room an elegant classic touch.
This large arched floor mirror can easily be leaned against any wall and comes with an anti-tip kit.
With a streamlined silhouette and thin metal frame, the Osterhout Full Length Mirror from Mercury Row is versatile enough for any room and style.
It has a beautiful arched crown, durable aluminum frame, and a shatterproof glass mirror — making it a great option if you have a busy household.
This gold arched floor mirror can be propped up against the wall with the stand folded in or can be free standing anywhere in the room.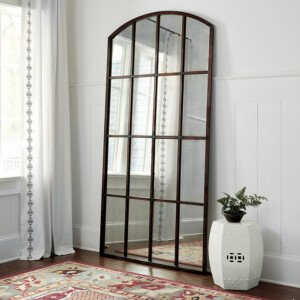 Last on our list is the remarkable Amiel Arch Aged Brown Antiqued Mirror from Ballard Designs.
This oversized arched floor mirror truly stands out with its 16 antiqued mirrored panes and handmade metal frame that features a dark maple wash and burnished gold highlights.
Lean it against any wall or sturdy piece of furniture for instant depth and added sophistication.
To Sum it Up
There are so many options when choosing the right decor piece, but we think that the recent trend of large arched floor mirrors is here to stay — and for good reason!
Whether you choose the gold finished mirror with floral details for a bold statement piece or the streamlined silhouette and thin metal framed mirror for a modern touch, you can't go wrong with an arched floor mirror.
They're an easy way to add depth, light and style to any room — all the while making your space feel larger and more inviting.