Figuring out what to wear to a baby shower can be a bit daunting, especially when it's your own! Today, I'm sharing what I wore (spoiler alert: comfy!) and if you're a guest – I've got some baby shower outfit ideas for you, too!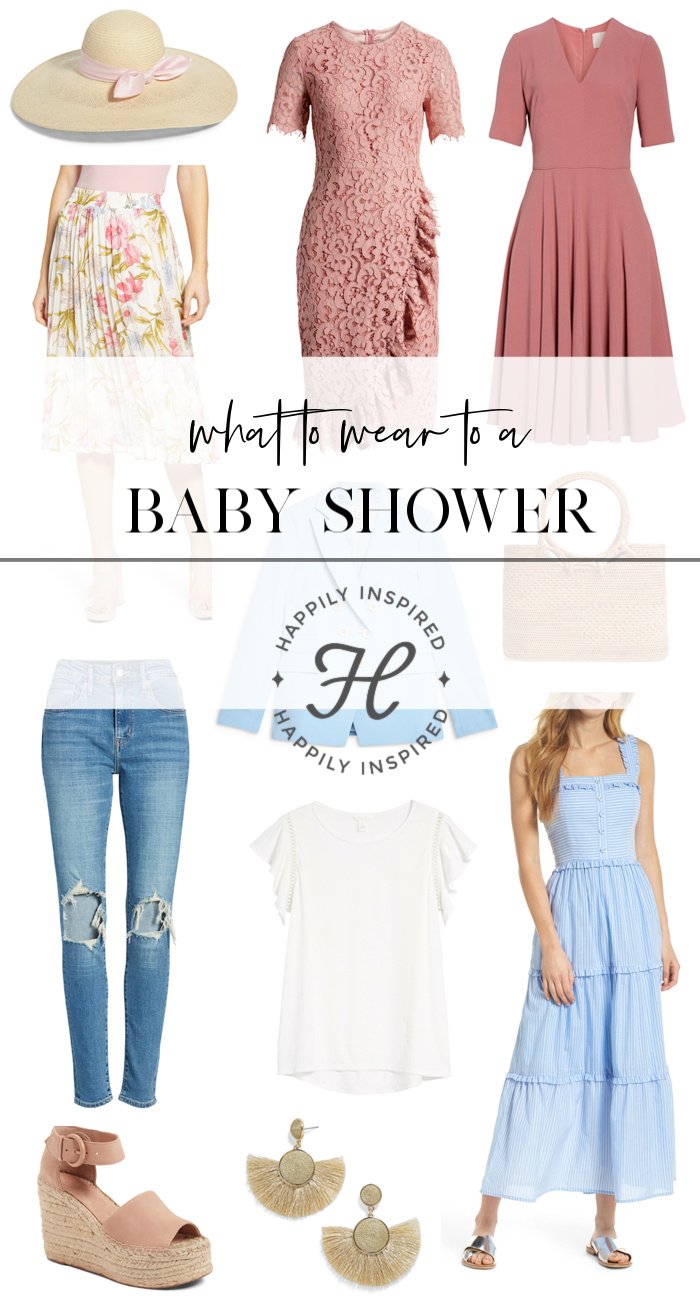 Last weekend, we had the privilege of celebrating our soon-to-be bundle with the most gorgeous baby shower! My mom put it all together (literally, all by herself) in her quant, country backyard. As you all probably know, I'm a floral fanatic —  so, it was only natural to have a vintage-garden themed affair. I also want to note that my mom threw the most amazing birthday parties for us growing up. We never celebrated them outside of the home, and these are still some of my favorite memories today. My favorites include a 50's style diner (where she rented a cash register, and we all got to be servers & wear poodle skirts). An Olympic themed bash where we had a parade around the neighborhood, and played tons of competitive games. (Simon says champion right here!)
I just loved the idea of having my baby shower in the comfort of our own home — restaurants just lack that charm! Anyone else agree?
WHAT TO WEAR TO A BABY SHOWER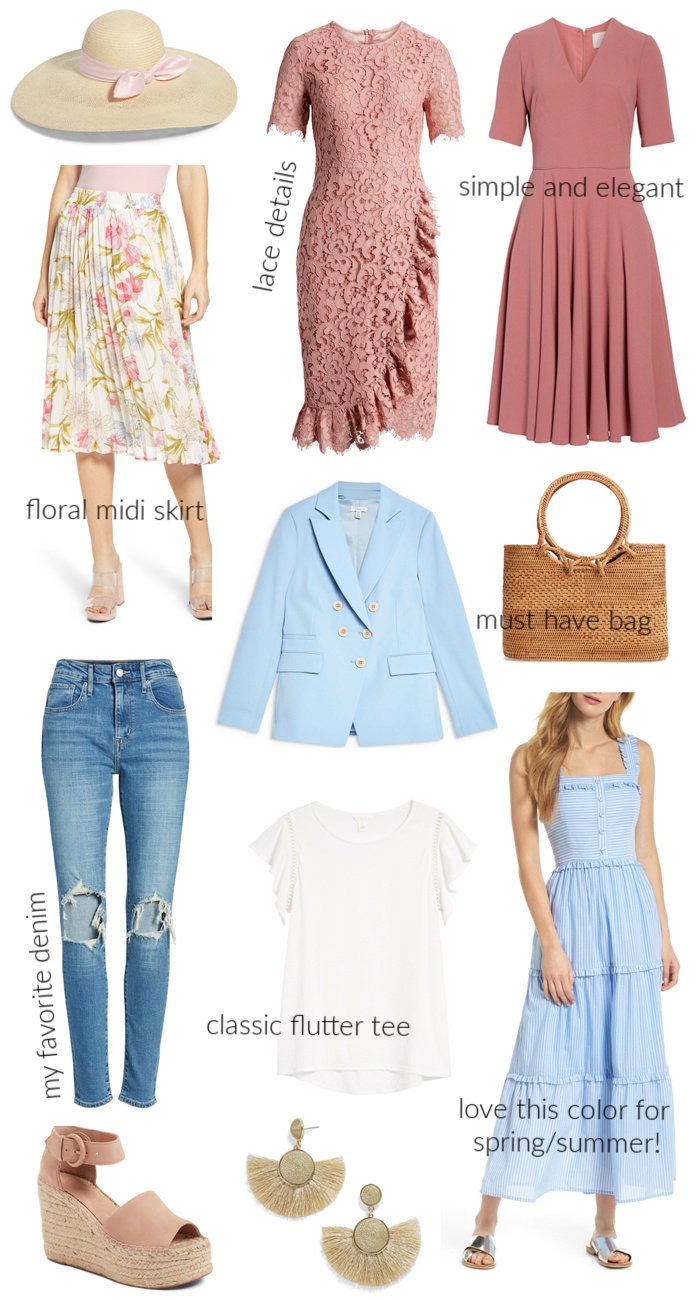 from left to right // large brim straw hat | ruffle front lace dress | flare midi dress | floral pleated skirt | taylor blazer | round handle tote | ripped high waist skinny jeans | flutter sleeve tee | stripe maxi dress | espadrille sandals | fringe drop earrings
---
WHAT TO WEAR TO A BABY SHOWER AS A GUEST
---
BABY SHOWER OUTFIT IDEAS
If you're wondering what to wear to a baby shower, I've got you covered! Since it's not everyday we get invited to these events, it can be a bit overwhelming. Honestly, there's no right or wrong answer on what to wear to a baby shower! If you're wanting a casual vibe — these high waist jeans are a favorite. Pair with this flutter sleeve tee, a hat and pretty baubles. I always like shopping for things that I can wear consistently throughout the season (not just for an event).
If you're wanting to dress up (tea party, floral inspired shower, etc) I've shared a couple of my favorite picks above! Flattering, versatile and oh-so-comfy. My latest purchase is a white blazer to throw over dresses when it's chilly. Statement earrings are always a must! I also adore this floral pleated skirt — perfect for a baby shower, wedding or date night.
---
A few of my favorite details from the day:
Lunch: Sandwiches/chips served in a white box sealed with an adorable sticker

Drink: Iced tea, lemonade & custom bottle water (we had the cutest labels made!)

Decor: My mom rented a long picnic-style table with white chairs & decorated with florals, vintage books, suitcases & more. It was such a lovely touch to the day! She also decorated the backyard swing with floras, and vines — we opened presents on it!

Cake; My talented friend, Tami, created the most amazing cake for our day! Topped with flowers, and surrounded by macaron cupcakes that were just beyond! So grateful!

Favors: take home flowers in the cutest, colored pots
We are so grateful to so many of our beautiful friends & family for celebrating with us. Baby Kleinman is already so loved, and she's most definitely going to be the best dressed babe!! I'm sharing some of my registry with you later this week, so stay tuned.
BABY SHOWER OUTFITS FOR MOM

I picked out this floral flutter-sleeve midi dress, and absolutely loved it! Since the party was outdoors, and it's the middle of July — I wanted something light, airy & cool. The price tag is even better, under $60! Woot! (Linking non-maternity too!) If you're still stuck on what to wear to a baby shower, make sure to check out Nordstrom Maternity, and Asos maternity. A couple of my favorite places (with easy return policies if you change mind). 
SHOP MY BABY SHOWER OUTFIT
---

---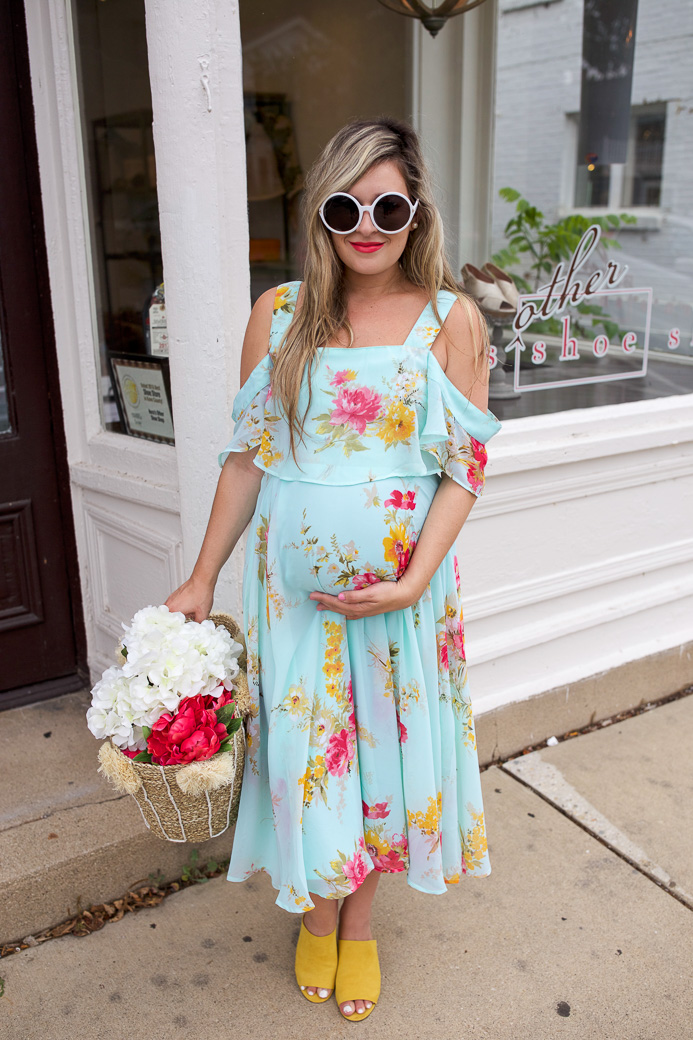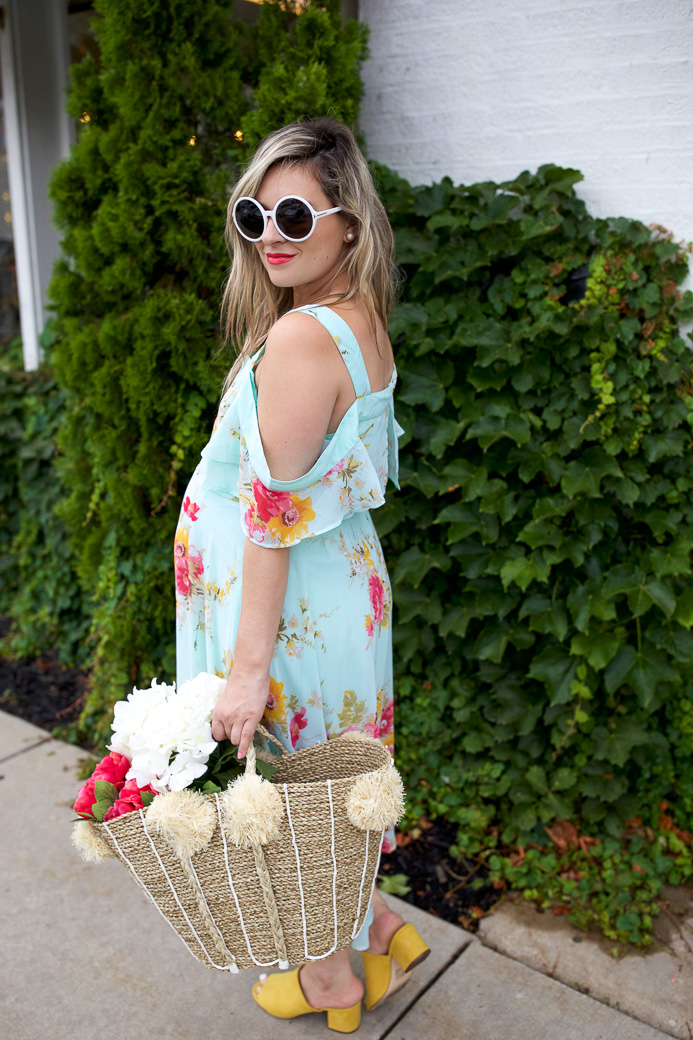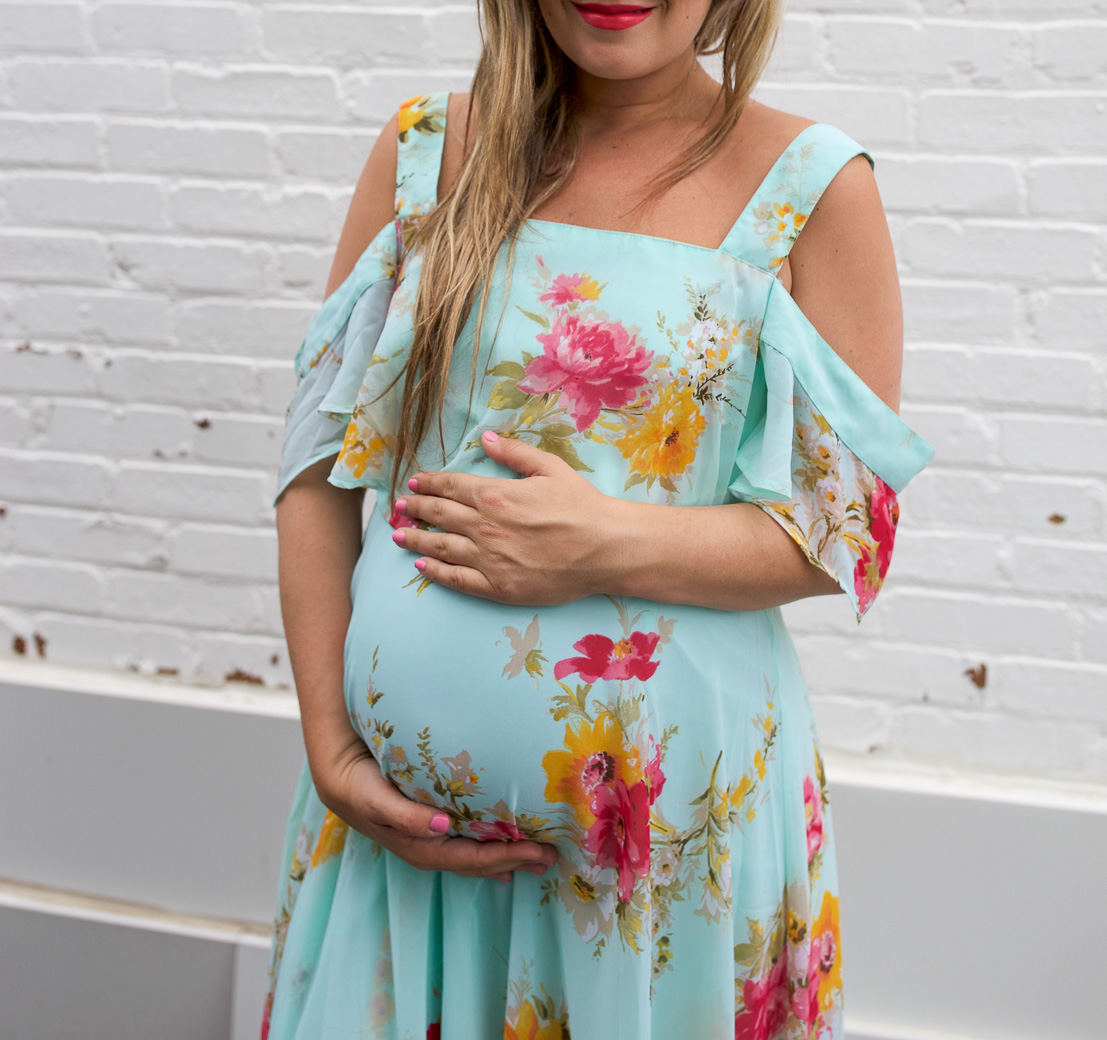 what to wear to a baby shower | shop baby shower outfit below
---

---
Don't forget to check-out my nursery inspiration here! It's slowly coming together, and I can't wait to reveal it soon!
ICYMI: baby registry must haves | toddler sippy cups | getting your baby to sleep