Floating nightstands are an excellent space saving addition to any bedroom. They are versatile enough to be hung at any height, so customizing them to your space is easy and effortless.
You may also like: The Best Mid Century Nightstands for Your Space | Best Faux Olive Trees in Pots to Elevate Your Home | The Best Swivel Chair on the Market
Here are some of our favorite floating nightstands you can use in your space:
Floating Nightstand
---
1. Gemini Wall Mounted Nightstand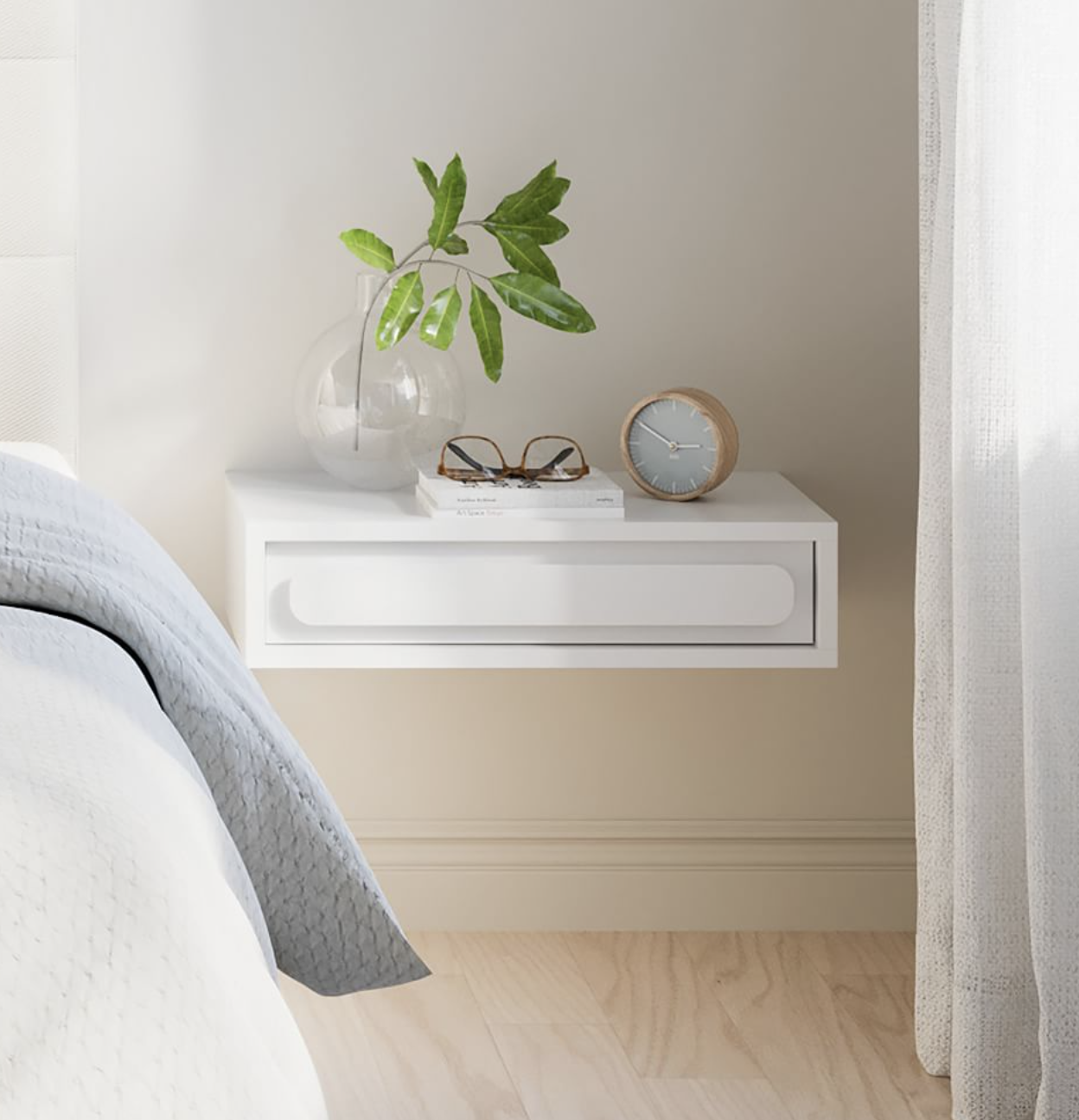 The Gemini Wall Mounted Nightstand is inspired by retro 70's design with its streamliner drawer pulls. This stylish nightstand can be mounted at any height, which makes it a truly versatile piece. It is crafted from sustainably sourced wood, so you can ensure your nightstand is good for the planet.
2. Lenia Nightstand
The Lenia Nightstand comes in three stylish colors so you can match it perfectly to your space. Choose from walnut, black ash, and white oak. This nightstand is ideal for both minimalists and lovers of chic mid-century modern design.
3. Alyra Mango Floating Nightstand With Drawer
The Alyra Mango Wall Shelf With Drawer is handcrafted by artisans in India. This functional piece is made from a rich and unique mango wood. This design leans into traditional mid-century modern design and features clean lines and soft curvature. S
5. Lane Drawer Shelf
The Lane Drawer Shelf offers plenty of storage and can be used as a nightstand, floating shelf, bar stand, or accessory drawer. Between an upper shelf, cubby, and pull out drawer, there is no shortage of space to hold your essentials. It also comes in both black and white, so you can match this shelf to your space.
6. Manufactured Floating Wood Nightstand With Drawer
This Manufactured Wood Nightstand balances minimalist charm with a rich, classic, retro wood grain. This piece is ideal for those who want to display some of their favorite items, while concealing the less visually pleasing stuff. Choose between, walnut, light oak and white.
7. Batten Floating Nightstand
The Batten Floating Nightstand mounts on a stunning batten back panel. This stunning wooden piece highlights the stunning wood grain with its smokey gray coating. This space saving design brings both functionality and style to any space.
8. Bika Home Floating Nightstand
This Bika Home Floating Nightstand is designed with versatility and flexibility in mind. This piece would not just make a stunning nightstand, but would also serve well as a side table or floating shelf. Conceal items you wish to conceal, and display your favorite pieces on top. The height can be adjusted to perfectly fit where you need it to go.
9. Brighton Floating Shelf
This Brighton Floating Shelf comes in several different sizes and colors. Choose between 18, 36, 48, or 60 inches. Also choose between walnut, gray wash, or white finishes. This piece would make a great minimalist nightstand, or could be displayed in any other room in your home to hold decor and display pieces.
10. Floating Wood Shelf
This Floating Wood Shelf would make a stunning addition to any space. The design features deep, elegant wood grains, and and comes in both walnut and white oak. This piece adds modern functionality to any room and comes in several different sizes and shapes for extra customizability.
11. Mid-Century Floating Nightstand
This Mid-Century Floating Nightstand adds a unique, playful and retro flair to any space. This stunning nightstand can be styled endlessly to perfectly compliment any space. The rounded edges of this rectangular design bring a subtle softness and 70s inspired charm.
12. Wood Floating Nightstand
This Wood Floating Nightstand features a deep wood grain, and protected to endure tough bumps and scratches. This nightstand has a pull out drawer on top and an open shelf on bottom. Ideal for displaying and concealing certain pieces in an elegant and functional manner.
13. Large Floating Nightstands
This stunning pair of Large Floating Nightstands come as a pair. They are crafted out of stunning and high quality eastern white pine and can be stained and finished to perfectly mach your space. They feature a drawer and open cubby.
14. Minimalist Metal Floating Nightstand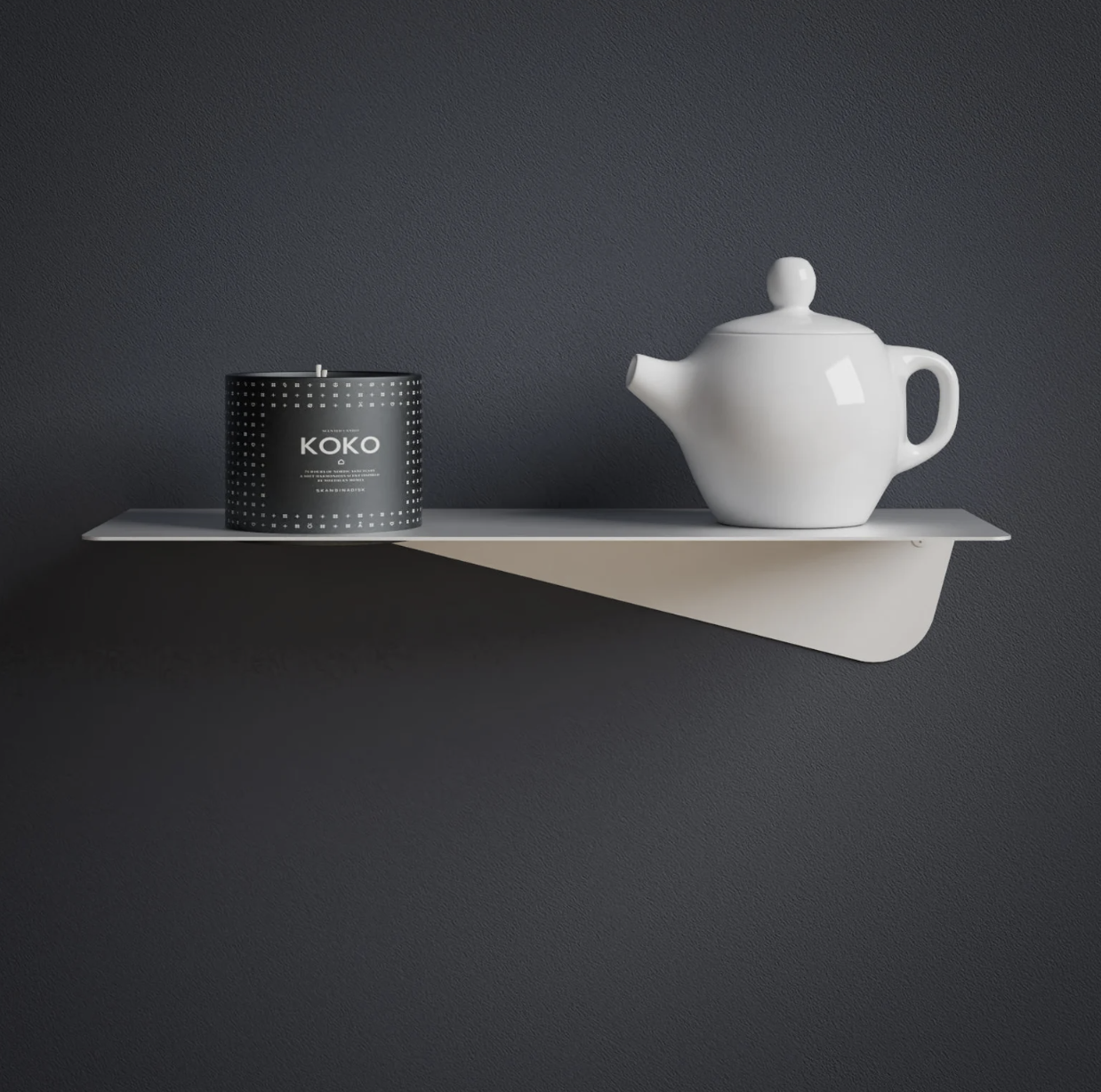 This Minimalist Metal Floating Nightstand is elegant, unique and light weight. Choose between black, white, and gold. Each piece is coated in electrostatic powder paint to keep it fully protected from any bumps and scratches it endures. This product can be crafted in whatever dimensions required for your space.
15. Oakley Nightstand
This Oakley Nightstand perfectly embodies mid-century modern design with its slatted and clean lined drawer, finished with rounded edges. The solid oak drawer features a push-to-open closure and was crafted to bring a cheerful feeling to any room.
16. Maple Floating Nightstand
This Maple Floating Nightstand is handmade to order and is crafted from start to finish in Brooklyn by expert artisans. The rounded open shelving brings a unique flair to any space and can be styled in endless ways. This piece is finished to endure moisture and any bumps that come its way.
17. Rustic Wall Mounted Nightstand
This Rustic Wall Mounted Nightstand is completely handmade and crafted from ethically sourced hardwood. This piece is built to last and stained with a rich deep Kona coffee inspired stain. This open shelving floating unit brings a sophisticated and rustic charm to any space.
18. Prepac Floating Nightstand
This Prepac Floating Nightstand is ideal for a modern bedroom. It is crafted from non-toxic, CARB-2 compliant, laminated composite woods. This piece features an open shelf and a large drawer for ample storage. Choose between three beautiful colors: black, cherry, or drifted gray.
19. South Shore Sazena Floating Nightstand
This South Shore Sazena Floating Nightstand is crafted from laminated particle board, and features a stunning and unique hanging shelf. This piece can be placed at any height needed for your space and can be creatively mixed and matched in pairs in your space.
20. Fusion Floating Nightstand
This Fusion Floating Nightstand features an open cubby on top and a stylish hanging shelf below. This shelf boasts simple and easy installation and comes with all of the mounting hardware needed for installation. This space saving design is ideal for small spaces.
21. Oak Floating Bedside Table
This Oak Floating Bedside Table features a stunningly designed pull out drawer with hand carved pulls, and a hanging shelf below. This space saving design is ideal for those who want a minimalist aesthetic in their space. Installation is made easy with universal hardware and easy to follow instructions.
22. Pmnianhua Wall Mounted Nightstand
This Pmnianhua Wall Mounted Nightstand is a unique design that features a drawer, and an upside down triangular shelf below. The brass finished pull on the drawer adds elegance and beautifully compliments the marble and concrete gray finishes.
23. Floating Bedside Table
This Floating Bedside Table is a two tiered design that features stunning and bold metal designs between the two. This versatile and stylish piece can be used as a bedside table or added floating storage elsewhere in your home.
24. Acrylic Floating Nightstand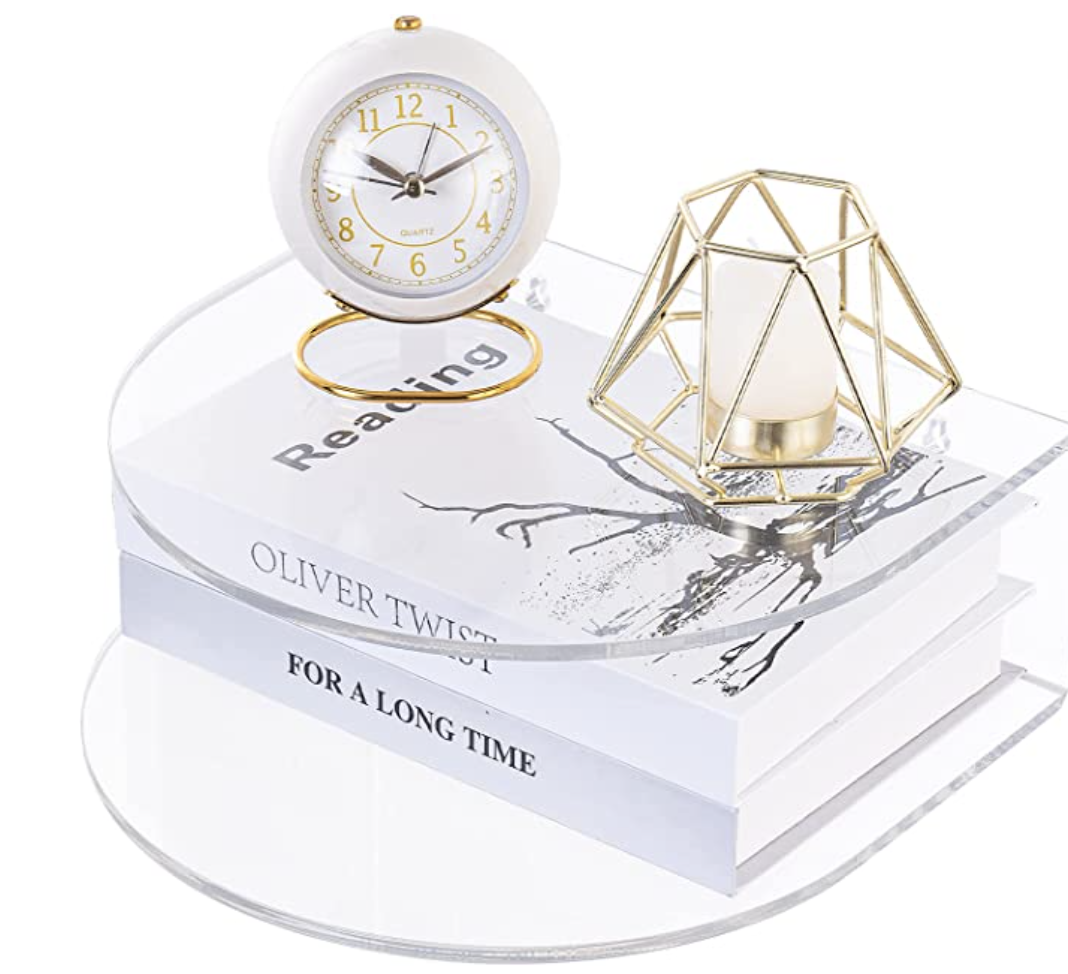 This Acrylic Floating Nightstand is a chic and upscale storage solution for a small space. This two tier shelving unit offers bold curves and instantly elevates any space. This semi-circle design effortlessly blends in with your home. This small nightstand can only hold 8 pounds, so it is not ideal for those hoping to hold heavier items.
25. Nathan James Jackson Nightstand
This Nathan James Jackson Nightstand features a rustic dark walnut wood with a concealed drawer on top and an open shelf on bottom. This nightstand has a built-in cord hole for effortless charging of electronics or for a bedside lamp.
26. Adowes Nightstand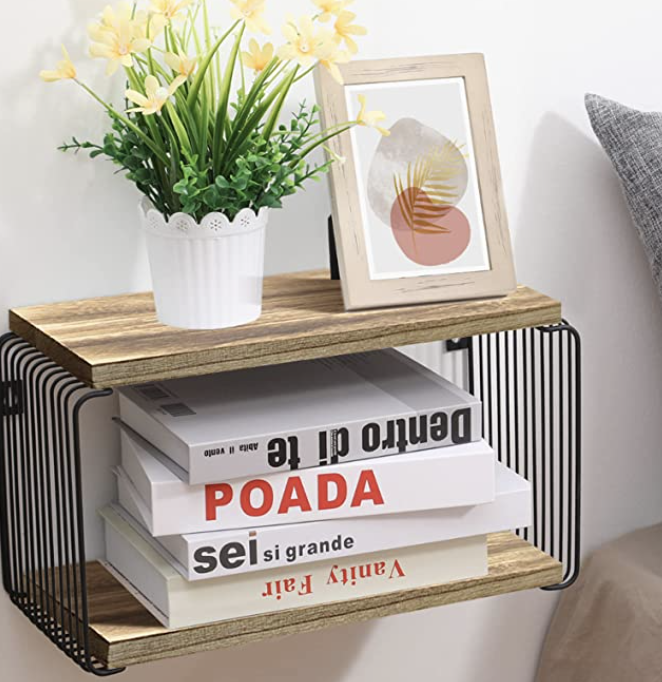 This Adowes Nightstand is expertly crafted from Paulownia wood boards and struts stunning powder coated geometric-line metal brackets on the sides. This night stand is built to be sturdy and stylish and can hold up to 50 pounds.
27. Vintage White Floating Nightstand
This Vintage White Floating Nightstand is both modern and chic. This two-tiered open shelving design is ideal for displaying your favorite pieces, and functional enough to be used as a nightstand or shelf elsewhere in your space. This piece is built strong enough to hold up to 50 pounds.
Choosing The Right Nightstand
When choosing the right nightstand for your space, always consider not just one that will match the aesthetic of your space, but one that will hold all of your things. Are you looking for a way to display your beautiful keepsakes, or somewhere to conceal your loose pens for late night journaling.
Either way, always check weight limits to ensure your nightstand can withstand holding your items.