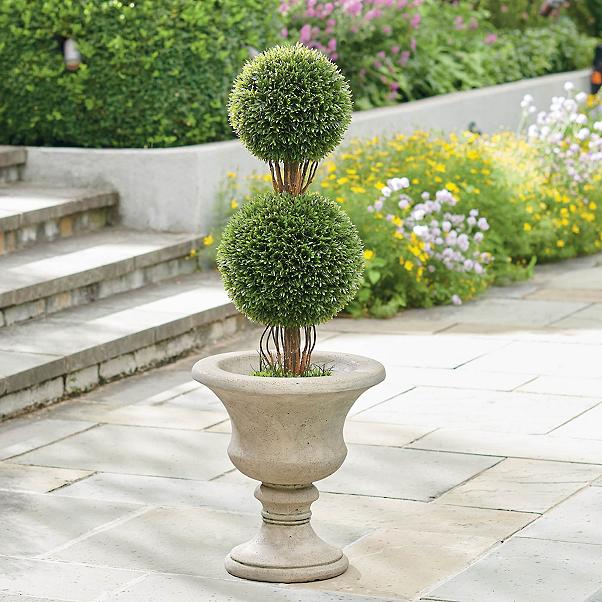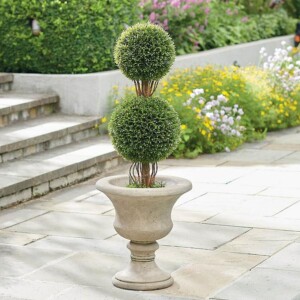 Faux boxwood makes it incredibly easy to see green all year round, even if you're in an area covered with snow! They also add curb appeal to your home and freshen up any space, indoor or outside. And the best part is they require absolutely zero upkeep – so if you weren't blessed with a green thumb, you can still adorn your home with beautiful plants and topiary sculptures.
There are a lot of options when it comes to picking out faux topiary, and it may seem really overwhelming if you're not sure where to start or how to find the perfect ones for your style. That's why we've rounded up our favorite ones that come in a range of shapes, sizes, and price points!
We've broken them down by retailer since each one offers a few that we just couldn't resist putting on the list, and it makes your search that much easier!
Looking for more faux plants? Checkout faux olive trees, faux fiddle leaf fig trees and faux eucalyptus trees! Can you tell I have a thing for artificial plants?
The Best Faux Boxwood Topiary
---
Grandin Road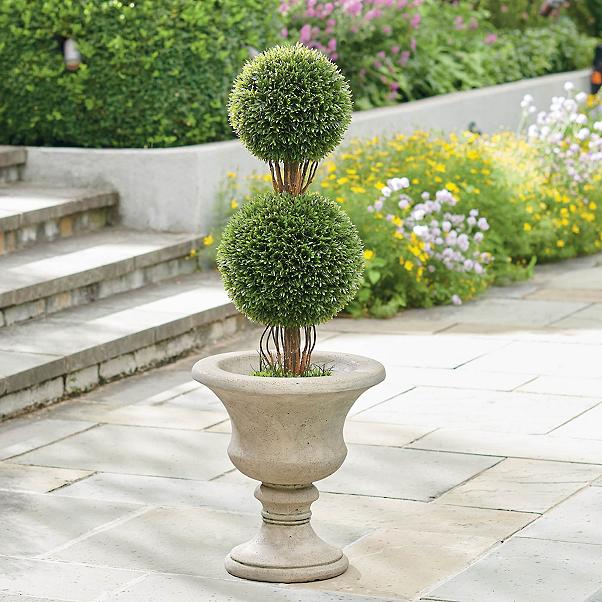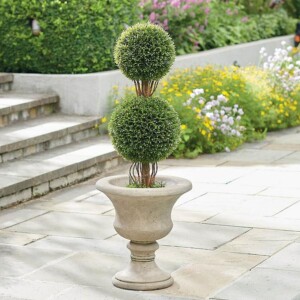 This gorgeous artificial podocarpus tree will add class to your porch or any other covered area that needs it! It has two realistic sculpted balls and even has fake dirt in the plastic pot. The Podocarpus Double Ball Topiary is made of high-quality Polyethylene that will keep its shape and color for many years to come.
It's 3 feet high, 12 inches in diameter, and only 7 pounds, so it can fit in pretty much any space! It's best to keep this beauty indoors or under a covered area to keep it in good shape.
This is one of our favorite faux topiary trees! Its spiral shape resembles the kind of topiary sculpture that you'd find in a professionally designed garden, yet doesn't cost a fortune. It also comes with a plastic pot full of realistic dirt, so you don't have to worry about it looking tacky or fake.
It's a generous size at 5 feet tall and 12 inches in diameter while weighing 13 pounds. It also comes in two separate sections so you will need to assemble it when it arrives. This is made of high-quality faux materials that will hold up over time, as long as it's indoors or placed under a covered outdoor space.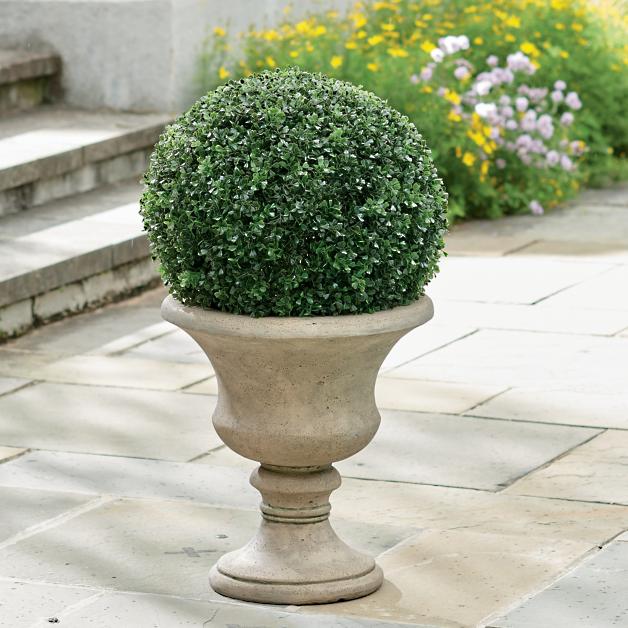 A classic addition to any landscape or garden is the boxwood tree, which adds instant sophistication and curb appeal. This life-like faux boxwood topiary will give your space the same classy touch, no landscaper required!
It's under two feet tall and only 18 inches in diameter so it can fit in almost any space that needs a touch of nature! And at only 9 pounds, it can easily be moved whenever you need to switch things up.
Ballard Designs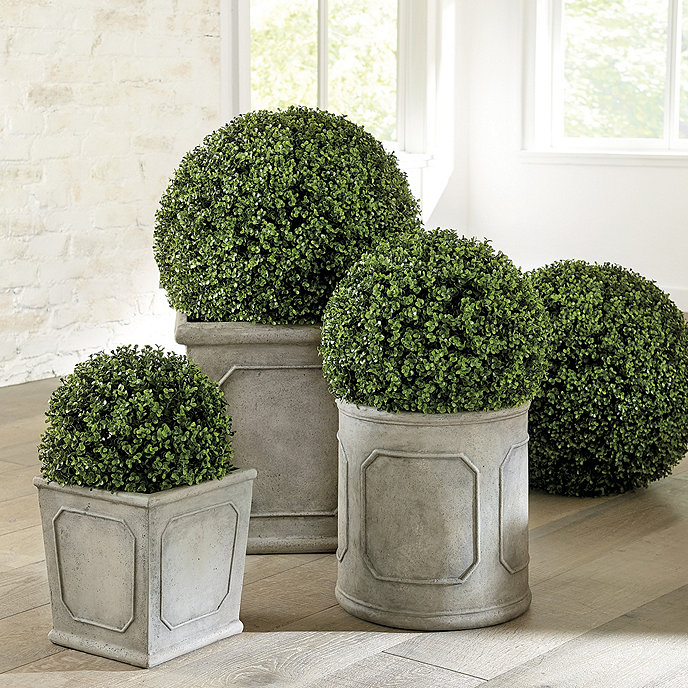 If you've been wanting to add a faux topiary outdoor, but don't want to take a chance of it getting ruined, this faux boxwood topiary is your dream come true! It's been rated for up to 10 years of outdoor use without fading or damage. The realistic leaves are UV-protected and are made out of recycled polyethylene & steel wire.
This realistic boxwood planter filler is available in four different sizes, ranging from 11 to 21 inches. As soon as you find the perfect planter pot to hold it in, it's ready to be shown off – indoors or outside!
West Elm
Another beautiful choice for a faux topiary for outdoor or indoor use is this boxwood spiral tree. It looks exactly like the real thing and adds just the right amount of decoration for your space. Like everything from West Elm, you can expect this to last a very long time thanks to it being high-quality.
You can choose from two different sizes (or both – we wouldn't blame you!) with the small measuring 12.5 inches in diameter and just under 3 feet tall, and the large being 15.5 inches in diameter and just under 4 feet tall. These come in a plastic pot with a black finish, too.
Bed Bath & Beyond
We love this faux boxwood topiary for so many reasons! Not only is it pre-lit, looks like the real deal, and comes in a gorgeous neutral pot, it's one of the most budget-friendly picks on our list! It's the easiest and one of the most affordable ways to add some elegance to your space.
This one also comes in three different sizes, so you can add some layers to your decor with all three or choose just one size. The small is 14 inches tall, while the medium measures just over 2.5 feet high, and the large is 3 feet tall. All three sizes weigh under twenty pounds, so they're super convenient to move around as needed.
Overstock
If you're shopping for an affordable faux boxwood topiary with that famous spiral shape, this one from Overstock is a perfect choice! It still looks realistic despite the lower price tag and is the perfect addition to any traditional style decor. It also comes with a planter and can be used indoors or under a covered outdoor environment.
This one measures 4 feet tall, 12 inches wide, and 10 inches deep. It also has a 4.6-star rating from over 100 reviews!
Home Depot
Another show-off-worthy artificial topiary is this faux romano boxwood spiral topiary tree from the Home Depot! It's at a great price point, is incredibly lush and full thanks to over 700 UV-resistant rubber leaves, and has a sturdy iron frame.
This one is just over 4 feet tall and weighs a little under 20 pounds, so it's really lightweight and easy to move. It also comes in a pot and can be used indoors or outside!
This artificial hedyotis tree is too beautiful and life-like to resist putting it on our list of favorite faux topiary! Both the full leaves and branches look real enough to fool anybody and the PVC leaves are even UV-resistant so you can sit outside without worry. The included pot is weighed, too, so it will still be standing even after a windy day!
It's 5 feet tall, 15 inches wide, and 7 inches deep while only weighing just under 33 pounds. This is a great way to add some decoration or even privacy to your yard, and it's at a reasonable price, too.
If you're looking for something a bit smaller, this faux boxwood topiary is a good way to go! It's realistic and also has UV-resistant leaves, so you can place it outdoors without worry. We love our simple looks while still adding some fresh decor, and the price can't be beaten.
This one measures just 2.5 feet tall, 12 inches wide, and 7 inches deep. It only weighs 18 pounds, so it's easy enough to move if you decide that you'd like it somewhere else!
We love how detailed this spiral artificial boxwood topiary tree is! The realistic leaves (over 2000 to be exact!) spiral up the life-like branches and trunk so beautifully. The entire thing looks full and lush, and you'd never know it was so budget-friendly.
It's 4 feet tall, 17 inches wide, and 7 inches deep. It weighs 14.5 pounds so it's easy to place this beauty anywhere that needs some greenery!
Target
This one is a perfect addition to any farmhouse or space that needs some rustic touches and timeless greenery! We love the vintage metal planter as much as we do the two very full and realistic bushes of boxwood foliage. Even better is that the leaves are UV-resistant to hold up to weather, so yes, you can put this one outside if you want to!
At just over 4 feet tall and 10 inches deep, this is one of the best ways to accent your lawn, patio, porch, or sunroom. It also weighs under 14 pounds, so if you decide to place it somewhere else later on, it's easy to do so.
Macy's
For a more versatile style of faux topiary, opt for these cypress cone ones! They're made from preserved cypress and will maintain their gorgeous color for years to come. Both come in beautiful and come in their own aged-stone terracotta pots, so you're truly getting the most bang for your buck with them!
The large one measures 1.5 feet high, 5 inches wide, and 5 inches deep. The small is just over a foot tall, 4 inches wide, and 4 inches deep. They may seem small for their price, but they're the perfect way to adorn a fireplace mantel, table, or porch railing.
Williams Sonoma
Last on our list is the lustrous faux double boxwood tree. We love how full the sculpted bushes are and how there are even leaves at the trunk of the tree, which really makes it look even more realistic. This one comes in a black planter and is ready to be placed in your favorite pot indoors or under a covered outdoor area.
It's also a great size at just under 3 feet tall, and 13 inches in diameter. It only weighs 11 pounds, so you're able to move it without breaking your back!
Summing It All Up
Faux boxwood topiary trees are one of the easiest ways to bring nature indoors or spruce up your outdoor entertaining areas. Some can even go directly in your garden for a professionally landscaped look while withstanding sun and rain and never even fading.
There are so many styles to choose from, but we think the ones that made our list are all amazing choices and can fit a variety of home decor styles, as well as budgets.
If you're looking to make your home feel more sophisticated or you simply miss the greenery in-between seasons, definitely get an artificial tree or plant…or two!