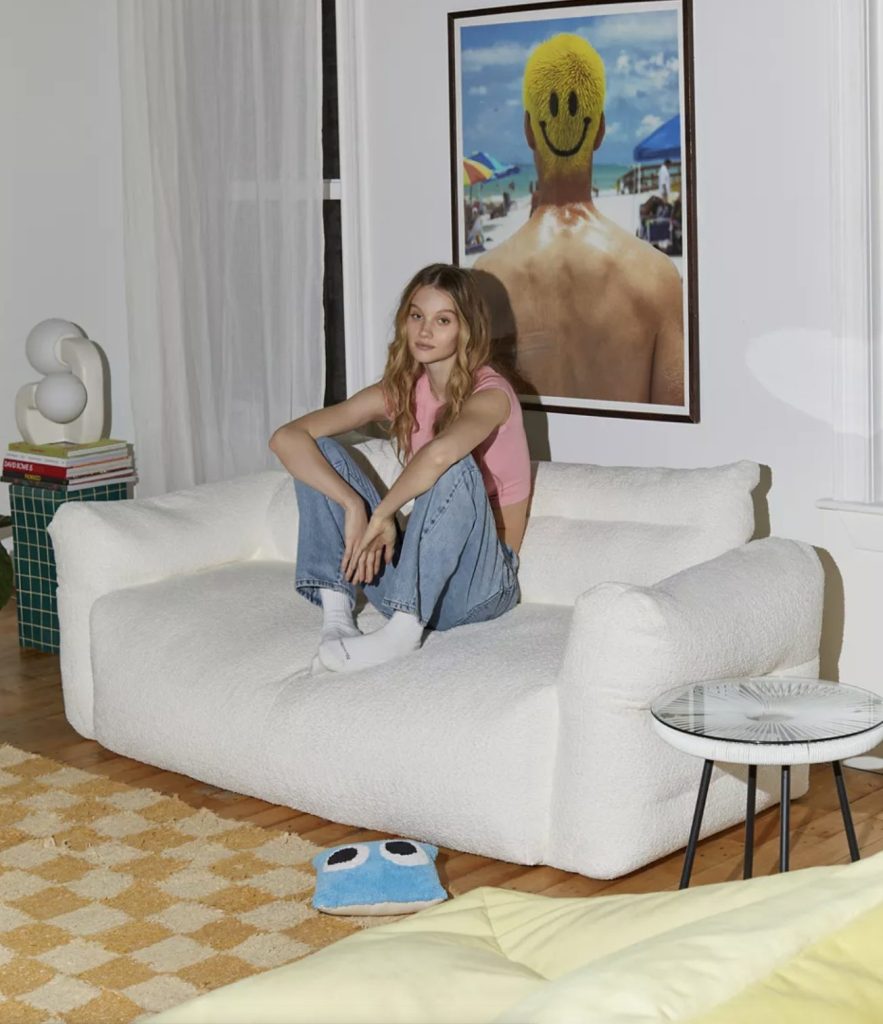 Who makes the original Cloud couch?
The original Cloud Couch was designed by Timothy Oulton for Restoration Hardware in 2015.
What couch does Kylie Jenner have?
You may have seen Kylie Jenner posting selfies from her oh-so-cozy sofa on Instagram. That stunning white sofa is the original Restoration Hardware Cloud Couch.
What is the Cloud couch made of? 
 It has a sturdy wood frame and cushions filled with down for that "floating-on-the-clouds" feel.  Additional upholstery choices for the Cloud couch include leather and a range of textiles.

What is a Cloud modular sofa? 
It is a version of the wildly popular cloud couch composed of several different parts or modules that can be arranged to create a sofa tailored to your specific space and needs.
If you've fallen in love with the viral Cloud Couch but aren't quite willing to drop that much money on a sofa, we hope you'll love one of these stunning cloud couch dupes.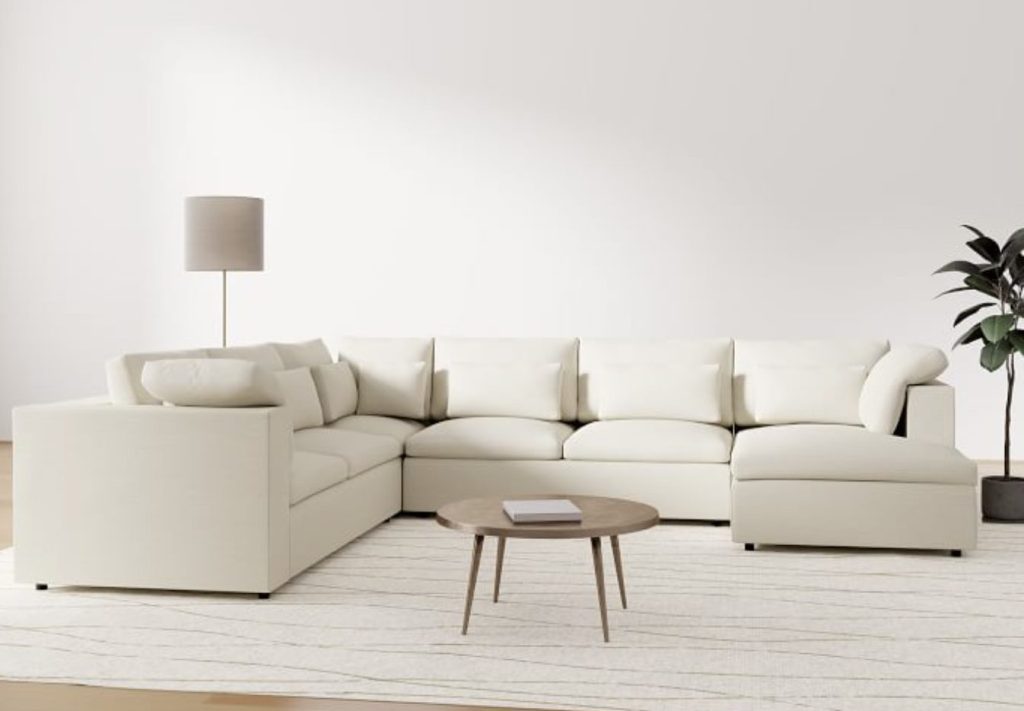 The Harmony Modular Section is a boxy sofa topped with plush cushions. Its hand-built frame is made of engineered wood with mortise and tenon joinery. Fully customize your sectional by selecting each component, the fabric, and the colorway.
106″ W x 87″ D x 33″ H
The Haven boasts a relaxed and informal shape that's perfect for lounging. Each piece is upholstered by hand and topped with alternative down-wrapped cushions. Due to its smaller footprint, the Haven is perfect for smaller living areas.

158" W x 80" D x 32" H
Collection to create your ideal sitting arrangement with the Plush Collection Sectional. Plush's cushions are overstuffed with a down and feather mixture and wrapped in an inviting silky cream velvet fabric.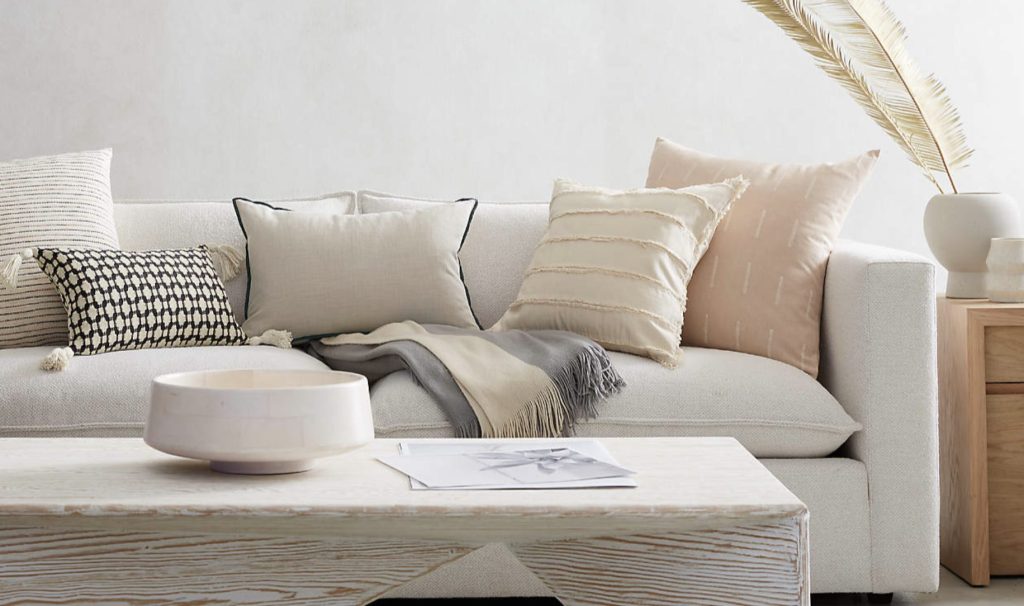 91″ W x 40″ D x 28″ H
The Lotus Sofa achieves the ideal harmony between streamlined, contemporary design and cloud-like softness. Perfectly plush cushions that are nestled on a low shelter frame and filled with a fluffy down blend. Customize this piece by choosing your preferred size and seat depth.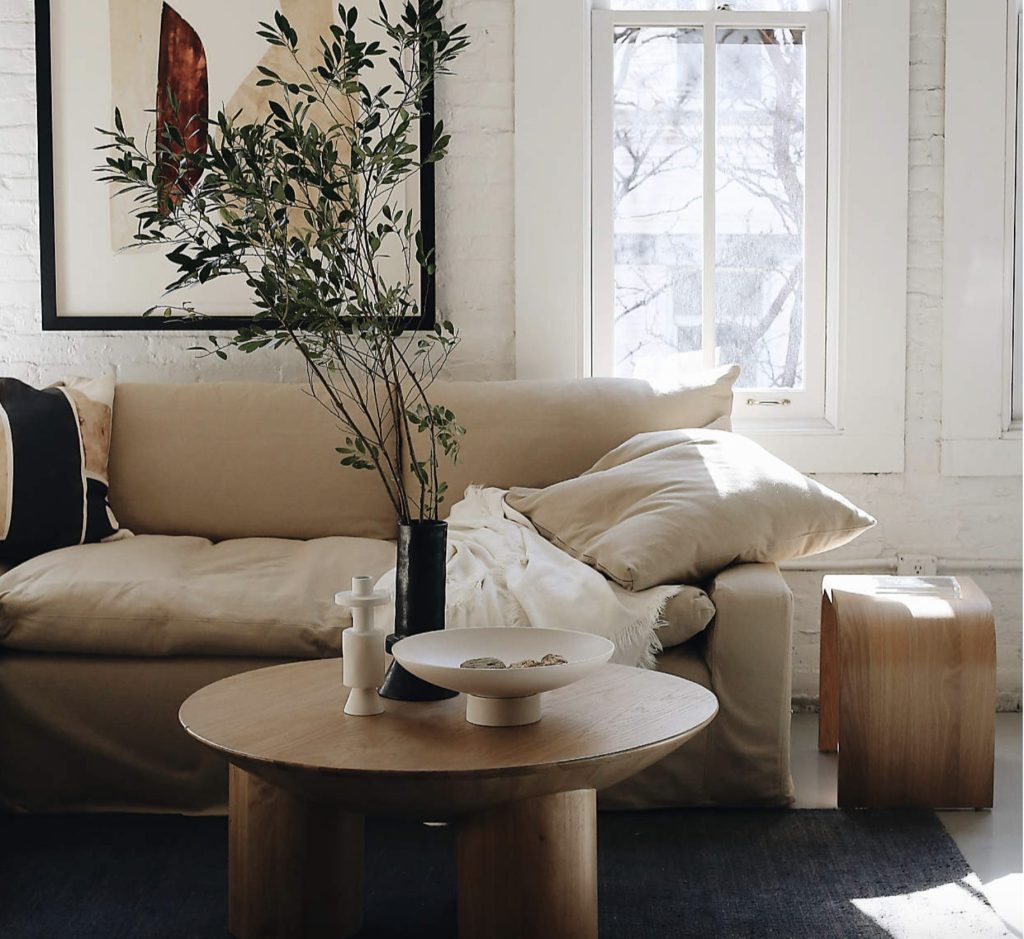 89″ W x 42″ D x 32″ H
This warm sofa embodies the unhurried style of designer Leanne Ford. The sofa welcomes family gatherings and catnaps with its luxurious cushions and wide bench. The slipcover is machine washable and stain-resistant, contributing to the feeling of easy living.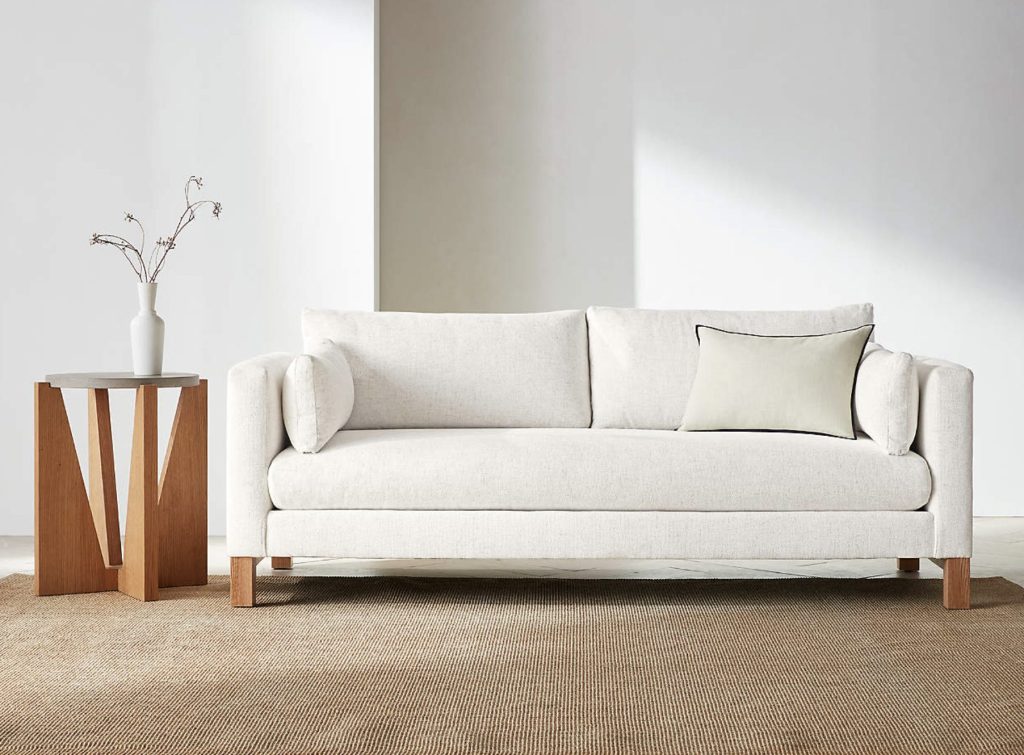 80″ W x 36" D x 27" H
The Pacific Sofa by Crate & Barrell is long, low, and designed for lounging. Slim track arms are balanced by a mix of pillowy back cushions, bolsters, and a bull-nosed seat cushion. Pacific is perfect for small-space living because it has a moderately dense, somewhat deep seat.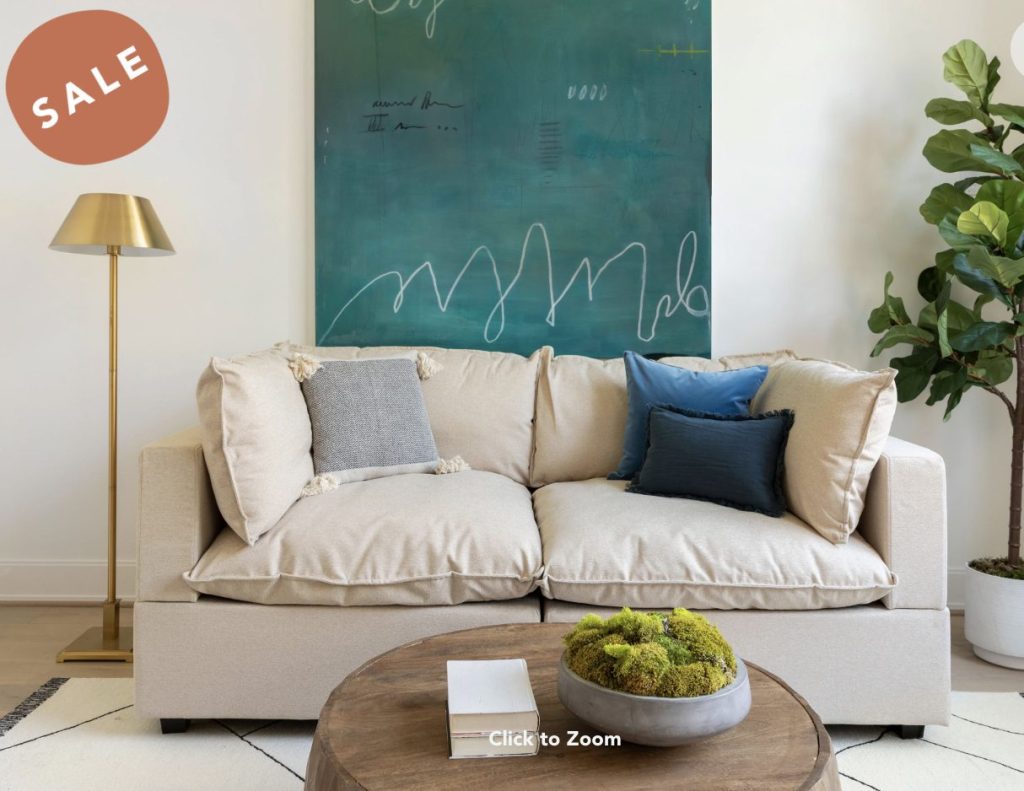 The Kova was designed to let you put your feet up, relax and unwind in its cozy, deep seats. Its hypoallergenic, 100% vegan, and cloud-soft cushions offer superb sink-in comfort for the entire family.
Purchase the modular Kova Modern Sofa with an ottoman to up the level of cozy even more!
The Sophie Corner Chaise Sectional boasts plush cushions and stunningly soft velvet upholstery. A modern and modular design ensures this cloud dupe works perfectly in any space. There are several different layouts available for purchase!
The Magic Home features cloud-like down feather cushions that are overstuffed for maximum comfort. It's an ideal sofa for game nights, sleepovers, and binge-watching Netflix. Enjoy soft linen, wide track arms, and sleek lines.
29" H x 85" W x 41" D
The Casoria Upholstered Sectional is stuffed with real down and covered in your choice of luxurious upholstery options. One chaise lounge and one sofa make up this L-shaped sectional that comfortable seats up to four.
Create your ideal seating arrangement with Meridian Furniture's Plush Collection. This five-piece set features cushions that are overstuffed with down and upholstered in silky cream velvet.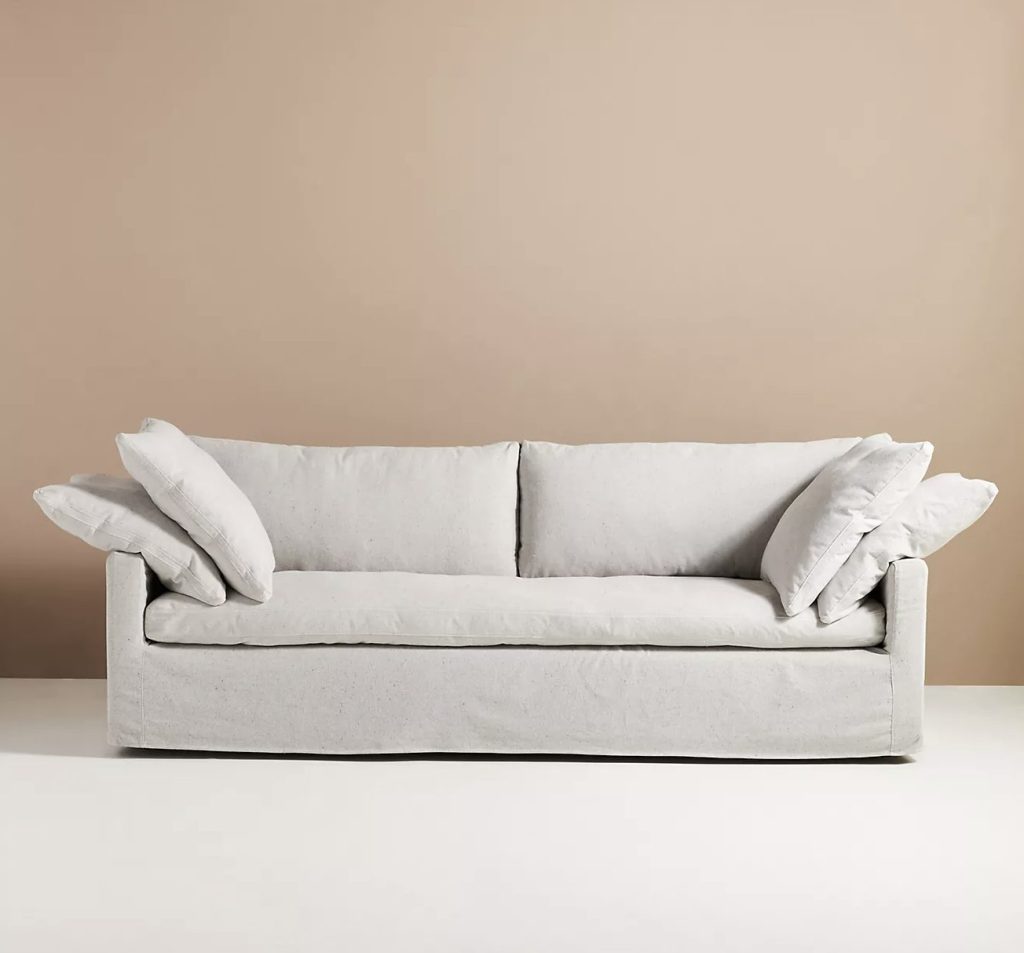 The Wells Slipcover Sofa is made from repurposed cotton-polyester upholstery from The New Denim Project. Free from synthetics, chemicals, and dyes, this sofa offers feel-good seating and looks great in any style interior.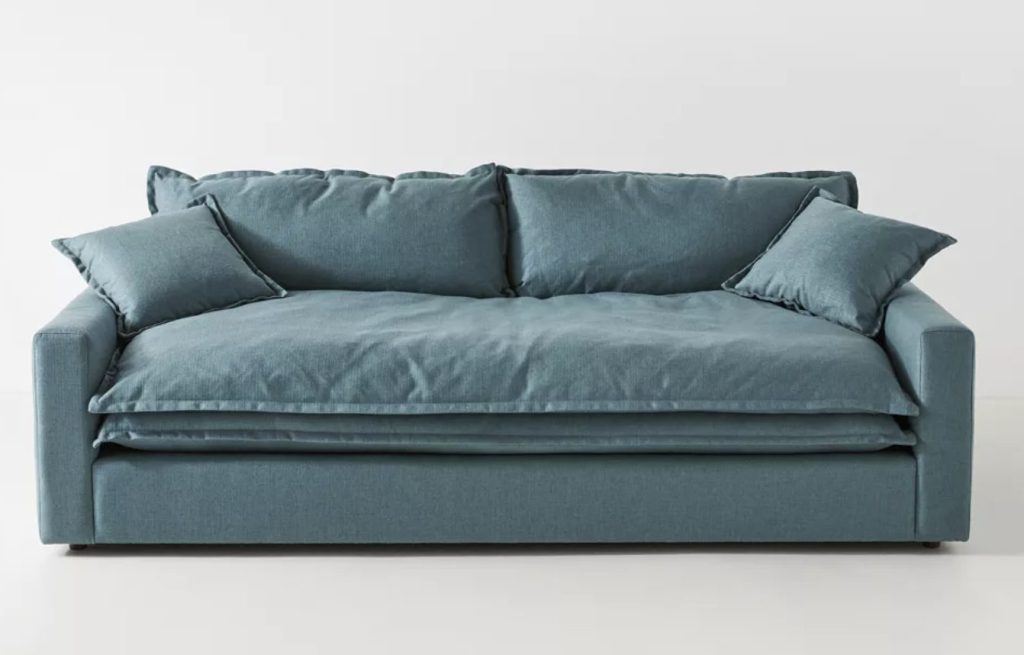 The Meriwether Sofa offers a deep seat with layered double cushions that are stuffed with down. It's the perfect piece to sink into for afternoon naps, quality family time, or snuggles with your favorite pup.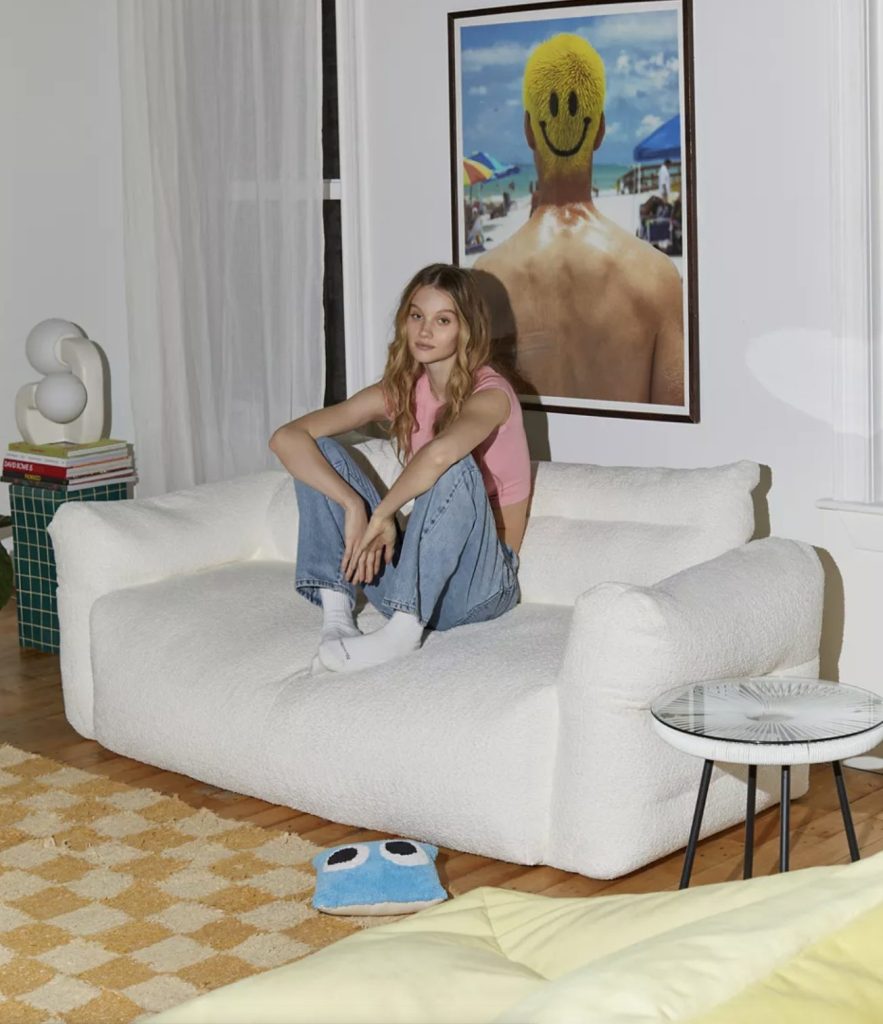 75″ L x 34″ W x 29″ H
The Matilda is the large bean bag of your dreams. It is sofa-sized with a legless design that's ideal for relaxing. With a cozy boucle slipcover, and integrated arms, back and arm rests, this piece offers the perfect amount of support while you unwind. This is the ultimate cloud couch dupe for smaller spaces!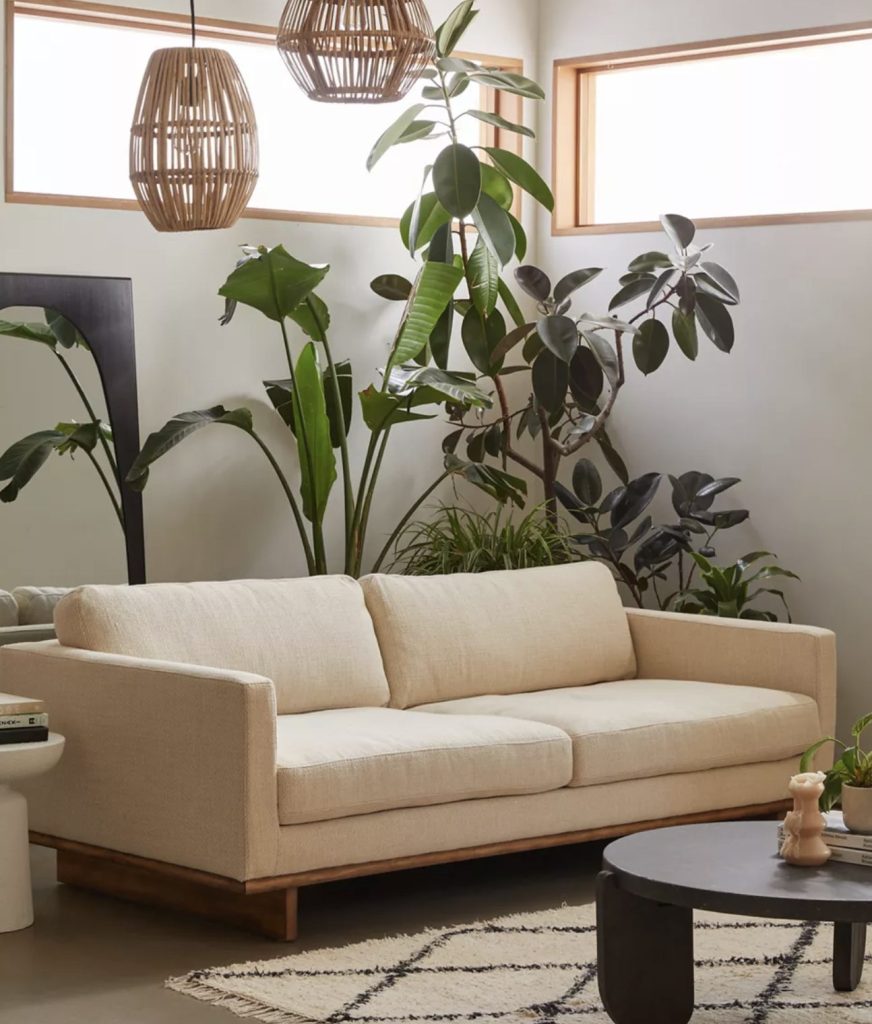 85″ L x 39″ W x 32″ H
Urban Outfitter's Kinsley Sofa features a cocoa-finished parawood base, sleek track arms and beautiful cream upholstery. This neutral sofa perfectly compliments any design scheme and will be the new favorite spot to relax in the house.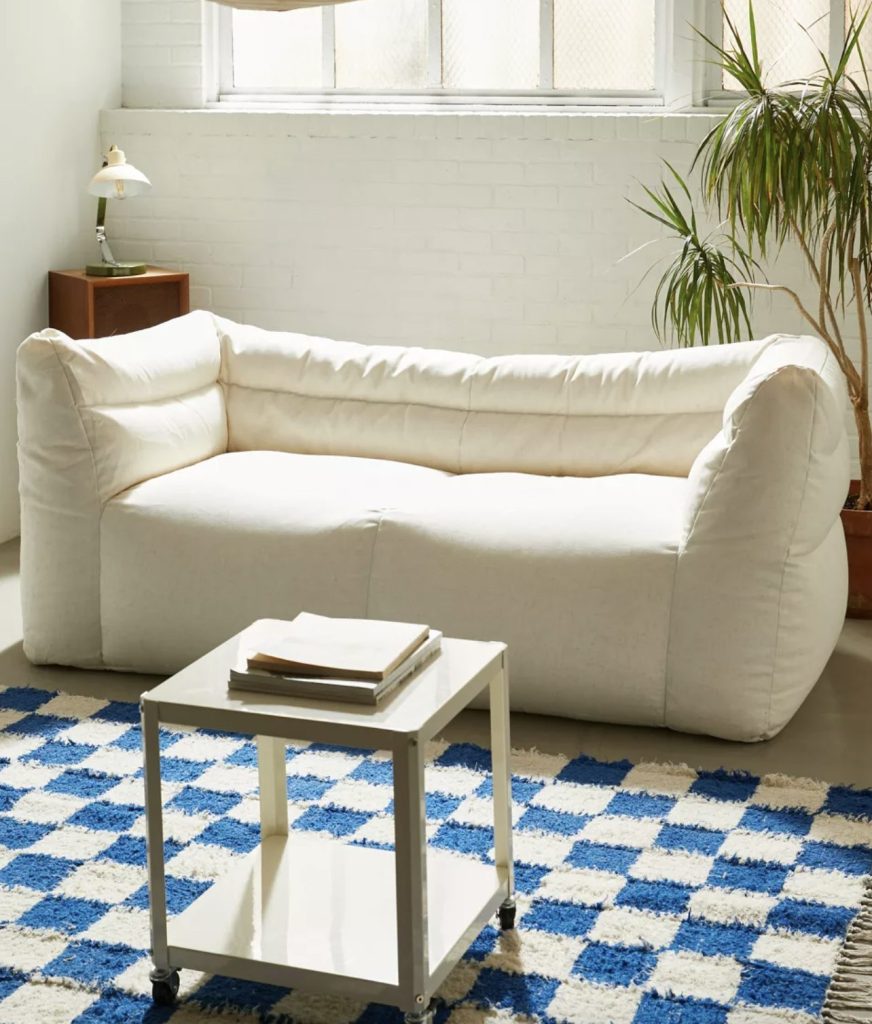 76″ W x 42″ D x 28″ H
The Wiley is oh-so-comfy, soft, and padded. With a wraparound design made of a sturdy weave with side and back cushions with seaming, this unique piece of furniture is like a hug in couch form.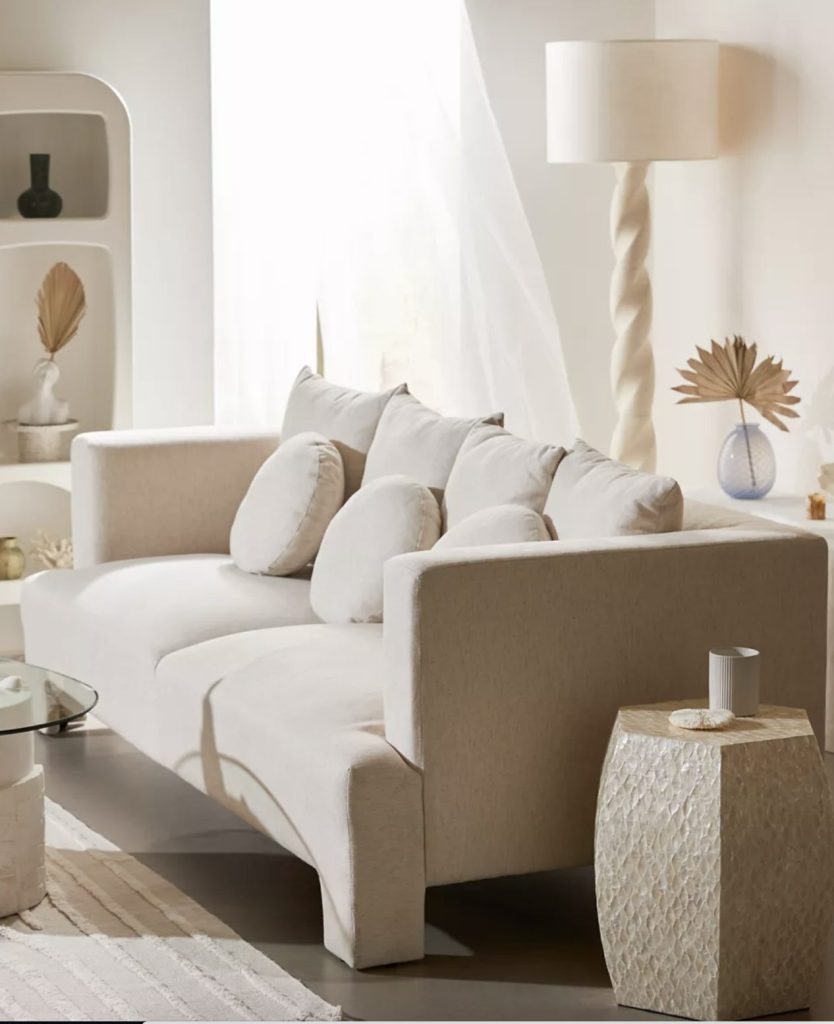 87″ L x 40″ W x 31″ H
The Isobel is a unique linen sofa by Urban Outfitters that features four square back cushions and three round accent pillows. Its arms angle around from the back, providing a cool geometric contrast.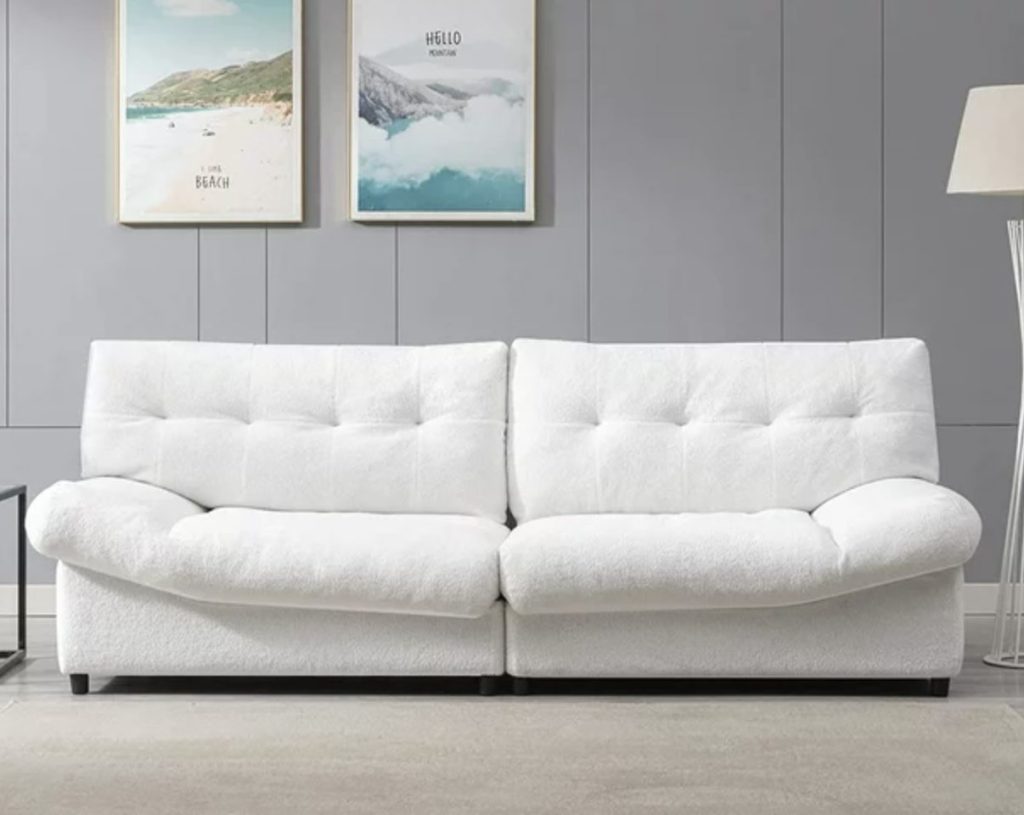 95″ D x 33″ W x 35" H
The Mjkone Modular Sectional features a simple mid-century design, sturdy frame, and luxurious velvet upholstery. This three-seater sofa's incredible comfort is provided by sponge padding and thick pocket springs.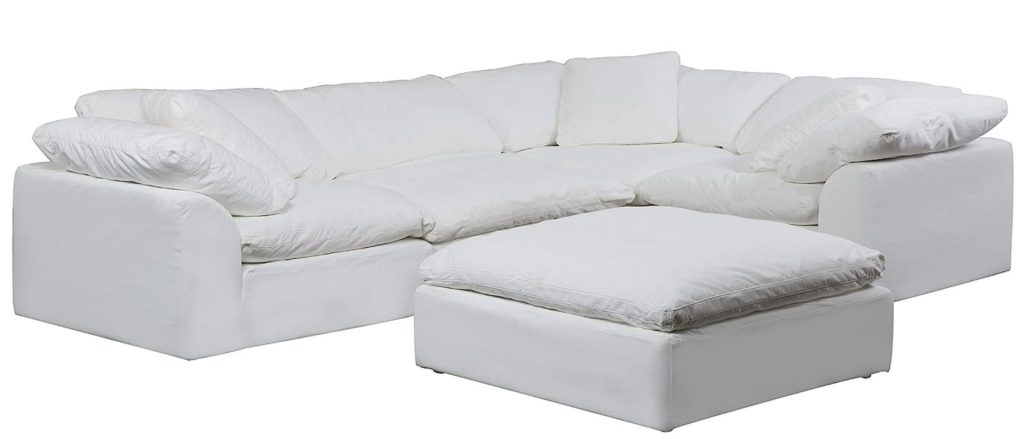 88" D x 132" W x 36" H
The Puff Collection Sectional is as comfortable as it is adaptable. This cloud-like sofa is slip-covered and modular for easy makeovers. In addition to being washable, the slipcovers are stain resistant and ultra-durable. Goose-down feathers make it perfect for full family relaxing.
Closing Thoughts
If you're looking to amp up the comfort level in your living room, a cloud couch dupe is the way to go. With availability in many different sizes, shapes, fabrics, and colors, there's sure to be a dupe perfect for your needs.