If you are in the market for a luxurious sofa to complete your space, a Boucle sofa may be exactly what you need.
---
What is a Boucle Sofa?
Boucle is a kind of textured yarn that curls. In fact, In French the word Boucle means to curl or to loop. Boucle fabric is commonly paired with curved sofas to bring a sculptural inspired look.
Is Boucle Good For a Sofa?
Boucle is a fabric that has stood the test of time. It has lately had a resurgence in popularity, but this fabric stays timeless regardless of trends.
Boucle fabric itself is known to have a low absorption rate compared to other fabrics, which makes it remarkably resilient to spills and wear. It is also incredibly soft and comfortable. The texture of this fabric brings intrigue to a space because of its bumpy appearance.
Overall, a boucle sofa is a wonderful addition to any space.
You may also enjoy: Where to Buy a Mid Century Modern Couch | The Best Chesterfield Sofas at Every Price Point | 14 of The Best Modern Sectionals That we Love
---
Boucle Sofa
---
1. Bacio Cream Boucle Sofa
This Bacio Cream Boucle Sofa features soft and playful curves and sits upon four short wooden legs. This sofa is made from overstuffed down for added comfort and brings a luxurious feel to any space. This sofa comfortably seats up to three guests.
2. Brace Boucle Sofa
This Brace Boucle Sofa is a 1970's Italian inspired design that features soft and rounded corners all over. This design is built to allow guests to sink into for ultimate comfort. This design omits the use of legs and instead sits directly on the floor for an inviting feel.
3. Strato Boucle Sectional
This Strato Boucle Sectional is a four piece sofa that is ideal for those who like to entertain. The rectangular design is complimented by soft curves and clean line detailing in the cushions. This stunning sofa comes in several different colors, so it can be perfectly matched to your space.
4. Gwyneth Boucle Loveseat
The Gwyneth Boucle Loveseat is a cozy rounded sofa ideal for small spaces or as an accent piece. This chic design balances a modern aesthetic and the boucle fabric adds texture and intrigue to any space. This sofa comes in five stylish colors so you can perfectly match it to your space.
5. Orleans Upholstered Bench
The Orleans Upholstered Bench is a versatile piece that can be used as seating in your living room, entryway, or bedroom. This stylish and elegant low back design adds texture and intrigue to any space. The soft curves and geometric design make this a luxurious statement piece.
6. Imbu Boucle Sofa
This Imbu Boucle Sofa is a stunning four piece modular design that can be mixed and matched to perfectly compliment your space. This sofa offers no armrests and a tall backrest to make this sofa feel inviting. This sofa sits on a bent wood frame that perfectly contours the curve of this couch.
7. Suelo Slipcover Modular Sofa
The Suelo Slipcover Modular Sofa is made for the outdoors. Covered in a special sun and weather proof fabric, this sofa is designed to look like a high end indoor couch, while being resistant to the elements. This four piece modular sofa also comes with a removable slip cover for easy cleaning .
8. Eddy Sofa
The Eddy Sofa is a modern and stylish sofa that sits upon trestle-style legs. This couch also comes in tons of different colors, and you can order swatches before you decide which one is right for you. Choose between four different sizes as well for a fully customizable piece.
9. Marin Sofa
The Marin Sofa is a fun modern couch that brings coastal vibes to any space. The frame is hand built and hand upholstered in the United States, so you know you are getting an amazing quality sofa. Choose between dozens of different colors to perfectly match this sofa to your space.
10. Aria Sofa
The Aria Sofa is inspired by the 60's with its bold curves and sleek profile. This sofa features a strong boucle texture and brings a feeling of luxury to any space. Choose between white or rust colors to match this sofa to your space.
11. Vitiello Upholstered Sofa
The Vitiello Upholstered Sofa is a low profile sofa with dramatic curves. This couch was designed for comfortable lounging with its deep seating and overstuffed cushions. This sofa is 90 inches long and can comfortably seat 3 to 4 people.
12. Hugger Curved Boucle
The Hugger Curved Boucle features curves that are inspired by sculptures. This rounded sofa is ideal for a reading nook, or a bold feature sofa in an entertaining space. Between the strong boucle texture, and soft curves, this sofa balances comfort with a luxurious flair.
13. Muse Sofa
The Muse Sofa is a modular sofa that boasts a playful and fun design that will remain timeless for years to come. This sofa is inspired by sculptures, and provides a grounding quality to any space. This sofa balances dramatic shapes with unique proportions to create an overall bold statement sofa.
14. Carmen Sofa
The Carmen Sofa is a fun bean-bag style sofa designed for a childs room or small bedroom. This sofa has overstuffed cushions and a chesterfield style backrest and armrest. This sofa is built to be a "grown-up take on the beanbag."
15. Camaleonda Sofa
The Camaleonda Sofa is a modular style sofa that comes with six total pieces. The fabric is made from alpaca and has a boucle texture to it. This sofa sits low to the ground and has a scrunched fabric texture on top of the firm cushions. There is a matching ottoman that can be purchased separately.
16. Boucle Modern Loveseat
This Boucle Modern Loveseat balances retro charm with a modern and timeless silhouette. The stylish legs are crafted from solid walnut, and the cushions are handmade in Turkey from top quality materials. This sofa boasts deep seating in its medium firm cushions for ultimate comfort.
17. Zaha Sofa
The Zaha Sofa is built to evoke a feeling of serenity. With its curves that are inspired by sculptures and modern clean lines, this piece is both bold and luxurious. At 84", this sofa boasts the ability to seat up to four guests comfortably.
18. Chaise Modular Sectional
This Chaise Sectional is a stunning chaise style sofa that comes in two separate pieces. This sectional is made from lambswool for ultimate quality and comfort. This sofa also boasts plenty of seating with its extra deep and long design.
19. Owen Sectional
The Owen Sectional is a Scandinavian inspired sofa that comes in five modular pieces. This sofa can be rearranged several ways to perfectly fit in your home. The texture and color are designed to be reminiscent of salt and pepper.
20. Fresno Sofa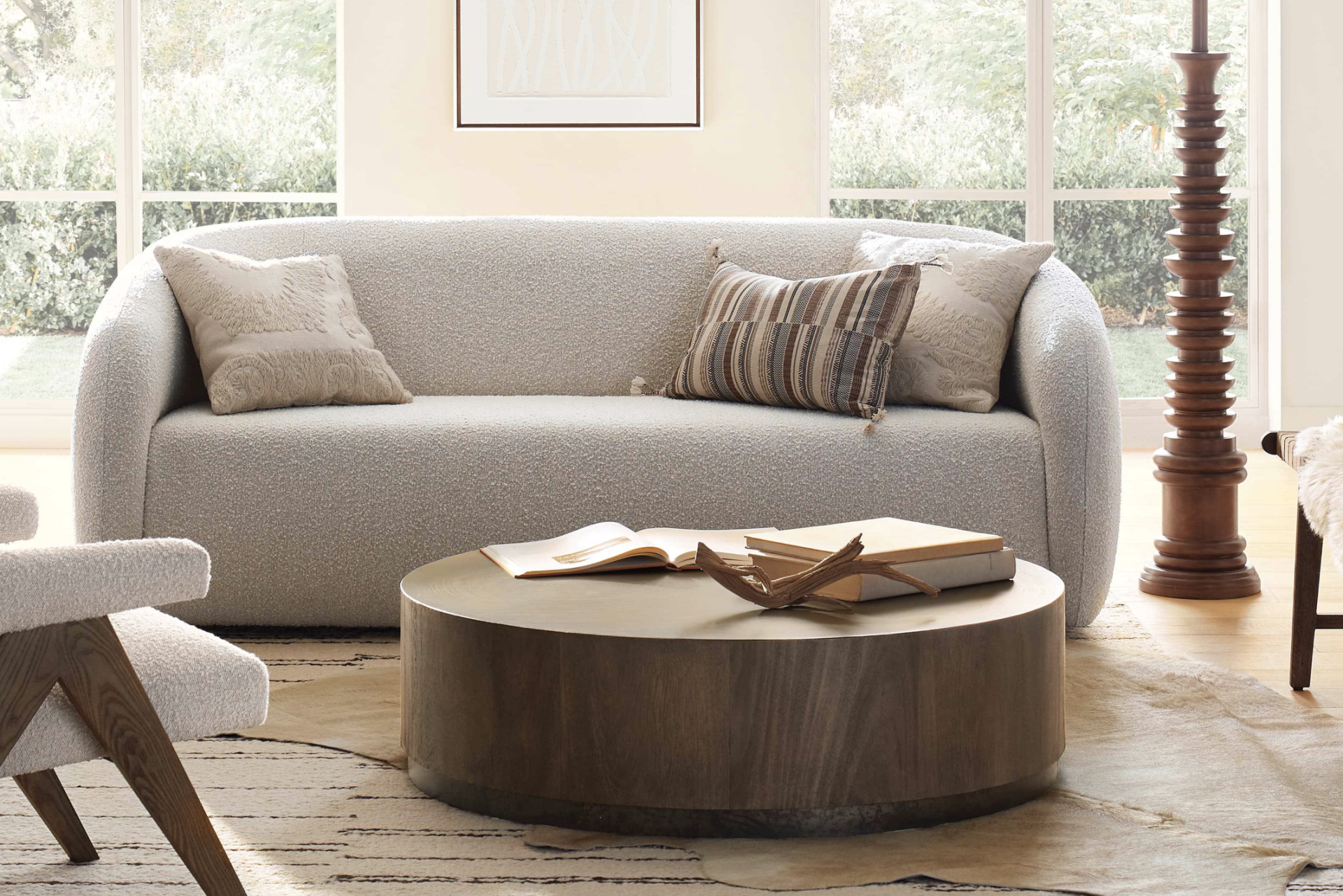 The Fresno Sofa boasts a sleek and curvy design. This design is available in three different sizes, and a handful of elegant colors. This sofa is modern and clean and brings a feeling of luxury to any space. The cushions are supported by a solid frame that is designed to prevent sagging.
21. Kipton Sofa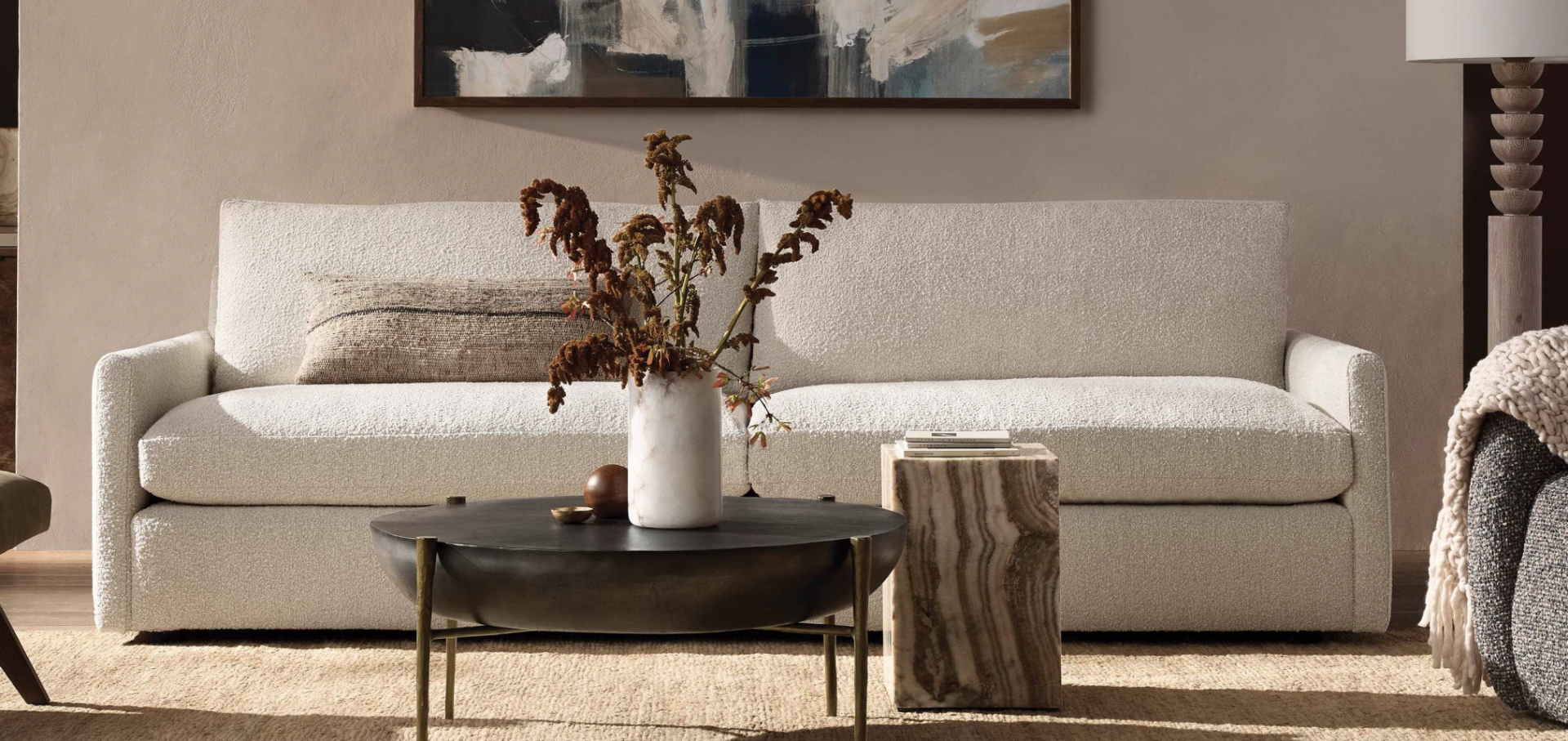 The kipton Sofa was handcrafted by artisans in the United States and is built to last. This sofa is available in dozens of stylish colors, and comes in two sizes—94" and 106". This sofa effortlessly blends classic and contemporary styles for a timeless feel.