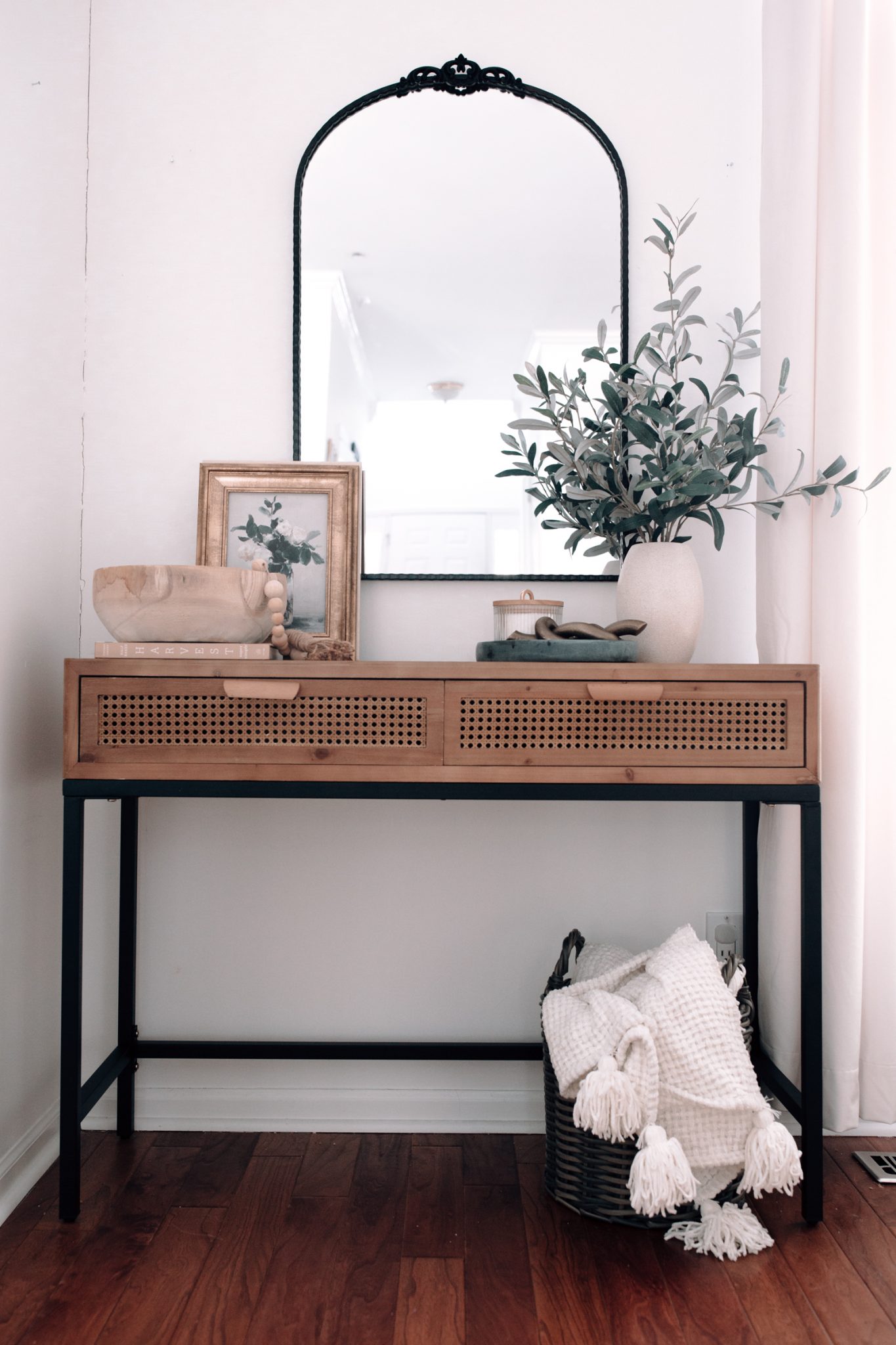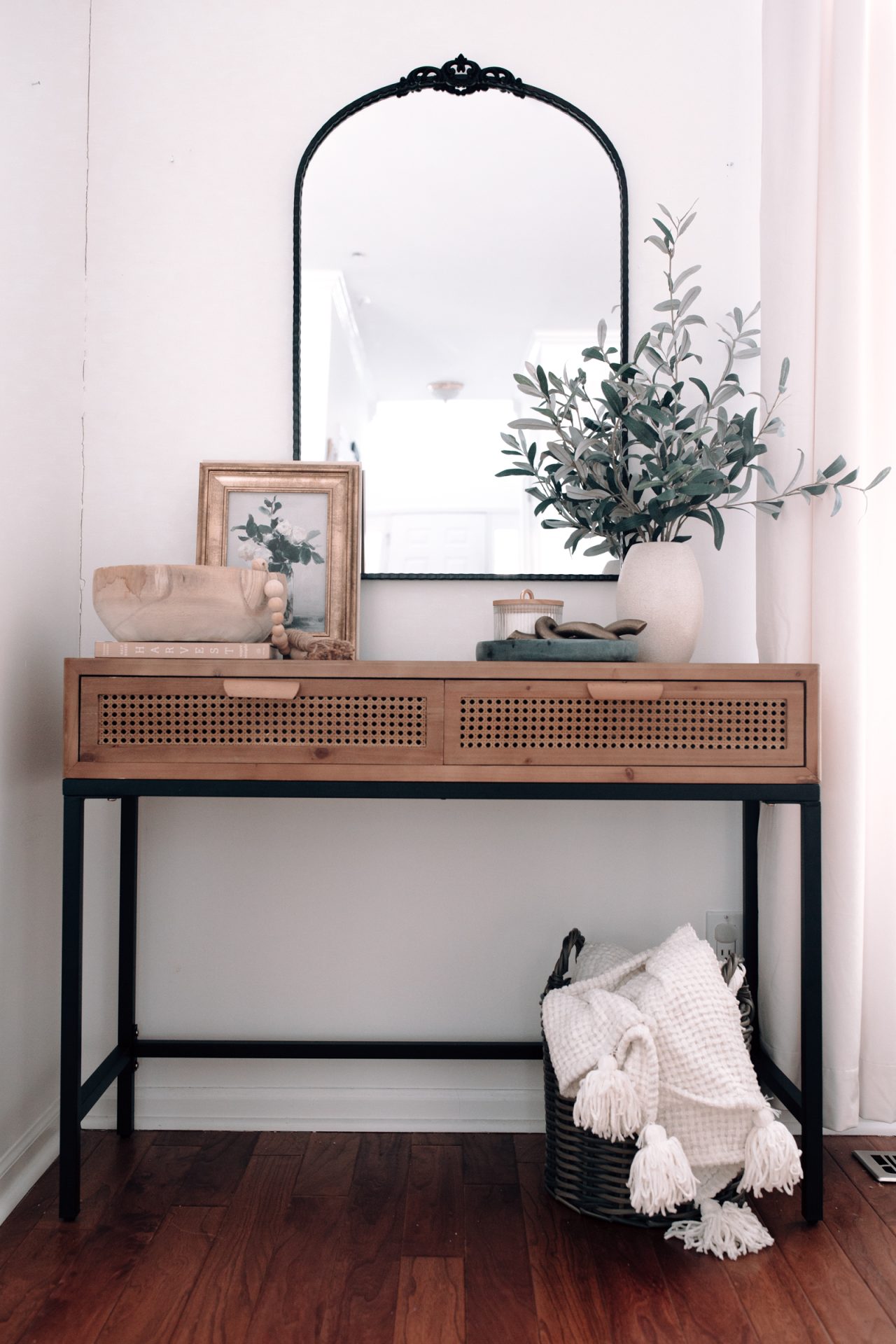 This post is a reminder that you do not need an entryway to have a console table! We have no wall space in the front area, so I decided to put a console table in the kitchen. We have a small nook, and surprisingly, this one fit perfectly! I actually love that I can decorate it with cookbooks, kitchen accessories (wooden bowls, candles, etc) so it's actually functional decor, too. I find that this little space has elevated my home so much, and I highly recommend for anyone looking to jazz up their home on a budget. It truly makes me smile, and we spend the most time in this part of the house so it's a huge win!
A reminder to shop from your home first! Most of the items pictured below I already owned. I always put items I'm not using in a closet, so I can keep coming back/swapping as needed. This has saved me a lot of time/money already! I also try to buy timeless pieces (neutral, non trendy) so they last even longer. Don't forget to scope out local marketplaces, thrift stores, etc! Although, Target is always my go-to for inexpensive (look expensive) items! My home decor style has certainly evolved over the last year, so I've been shopping a little more than I'd like to admit. Oops!
FALL CONSOLE TABLE PICKS
---
---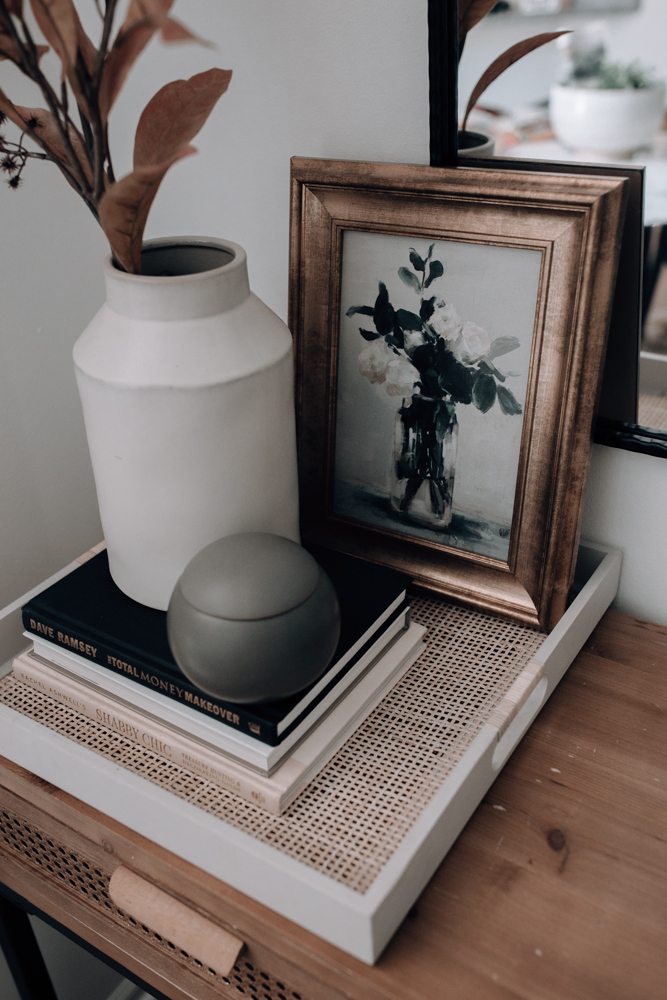 PS: MAKE SURE TO SHOP MORE CONSOLE TABLE FINDS HERE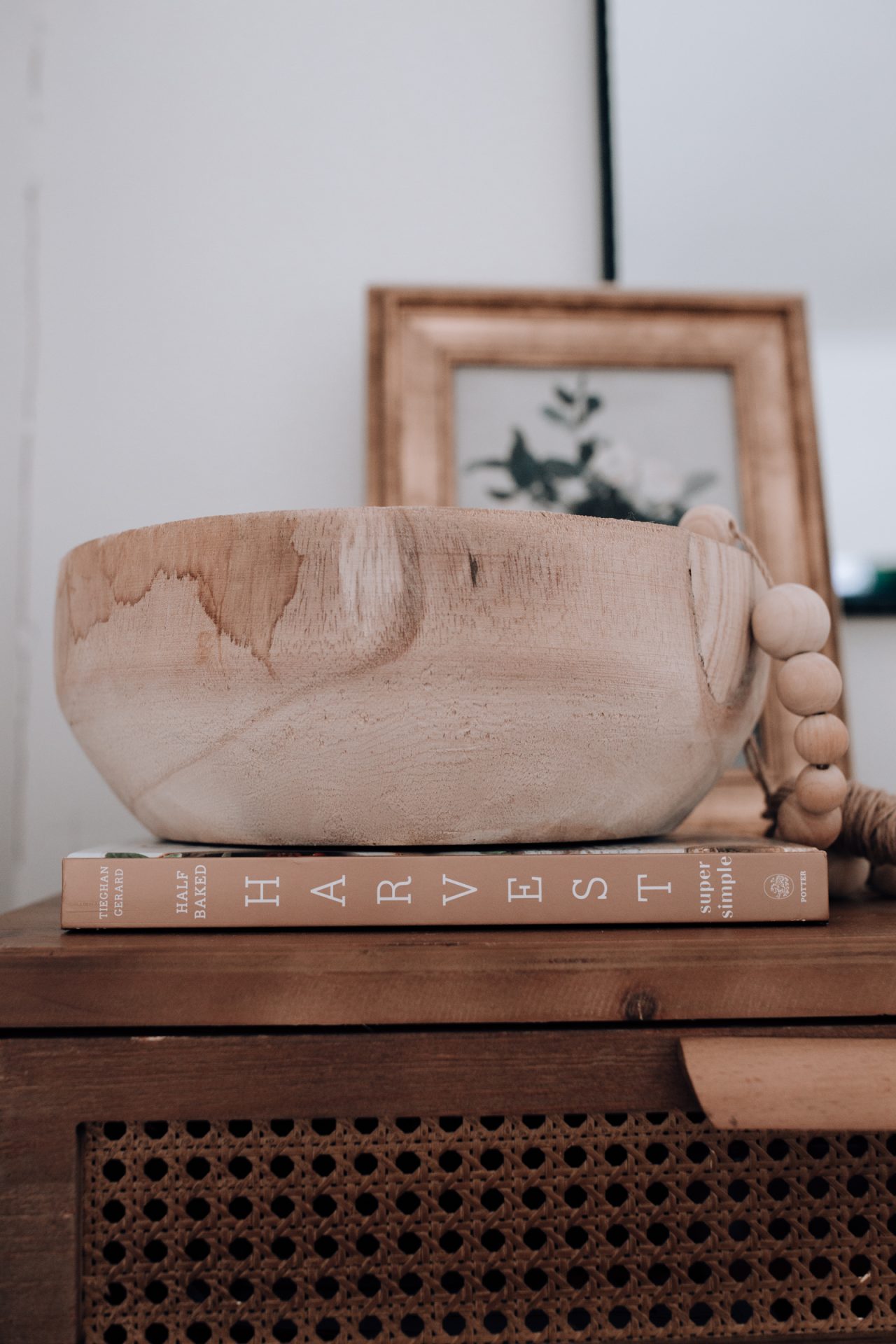 ---
HOW TO DECORATE A CONSOLE TABLE
1. Create a cozy vibe.
Personally, I love using woven baskets and filling with luxurious blankets and cozy staples. I've seen a lot of bloggers put pillows in this area, too! It's all about creating an inviting, warm atmosphere. I also love that my console table is located directly next to the living room sofa. Another functional design element that gets used regularly.
2. Mirrors change the game!
I love making mirrors the focal point of these console tables. It not only makes the room look more spacious, it totally elevates the area. With so many different styles out there (oval, gold, bronze, antique, etc) you can totally make this your own! This is the one I got (and this is a similar option) but I'm totally vibing with all things black right now.
3. Use height:
Height is so incredibly important when it comes to decorating. I find that plants totally fix everything! As soon as I added this faux olive plant, it already felt put together. Any way to bring the eye up is great in decor! I also added the neutral wall art for dimension. Adding layers on the table brings a sophisticated look that will never grow old.
4. Books are your friend!
Since my table is in my kitchen, I thought it would be fun to add my favorite cookbook (Half Baked Harvest, she's a legend) and I loved the neutral spine. Another tip for books, turn them around so pages are facing you. This is a tip I also use for my mantel to create an even color palette. A lot of my books are colorful and busy, so this ensures that things stay neutral.
5. Power in 3's:
Not sure why, but there is a power in grouping with 3 objects. Whether it's a candle, wooden bowl or brass knot — it's aesthetically pleasing to the eye.
USE A CONSOLE TABLE WITH STORAGE
I find this so important to maximize space in our small home. I keep a lot of the markers/art supplies in these drawers!
---
SHOP CONSOLE TABLE DECOR:

PS: This is the best candle! Looks Anthropologie-esque and the price-tag is unreal! Get this!
This Amazon wooden bowl is my favorite to accessorize as of late! I styled mine with the candle above. Easy!
---
WHERE CAN YOU USE CONSOLE TABLES?
Anywhere! Whether you need extra kitchen storage/decor (me!) or want to use as a bar-cart, buffet table, entryway table. The options are truly endless. These tables are incredibly versatile and there's no right/wrong way to style. Like I said, you don't need to use one in an entryway (although, that's the most popular route)