When we first moved into our home four years ago, I painted everything 'ultra pure white' by Behr so I could have a clean slate. We've been slowly been making updates to our home and it's finally starting to come together. You may remember Oaklee's nursery — still one of my favorite rooms of the house! That barn door is still a fan favorite!
SHOP ROOM AT END OF POST //
Today, I'm beyond thrilled to share our bedroom in partnership with THE HOME DEPOT! It's incredible what a little wall paint does to a place, right? If you're looking for an easy, inexpensive paint project, this post is for you! Sharing how we completed this half circle in under 30 minutes and $30! No, for real. It's the ultimate wow factor when you enter the room.
Personally, I'm horrible at making decisions. Maybe it's the Gemini in me, but I get so easily overwhelmed with the thousands of paint options out there! For this project, I chose 'Natural Gray' by Behr in 'The Home Depot 2020 Color Palette' — These are the trending color/design options that are making waves in households all over the world. Instead of thousands, this palette included 20 favorites. A lot easier to choose from! Here's how I narrowed down my color options:
---
TheProjectColor™ App has over 25,000 5 star reviews and for good reason. It has some incredible features. Here's a recap of my faves:
SEE IT IN YOUR SPACE: For this project, I uploaded a photo of the wall/space and played around with my favorite colors from the 2020 palette. I had 3 favorites, but kept coming back to 'Natural Gray' // this app is incredibly easy to use. I did this same format with Oaklee's bedroom. You can see the IG highlights saved

here

. (Head to the nursery highlight)
ORDER SAMPLES VIA APP: With COVID-19 still very much here, this option is a game changer. Order your favorite samples with a click of a button for pick-up or curbside delivery. This eliminates wait times, crowds, etc.
COLOR MATCH ANYTHING: I've touched on this feature before, but it's easily my favorite one of all. You can link your Pinterest account within the app to MATCH colors to your favorite pins! With so many paint options available out there, this is a game changer. No longer are the days of playing 'what paint color is that?' because the app will bring up similar options to explore in seconds. For my bedroom, I knew I wanted something a bit more coastal, and calm — definitely used Pinterest for inspiration. Additionally, you can color match items to your house. Simply take a photo, and let TheProjectColor™ do the legwork.
---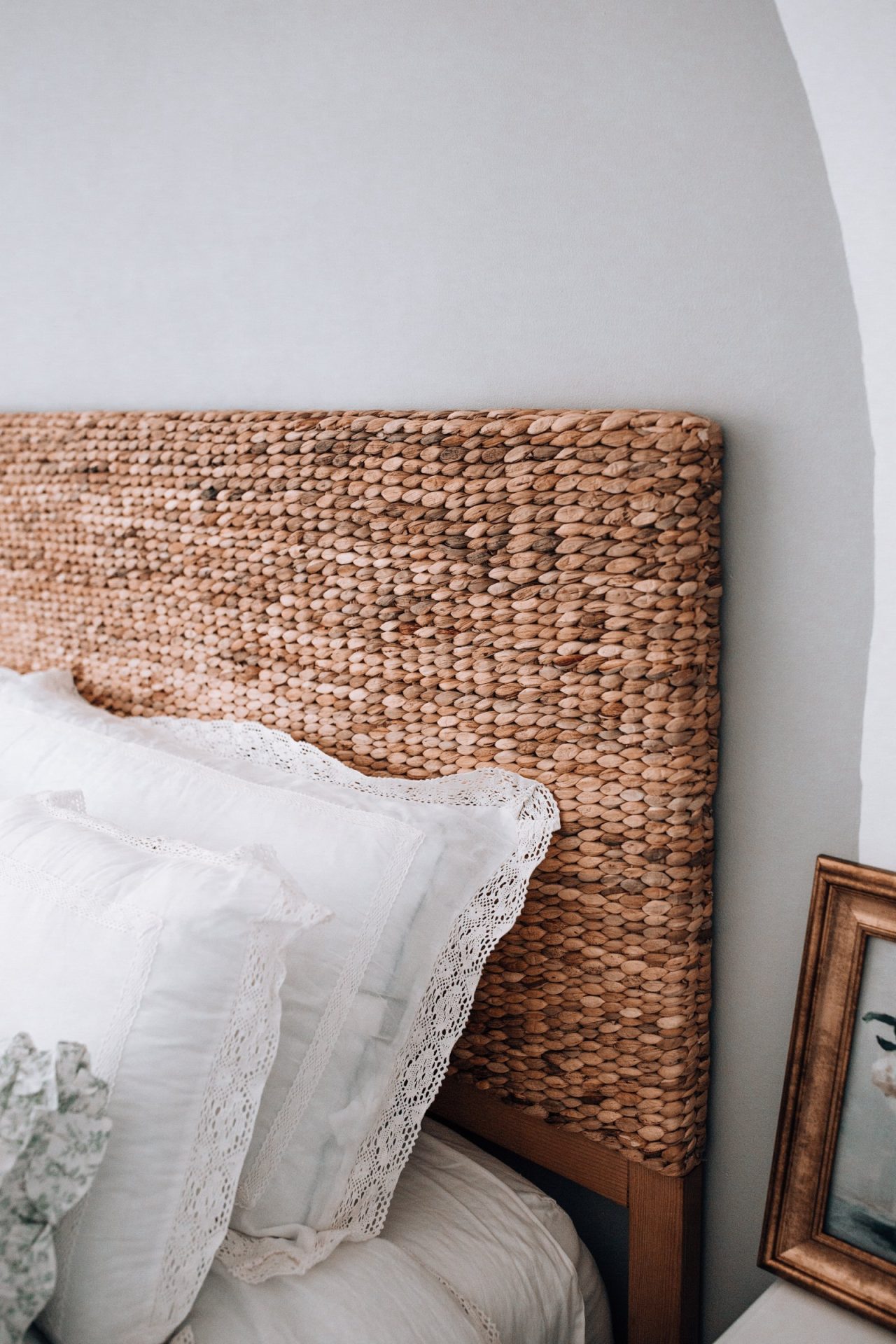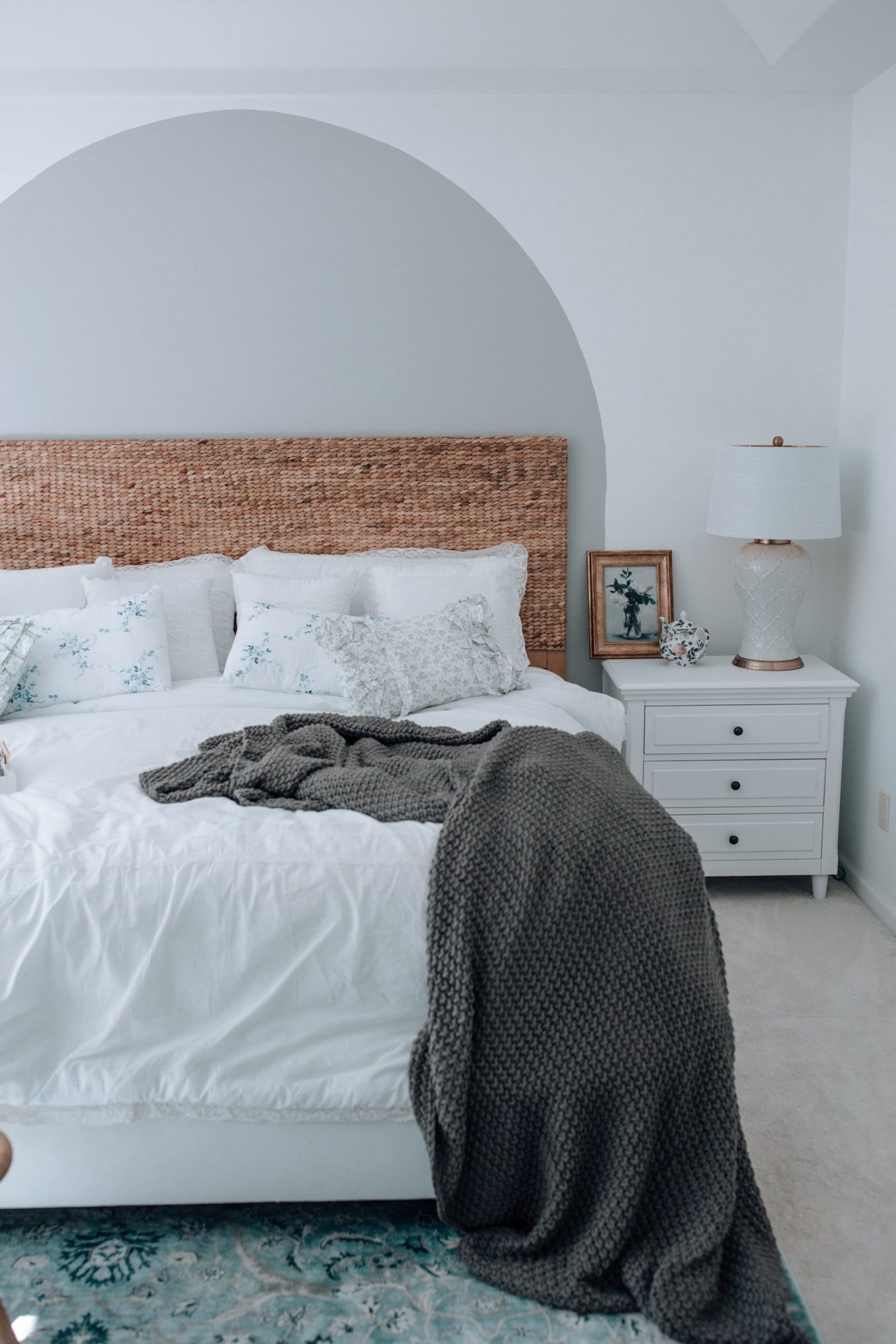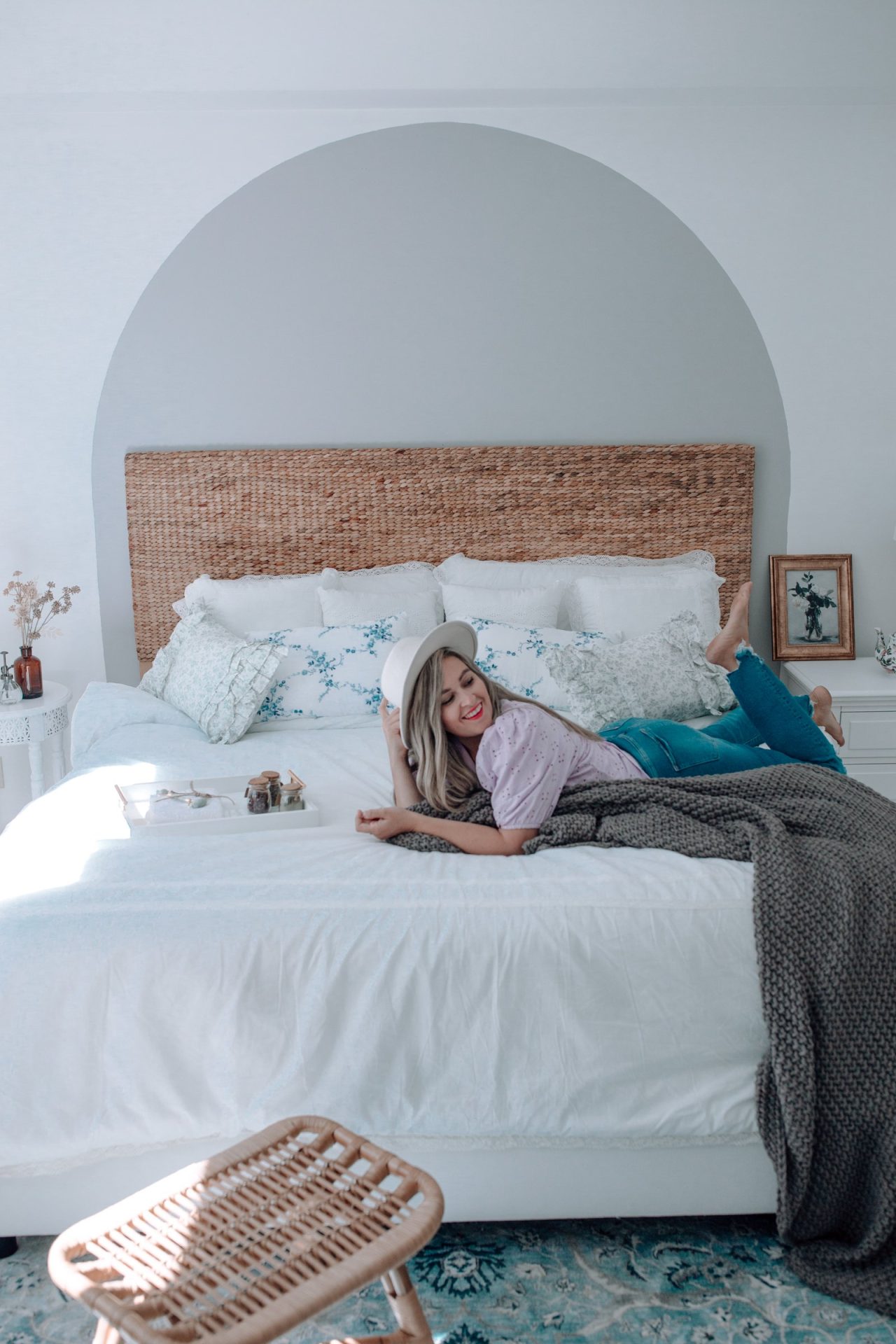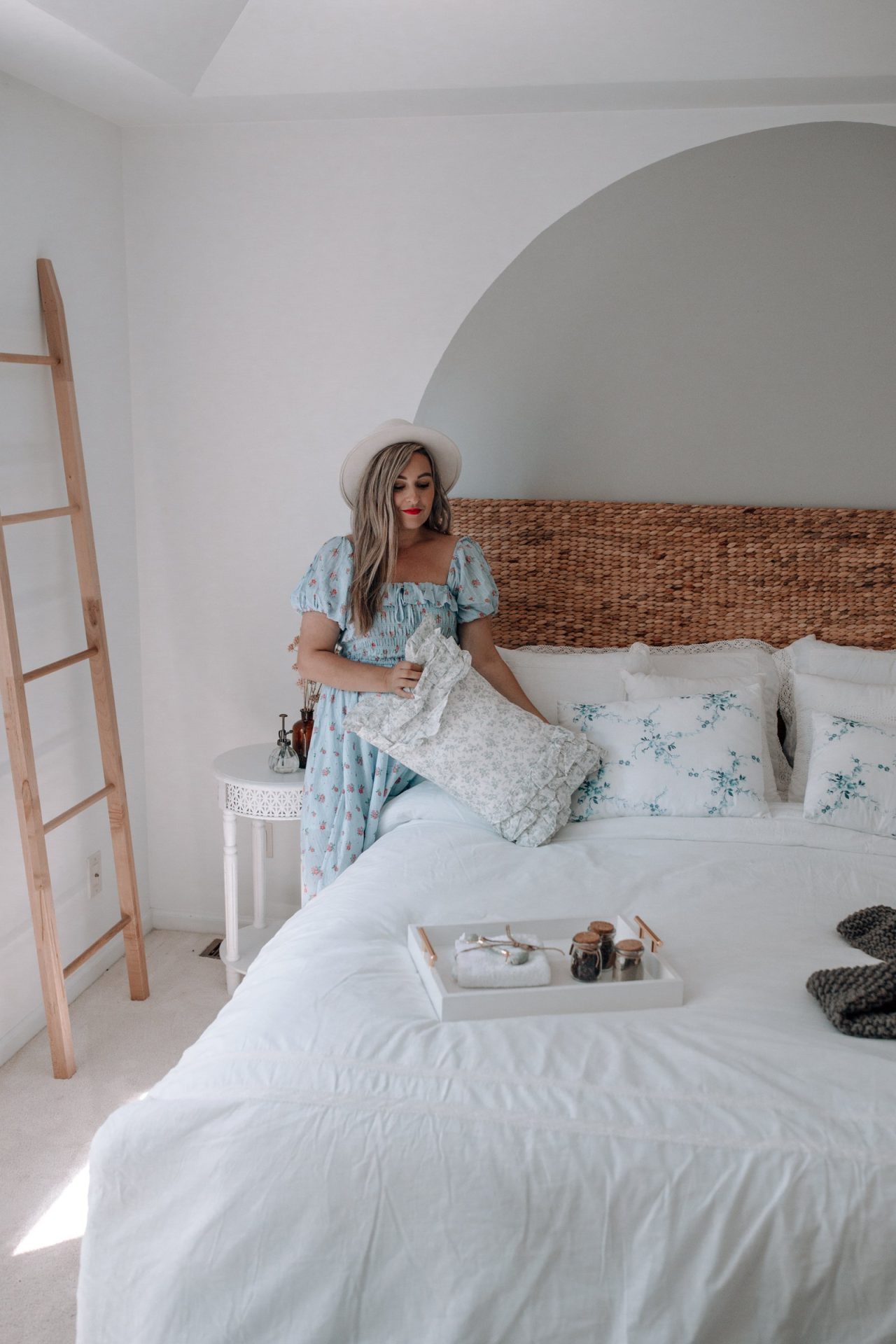 I knew I wanted to refresh our bedroom (here's before) but didn't want to spend a lot of time, money or energy. I saw a few pins via Pinterest on the half-circle paint arch and thought 'how cool is that?!' Without even realizing how EASY it was to complete! Easy wall painting ideas are my jam! I'm always so envious of my DIY'er friends, and this makes me feel included in the club!
Having my own business, juggling 2 beautiful babies and my husband — life can get chaotic. Since we are home 24/7, thought it would be the perfect time to refresh our space. If you're looking for wall painting ideas for the bedroom, do this!
I went for cozy, coastal chic. ALL of my bedding, and furniture shown is from The Home Depot! A lot of people don't even realize that they have some amazing furniture/decor pieces! Shop everything below!
EASY WALL PAINTING IDEAS | HALF CIRCLE PAINT
---
SUPPLIES FOR PAINTED ARCH :
String
Sample paint (of your original wall color)
Half gallon paint of your choice!
Pencil
Nail
ARCH PAINTING DIRECTIONS
Measure your headboard, and place a nail directly in the middle.
Tie a string to the nail
Tie the pencil on the end of the string to use as your circle guide!
Begin tracing a half circle (

here's an easy video how-to

!)
Use a level to draw straight lines on each side
Start painting!
Use the touch-up paint to make circle edges cleaner
---
You guys, can you handle that? This easy painting idea literally took us under an hour from start to finish! I think I may do the playroom next and add some rays to make a sunshine! Don't forget to check-out another easy painting ideas for beginners here (this barn door is the best!)
SHOP THE ROOM //
---
WHAT IS THE MOST POPULAR WALL COLOR FOR 2020?
Naval! The World's most relaxing hue! What do you guys think?
WHAT ARE SOME COOL PAINTING IDEAS?
The DIY arch (that took under 30 min to complete) is my personal favorite!
*This post is sponsored by my wonderful friends at The Home Depot!