Thanks Bed Bath & Beyond for sponsoring this post. All opinions are entirely my own.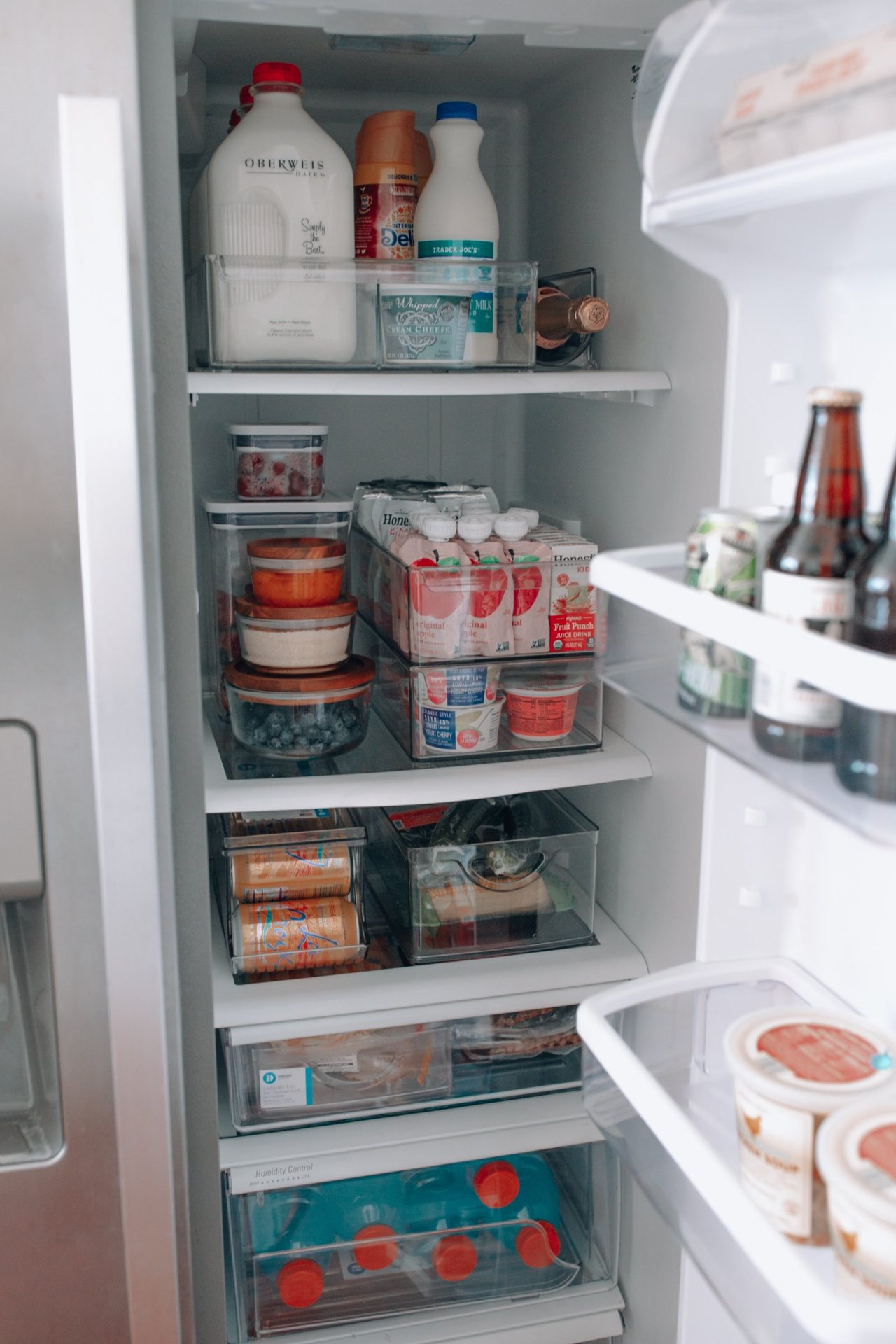 Today's post is all about fridge organization. Part two of my current 'stay at home' series with Bed Bath & Beyond! If you missed the pantry transformation, definitely give that a look! There's something about organizing that puts me in the best mood. I've always slacked in that department, so patting myself on the back for getting things in order during quarantine. I've also been making extra trips to the fridge these days, so this definitely helps! Anyone else on the struggle bus?
Can't stop eating!
Below, I'm sharing the best ways to organize your fridge! We don't have a double-open fridge (definitely on my wish list) so even more reason to stay organized as we have very limited space! I hope this series is inspiring you to do the same while staying safe at home!
Remember, no fridge looks the same. It's whatever works for your lifestyle. Normally, we have more veggies/produce, but during a pandemic — things tend to run out of stock faster. We actually just grabbed some from the farm, and these are not pictured! Normally would go in produce containers to lengthen life.
HOW TO ORGANIZE A FRIDGE LIKE A PRO
---

---
INVEST IN GLASS FOOD STORAGE
So long are leftovers in cardboard boxes. I try my best to store leftovers/takeout/etc in glass containers so I can see exactly what's inside. They also double as a serving bowl so you can easily put in microwave, and toss in the dishwasher when you're done. Did I mention they look chic, too? It's a little burst of happy each time I open up the fridge (and these days, it's a lot!) ha! My current favorites are Pyrex brand. Aren't the bamboo lids so cute? I also love this 19 piece set that will last you a lifetime. In my pantry post, I shared these Montana jars — also great for storing fruit/veggies.
2 WORDS: FRIDGE BINS
Where have these been my whole life? Like I said earlier, we have a small fridge. Fridge bins are stackable and create double the amount of space! Stock up on different sizes/shapes/varieties so you can see what works best for your space. The stackable wine bottles are also brilliant! Not only will your wine be chilled, but you'll gain extra fridge space back. With summer approaching, this is very important. I also like that you only need to clean these and not the fridge itself.
KEEP SNACKS FRONT AND CENTER
We have one bin just dedicated to Harlow's snacks/juices. Keep most used items in the front for easy access and convenience. I also find that keeping fresh fruit/veggies in the front/center makes me grab for these first to help curb any sweet cravings! Another tip is to cut up fruits/veggies right after a store run so you cut down on time later.
KEEP IT FRESH
Did you know that you can keep your fridge 'fresh' by using vanilla extract? I also use these produce containers that keep food fresh for longer.
---