Thank you to my wonderful friends at Bed Bath & Beyond for partnering with Happily Inspired on this 'stay home' series!
Pantry organization is finally done! While we are safe at home, I thought I'd use this opportunity to do some serious organizing. Today's blog post marks the beginning of a 4-part 'stay home' series with my friends at Bed Bath & Beyond. I hope these posts inspire you to jump in on the fun. It's beyond (pun intended, haha) satisfying to see the transformation, and bonus: kids can help, too! First up, pantry. I really hope you don't judge me for the 'before' pic — although, I'm sure many of you can relate.
Below, I'm sharing my favorite small pantry organization tips/tricks to maximize space and to simplify your everyday life. I am so proud of how everything turned out. Shop my pantry below, and don't forget to follow along on Instagram. I'll be sharing fridge organization soon! Oh, adulting, you win.
**CLICK IMAGE PRODUCT TO SHOP**
---
Ugh, let's get this over with: cue the BEFORE PANTRY ORGANIZATION photos. YIKES (and yes, this is real life) Will share in detail what I did below! PS: I added white shelving (removed the wire rack) for under $16 a pop. These are my exact shelves I picked up along with the brackets. It made such a difference to the space! I also added peel and stick wallpaper to the back, Bed Bath & Beyond has a large selection here. Took under 30 minutes and totally transformed this little space!
WHAT IS THE BEST WAY TO ORGANIZE A PANTRY?
---
PANTRY ORGANIZATION TIPS AND TRICKS
---
PANTRY STORAGE IDEAS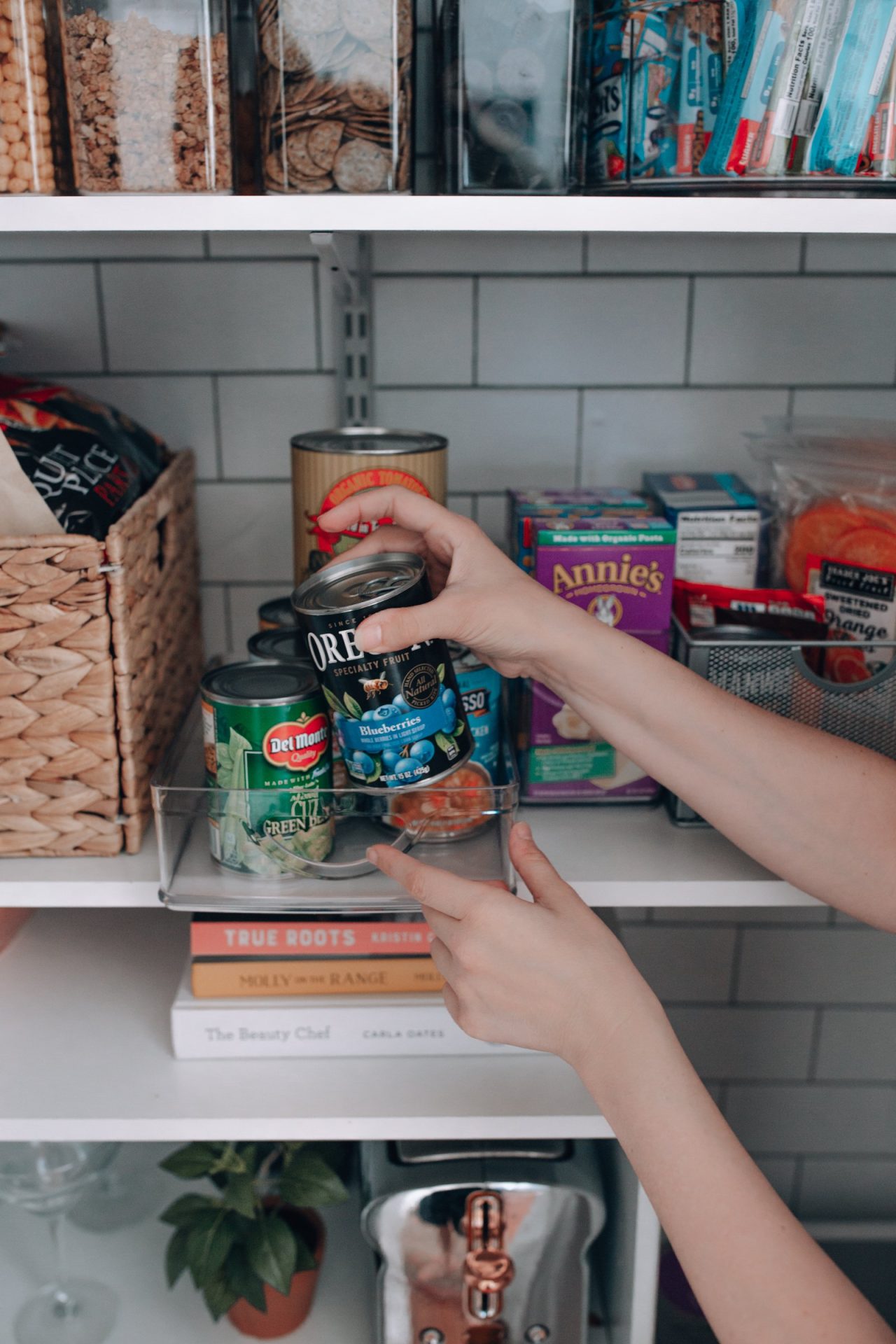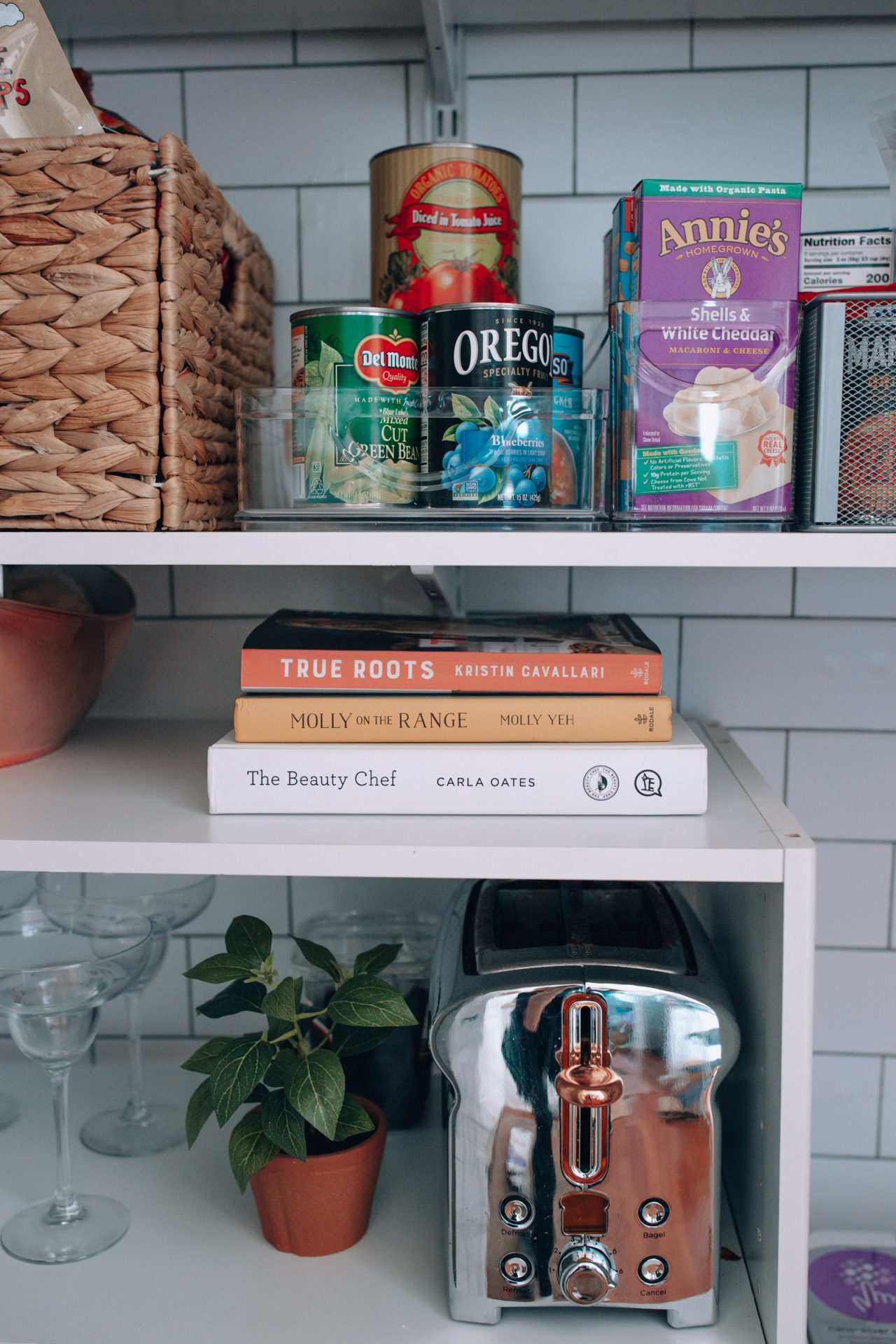 ---
Last time I organized the pantry, I stocked up on wicker baskets. While they look nice, they are the opposite of functional. Food started getting hidden resulting in unnecessary waste. I purchased the OXO Pop Top containers and, ummm, where have these been all my life? I got the 5-piece set, and 10-piece set – truthfully, I wish I got more. They're SO good. These alone have completely transformed the space.
For smaller pantries like myself, you can stack these containers on top of each other allowing even more space for food. These containers also keep food fresh for longer. These are key for small pantries! Maximize space whenever you can!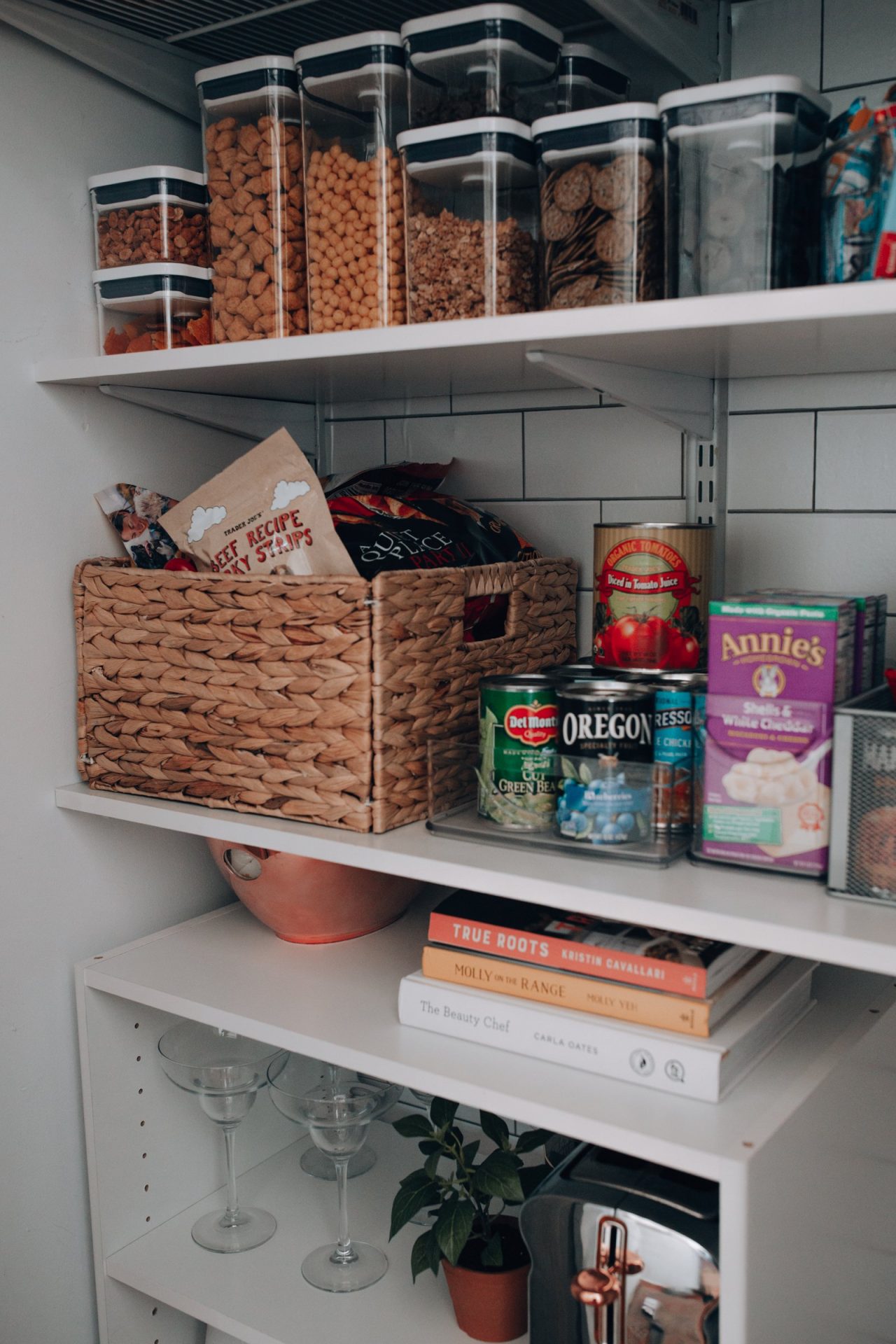 ---
PANTRY SHELVING IDEAS
Our pantry is moderately sized, but the bottom half wasn't getting utilized much at all. This turned into a 'dumping station' and it was a pain to clean out! We purchased an extra shelf to get appliances off the floor and it made every bit of difference. This 3-tier shelf is so cute (didn't see it when I ordered everything the first time, bummer!) You can even remove shelves from your pantry to utilize extra storage, etc. That's what we ended up doing here! The air fryer and Margaritaville mixer never looked so good!
---
OVER THE DOOR PANTRY ORGANIZATION
---
We have a wire rack on the side of the pantry, but you could also install one on the back of your door. This helps maximize your small space efficiently and effectively. PS: If an item is out of stock, just click the 'notify' button and you'll receive an email. Bed Bath & Beyond is notorious for restocking!
We also got a new garbage can that fits perfectly inside the pantry! So many rave reviews on the 'Simple Human' brand so that's what we went with. They have multiple colors to choose from, and it looks so chic in the kitchen!
---
PANTRY STORAGE IDEAS | GET THINGS OFF THE FLOOR
---
OK, so, I know I mentioned in the beginning that wicker storage was a no-go, BUT: They do hide clutter. We use these for bags of chips, bulky items and baking goods (that don't get used regularly). With a small space, it's important to hide clutter or you'll defeat the point of organizing.
I got some small wicker baskets for the shelves, and one larger one to store appliances/paper towels. I have these in almost every room of the house — I love them!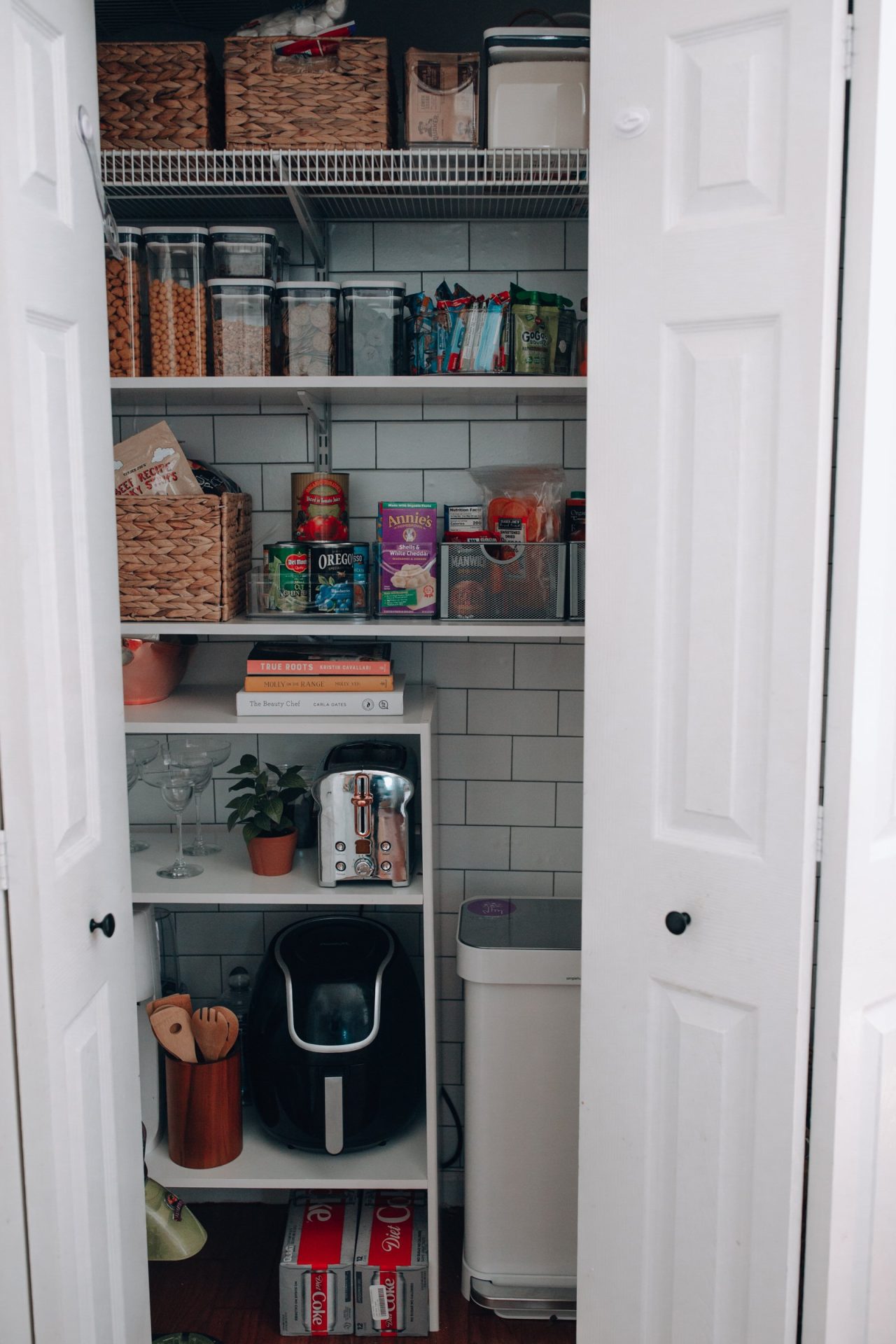 ---
PANTRY ORGANIZATION TIP: TIDY UP EVERYDAY
Life happens, I'm the first to admit it! I always take about 10 minutes everyday to tidy up the space. Toss expired items, keep package labels facing out, wipe down anything that got dirty, etc. These 5-10 minutes everyday will save you HOURS in the long run. Trust me, this pantry of mine was not a delight to clean out. I learned my lesson big time! I am hoping these small pantry organization tips will help me KEEP things this way!
BONUS TIP: HAVE SOME FUN WITH DECOR!
I added in some extra cuteness — faux flower, wooden utensils (isn't the utensil holder adorable?) and glassware.
How do you keep your small pantry organized?
---
You can find everything Happily Inspired home here.