Starbucks is allegedly the home of sugary drinks with no nutritional value. We are here to bust this myth. We have compiled a list of the best healthy Starbucks drinks that are low in calories and rich in flavor.
When I was pregnant with Oaks, I was diagnosed with Gestational Diabetes and always looked to sugar free Starbucks drinks to kick my cravings! What would you add to the list? Be sure to follow the @macrobarista on IG because he has the coolest drink ideas with all the nutrition! Awesome low calorie Starbucks drink options, too! Always check Starbucks website for full nutritional value.
Also check-out:
HOW TO ORDER HEALTHIER STARBUCKS DRINKS
We have compiled 5 tips from coffee lovers and health experts on how you can order healthy Starbucks drinks.
1. Less Sweetener:
When ordering something like an Iced coffee, the barista will ask you if you want a syrup mixed in for flavor. As one pump of syrup contains more than 20 calories, our tip is to request one pump.
2. Choose lower-calorie milk:
For a low-calorie Starbucks, swap the whole milk with coconut, almond, soy, oat, or non-fat milk. I love steamed milk, too! Yum!
3. Opt for Tall:
If you are craving a heavy Starbucks drink, order the Tall cup rather than Grande or Venti. For example, Tall Latte Macchiato has 170 calories while a Venti has 290. Cutting back on size can help you stay within your calorie limit.
4. No whipped cream:
While whipped cream tastes delicious on both hot and cold drinks, our suggestion is to skip it. One serving of whipped cream on a Tall coffee is about 80 calories. These calories can be consumed from a healthier source, so just skip them at Starbucks.
5. Order a light:
Ordering a "light" beverage helps you cut out calories while enjoying your favorite blended coffees. If you order cold beverages light, your drink will be made from sugar-free syrup and non-fat milk.
If you're looking for plant based Starbucks drinks, this is a great article on Forbes! A lot of people are looking for sugar-free Starbucks drinks.
---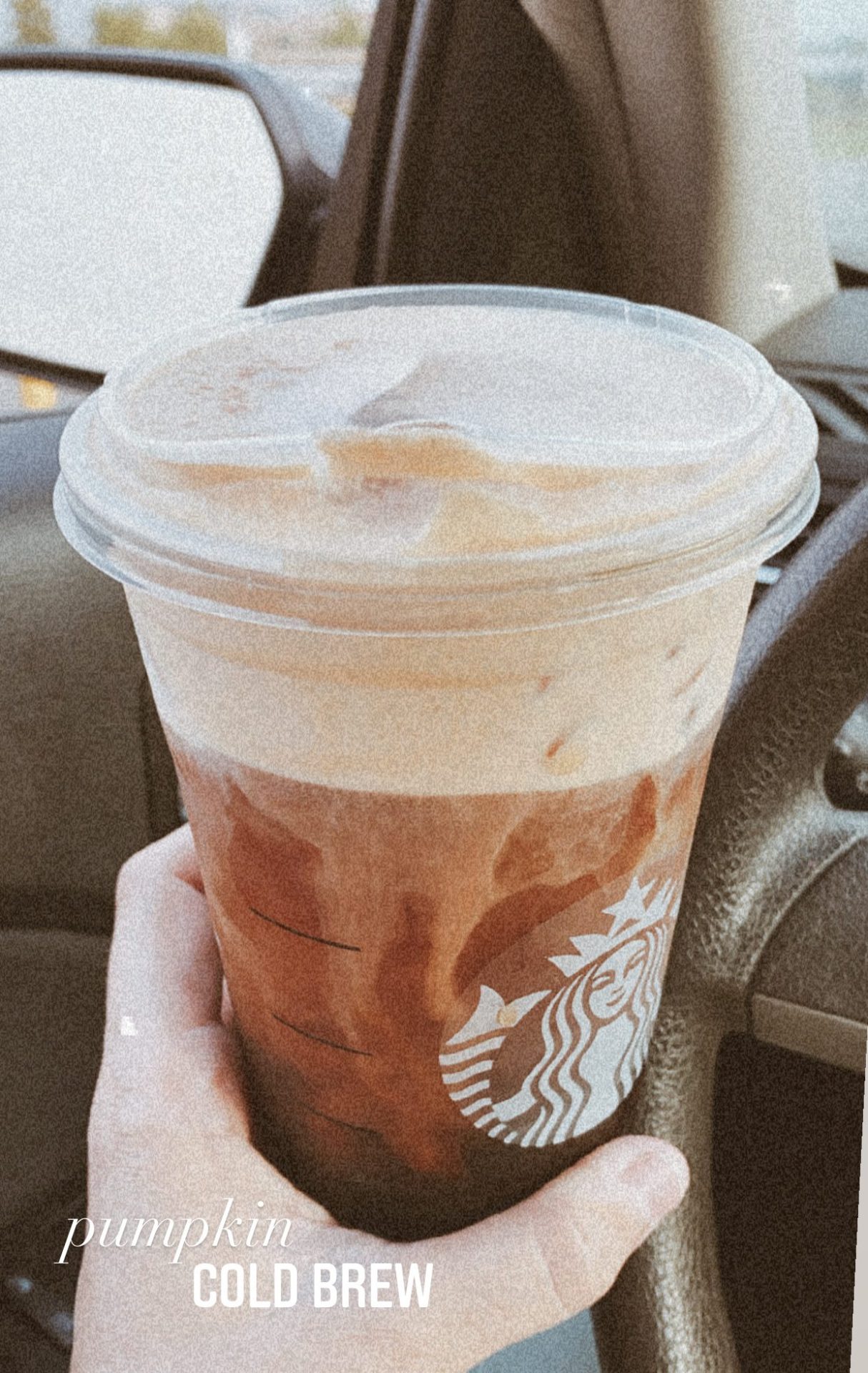 10 HEALTHY STARBUCKS DRINKS THAT STILL TASTE AMAZING
---
1. Skinny Chai Tea Latte | 60 calories
This blend of tea and warm spices makes it the perfect comfort drink. The drink is sugar-free and fat-free, making it ideal for weight watchers. // 60 calories. This low calorie starbucks drink is guilt-free and yummy to boot!
What to ask: Ask for organic chai tea and add almond milk to it. To sweeten it up, add Stevia rather than plain sugar.
2. Nitro Cold Brew with Sweet Cream | 70 calories and 4g of sugar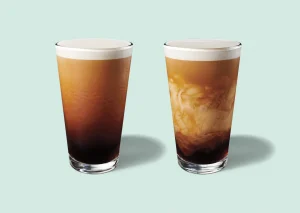 This coffee is one of the pre-made low calorie Starbucks drinks pumped directly from the machine. This brew is less bitter than other black coffees, so you won't need to add a sweetener. I personally love the sweet cream! The cold foam is another favorite of mine.
What to ask: You can order the Nitro Cold Brew from the menu. If you do not want it black, request soy/non-fat milk.
3. Light Caramel Frappuccino | 100 calories
This frothy coffee is an ideal way to start the day. This is one of my favorite healthy starbucks drinks because it still tastes just as good as the regular stuff!
4. Caramel Iced Coffee | 60 calories
What to ask: Grande Unsweetened Iced Coffee, one pump of Carmel syrup, 3 pumps sugar free vanilla and light cream
5. Very Berry Hibiscus Refresher | 70 calories
The fruity flavors of this drink make it a perfect cold beverage on a hot day. The real berries mixed in make it nutrient-rich.
-What to ask: You can order this Refresher straight from the Starbucks permanent menu. For more flavor, you can ask for a coconut milk mix-in.
6. Skinny Caramel Macchiato | 105 calories
You can still enjoy a rich Macchiato while eating healthy. This delicious hot beverage is made from a golden caramel syrup. The Skinny version is made with skim milk and sugar-free vanilla syrup, cutting the calories significantly. Skinny Starbucks drinks are one of my favorite ways to order healthier!
-What to ask: To further reduce the carbs in this drink, ask for the barista to add almond or coconut milk.
7. Salted Caramel Mocha | 100 calories
This low-calorie chocolate and coffee drink won't make you feel like you are missing out even when dieting. In fact, this is perhaps one of the best healthy Starbucks drinks in our opinion.
-What to ask: Grande Cafe Misto, 1 pump of toffee nut, 1 pump of mocha, substitute almond milk and add 1-2 packets of 0 calorie sweetener.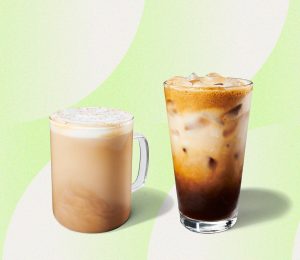 8. Skinny Vanilla Latte | 130 calories
The classic Vanilla Latte is the perfect, milky coffee for breakfast. The subtle vanilla flavors mask the bitter coffee taste to a great extent, making it great without a sweetener.
What to ask: You can get this latte with nonfat milk and just 3 pumps of sugar-free vanilla syrup for a tall cup.
9. Skinny Pumpkin Spice Latte | 230 calories
The seasonal fall favorite is the ultimate comfort drink. Many people say that it is unhealthy, but you can customize it to suit your nutrition needs.
-What to ask: In order to get a lower-calorie version of this drink, ask for almond milk and no whipped cream.
10. Tall Flat White | 170 calories
The Tall Flat Flat White contains 170 calories even when made with whole milk. This frothy drink provides a great energy boost for when you are feeling lazy.
What to ask: For a Flat White, ask for 2 shots of Ristretto. You can request the barista to add almond milk if you are vegan or looking for a healthier alternative.
11. Iced Green Tea | 0 CALORIES and 0 grams of Sugar
Lightly flavored and oh so delicious! A sugar free drink that tastes divine over ice!
---

image via starbucks
What is the healthiest drink at Starbucks?
From a calorie-counting perspective, the healthiest drink at Starbucks is the Starbucks Cold Brew Coffee. A Grande cup has 5 calories only and is fat and carbohydrate-free. It also delivers 205mg of caffeine in just 16 fl oz. making it the perfect wake-me-up. Another great option is the iced green tea! No calories, no carbs!
What drinks can you get skinny at Starbucks?
You can get almost all hot beverages at Starbucks in a skinny version including the Chai Tea latte, Caramel Macchiato, and Cinnamon Dolce Latte. There is a huge variety of skinny Starbucks drinks to choose from. Ordering a skinny will mean it is made with nonfat milk, sugar-free syrup, and no cream.
Does Starbucks have sugar-free drinks?
Yes, the Starbucks menu does have sugar-free drinks. These include the signature black coffees including the Cold Brew Coffee, Blonde Roast, and Nitro Cold Brew Coffee. While there are some low sugar Starbucks drinks listed above, these black coffees are sugar-free. The Espresso Macchiato and Caffe Americano are great, almost sugar-free, options too.