I've shared my favorite healthy Starbucks drinks (which still tase amazing!) but some days, you just need something extra sweet! Treat yourself to these delicious creations — my take on the best Starbucks drinks of all time! Would love to hear some of your favorites in the comments below! I'll be adding/updating regularly as they add new options to the menu. PS: Didn't include nutrition info on these since a lot of them are viral tik tok starbucks drinks!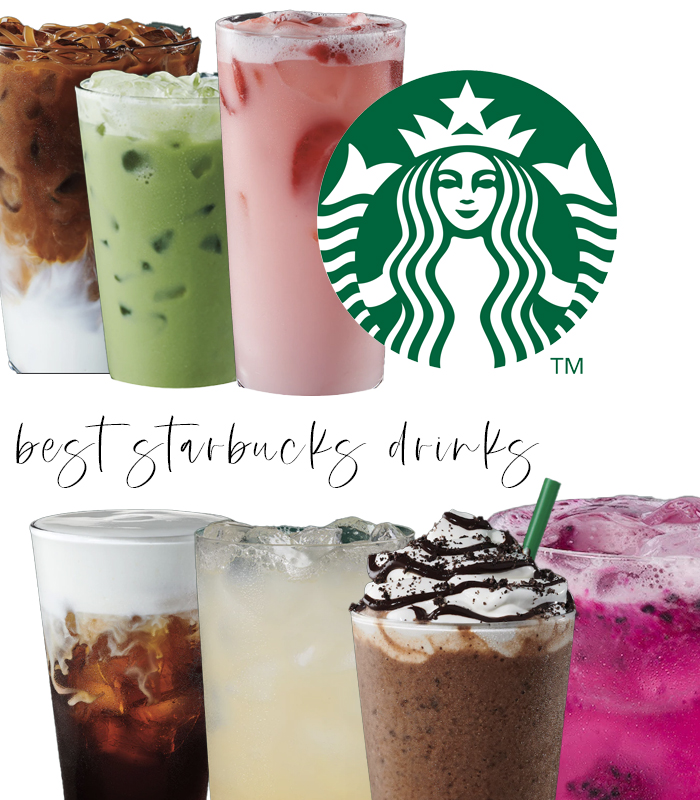 BEST STARBUCKS DRINKS
1. Venti iced white mocha, vanilla sweet cream foam & extra caramel drizzle
Not going to lie, I feel like a moron ordering this mouthful of a drink — but, it's SO popular (thanks to TikTok) and it's honestly the best drink I've ever had. The sweet cream foam melts in my mouth, and that caramel drizzle is the cherry on top. Full disclosure: she ain't cheap! But it's one of those 'treat yourself' kinds of days and we all deserve some extra pampering in our life! Trust me on this. Best Starbucks drink of all time. Promise.
2. Venti lemonade with 6 pumps raspberry and strawberry acai on top
You will not regret this one! It looks almost too magical to drink! Think unicorn in water. Whatever, it's so pretty and refreshing. To me, it tastes like a Starburst! If you're looking for something different, give this one a go!
3. Iced caramel macchiato with extra caramel drizzle
An oldie, but goodie. This is always my 'go-to' order on hot summer days. It's the perfect blend of sweet and refreshing. If you want to jazz it up a bit, try adding 5 pumps of white mocha and stir it. A fun twist to the classic favorite.
4. Venti mango dragon fruit lemonade (no dragonfruit inclusions) add peach tea and passion tea on top
This is also known as the 'sunset drink' but another great one for hot days!
5. Venti lemonade with raspberry syrup & add strawberry base
OMG, this is another gorgeous looking (yet delicious) drink! I wanted to add some unique ones to stand out from the rest! We all know about their menu, but these are truly where it's at on those days you want to go all out!
6. Churro frappucinno
Oh, no he didn't! Ask for: venti white mocha cream frappuccino with 4 pumps vanilla, a scoop of cinnamon powder & extra caramel drizzle. Warning, there's a lot of sugar in this one! Ha. YOLO?
7. Boba Starbucks Drink
Ask for: Matcha green tea latte, 4 pumps of brown sugar syrup (it's SO good!)
8. Chocolate chip cookie drink
Ask for: Venti sweet cream cold foam with cold brew (2 pumps of vanilla, 4 pumps of white mocha) and cookie crumbles on top. Please seek a gym after use. Ha! But seriously, we all deserve something fun once in awhile. Don't come after me in the comments.
9. Cookie butter drink
Ask for: iced chai tea latte with oat milk and brown sugar syrup. SO GOOD!
10. Pink Drink
Ask for: Grande pink drink with vanilla sweet cold foam (everyone is obsessed with this one!)
---
What is the Tik Tok Starbucks drink?
Mostly everything above I discovered from tik tok! People are so dang creative and definitely know what's up in the starbucks drink department! Love when the baristas chime in on there, too!