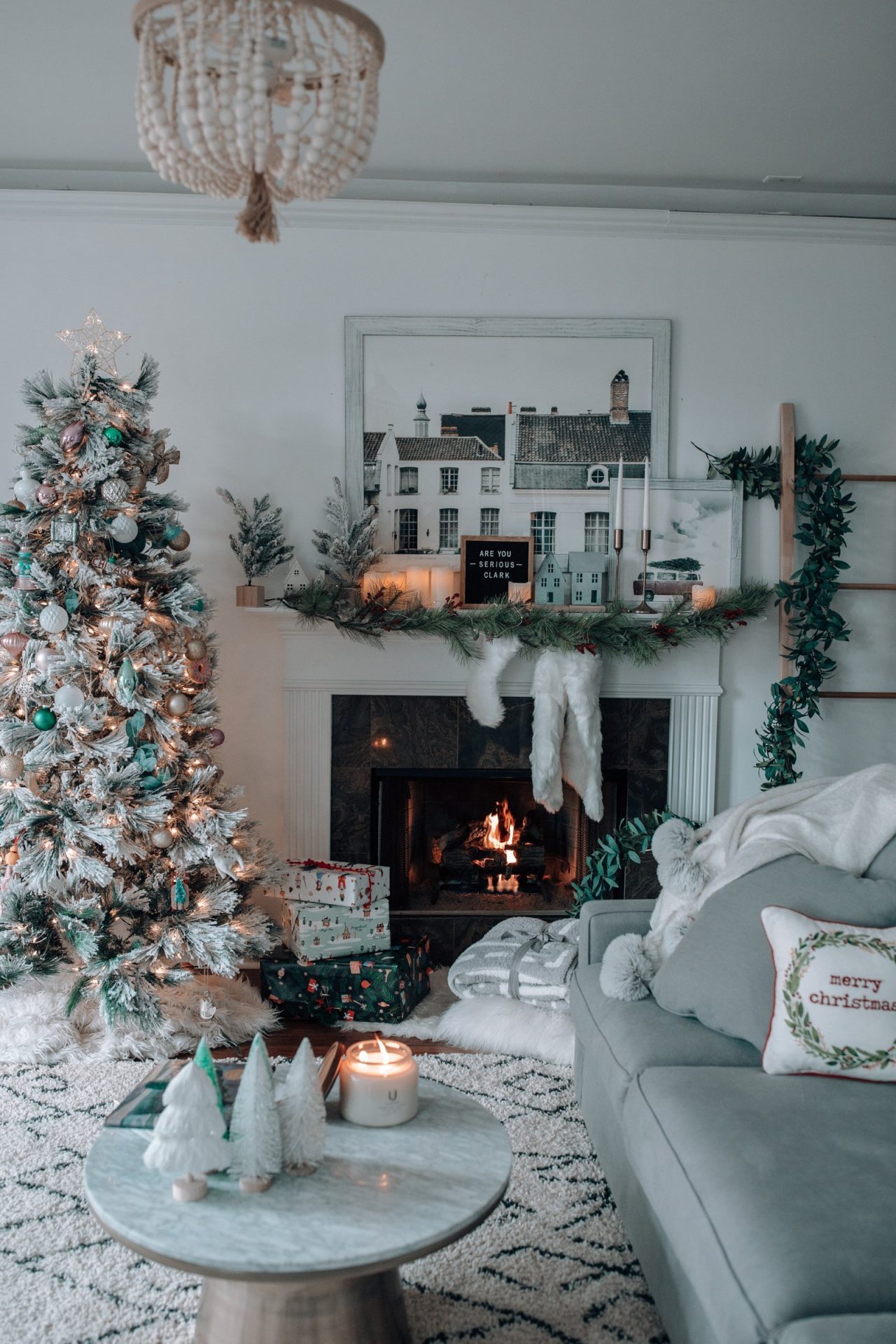 Fa la la la la! 
I'm so excited to share our cozy holiday decor! It's my favorite place to relax with family, and I absolutely adore how it turned out. Simple, festive yet understated chic. I envision keeping this up through January since it isn't traditional Christmas decor – mainly just a winter wonderland! I like to switch up this room every year (here's last year) and I try my very best to use what we already have so I'm not collecting more stuff. Obviously, I love getting a few new goodies to freshen up the space – puts me into the holiday spirit which is beyond fun! For holiday decor, my favorite places to shop include: Target, Home Depot (can't wait to share our outdoor space!) Home Goods, Anthropologie and Michaels. I always start in the dollar section and work my way up from there. Make sure to stay up to date with sales and holiday gift guides in the Happily Inspired holiday hub! I'll be updating daily throughout the season.
---
SHOP HOLIDAY DECOR:
berry garland | eucalyptus garland | candles with remote | ladder | marble coffee table | faux fur stockings | large print | car with tree on top print | barefoot dreams blanket | log holder | black & white carpet | brass candlesticks | flocked christmas tree | white rug (on fireplace) | uncommon james candle | felt letterboard | white houses | silver houses | beaded chandelier | rifle co wrapping paper | ornaments | gold star on tree | mini flocked trees |

---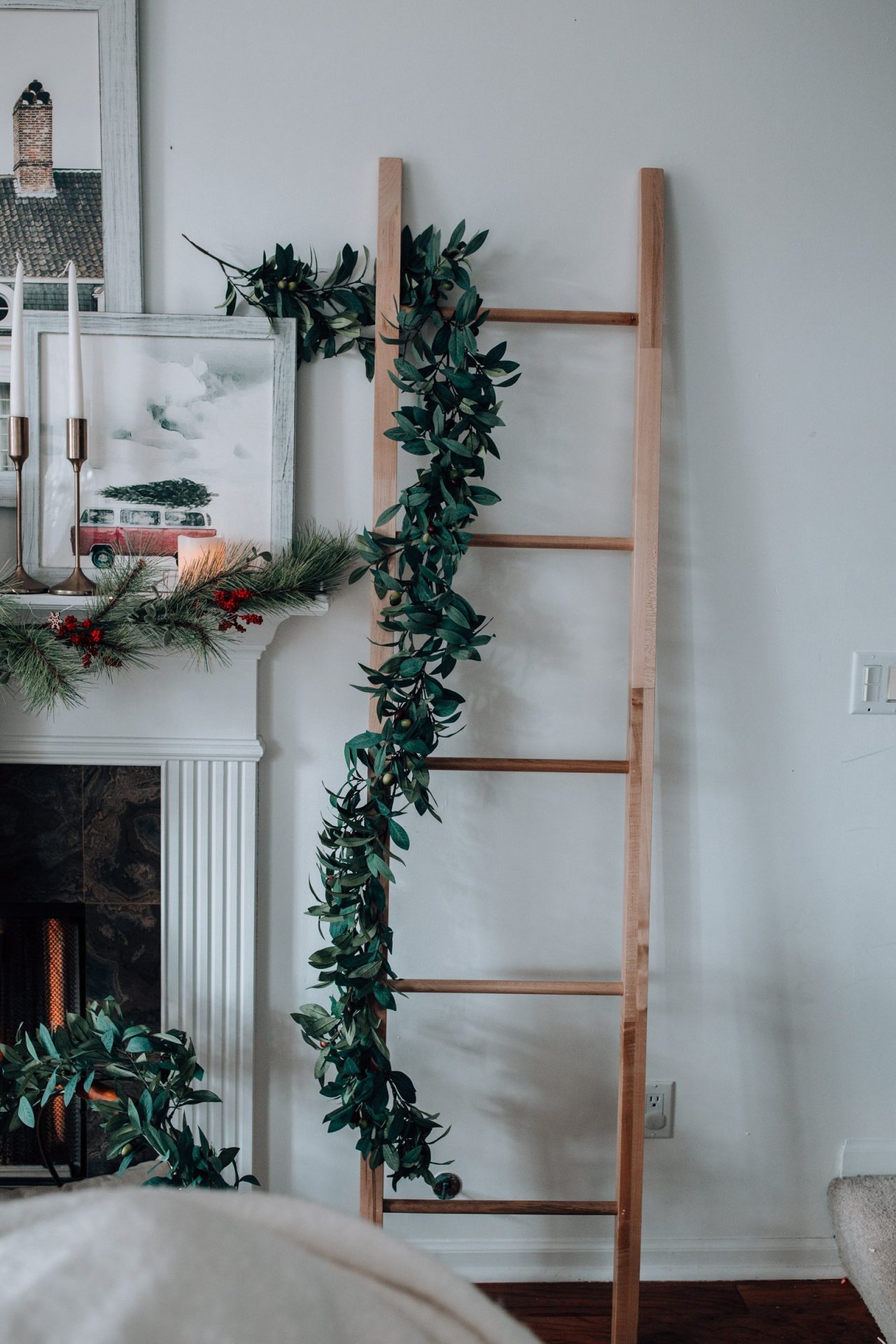 EASY HOLIDAY MANTEL DECOR
---
GARLAND
I truly believe that garland transforms an entire room. I fell in love with this faux-berry garland via Target and used 3M hooks with floral wire to lock them in place. The eucalyptus garland is my other obsession (I got 2) and plan to use this on the table during the holidays and beyond. Love that you can use this throughout the year and it it looks SO real! I thought it looked darling wrapped around the log holder (missing the logs though, I know!)
ADD PERSONALITY
If you guys saw my Halloween mantel, I did something similar with my letter-board. Since Christmas Vacation is my all-time favorite Christmas movie, I just had to use a quote from it! Every time I look at this line, it brings me joy. Always makes me laugh so hard when I watch that scene. 'You serious Clark?' It's also a bit different from what you see on your typical holiday mantel. Just fun to add in personality with decor. Make something a conversation piece, and let it stand out.
ADD DIMENSION WITH YOUR TREE
A Chicago florist taught me to incorporate eucalyptus and pinecones to give my tree dimension and a realistic look (since I use faux). She actually said you can use real eucalyptus and it will dry and not die. So interesting, right? I choose to get my tree accessories at Michaels so I can use year after year. You can also use faux berries, glitter sticks, etc. So much you can do to make your tree stand out!
INVITING
Probably a no brainer, but I always like to add this in anyway! Create a cozy oasis for family/guests by draping blankets on the couch. It just creates such a warm/cozy atmosphere. I finally gave in and got myself a Barefoot Dreams blanket. Figured it would be ideal while snuggling a newborn in a short couple of months!