*This post is in partnership with PHILADELPHIA Cream Cheese. As always, all opinions (and taste buds) are my own! Thanks for supporting brands that make Happily Inspired possible. This Philadelphia cheesecake recipe will knock your socks off!
If you've been on the hunt for a Philadelphia cheesecake recipe, look no further! One of the biggest misconceptions about cheesecake is that they're difficult to make. I'm here to squash the rumors! This recipe (Spiced Maple Walnut) took less than 45 minutes to make (not including cool time). Cheesecakes are a much-loved, uniquely rich and creamy treat that are an integral part of holiday traditions. It's my favorite dish to bring to holiday parties because it not only looks festive, but serves many! Below, I'll be sharing 3 easy tips that'll grant you Philadelphia Cheesecake baker of the year! Remember: I'm not a food blogger here — just your average mama with a lifestyle spin. So no excuses …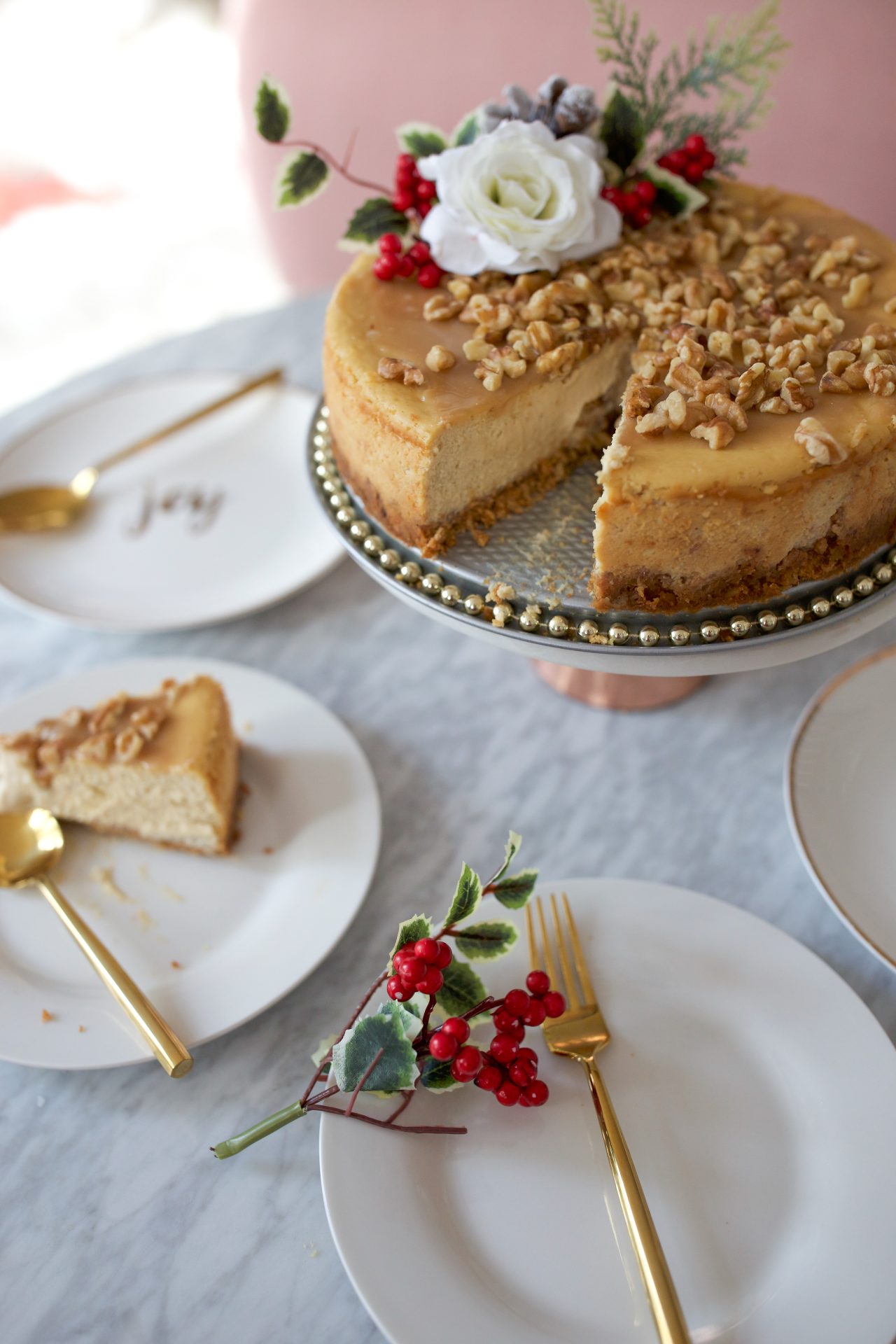 My family is in for a treat this year, because I teamed up with Philadelphia Cream Cheese to bring you the ultimate Philadelphia cheesecake recipe. I mean, they're obviously the leading ingredient to your masterpiece. PS: I attended a cheesecake baking class (SO fun) and the chef said himself — Philadelphia brand cream cheese is the only way to go! So creamy and fluffy, mmmm! I'm sharing the Spiced Maple-Walnut Cheesecake below and it'll literally knock your slippers off. Maple has seen a huge increase on restaurant menus in sweet and savory dishes, so Philadelphia made a sophisticated yet SUPER simple recipe featuring a warm maple sauce, with holiday spices. I can't even express how decadent & delicious — I guess you'll have to make it yourself! Most of these ingredients are already in your fridge which makes your ho-ho-holidays even better. I'm all about simplicity.
If this cheesecake doesn't tickle your dessert dance — Philadelphia Cream Cheese also created these holiday favorites (That I also made, hehe!) that I'll link below.
---
Hot Cocoa Cheesecake Minis: This recipe is simple, mini-sized perfection and beyond easy to prepare (do you catch a theme yet)? You guys, they actually look like mini hot chocolates — but you can EAT them! Why are the holidays so fun, and cute? Would look beyond adorable at your holiday party! (Just make sure to put the whipped cream on last so it doesn't melt!) You know, so you can get that Instagram. I'm all about the gram.
Peppermint Bark Cookies and Cream Cheesecake: Peppermint is the anthem of the holidays, and Philadelphia was inspired by the classic ice-cream flavor of cookies 'n cream (God Bless America). The peppermint bark is an easy way to get a show-stopping look for your cheesecake. Bonus: it covers any cracks that could occur! (We'll talk more about that below!)
PHILADELPHIA CHEESECAKE RECIPE | TIPS FOR SUCCESS
CRACKS IN CHEESECAKE?
A lot of people are intimidated by cheesecakes because of the infamous cracks that can occur. I'll be honest, mine had several and you can't even tell! When the cheesecake is almost complete, turn the oven off and open the oven door. The biggest mistake many make is removing the cheesecake immediately. Going from hot to cold will create a break/crack. Slowly introduce the cheesecake to room temp. If cracks do occur, that's fine! Cover with a delicious topping like walnuts, bark or fruit. Or, if you really want to get fancy…
ADD FAUX FLORAL DETAILS
For those of you that follow along regularly, you know I'm a sucker for florals. If you have some cracking occur, place some fake florals around (even in the center) to create a festive look. Again, this looks beyond beautiful on any dessert table, and will be the talk of the party. It's one of my favorite (easy and inexpensive) things to incorporate. Obviously inform guests that they are not to be eaten!
BUY A PAN USED FOR CHEESECAKE
They're inexpensive and will last awhile! This one is only $13 (so worth it!) Cheesecake pans will make your life so much easier. No frills or fuss! Simply pop open the spring and lift your cake from the pan without any hassles. The non-stick makes it super simple to clean up any messes, too! You'll be making your Philadelphia Cheesecake recipe frequently, so worth the tiny investment!
---
PHILADELPHIA CHEESECAKE RECIPE | DIRECTIONS
---
Maple Walnut Cheesecake
INGREDIENTS:
8 graham crackers
1 cup chopped PLANTERS Walnuts, toasted, divided
1/2 cup plus 2 Tbsp. packed brown sugar, divided
2 Tbsp. butter, melted
4 pkg. (8 oz. each) PHILADELPHIA Cream Cheese, softened
1 tsp. pumpkin pie spice
1 cup BREAKSTONE'S or KNUDSEN Sour Cream
1 cup maple syrup, divided
4 eggs
1/2 cup whipping cream
DIRECTIONS:
Heat oven to 325°F.
Use pulsing action of food processor to pulse graham crackers, 3/4 cup nuts and 2 Tbsp. sugar until mixture forms fine crumbs. Add butter; mix well. Press onto bottom of 9-inch springform pan. Bake 10 min.
Beat cream cheese, pumpkin pie spice and remaining sugar in large bowl with mixer until blended. Add sour cream and 1/2 cup maple syrup; mix well. Add eggs, 1 at a time, mixing on low speed after each just until blended. Pour over crust.
Bake 1 hour or until center is almost set. Run knife around rim of pan to loosen cake; cool before removing rim. Refrigerate cheesecake 4 hours.
Bring cream and remaining maple syrup to boil in medium saucepan on medium heat, stirring constantly. Simmer on medium-low heat 10 to 12 min. or until reduced to about 2/3 cup, stirring frequently. Cool completely.
Drizzle maple-flavored sauce over cheesecake just before serving; sprinkle with remaining nuts.
PS: Make sure to stop by Instagram Stories to see how I made the Hot Cocoa Cheesecake Minis! Also stay up to date on all things food here and check out more Philadelphia Cheesecake Recipes here.