This post is in partnership with Inspired Closets Chicago. So grateful for their insight that truly exceeded all of my expectations and then some.
Ah! I have been so excited to share this post! It's been months in the making, and I can't even believe I live here. Insert: Inspired Closets Chicago. They came at a time I needed them most! We got to transform our primary (very oversized, spacious, unorganized, junk-room) closet to an actual dream come true. FYI: I'm still pinching myself.
Oddly enough, this closet is what sealed the deal for me. No other homes even stood a chance in my eyes. It just had so much potential! Fast forward five years, and inevitably, it turned into our 'junk drawer' or dumping ground for storage. Larger spaces can be a blessing/curse. See below for the 'before' photos! Not so pretty!
I have been craving a space that's mine. A space that's intentional, creative, calming, organized and functional. I have always wanted to create a 'cloffice' (that's an office & closet in one — pretty sure it's a thing!) and that's exactly what the Inspired Closets Chicago team produced. They listened to every need/want, then made it happen (practically overnight).
Inspired Closets Chicago is like a warm hug. They don't even compare to the others. They're personable, relatable, and most importantly: human. You aren't just a money sign in their eyes — they treat you like their own, and it shows. A few other things worth mentioning:
PS: I have saved everything in an IG highlight (from before videos, process) so make sure to check that out! I tried to make it as detailed as possible! Also make sure to follow along on all things home for the holiday season and beyond!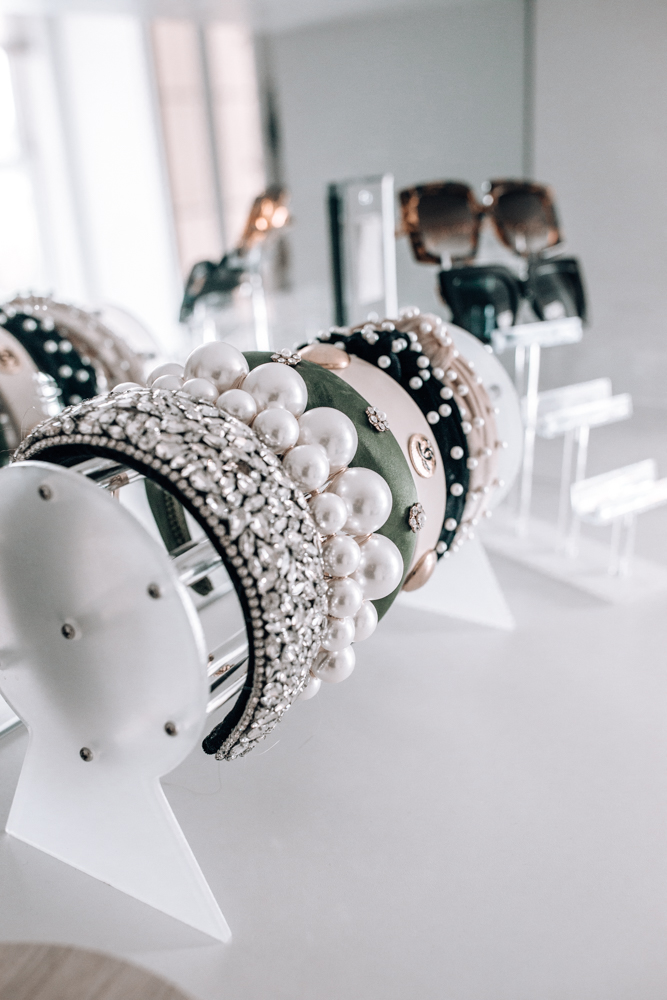 CUSTOM WALK IN CLOSETS | INSPIRED CLOSETS CHICAGO
Inspired Closets Chicago doesn't just design closets. They design garages, laundry rooms, pantries, home offices, entryways and more! (

Full list is here in the consultation form

). Their custom walk in closets are unparalleled! The best in the business!

They're incredibly kind as I mentioned above. I always want to put my money where it's worth. There's nothing better than supporting kind, small business owners. They're incredibly hardworking. No such thing as 'office hours' // shoutout to Michael Carson (Oakbrook, IL) for emailing and scheduling calls after the kids were in bed. He made the process entirely seamless and easy for me. Always turned things over quickly, and returned calls right away. That goes very far. He also dropped off clothing racks so my belongings could have a temporary home, ha! Made my life feel less chaotic during the install.

They work with your budget and will not push you for more. It's easy to reach for the stars when it comes to customizing your dream closet (trust me, I did that) and Michael was able to rearrange plans to bring numbers down a bit.

For fellow visual learners, they send a 3-D rendering which is oh-so-important. This is where the magic really came to life for me. I was so giddy in excitement when they sent them over.

They have showrooms all over the country, but for my local peeps: Oakbrook and Chicago is where you can see some of their custom installations in real life. I visited the Oakbrook location a few times. This is where he put my rendering on the big screen. It's also where we showcased other examples that I wanted to mirror for my custom closet.

After working in this space for a month — the craftsmanship really shows. Everything is so well made, and it's exactly the vision I had.
HOW IT WORKS:
Call them up or fill out a

consultation form

.

A designer will come to your house to measure your space and listen to your needs/wants. I actually left everything as is (in pure chaos) so the designer could see exactly how I was living and what solutions we needed in place. Do you have a lot of shoes? Do you need an office space (like me?) Want more hanging space, etc? This is where you can share all of your needs/wants. It was so exciting to share my dreams for this closet! I also knew I was going to purge about 70% of my closet, and made sure to mention that. I wanted space to grow. As a home decor lover, I also wanted a lot of open shelving to decorate. I wanted this to serve as a 'hub' for my video content, upcoming YouTube channel (hopefully launching in 2022) try-on hauls and so much more! This is my work room. Finally, a space in the house for me!

After the designer comes, they'll send you a 3D rendering of the space along with an estimate. This is where you can go back/forth until you finalize a plan of action!

You'll plan an install day and depending on the design, how long it will take. Our closet took 3 full days, but it included custom moulding and a custom 'nook' for my husband. The installer couldn't have been nicer. That's one thing I made sure to relay back to the Inspired Closets team. This guy didn't even take a break! He started early in the morning and left around dinnertime. The crown moulding was handmade in the driveway realtime. The kids absolutely got a kick out of this!
BEFORE PHOTOS:
As you can see, this turned into a dumping ground. I love a good before/after closet reveal! Nothing more satisfying!
3D RENDERINGS:
So you can get an idea of what the 3D renderings look like! This is where it starts to feel real, and very exciting! This is where all of your ideas come to life thanks to the Inspired Closets dream team!
A FEW OF MY FAVORITE DESIGN ITEMS:
Hidden hamper: I've always wanted a hamper that's hidden! I feel like a real housewife now!

Track lighting: I love the dimming lights that run in my glass cabinetry. It's a cute little remote control and creates such a vibe! Highly recommend this feature!

Adjustable shelving: Always get adjustable shelving when customizing a space. As we grow older, so does our style. This goes for the shoe shrine rack, too!

Gold hardware. The gold hardware really elevated the space. We actually had silver installed first, and I called Mike (my designer of Inspired Closets) to see if we could swap out for gold instead. I'm so glad I did! He did it without question, of course.

Glass doors: The glass doors are so special. It's where I can show off my most prized possessions. For me, these don't include bags — but memories/decor. I already have my wedding shoes displayed. It's fun to have them out (and not shoved in a box on the floor)

Kevin's 'nook' : I love that they created two separate spaces in our closet. One for him, one for me. They honestly maximized every corner of the space and Kevin still has room to grow his wardrobe! I stressed that he loves basketball shoes, so they created open shelving so he could show them off in style.

Overhead storage: Another important item for me, storage! We added some crown moulding for glam, but left other shelves with open space at the top for storing items. This is where we put our luggage, miscellaneous bags, etc. The 'not-so-pretty' things of life.
Whether you're looking for a small/big job, a custom walk In closet like mine above — Inspired Closets Chicago will not disappoint. They were professional from start to finish, and included my kids on the journey. I really can't say enough good things! We will definitely be back for more! Our next plan of attack is the pantry!