Pickleball has recently become one of the fastest-growing sports in the world. It's easy to learn, low impact and virtually any age group can play. It also does not require much equipment– aside from the court, you just need a paddle and ball. As pickleball grows in popularity, so does the market for pickleball bags.
1. Do you need a pickleball bag?
While owning a pickleball bag isn't necessary, it will undoubtedly make your life easier. Having one place to store all your valuables and pickleball essentials helps you stay organized. While you could use a regular duffle or backpack, pickleball bags are specifically designed to keep your gear safe.
2. How do I choose a pickleball bag?
The most important thing to consider when choosing a pickleball bag is size. You want to ensure your bag can store all your gear and hold items like extra balls, your phone, wallet, and keys. If you will need to carry around a towel, extra clothes, and court shoes, it's good to consider a larger-sized pickleball bag.
3. What are the different types of pickleball bags?
Duffels, backpacks, sling bags, totes, and single-paddle bags are the five main types of pickleball bags. Each category has unique qualities and a range of storage capacities. For those who need a lot of storage, duffel bags and totes are best, while backpacks and sling bags are lighter and easier to carry. Do you consider yourself a minimalist? A single-paddle bag may be perfect for you! 
Now that we've discussed pickleball and the different types of pickleball bags, we're happy to share some of our favorites:
The Franklin Sports Bag offers plenty of room for all your pickleball equipment and boasts a sturdy, dual-padded layer inside to safeguard your phone and keys. Large ball pouches and weather-resistant zippers keep your gear safe and secure. Adjustable straps help keep your back and shoulders happy.
This adorable set by Recess comes with a rally bag, paddle, paddle cover, and three white balls. These composite paddles have a strong fiberglass outside and a polypropylene honeycomb core. The excellent sanded surface provides the ball with more spin and control.
Ame & Lulu's Hamptons Bag features a classic silhouette with an exterior paddle pocket and multiple interior pockets. Crafted of canvas, this pickleball bag was designed to be durable yet fashionable. The adjustable shoulder strap ensures a comfy carry.
Mark & Graham's sporty pickleball crossbody bag was designed with the minimalist in mind. With a paddle pouch and a mesh front pocket, this bag has just enough space to carry the essentials. Add a personalized touch by adding an embroidered monogram.
This statement bag by Mark & Graham is the ideal courtside companion. Wipable nylon makes it easy to clean, while zipper compartments keep your essentials secure, and an adjustable strap contributes to easy carrying. Choose your monogram style and have it embroidered!
Also available in white-navy and navy-white.
Though sold as a tennis bag, this Mark & Graham x Spartina backpack-style bag is perfect for the court. The main compartment has enough space for shoes, a change of clothes, and more. Its front pocket will hold up to two paddles, and the two side pockets are perfect for holding water bottles and the like. Add an embroidered monogram for a personal touch.
Though designed for pickleball, the Mercer Waxed Canvas bag is versatile and can be used for many things. This bag is made of hardy waxed canvas and has leather top handles. Add your monogram for a personalized look.
This striped bag is perfect whether you head to practice or play. With ample room for your gear and adjustable straps, this bag is practical and stylish. A custom embroidered monogram is included with your purchase! 
In addition to pink, this bag is available with navy stripes!
With plenty of space and compartments, this personalized bag will suit your pickleball needs and help keep you organized. The backpack-style bag has straps that zip together to convert into a sling bag. Choose between personalizing with your monogram or full name.
This bag features a paddle pocket large enough to hold two paddles, a large back compartment, and an additional mesh pocket. Designed with a beautiful quilted fabric and gold accents, this pickleball bag is as cute as it is functional. Every purchase includes your choice of a free personalized keychain!
This large pickleball bag by Monarch features space for four paddles, six pickleballs, a pair of shoes, valuables, and anything else you may need. This bag can be carried as a backpack or duffle bag for convenience.
The JOOLA Tour Elite Bag features two synthetic rubber-lined pockets to hold (and protect) up to four paddles. The vented shoe compartment helps separate wet and dry gear. This pickleball bag can be worn as a backpack or carried as a duffle bag.
The Swinton Pickleball Sling is a compact bag made entirely of neoprene. Enjoy space for up to two pickleball paddles, balls, a water bottle, a change of clothes, and your valuables. The Swinton sling is waterproof and machine washable.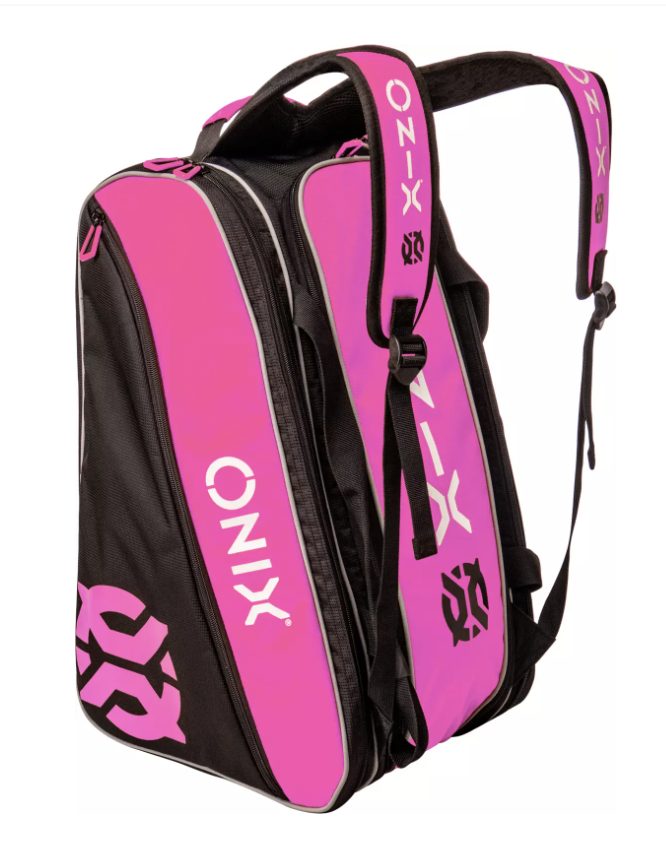 The ONIX Pickleball Pro Team Paddle Bag offers ample storage with four zippered compartments, including one for shoes and damp items. Made from durable polyester, it can withstand rough handling. Carry it comfortably using the padded shoulder straps or the hook and loop clasp.
This bag is made for professionals and has roomy interior and outside compartments for materials and clothing. It has detachable backpack straps that can be used to convert it into a duffel and a fence hook for convenient storage. It also contains a fleece-lined pocket for delicate items.
Display your pickleball passion with the Red, White, and Blue Bag. It has a top handle, an optional shoulder strap, and a front paddle-shaped pocket with a safe zip closing. Perfectly sized, this bag is a must-have for pickleball lovers and trendsetters alike.
The Athleta Courtside Bag is perfect for toting around your gear. Solid black with white piping and zipper pulls, this sling-style bag is structured with closed-cell foam. Enjoy three spacious zippered compartments.
The Sporty Spice Bag in sizzling pink features the most recent trend in style.  The Think Royln trademark bag combines form and fashion, making it ideal for all-day play or a quick date on the court. This tote and racket bag are a perfectly posh match.
This set comes in eight other eye-catching colorways: silver mirror, forest patent, Hampton blue patent, black patent, dark nude patent, white patent, pearl black, and club green patent.
These vibrant and functional pickleball bags are made to hold all the equipment you need for a match: two paddles, two water bottles, shoes, shirts, and towels. An additional interior pocket is perfect for keys and phones. They are made of neoprene and come in four fashionable colors.
The LLYWCM Sports Sling Backpack features a main compartment for up to six paddles, a ball pocket, and front zipper pockets for more delicate items. It boasts a reversible shoulder strap for convenient wear. The built-in fence hook allows you to safely store your bag off the ground while you practice or play.
The MANGROVE bag is as versatile as it is well-made. This sling bag is crafted from 600D polyester. It features four pockets for carrying your pickleball gear, a zipped felt-lined valuables pocket, a cozy padded back, an air mesh strap, and a fence hook for added convenience. 
This bag is also available in green/black or gray/black.
This adorable bag was created by women, for women. It features a front-mounted pouch for up to three paddles, a roomy main compartment, a mesh side pocket, and a zipper pocket for storing valuables. This adaptable pickleball tote allows for hands-free shoulder strap carrying or padded handles.
This spacious bag offers several storage compartments, including a water bottle pouch, a net pocket for balls, and an inside pocket for personal belongings. The main compartment can hold up to six pickleball paddles. Enjoy durable materials, a fence hook, and adjustable shoulder straps.
The Vulcan VPRO Backpack features a padded compartment for paddles, a vented shoe compartment, and four accessory pockets, including one for sunglasses, one with a mesh organizer for keys, and an insulated snack pocket.  This bag is made of durable ripstop nylon and comes in six colors.
Final Thoughts
In the end, choosing a bag is all about preference. Make sure you select a bag constructed with durable materials that are big enough to hold all of your necessities and then consider your preferred method of carrying. Thankfully, with many bag options, you can find one in your desired color or color combination.