This post is in collaboration with Wasa crackers. As always, opinions (and tastebuds!) are my own. 
If you're looking for a fun twist to your avocado toast, I'm sharing 4 earthy combinations that will put your tastebuds in a whirl thanks to Wasa crackers. Not only are wasa crackers made from simple ingredients, they're crunchy and light making them the perfect alternative to bread. These Wasa cracker toasts depict my eating style habits as of late — less cooking and fresh ingredients. Bonus: they take less than 5 minutes to assemble, include 4 ingredients/less and they're healthy to boot! As a working mama, I'm always looking for simple, fresh recipes (on the go) that my 10 month old can also enjoy. I scooped up the Wasa Gluten Free (they're new!) and they are Non-GMO with zero lactose ingredients. Here's a full line-up of the other varieties (I still need to try the sesame and sea salt!) delish! They're available in most grocers, including my favorite: Whole Foods nationally.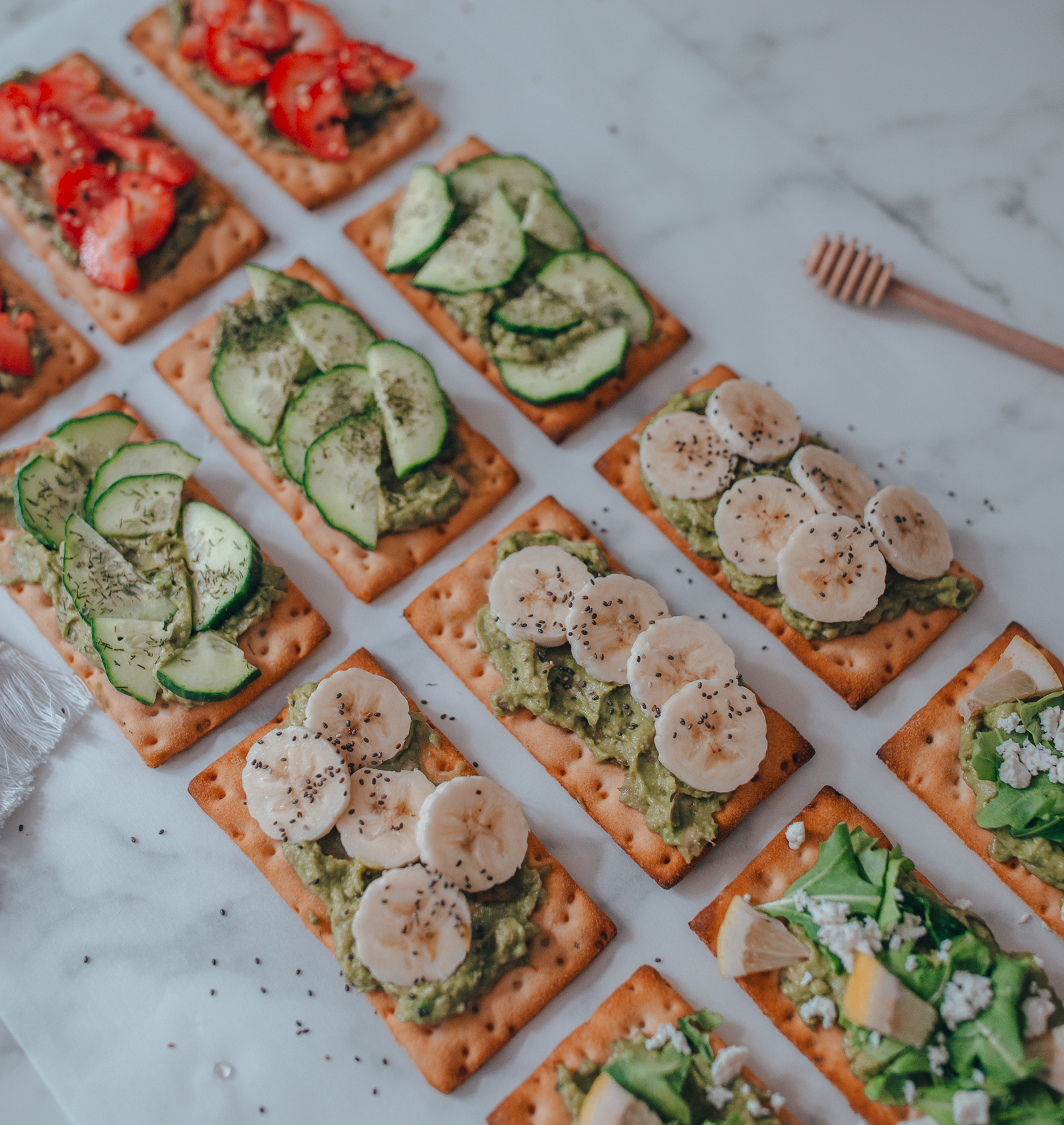 Wasa crispbreads have endless snack variations — gluten free mini pizzas, hummus, cheese, fruits, veggies spreads, etc. Today, I'm sharing 4 simple (4 ingredients or less), winning avocado toast (crispbread) combinations that are unexpectedly refreshing, and healthy.
WASA CRACKERS 
STRAWBERRY AVOCADO TOAST: Definitely a favorite combo! Juicy berries and creamy avocado are the perfect punch to a refreshing snack. I added 'everything but the bagel' seasoning to give an extra flair of flavor.
CUCUMBER, DILL AVOCADO TOAST: I love cucumber & dill (greek vibes) and the avocado twist makes this one an unexpected champ. Crunchy, flavorful and earthy.
BANANA AVOCADO TOAST: I was definitely hesitant to try this combo, but it's delicious! The ultimate breakfast for on-the-go and beyond. Add some chia seeds for a tiny crunch and antioxidants. Again, only 3 ingredients but oh-so good!
ARUGULA, GOAT CHEESE, LEMON AVOCADO TOAST: The best salad combinations also pair as the perfect toast. It's fresh, light, delicious and packed with awesome flavor. The honey goat sends this snack to the moon and back. Definitely a favorite lunch munch.
Make sure to check-out other recipes and entertaining tips!