These Walmart kitchen rugs will totally transform your space!

products: Walmart kitchen rug, marble round table, modern white chairs, gold bar-cart, horse print, gold frame, wicker glass cups, floral journal, grey couch, blue recliner, brass end table, gold pineapple tumbler, Pom pom throw, faux plants, crystal chandelier
---
As many of you know, we purchased our first home last year. It's been such a fun journey decorating and truly making it our own. (Different ballgame when renting obviously!) When you have zero limitations, the options are endless. I have so many grand visions of what I want this space to become (thanks, Pinterest) but slowly implementing as we go. Decorating on a budget isn't an easy feat, so it's important to get the creative juices flowing.
My current project is the kitchen.
We don't have a large one, sadly — but, it's very cozy. Eventually, I'd love to add some open shelving, backsplash and fresh appliances. In the mean time, I picked up this adorable nuLOOM Persian floral garden rug from Walmart and it's changed our entire kitchen! If you're looking for an inexpensive way to transform an entire room — try adding a textured rug. It's a simple trick that will take your space really far. We opted for walmart kitchen rugs that were colorful to bring in some color. I also have a 7 month old, so if spills occur (which they most definitely will), it's very easy to clean up and not noticeable with the pattern. Walmart has hundreds of options, so it definitely took awhile to narrow down. See some of my other favorite walmart kitchen rugs here. 
WALMART KITCHEN RUGS
THESE WALMART KITCHEN RUGS WILL TRANSFORM YOUR SPACE!
I also scooped up this floral journal to help organize my chaos. It looks so pretty, and doubles as decor. PS: Only $6.99! (free 2-day shipping) I'm already eying their Spring outdoor collection because the temps are finally over 50 degrees in Chicago! If you're looking for home pieces in a jiffy, the 2-day shipping is a complete game changer. Oh, and our spring/summer season lasts about five hours, so you have to get them in time! Ha. Kidding, sort of. 
Another kitchen staple is my 

bar-cart

.
Another inexpensive way to transform your space — the one linked is only $104! Once Harlow gets a little older, I'll have to re-locate this to the dining room (with a gate) but, I'm enjoying it while I can! I thought this nook was the perfect place for it. Generally, I'll decorate according to season but lately, I've just been showcasing some of my favorite glassware. I've also been stocking up on some champagne for those warm summer days. I'm a big fan of mimosas on the patio with friends/family. No better way to celebrate the summer season! Who's with me? 
Make sure to check-out this post for a quick, healthy breakfast (with another favorite home item from Walmart) and this post for saving money on baby. xo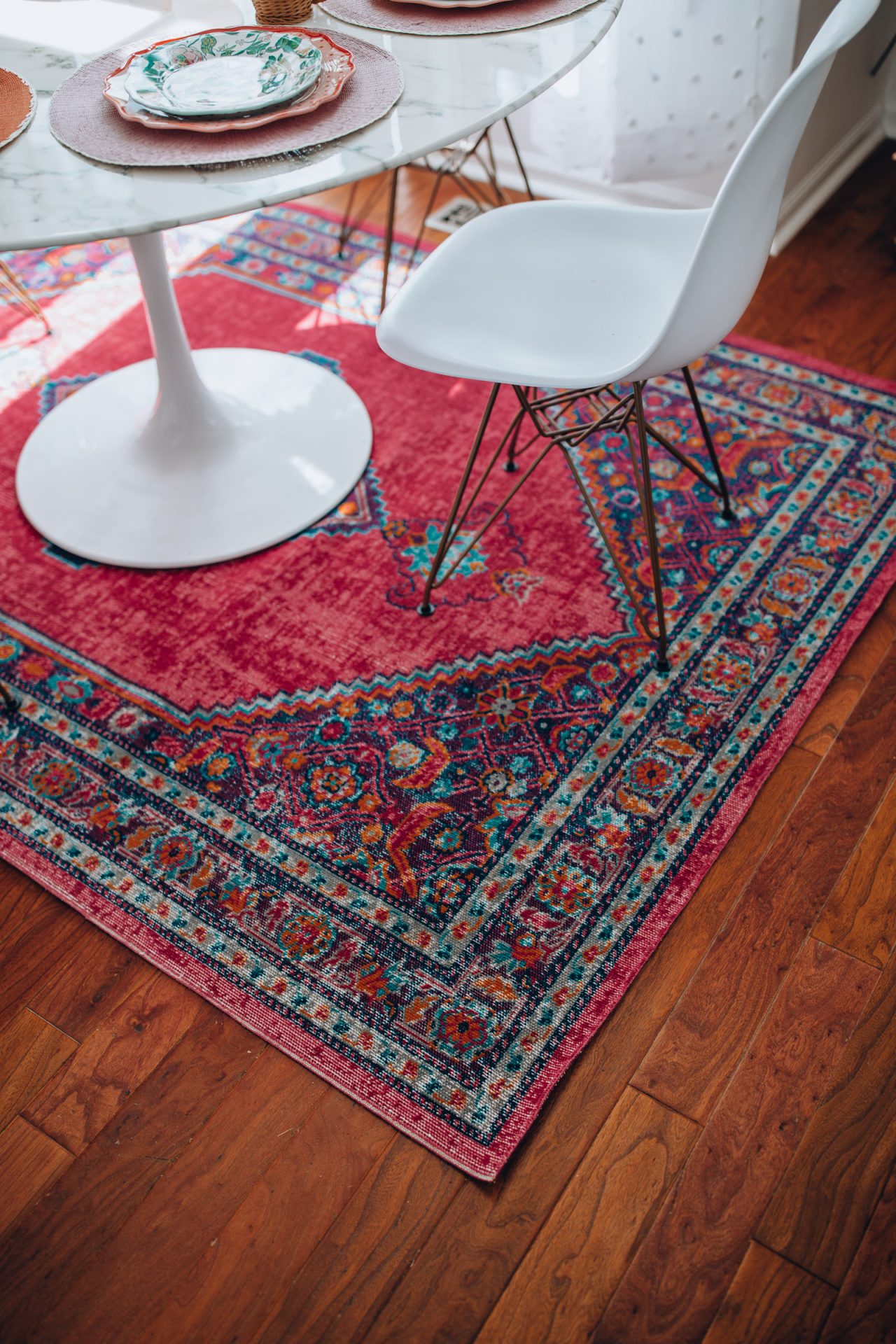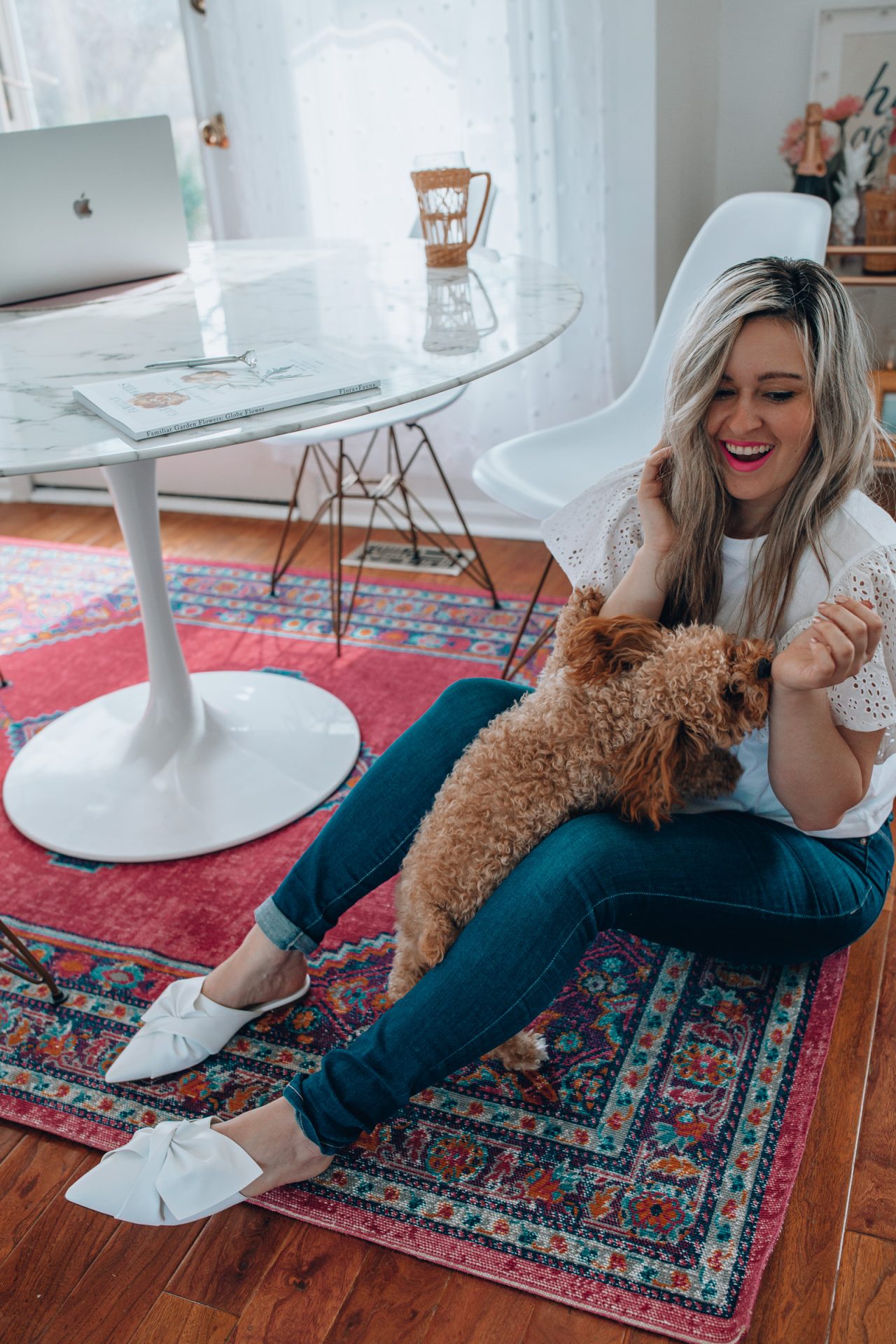 What are your favorite ways to style Walmart kitchen rugs? I just love a pop of color in my house!
This post is sponsored by Walmart. As always – opinions are entirely my own.