*Thanks to buybuy BABY for sponsoring this post. All opinions/reviews are entirely my own. 
Choosing the best toddler sippy cups can be exhausting! Transitioning Harlow from the bottle to toddler sippy cups took a lot of trial/error. I was asking this very question to my fellow mama friends: What are the best toddler sippy cups? Feeling so discouraged, we found ourselves with a cabinet full of cups that she was simply disinterested in. Now that she's almost 19 months, I thought I'd share what she's currently loving. PS: We didn't choose a soft nipple per our pediatrician recommendation. This definitely made the transition a bit more challenging. Curious to see what your littles are loving! We're always open to trying new things!
This post is in partnership with buybuy BABY. I'm so honored to be part of their Babyhood initiative. ICYMI:
---
BEST SIPPY CUP FOR TODDLER
---
MUNCHKIN LOCK BITE PROOF TRAINER CUP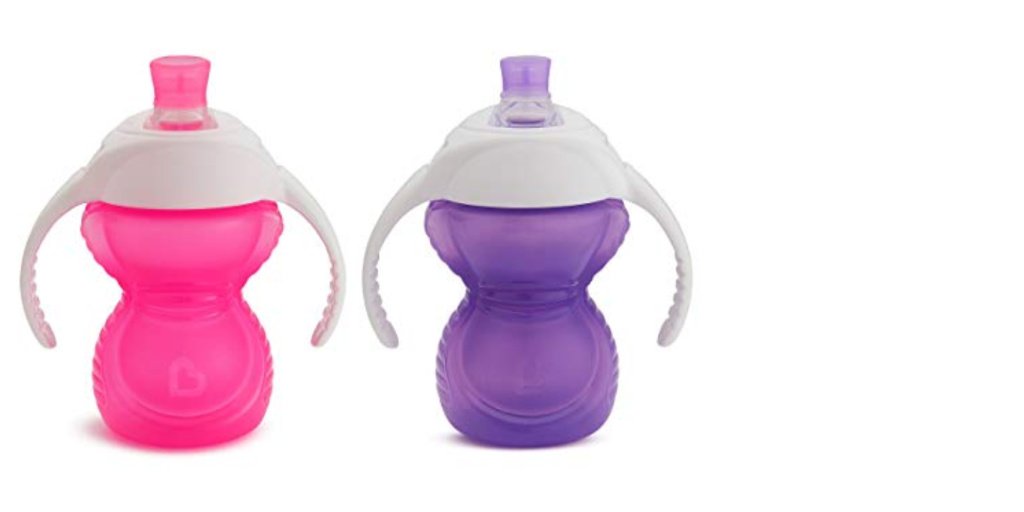 Sometimes, the most simple cups do the trick! My husband and I are big fans of these. Harlow drinks milk out of these with zero spilling. Not to mention they're very easy to clean, and the sprout is hard and durable. We have about 6 of these currently – so definitely one of the best toddler sippy cups! 
I got Harlow this toddler cup for Christmas, and she absolutely adores it. Not the most attractive cup sitting in my cabinet, but she is Elmo obsessed. It's really easy to clean with no other parts, and it's really straight forward. It's a non spill sippy cup, so I feel comfortable letting Harlow roam the house with it. It does take a little effort to get the liquid out — so just FYI. Mine doesn't mind at all! She must enjoy a challenge.
So many people recommended these toddler sippy cups. The 360 toddler sippy cups are spoutless, so toddlers can drink from anywhere around the rim. They're also incredibly easy to clean. *Just make sure you pop the top off in the dishwasher to prevent mildew (the plastic piece removes easily). In full disclosure, this cup took Harlow some time to figure out. It's an entirely different concept from a bottle, so have patience. I'd say it took around 3-4 weeks for her to finally get it. My top pick for a sippy cup for 2 year old.
These are the exact same concept, but a tad different design. Over 5 star reviews from over 250 parents! Definitely a favorite because it's dentist recommended and easy to clean with no extra valves or parts. The cup automatically seals when they're done drinking — no spill toddler cup for the win!
MUNCHKIN MIRACLE STAINLESS STEEL TODDLER CUP
The stainless steel toddler sippy cup will keep your little one's drink cool so they can enjoy it on the go! Insulated, keeping the drink cool for up to 15 hours! Woa. The 360 angle allows drinking from any side of the cup. BPA-free, dishwasher safe and our new favorite sippy cup for 2 year old!
These are a great transitional sippy cup after bottle. We do like these, and use them regularly — but not our favorite. The pros: easy to drink from, very lightweight, and leak proof. They do have a few parts that need to be disassembled for cleaning, and it can be tricky putting this back together. We've started to designate this sippy cup for water only (so residue doesn't stick).
---
TODDLER SIPPY CUP WITH STRAW
---
This was one of the first toddler cups we transitioned Harlow into. The weighted straw makes it perfect to catch every last drop from any position. Babies are used to holding the bottle up to get milk from, and that's exactly what they do with cups. The weighted straw is a genius concept, and we absolutely love it. The cons: it definitely takes a little work to get the liquid out, and it's not the most fun to clean. We primarily use this cup for water now (instead of milk).
---
TODDLER SMOOTHIE CUP
---
This one is great for smoothies, which Harlow can't seem to get enough of. It's really durable and we haven't had any leaking incidents either. A lot of parents recommend this cup from bottle, breast and sippy cups.
---
TODDLER CUPS
---
This cup helps baby learn how to drink independently from an open cup. It's designed to fit their tiny mouth and hands. Soft silicone helps protect baby's developing teeth, and the interior angle provides an even flow for safe drinking. This cup looks absolutely adorable with your little!
Perfect for toddlers, this toddler sippy cup has easy grip handles and a sturdy base. The ultimate transition from a toddler sippy cup into 'big kids' — wah! Don't grow up!
---
Weigh in! What are your favorite toddler sippy cups? Tell me below or on Instagram!