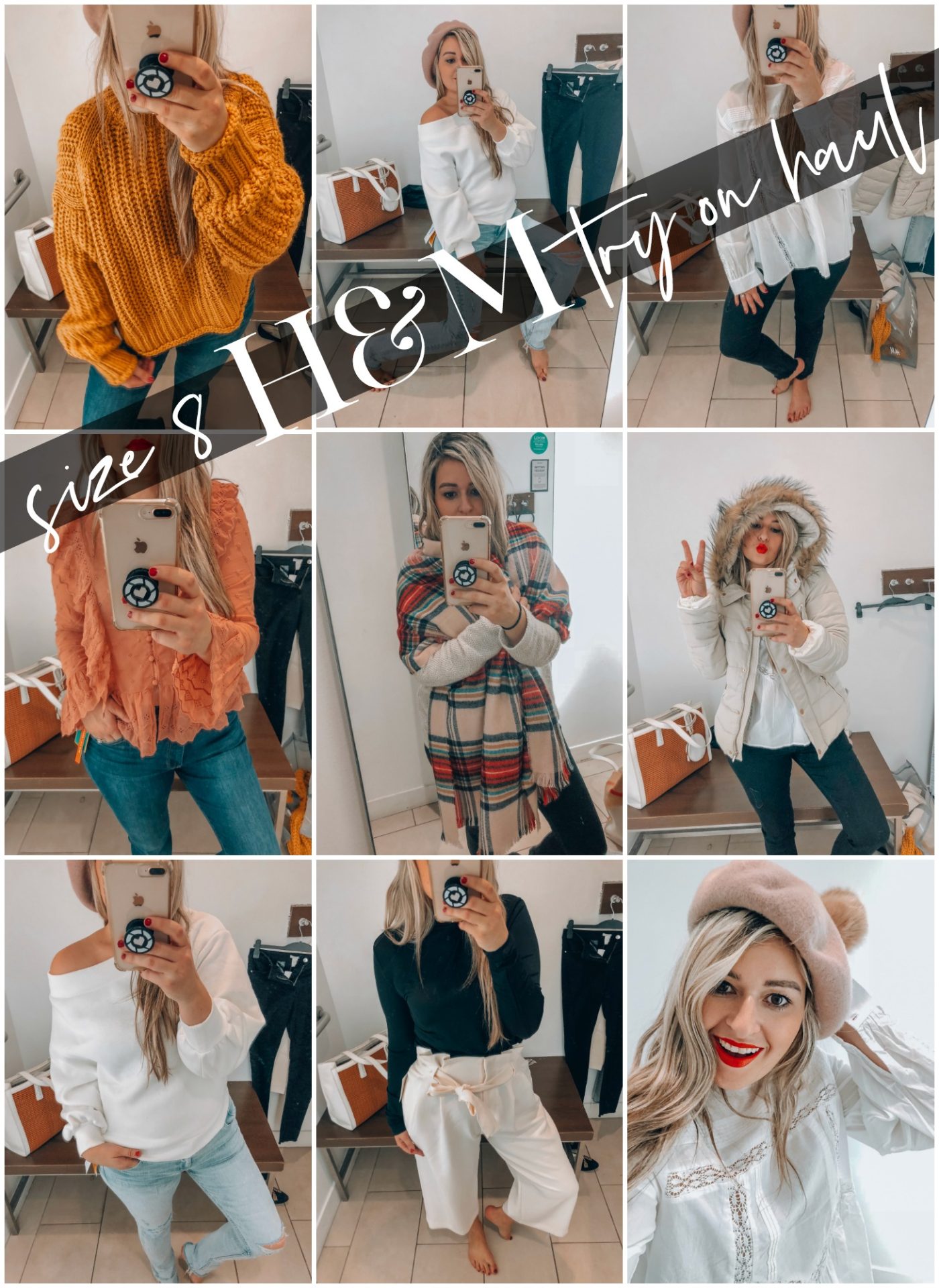 Happy Wednesday! Since so many of you loved my Nordstrom Anniversary try on haul, I thought I'd get in the habit of doing more dressing room diaries to help you shop! I got so many sweet messages encouraging me to do more because of my size. A lot of readers mentioned that the bloggers they do follow (and love, of course) tend to be on the petite side so they couldn't necessarily relate. I definitely have curves, and typically wear a size 8 so I'm hoping my try-ons can guide you a bit more! While my weight fluctuates (still haven't lost baby weight) Generally, I'm a size 6. I'll always disclose sizing in picks below!
---

---
I did a poll on Instagram, and the majority of you voted to do an H&M haul, so that's what I did! Let me know in the comments below what you'd like to see next. American Eagle, Anthropologie, Old Navy and Target are always favorites, too. Happy shopping!
PS: The denim I tried on is sold-out online, but I'm crushing over these stretch velvet jeans (just came in) and expected to go quickly so make sure to scoop! H&M finally changed their sizing, so you should be pretty true to size. Returns are easy, just bring to any store and they'll take it back! 
SIZE 8 H&M DRESSING ROOM DIARY
PADDED JACKET | $49.99 | Wearing: Size 6 // runs a tad large
This was definitely a favorite from the try-on haul – Chicago fall has a tendency to be very frigid and windy. While this padded jacket wouldn't necessarily work in the dead of winter (have to get a long one!) it certainly serves a purpose all season long. It's surprisingly warm, and I definitely appreciate the faux fur hood that blocks the wind. It comes in a few colors (beige, dark green and black). Oh, and the rose gold buttons are a nice touch! It runs a tad large, not much – but definitely size down if you want a firm fit. If you plan to wear sweaters underneath, size up. I'm wearing a 6 here, and like the firmer fit.
COTTON BLOUSE WITH LACE | $34.99 | Wearing: size 6 // runs a tad large (Size down)
I'm a huge fan of white in the winter time. Winter white is such a dreamy touch, and this flirty blouse is no exception. It would look adorable paired with a holiday skirt or simple denim (I'm wearing black denim here). The lace detail had me right away. Oh, and this pom pom beret is too much! I actually bought in a couple of colors. Can't. Get. Enough. Berets.
V-NECK BUTTONED BLOUSE: $19.99 | Wearing size 8 | runs true to size
I thought this blouse was so flattering, and cute. At only $19.99, definitely can't go wrong. It's another one that comes in a few colors which helps! This is definitely a great blouse for a holiday party — easily pair with a skirt for a romantic feel. It would look super cute with skinny jeans, and a heel — great date night outfit!
OFF THE SHOULDER TOP | $17.99 (what!) Wearing: small (could probably go up to a medium though) and it fits true to size.
You guys know that I'm a sucker for off-the-shoulder anything. Who says you can't show a little shrug with the snowflakes? (get it?) I know people immediately think warmer seasons, but it looks adorable paired with denim. They also have the same top in red (sold-out at my store, but it's available online!) So cute and festive for the season. It also looks so flattering on every body type. I've always been a bit self conscious of my arms (breastfeeding made it worse) and off-the-shoulder hides those insecurities.
Another favorite from the haul, but unfortunately this color is sold-out. It's just such a great price-point, and the quality is amazing. The other 2 colors have limited availability, but definitely jump on it quickly if you want it! I'm hoping they restock (since so popular) so wanted to include anyway! Isn't the rib perfection? So cozy all season long. Feels way more expensive, too!
I'm a huge fan of oversized sweaters (especially oversized turtlenecks) because they're incredibly cozy and flattering. It almost looks high-end and runway-ey, doesn't it? Make sure to check-out H&M sweaters, because there are literally hundreds upon hundreds of options. They're all affordable and high quality. You can easily return in store for hassle-free returns. My store didn't have a lot, so I'm definitely placing an online order with my sizing.
WIDE CUT PANTS  $39.99 Wearing: size 8 // runs: true to size for most part (maybe a tad on the bigger side)
BLACK TURTLENECK $14.99 Wearing: size medium // true to size (so silky!)
So, I didn't think the wide pants would look good on me (I'm 5'5, and a tad curvy) but they surprised me! Surprise, they're white. Again, is there anything better than white/red during the holidays? So crisp and clean. I think these would look so cute at the office, for date night & holiday parties. The black turtleneck is only $14.99 and literally feels like silk. Would look super cute paired with denim and sequin heels/