Anyone else love a great bedroom makeover? Today I am sharing my super chic bedroom makeover with The Room Place. Keep reading to see all the details behind this bedroom makeover.
Casa de la Kleinman is in full swing! I'm so excited to unveil the first room of our house — the bedroom. (The happiest place on earth!)  I wanted something chic, clean and bright. Luckily, my husband is game for just about anything (thanks, hunny!) One of the main selling points of purchasing this house was the natural light. I just loooove me some natural light. It's the ultimate mood booster, and energizer. To compliment the light and high ceilings, I opted for all white with pops of color. PS: Check-out the end of this post for a fun time lapse of the finishing touches! 
Our Chic Bedroom Makeover
I teamed up with The RoomPlace to make my vision come to life, and it turned out better than I could have imagined. The best part? It's super affordable and I am OBSESSED with our chic bedroom makeover.  These are a few of the key pieces I chose:
Cori linen accent chairs: Originally, I had these in white (so beautiful) but it made the room feel a bit stale, since I had so much white already! I decided to get them in this gorgeous blue which adds a pop to the space. Aren't they sophisticated and chic? I actually have the same chair in pink in my office — I'm obsessed with the antique legs and tufted back. I liked the idea of having two so my husband and I could have a cozy reading nook (It's turned into the perfect nursing chair, too!) My next mission is to find a carpet to put underneath — I think that'll add another level of design. Any ideas on which kind would be perfect for this bedroom makeover?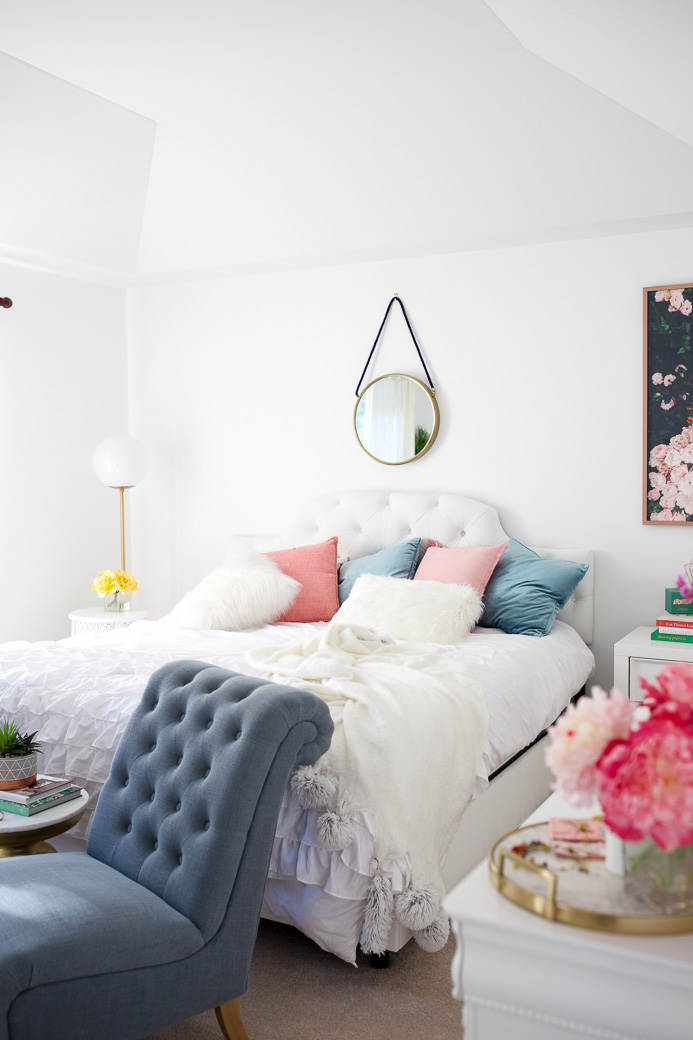 Farris full length mirror: I mean, who doesn't love a full length mirror? I foresee a lot of outfit selfies on Instagram — stay tuned! This mirror is stylish, and gives a layered glimpse to the surroundings of the room. It also makes the space seem larger, which is always a plus. It's such a fabulous statement piece, and can look amazing anywhere you place it!
Reta Vanity Set: One of y current obsessions. I believe every woman should have a dedicated zone to house the items for her regime and get ready in comfort (and style). It's not too big, and fits perfectly in the corner of the bedroom. Such a fun addition!
Jessica Collection Dresser: My favorite piece of them all! Isn't the detail gorgeous? The traditional elegance fits well into our current home decor scheme, and brightens the space even more. The drawers are deep and spacious — perfect for sweaters/intimates. I also added the Jessica mirror, because one can't have enough mirrors! Again, obsessed with the detail. Looks so much more expensive than it is! Win!!!!
If you're in Chicagoland/Indiana area, definitely look into The RoomPlace to furnish your space. They're such a pleasure to work with, and the pieces are high-quality for the price. I'm happy to answer any questions you may have about what I chose. Also, be on the look-out for more home decor posts. It's been such a joyous journey decorating the house, and I'd love for you to follow along. (Nursery will be live next week!) Now, to just keep my clothes off the floor …
other products used //
Bed | Comforter | Carpet | 3 Drawer Nightstand | Small Nightstand | Lamp | Gold & Marble Side Table (between tufted chairs) | Gold Mirror | Minted Artwork | Faux Florals | Gold Tray (on dresser) | Perfume | Bassinet | Bassinet Stand | Coffee Table Books | Velvet Pillows | Pink Pillow | White Pillow
This post is sponsored by The RoomPlace. As always: Opinions are entirely my own. Thanks for supporting brands that make Heart of Chic possible!