It's been awhile since I've done an outfit post. I've certainly shot a few things but scrapped them. I'll be honest: my postpartum body is taking some getting used to. While I'm so proud of it (like insanely proud) it's obviously still an adjustment. My hips are bigger, and my clothes just don't fit the same. I looked like a hot (blob) of a mess in those first few shoots, and my confidence plummeted. I had to re-discover my style, so to speak. It was a lot of trial and error (thank goodness for Nordstrom free shipping/returns — am I right?!) but, I'm finally adjusting to this new. For my fellow mama's out there, be gentle on yourself. It takes time to balance out those crazy hormones, and feel comfortable in your own skin again. Sometimes, it just takes one piece to get your sass back. Let me introduce you to my new BFF: open back with a twist. Okuuur! PS: If you're wondering why I'm so tan, I got a brush tan for the first time! highly recommend! 
Flattering on every body type, truly. I've always been a fan of open back pieces. This open back sweater is gorgeous. A little bit of sexy, with a whole lot of chic. Can we talk about this color for spring? Can we talk about the fact that it's under $45? It can be styled a few different ways, but I prefer off-the-shoulder. Gives off the elusion that I have a slim fig (that's what I'm going with anyway!) It's loose, comfortable and adorable. I paired with skinny jeans and block heels — but, would look just as cute with jean shorts and slides. Cozy vibes 101. (For sizing reference, I ordered an 8 but I may size down)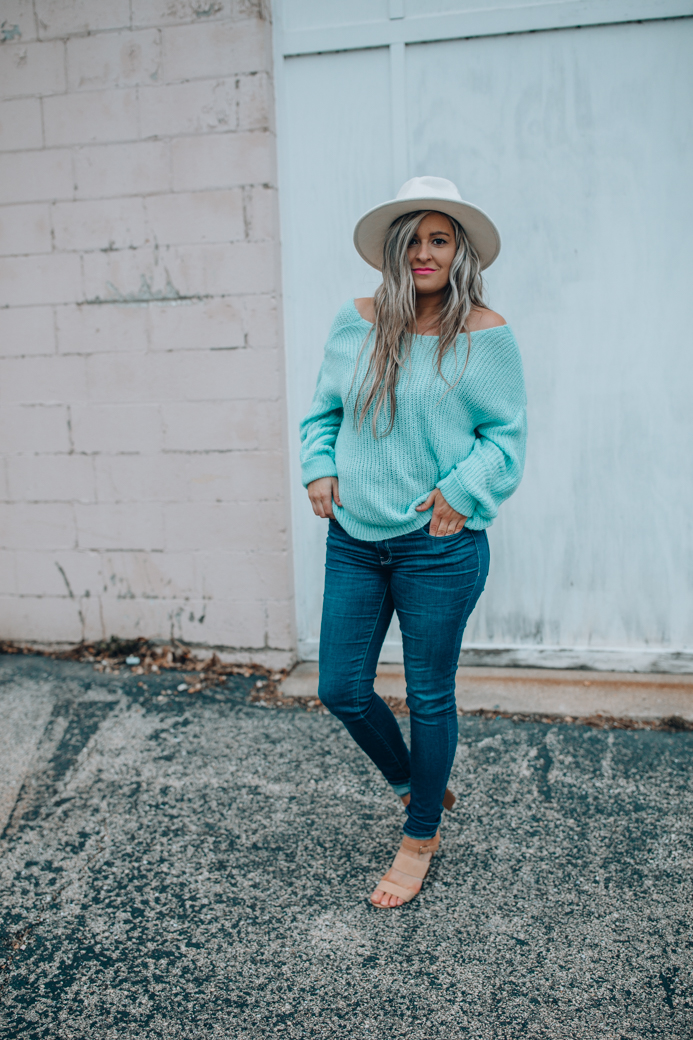 I'm including some of my favorite open back sweater pieces below! Seriously, you need this for spring! Be sure to check out more style posts before you go!