The night of the Nordstrom Anniversary Sale, I slept a total of 48 minutes. It was one of the first all-nighters I pulled with the blog. I literally feel hungover this morning from all of the shopping, ha. Not to mention, it was a bit of a mess! Nordstrom's site was down for awhile (Nordstrom is offering 10 points per dollar spent at stores yesterday, July 12th, for the inconvenience). I guess it was a good idea to shop the sale at 2am! PS: If you don't get the fuss about the sale, check-out this post explaining why it's magic.
This year, I went a little crazy. Most of my wardrobe doesn't fit anymore, because my little Harlow bear has rearranged a few things! My hips got even bigger (which isn't the worst problem to have) and I've definitely gained some baby weight. I made sure to invest in cozy cardigans, stretchy denim & basics. While I love trendy pieces, it just wasn't practical for this mama. If you haven't seen the Nordstrom Anniversary sale catalog, make sure to check this post (these pieces always go first) and what I managed to snag at 3am here. You can also stay up to date on the sale using the highlighted tab at the top. Public access begins on Monday, so if you're not a cardmember — your mini Christmas is arriving shortly! 
Make sure to check Instagram Stories for the try-on haul (it has a highlighted tab so it doesn't disappear!)
When I did a poll on IG, most of you requested a try-on haul. I try to be respectful of Nordstrom, and not hog the dressing room for long periods of time (since there's usually a line) so I brought a lot of things home. Additionally, I like to see how things look in natural lighting. Does anyone else wonder why these stores won't invest in dressing room windows? I swear, they'd make 5 trillion more dollars every year. Just for reference, I'm a size 8 generally and wear a size medium in tops (or large, because I like pieces to be a tad oversized) I have some more shoes arriving in the mail soon (they just weren't in stock at my store location) So let's jump in!
*Photos above the description
BP. RAW EDGE V-NECK TEE $11.90: It's $12, people. It comes in a bunch of other colors, but opted for stripes. Again, I'm trying to invest in staple pieces (instead of trends) so this was a no brainer! (I am wearing medium) — wearing this in a lot of the cardigans photos, too! 
TOPSHOP LONG OPEN FRONT CARDI $49.90: (wearing 6) This is definitely one of my favorites. It probably won't last for more than 2 seasons, but it's beyond cozy. The quality seems great, and honestly looks way more expensive than it is. My color is sold out, but they will be re-stocking, so don't fret!
CASLON® LONG SLEEVE CREWNECK TEE (REGULAR & PETITE) $19.90: A wardrobe staple for transitional weather, and it looks darling paired with a jean jacket and white denim. The material is SO soft, and it's the ultimate shirt for running errands (or getting spit up on). Mom win! (also comes in multiple colors) (I am wearing medium)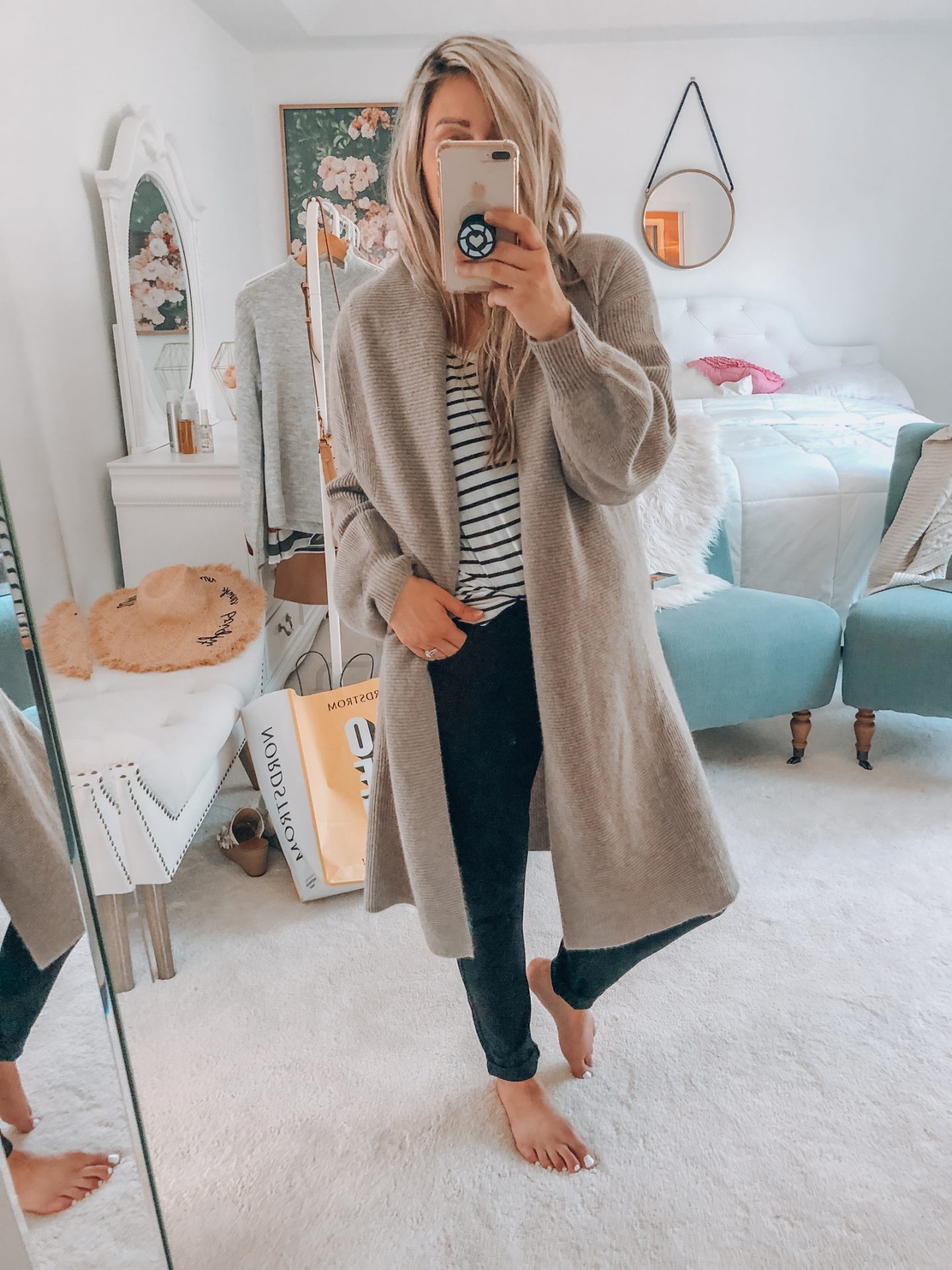 HALOGEN® BLOUSON SLEEVE LONG CASHMERE CARDIGAN $199.90: So, this is another investment piece — but, it was flying off the shelves in-store. It's beyond soft (obvi) and comes in a few colors. Such a cute piece to lounge in, wear at work, girls nigh — the options are endless, really. *wearing small/medium
J.CREW DOVER BLAZER (NORDSTROM EXCLUSIVE) $131.90: I didn't think I'd like this one, but it looks even cuter in person. Great for the office, or for throwing over a cami-lace top with the girls. It comes in 4 other colors, and fits like a dream! *wearing size 6
THREAD & SUPPLY WUBBY FLEECE PULLOVER $51.90: Literally obsessed with this one. Not the most flattering, but it's mainly for lounging in and/or running errands with my baby! It does come in a few colors, I got the charcoal. wearing: medium (runs large)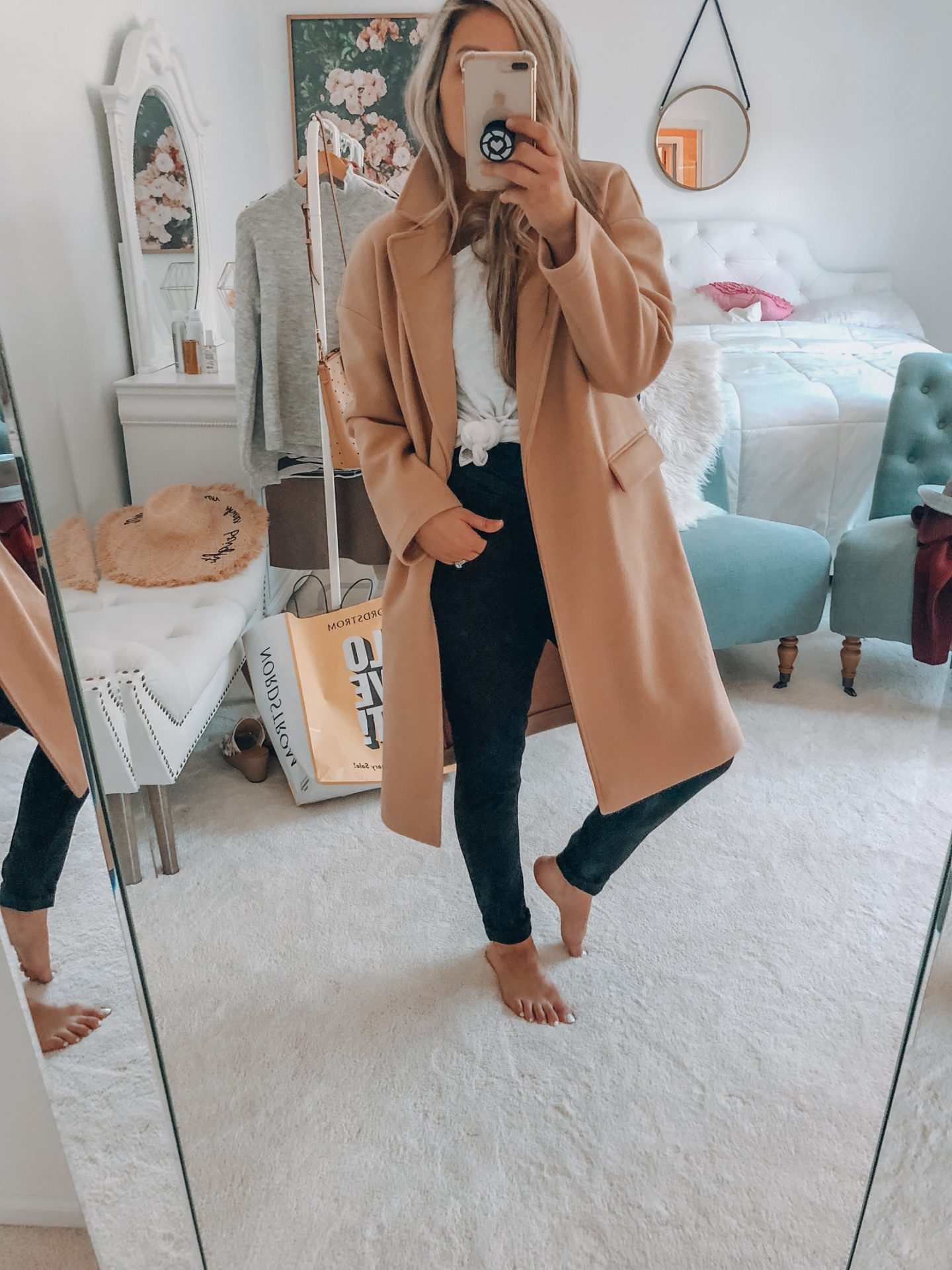 TOPSHOP LILY KNIT BACK MIDI COAT $81.90: Ummm, can't beat the price. Looks like a $300 coat, and the red lining detail is beyond. Really excited to wear this in the fall season. Will look so cute with a plaid scarf! PS: Sizing will be restocked on public access sale day. Wearing size 6 (runs big)
BP. MOCK NECK COLORBLOCK SWEATER $31.90: This color block sweater is just fun. Wanted to a pop of color in my wardrobe, and can't beat the price. Love it tucked into denim! *wearing size medium
BP. TONYA OPEN TOE MULE $49.90: Ah, obsessed with these! Literally look good with EVERYTHING! The grey is sold-out (The ones I snagged) but they'll most likely come back in stock Monday! Keep refreshing your pages, these are worth the wait! *wearing size 9
FRAME LE HIGH SLIT HEM SKINNY JEANS (WYTHE) $143.90: I got a size 29. OK, so these are definitely an investment piece. I can't even believe the beauty of these babes. Feels like actual butter on my skin. They're also extremely stretching (which will help when I lose baby weight eventually). My friend said hers last 3-5 years at least, so it's totally worth it. I love the split edge detail at the bottom — these BP mules look so cute with them!
1901 3-IN-1 TRENCH COAT WITH VEST $112.90: I can't believe I don't even own a trench! I just love the price! It also has a removable vest inside, which I thought was fun. It also adds some layering, which is my ultimate favorite in the fall season. Pair with anything, and you're fall approved! Wearing medium
SOCIALITE TIE WAIST T-SHIRT DRESS $31.90: I knew this one would sell out quickly, it's just perfect! Again, keep your eyes open, they will be restocking. I think it looks just darling with mules and a denim jacket. The ultimate transitional piece for fall! wearing medium (runs try to size)
KUT FROM THE KLOTH DONNA PONTE KNIT SKINNY PANTS $49.90: These look just like black denim, but they feel like sweatpants. Literally butter on my skin. Again, I'm all about the comfort, and these are my number one pick of the sale!