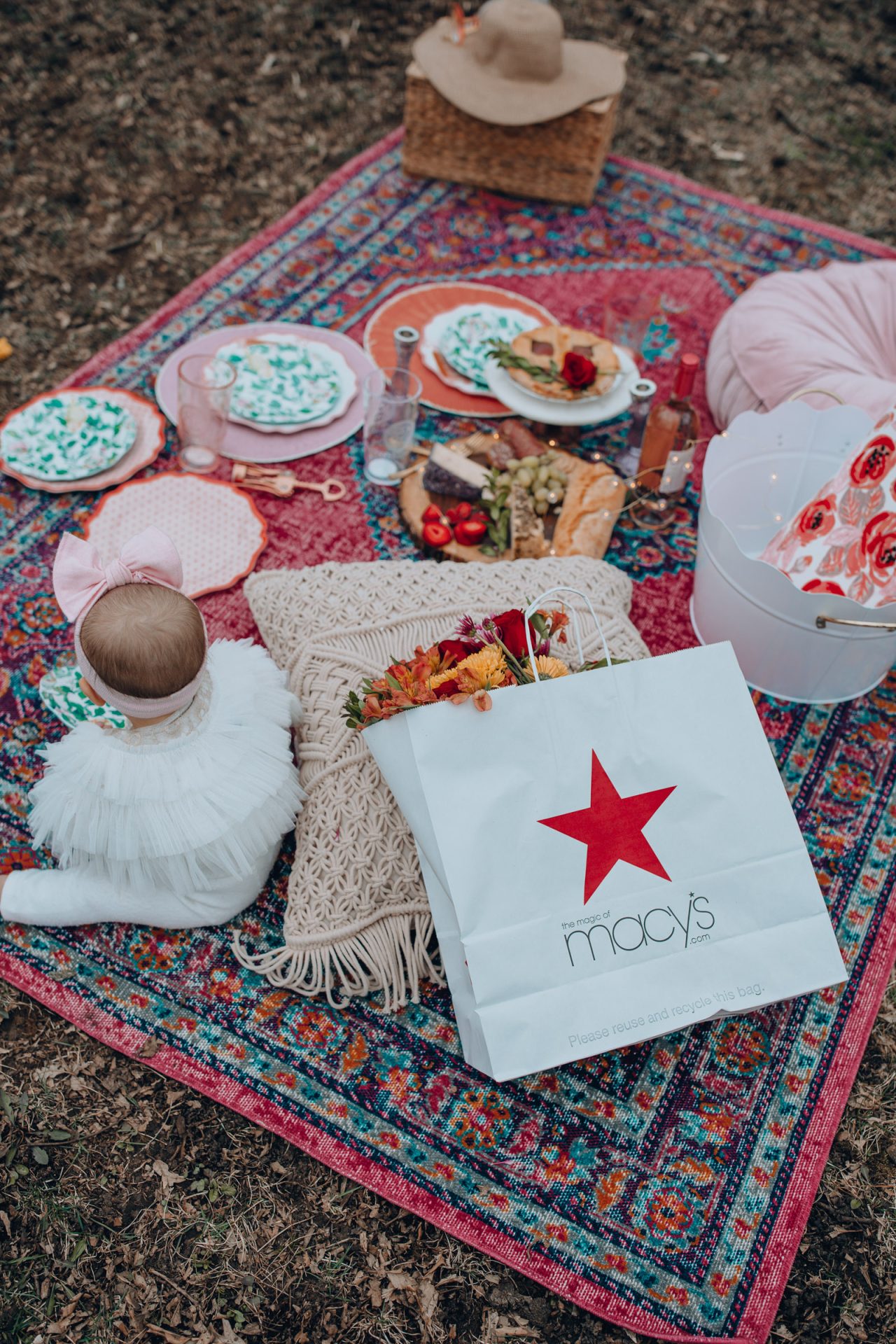 This post is sponsored by Macy's. As always, opinions are entirely my own. Thanks for supporting brands that make Happily Inspired possible! xx
This is officially my first Mother's Day, and I have so many feelings. I wanted to make it extra special, and fun for the entire family (Frankie included!) Harlow has blessed my life in countless ways — it's hard to put it into words. It goes without saying that being a mama is the toughest, most rewarding job on the planet and I'm eternally grateful that I get to work from home to be by her side. She not only brightens every twist and turn of my day, but she makes me a better human. If you aren't already, make sure you follow along on Instagram, I'm always sharing those infectious giggles and chubby baby toes that I can't seem to get enough of.
It goes without saying that being a mama is the toughest, most rewarding job on the planet
Before I jump into the boho picnic deets, I wanted to share an EXCITING announcement. I'm thrilled to be teaming up with Macy's again to celebrate Mom  during their Mother's Day extravaganza happening this weekend (Saturday, April 28th at 1pm) at Old Orchard Mall. Drop in for brunch bites, and pamper yourself as you shop for the perfect gift. There will be sweet treats, a photo booth, complimentary mini massages and manicures (um, yes please!) DJ, and a DIY Mother's Day card station so you can those littles busy. The first 50 Platinum cardholders (raises hand) will receive one complimentary gift-wrapping with any Macy's purchase at the event. It's extremely important to spoil yourself from time to time, and Macy's is putting in all of the work! To learn more about the event, visit here. 
I'm wearing this  floral wrap dress for this Mother's Day picnic.
Here's a fun fact: I worked at Olive Garden during college, and it's the hardest job I've had to date. I'll never forget those 3-4 hour wait times during holidays. Breadsticks are always worth the wait, I get it! On the other hand, who in their right mind can wait that long for food? Not me! (Not to mention the crabby tables I had to deal with post-wait times).
After the Macy's event, head to one of the beautiful parks nearby (there's so many!) and enjoy a picnic with the family. Macy's has adorable picnic baskets and this one is currently in my cart. (Isn't it adorable?) Since I'm a big boho-lover, I opted for bright colors and twinkling lights. I made things easy, and picked up a pre-baked pie (so delicious) and stocked up on some cheese from Trader Joe's. They have so many options for cheap.
I had Kevin roll up our kitchen carpet (literally) and it created a breathtaking sight. PS: I know this sounds strange, but it creates the perfect backdrop. Think of it like this: free family photos! I'm crushing on this Oriental Weavers carpet from Macy's, currently on sale. We just made sure to pat all of the dirt off before bringing it back in. You can also find a smaller one on clearance, and keep it in your trunk. It's also sturdier so drinks won't go flying all over the place. Also, just live a little! A little dirt never hurt anyone, right?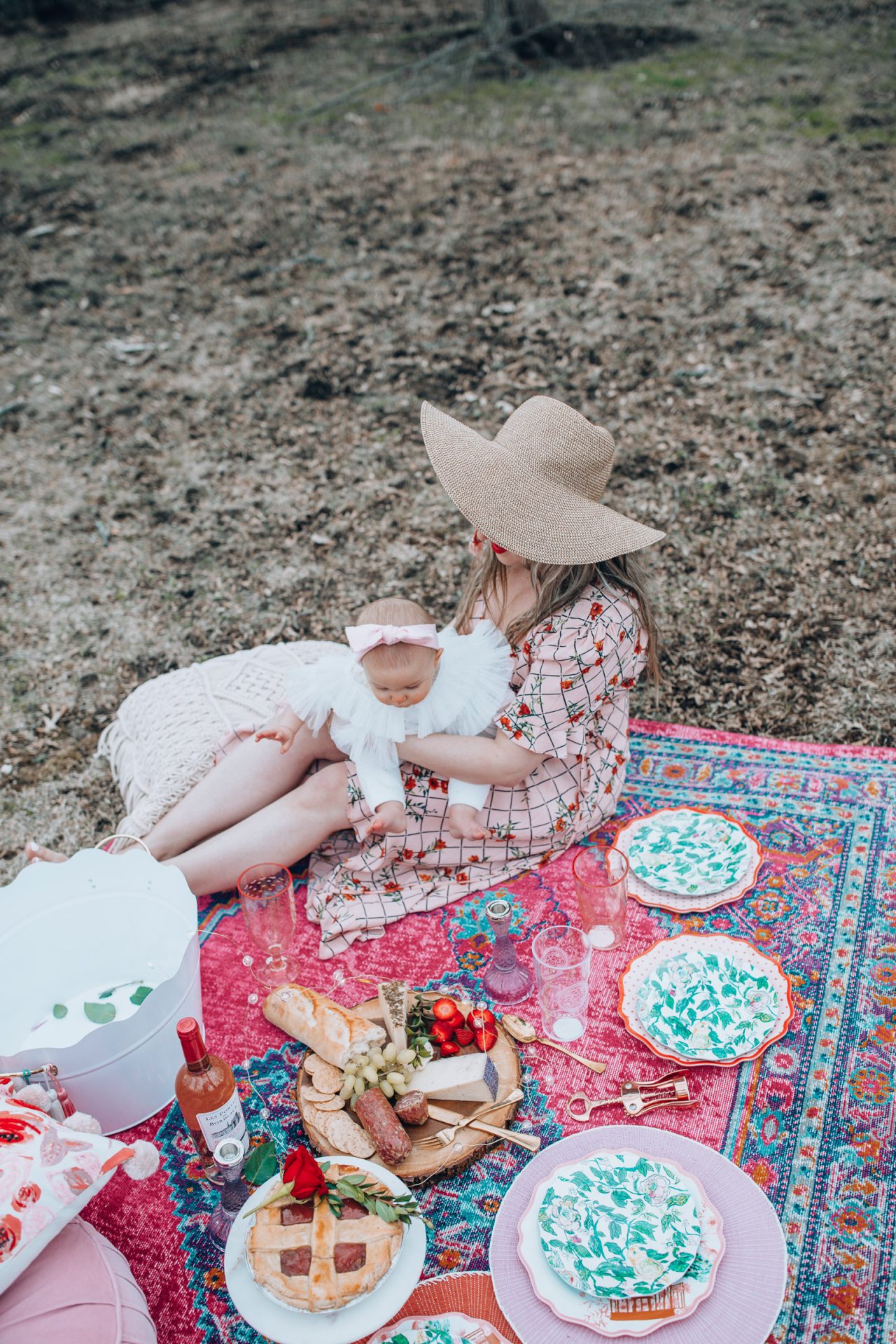 Be sure to check out the full Entertaining category before you go!
SaveSave