*This post is sponsored by Target Style. As always — opinions are my own. Thanks for supporting brands that make Heart of Chic possible!

MERONA ONE PIECE | SHOP IT HERE
Today's post is all about confidence! It's time to start embracing every inch, curve and cranny to your beautiful bod. We've all been there – where we let body fears get the best of us. We actually let those fears take over, as we take a backseat to living. I'm a naturally curvy gal (as seen below) with a big ole booty, thighs & hips. There's a lot to love, and I most definitely resented my curves for many years.  (Especially when my girlfriends look like super-models). Because I was absorbed in insecurities and worries, part of me checked out. This shame/guilt would eventually lead to missing out on some amazing times with friends. Soaking up the sun felt like a chore, and I couldn't even entertain the thought of a beach-day with friends. Have any of you experienced something similar? I would love to hear your comments below! (Girl power!)
XHILARATION CROCHET FLOUNCE BIKINI
Fast-forward a few years, and I'm teaming up with Target (pinch me) to break those body barriers once and for all! (Cue the confetti). With hundreds of styles, shapes and accessories, Target is making it easier than ever to find your secret weapon: confidence! (Thanks to their free shipping and free returns, you can shop online, try on your selections in the comfort of your home, and just send back whatever doesn't work.) Oh, and instead of hiding insecurities – I'm embracing each and every one. There's no time like the present to enjoy these little 'life' moments, because you'll carry them throughout the rest of your life. As I tried on my favorite styles, I immediately felt relieved. I decided to make this year full of confidence (on the beach, and beyond) and fun! My #NOFOMO (no-fear-of-missing-out) attitude is out to shine brighter than ever before.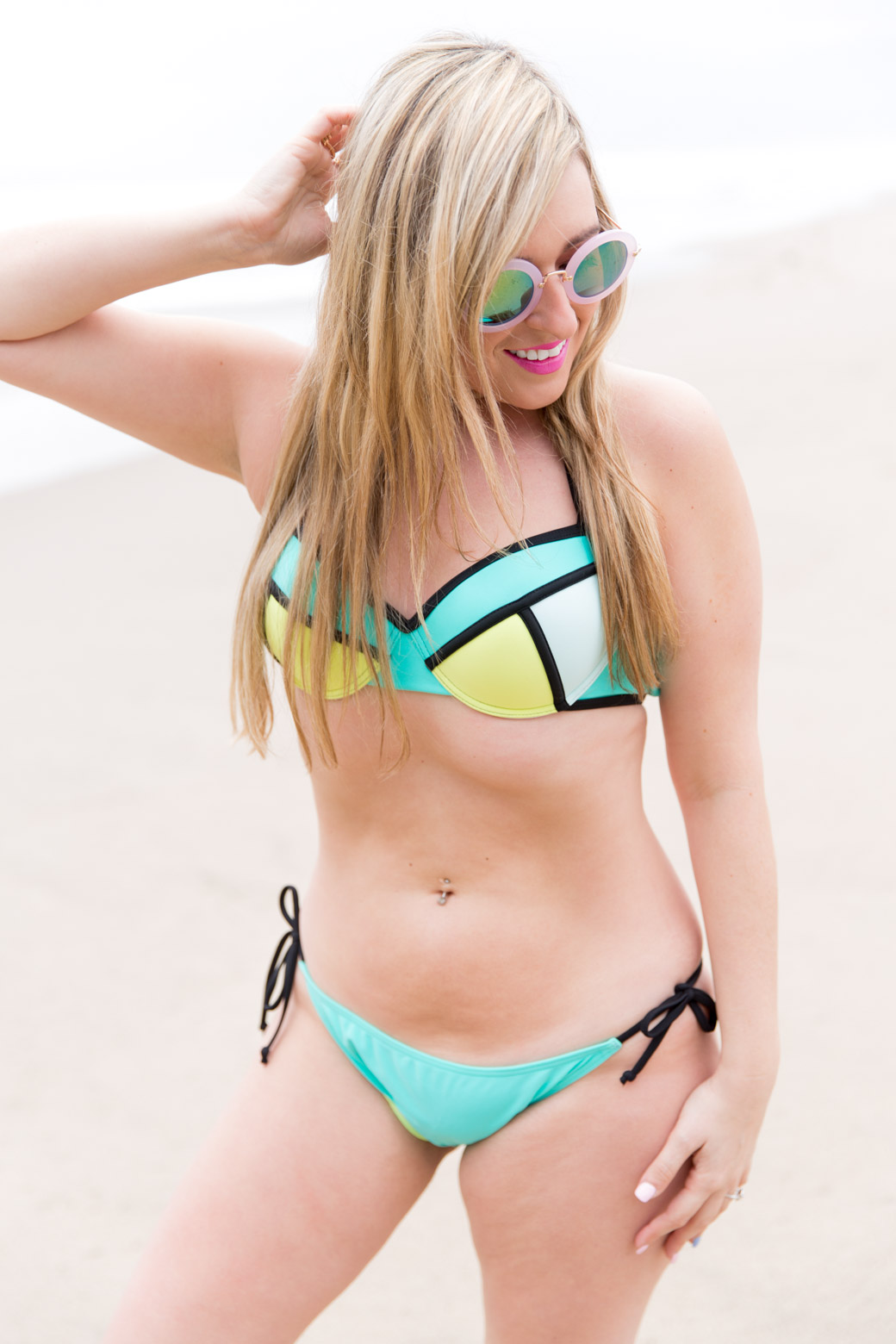 XHILARATION BANDEAU PUSH-UP BIKINI
A FEW TIPS TO KEEP IN MIND WHILE FINDING A STYLE

Have a positive attitude while trying on each style, there's definitely one for everyone out there!

What are your plans this summer? If you plan to frequent the lake-house (tubing, anyone

?

) – a one

–

piece is a great option! If you're planning to soak up a lot of rays – a 2-piece may be the better option.  (Or both!)

Tell yourself something nice out-loud. Those mini pep talks are good for the soul!

Have patience: Every suit is meant to fit a little differently – sizing changes from one suit to another.

Don't focus on the size – just whatever feels the best for/on you.

Have fun – sun's out!
Now that I've found the styles I love, I'm going to have the ultimate #NOFOMO summer! I encourage each and every one of you to join in on the fun! Simply tag your swim goals with the #NOFOMO hashtag, and encourage women to join the movement of a positive, empowering swimsuit season. We're all in this together – and I can't wait to see you out there! This #NOFOMO summer, I'm going to dance in my bikini like nobody is watching. (I'll make sure to post to Instagram, so you can see the proof!) Share below: What's your perfect #NOFOMO summer? What will you vow to do this year that you haven't done in the past? Comment below!
Find your style @targetstyle
PHOTOS VIA // Saad Hameed