This post is in partnership with Bed Bath & Beyond. A brand I love very much!
Happy Derby weekend! I'll be enjoying the excitement from the couch with Harlow and Kevin but I'm totally at Churchill Downs in spirit! It's such a thrill seeing the fashion, and I'm always blown away by the creativity of those hats. It's definitely a bucket list item for me to go someday, and I'm curious — have you been?
Since the weather has finally turned, we've been spending more time outdoors as a family. Chicago doesn't take a second for granted, that's for damn sure! Ha. When I was browsing Bed Bath & Beyond for some patio pieces, I came across this eucalyptus wood cart, and fell in love instantly. It has 2 wheels for easy transporting, and it's so adorable. I thought it would be perfect for entertaining, grilling, and housing plants. Bar carts can turn an empty space of the house into the life of the party. Let your personality come out a little, and showcase your favorite spirits and glassware.
Side note: I'll be doing a patio post soon, so definitely stay tuned. I've got the home decor bug! To celebrate my new bar cart, I thought I'd share how I styled it for the Kentucky Derby. I kept it pretty simple (since I didn't want to take away from the cart itself — it's so pretty) so everyone can accomplish this easily and effortlessly.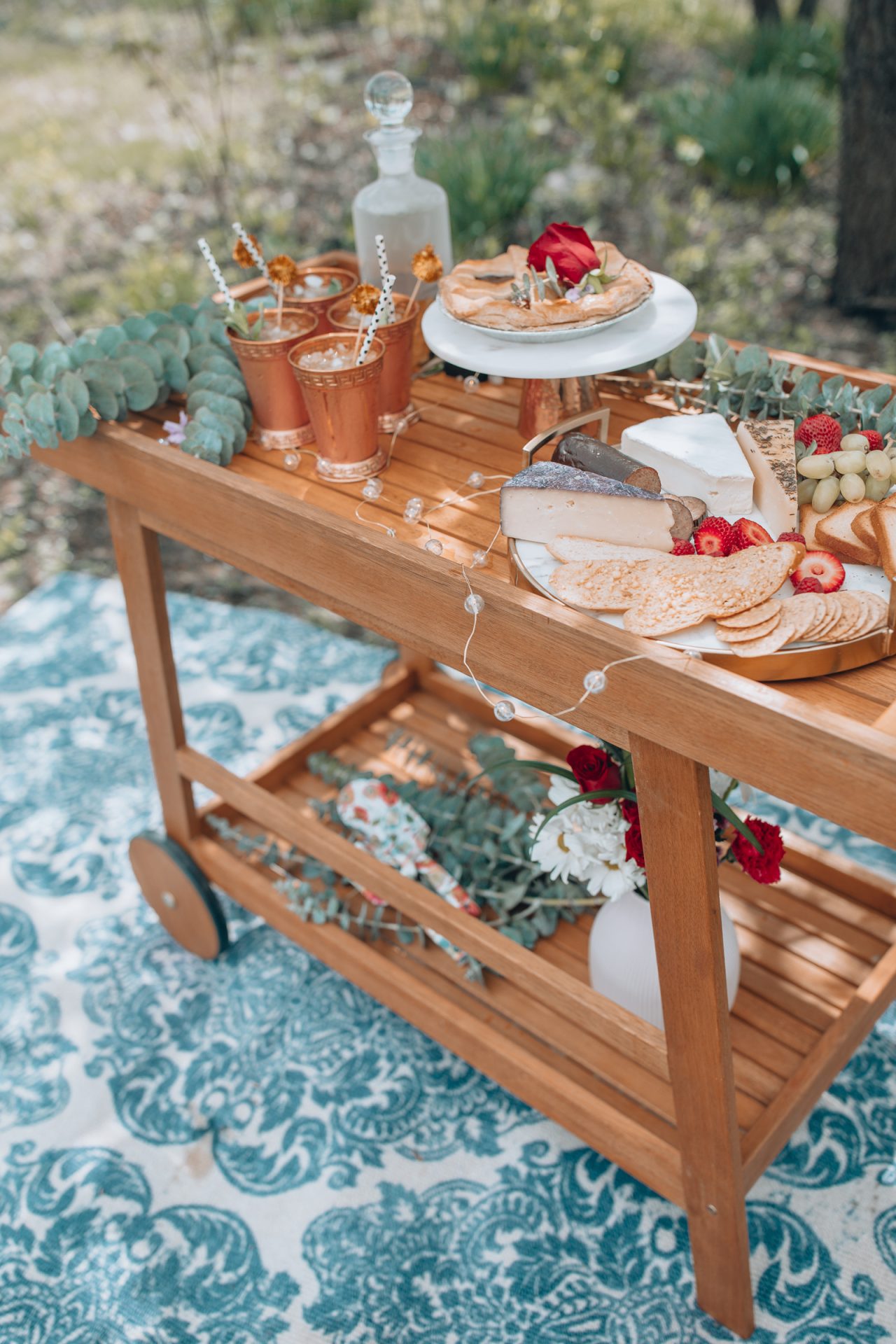 Here are my favorite tips for decorating a Kentucky Derby bar cart: 
KEEP IT SIMPLE
Don't overdo it. Personally, I'm not a fan of clutter. You don't need to fill every inch of the cart with something — just focus on the essentials. For the Kentucky Derby, you obviously need mint juleps! The copper cups are a Derby classic!  I also included a couple of my favorite snacks that are always a crowd favorite. I tend to go for a charcuterie board (always looks so pretty) and a store brought pie with some floral details. Not only do these taste delicious, but they look the part too! I also added some battery powered lights for an extra twinkle. If your party is taking you into the evening, it looks beyond cute at sunset. Definitely my favorite part of the outdoor cart! 
GO GREEN
For those of you that have been following my blog, you know that I'm obsessed with anything floral. (my website may be a dead giveaway) We also had a flower wall at my wedding, and it made the perfect backdrop for our vows. Fresh flowers and greenery are always a good idea. They add a dose of happy, and they smell delicious. I picked up some fresh eucalyptus at Trader Joes (so affordable) to give my cart a bit of a boho vibe. I also made sure to include a few roses since Derby champions are celebrated with red roses upon victory.
LET YOUR PERSONALITY SHINE THROUGH
What do you love? Books, music? For me — it's rugs. I literally can't get enough. The addiction is real, and it happened overnight. I thought it would be cute to add a rug underneath the trees to create some wanderlust. With the twinkling lights, it creates the ultimate sight. Now that the trees are finally blooming, it's picture perfect, truly! Definitely one of the reasons we moved to the Chicago suburbs — our own yard!
What are your plans for Derby weekend? Be sure to check out more home decor posts before you go!
SaveSave