*This post is in collaboration with Walmart. All opinions are entirely my own. Thanks for supporting brands that make Heart of Chic possible! xx
The average family will spend roughly $20,000 on child-related expenses in the baby's first year of life. That's a lot of dough. My husband and I are self employed, and while we absolutely love what we do, money is never guaranteed. (the one downside of working for yourself) For our family, it's extremely important to budget and shop smart — we're obviously learning as we go since we're first time parents. It takes time to navigate this journey! That's why I'm really excited to team up with Walmart in a 3 post series highlighting a few of my favorite things. From home to baby, apparel and food — it's a one stop shop on a budget. Today, I'm sharing some money-saving baby hacks and my new favorite way to shop all things baby. 
The average family will spend roughly $20,000 on child-related expenses in the baby's first year of life.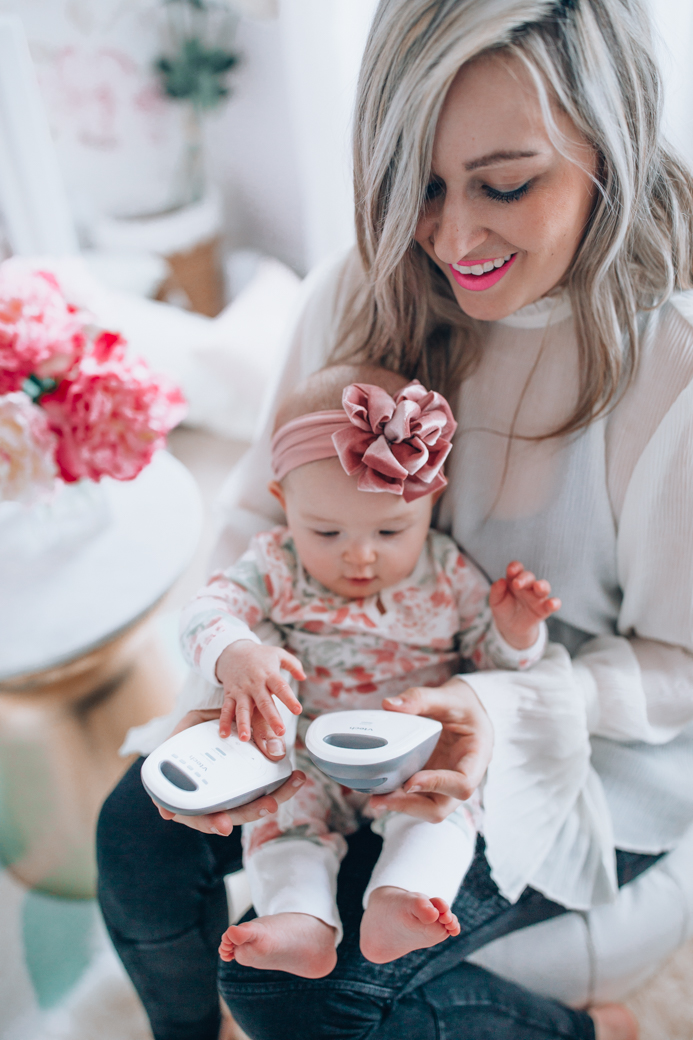 HOW TO SAVE MONEY ON BABY
Shop Online: 

walmart.com

 is extremely easy to navigate. Instead of packing Harlow up in the car, and racing the clock in-between nap times — I order most everything online. I literally live for the internet (not sure how our parents did it back then!) Walmart has 2-day shipping on most everything, and it's completely free! I just purchased these 

VTech audio baby monitors

, and they came so quickly. Also, I had a few friends recommend a simple monitor for the nighttime. Honestly, I like that these are lightweight, and the reviews are awesome. Another reason why I prefer shopping online, because I'm a total review buyer! It will save you the hassle of returns later on. There's usually promo codes available that could save you a few extra bucks, too. I'm an online shopper through and through! Are you?
Switch to store brands: You go through a lot of diapers/wipes. Actually, they estimate you use over 3,000 diapers in their first year of life. Especially in those first few months (nobody warned us, ha!) When you switch from big national brands to the store brands — you'll instantly save hundreds. This goes for everything, not just baby brands.

 
Make your own baby food: This isn't an option for everyone (I can't always do this myself) but making your own baby food is super cost effective. Whenever you purchase prepackaged foods, the cost is always higher. Companies upcharge for the convenience, it's a fact. Again, this doesn't only go for baby food. Making your own food is also a great way to control nutritional value and it seriously makes a ton! In many cases, it will last for weeks. Simply keep in the freezer for a hassle-free feeding. It's fun to experiment with different textures/foods. Pretty sure babe will approve, too!

 
Keep it simple: As a first time mom, it's easy to get carried away with all of those baby products out there! Truth of the matter is, babies don't require much. Sure those fancy swings look cool, but are they necessary? My favorite baby products are simple — in fact, my mom used to use them on me back in the day! The 

baby bjorn bouncer

 was a lifesaver for my little Harlow! It's also been around for many years. 

   
I did a lot of research on baby products, and Walmart's quality is unparalleled. Always, I admire the fact that all items are reviewed (I'm a total review buyer as mentioned above) as this eliminates return hassles. I made it a priority to ensure that products weren't a complete eye sore in the home, and these definitely did not disappoint. They all fit into my home beautifully, and the shopping experience was easy as pie! Mom win!