By: Allie Kleinman | Organized by Allie
It's the most wonderful time of the year… and even more wonderful to be back on Heart of Chic sharing some of my favorite holiday hacks for organizing and decorating. I really love this time of year and appreciate the coziness of it, the extra time spent with family and friends, and the holiday treats and parties. Oh – and the sparkles! The lights, the glittery ornaments and decorations, and the sequin holiday attire… it doesn't get much better! I've rounded up a few of my favorite decorating and organizing tips to help you maximize your enjoyment this holiday season – and minimize the stress!
Keep it simple.
As with home décor and clothing, my approach is quality over quantity; I believe in having a few key holiday pieces that you truly love and are so excited to put on display year after year! When you add new items to your holiday collection, consider if there are other pieces that you have outgrown and can donate. Having less to take out makes taking everything down afterwards so much easier!
Place a rosemary tree in your kitchen.
This is a fun and natural way to add a festive touch to a room that normally doesn't get much holiday decorating love. It has a fragrant smell and you can even decorate it with (light) mini ornaments! There's no need to run to the store whenever a recipe calls for rosemary, and you can make it a goal to use the entire tree. Place in sunlight spot to get the most from your tree. It's also a good excuse to spend some time on Pinterest looking for new recipes. 
Put that cake stand to use – and not for cake!
If you've read some of my other pieces, you'll know that I'm a big fan of repurposing what you already have. If you're last minute to your holiday decorating, this is a simple and easy centerpiece trick. Display ornaments (or pinecones) on a cake stand for instant festiveness!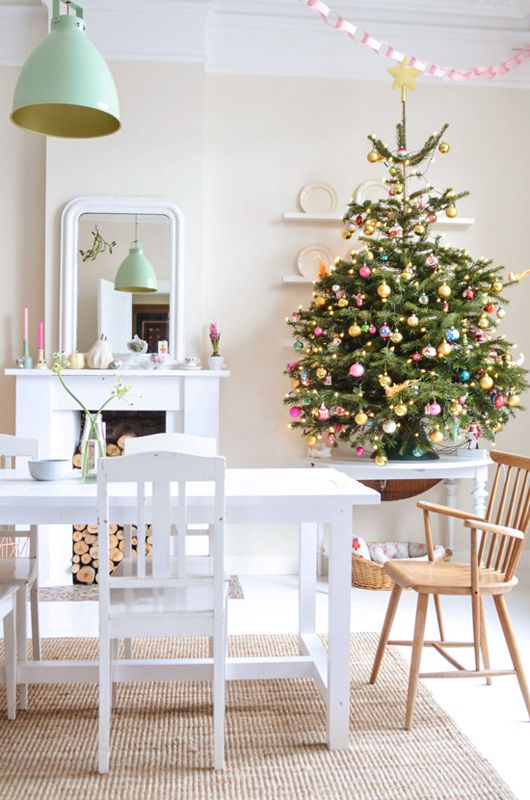 Take photos.
Once you've perfected your holiday look, take some photos so that you remember what goes where year after year. You'll be surprised at the amount of time this can save. Store the photos with the holiday decorations.
Don't forget to wrap!
For many people, gift giving is a big part of the holiday season. Set up your own gift-wrap station to simplify the wrapping process. For die-hard crafters and gift wrappers, there are products out there that you can buy or you can DIY your own station. I like using a simple trash bin for storing wrapping paper, or using a garment bag for hanging storage in a closet. One of my favorite tricks I've seen out there is to use a standing paper towel holder for ribbons and ta-da! you have a system that's mobile, easy to store, and efficient!
BONUS: Tame those lights!
How do you store your holiday lights? This is definitely a problem area for many. Nothing like pulling out your decorations only to spend a couple of hours untangling lights! I recommend wrapping lights around a tension rod and storing in a plastic bin to avoid a massive tangle, or purchasing a ready-made storage box (yes, they do exist!). Also, if possible, replace any burned out lights before storing away for the year. Again, both of these ideas save time and reduce stress for the following year.
I know there are countless ideas out there on holiday organizing and decorating – what are some of your favorites?  Please let me know in the comments below. And a special shout out to Arin and all her Heart of Chic readers for a happy and healthy holiday season! Enjoy!
For more storage/organization hacks, check-out my website here!