We all love a great dessert right? How about the perfect dessert table? Today I am partnering with Philadelphia Cream Cheese to share with you my top tips to creating the perfect dessert table. As always, all opinions (and taste buds!) are my own.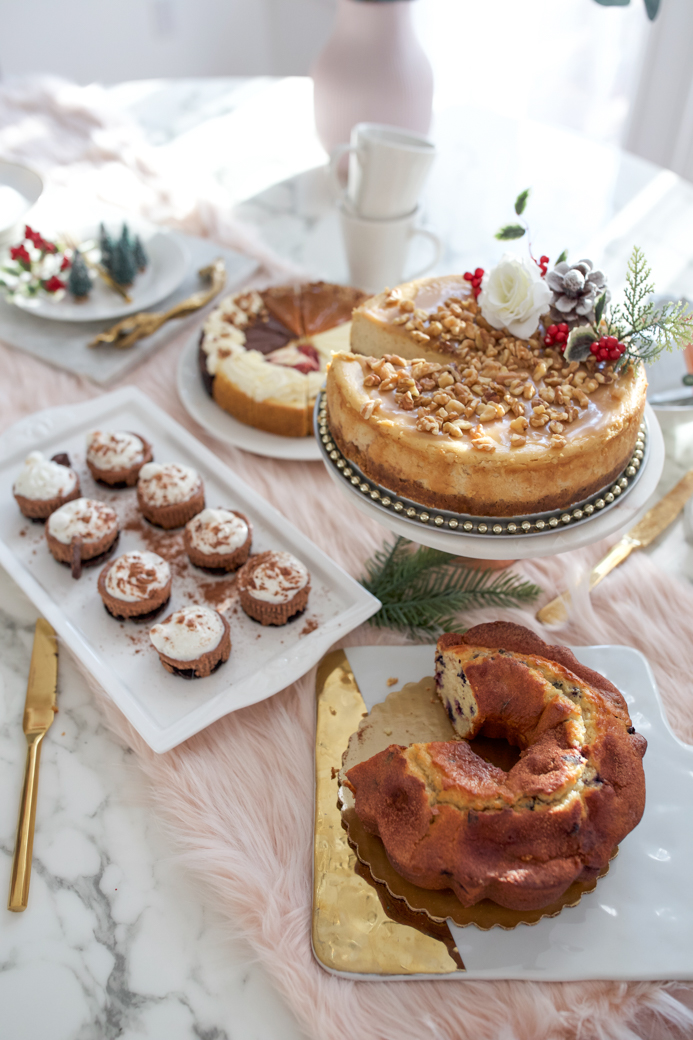 'Tis the season to eat! This is truly my favorite time of year. A time to slow down, reflect and most importantly: chow down with loved ones! I don't know about you guys, but I literally live for dessert. When you think back to a memorable occasion — baby shower, birthday, wedding reception, what do you remember the most? (besides the obvious, of course) for many, it's the dessert table. Whether it's your magical details coming together, or the decadent, beautiful spread — it will most definitely leave a long lasting impact on guests. 
Today, I'm teaming up with the wonderful friends at Philadelphia Cream Cheese to bring you 5 easy dessert table tips. Just in time for the holidays! Don't worry, these require zero creative skills, so no excuses! Whether you're hosting a party for 2 or 20 — these ideas will ensure a successful, memorable party for years to come.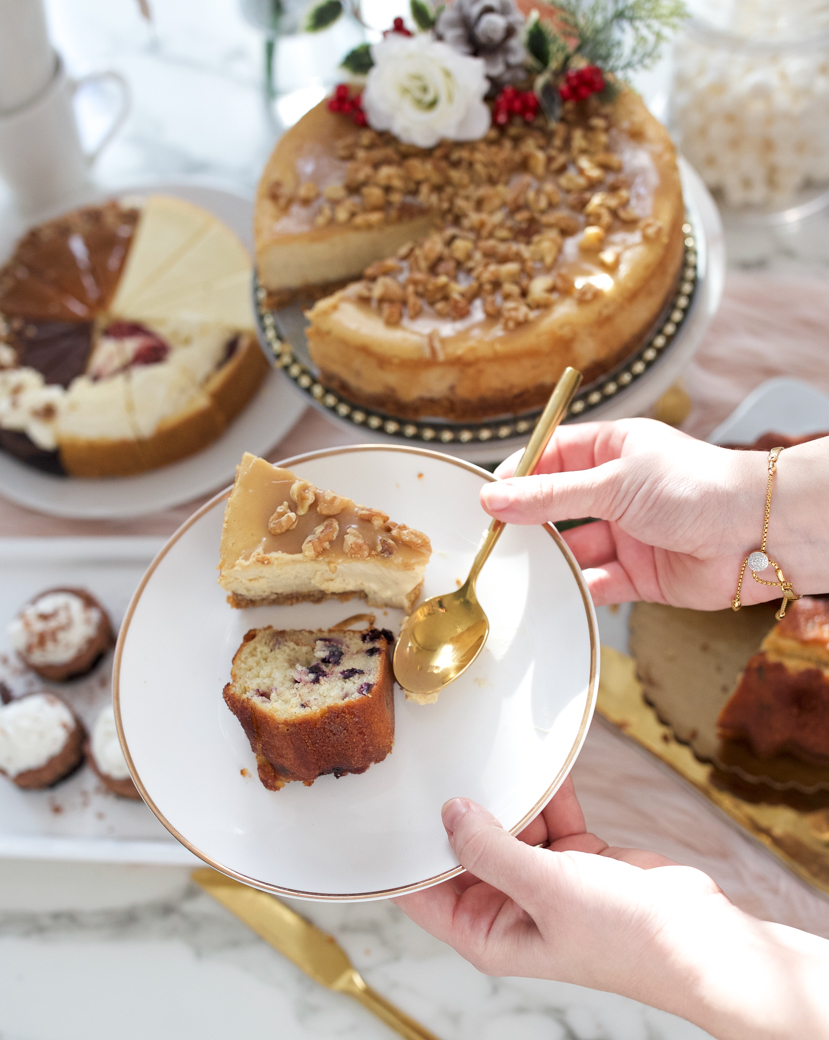 ---
DESSERT TABLE
---
1.  Have a Star of the Show: I made this delicious Spiced Maple Walnut Cheesecake  that was beyond easy, you guys! I decided to make this the star of the table, and decorate around it. It creates an element of surprise with the faux florals, and it looks absolutely beautiful. Instead of dressing up the actual table, add some elements of surprise to the food.
---
Master tip
: Make sure to cut out a slice before placing down on the table, so guests aren't intimidated. It almost looks too pretty to eat, so people won't want to dig in. Make sure it's inviting, and enticing. I also made these adorable
Hot Cocoa Cheesecake Minis
and they are such a hit! Don't worry about imperfections, as they create some charm/character to the dessert spread. Again, adds an element of surprise that people aren't used to seeing. I mean, hot cocoa cheesecake mugs — what's better?
---
2. Keep Your Display Tight: Too much table showing looks unfinished. This is one of the mistakes I see a lot! Don't worry about filling every inch of the table, instead keep your display tight. Bring everything close together so it actually looks more abundant and inviting. If you need to fill in some pockets, definitely invest in some decorative items that you can use for years to come. It's important to add some height with these objects (we'll talk more about that below) so think candlesticks, cake stands, etc. 
keep height in mind when creating the dessert table
3. Height is Key: When you're setting up a table, you want to strive for balance. I generally start from the center, and move outward. In this dessert spread, the Spiced Maple Walnut Cheesecake is creating much of the balance since it's up high (on a cake stand) and decorative. It also keeps the eyes moving. To keep things balanced, I used this as the focal point and worked around. I also added faux plants (will talk more about that below) and some little decorative charms for some extra festive flair. Important to note: If you don't have proper serving trays/cake stands: Use bowls and put them upside down, this will give you height.
4. Don't go Overboard: It's so easy to go overboard with food, but most likely, your guests won't eat it all. Just because it looks pretty, doesn't mean it will be indulged. Remember, you can add some decorative elements to keep things filled/symmetrical. A pro tip: Invest in some 'doggie bags' so guests can bring dessert home. There's nothing better than having leftover dessert, right?
5. Store Bought is A-OK: The holidays are busy enough, so trust in your local store to do the magic. Most of my dessert spread is store bought. Just make sure to add variety to your section with different textures/flavors. I added a mini hot cocoa bar for guests who wanted something warm and festive. Just make sure to keep the eyes moving with levels, rows and height. For my dessert table, I used 4-5 items
DESSERT TABLE BONUS TIP
6. *Bonus Tip!: Check your local dollar section for cute decorative charms. I found these mini trees, and placed them around the table (would also look adorable atop of a dish) and faux festive berries to dress up the spread. You can literally create an amazing dessert table with $20 or less. I also used an adorable blush faux fur table runner. It's unexpected (since it's pink) but it's so cozy and chic. I wanted to go with a blush/gold theme — doesn't always have to be red/green, you know! This way, you can use year round. I'm all about using pieces throughout the year, so you get the most bang for your buck.