Healthy dinner recipes that actually taste good! 
As much as I love to embrace spring, that means swimsuit season is just around the corner. (Dreading it!) I'll be totally honest — I'm feeling insecure with my postpartum body. Don't get me wrong, I'm extremely proud of what my body has accomplished, but it's been difficult to accept this new.
Here's the catch: I have not worked hard to get those LB's off.
I've only been to the gym once since I've had Harlow (8 months ago) and I haven't put in the effort to eating healthier. (Totally cringing as I write that, ugh!) As I've started to venture into this whole eating healthy thing, I've learned that healthy meals can taste really good. Today, I'm sharing some easy healthy recipe ideas for the spring/summer season in hopes to get me back on track! Doesn't the summer squash basil pasta look delicious? Here's to eating lighter, and feeling lighter! Ha.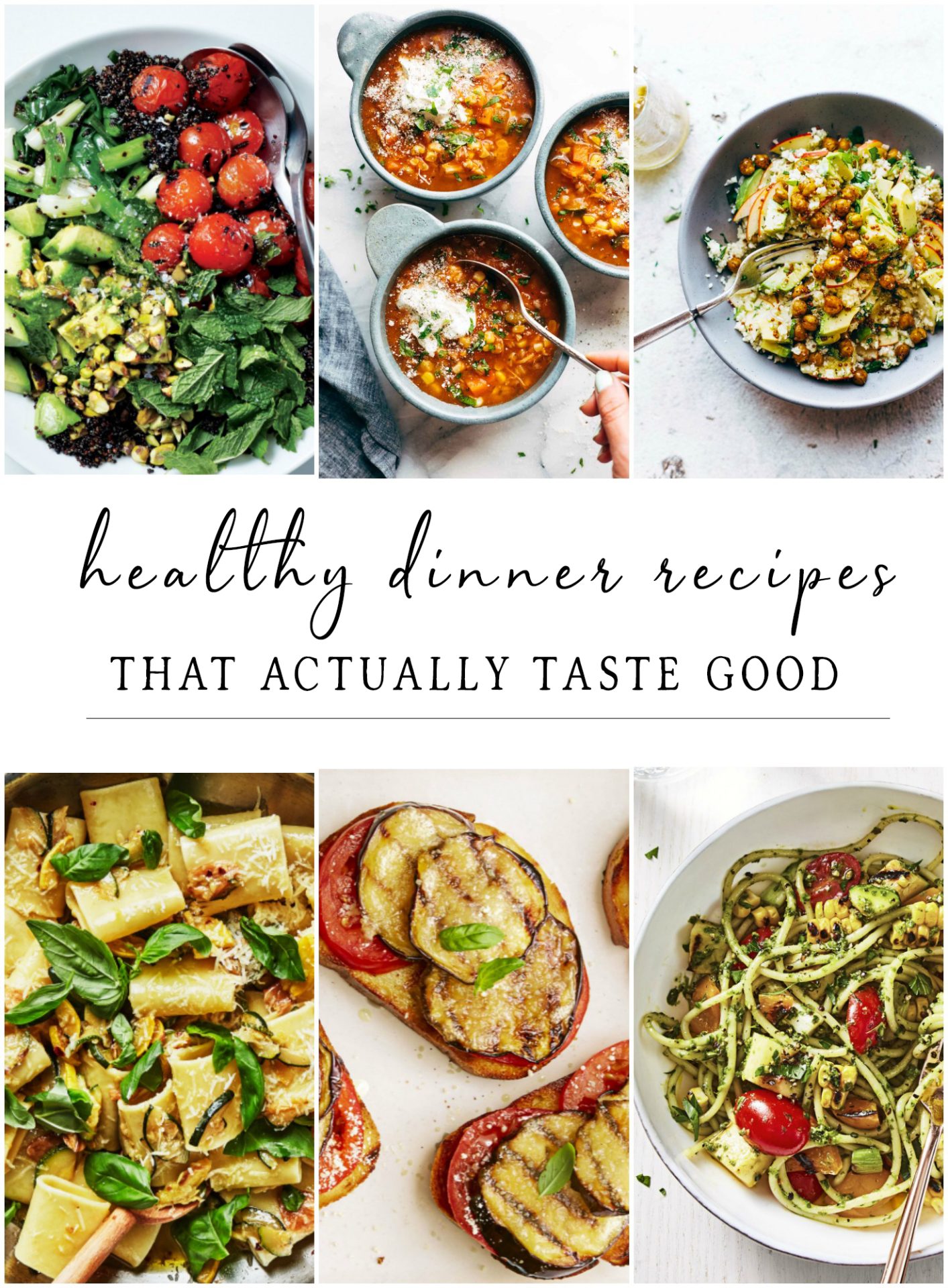 Healthy Dinner Recipes
Delicious summertime veggies, with a warm pesto sauce that's perfect for entertaining!
Smoky eggplant, crunchy Italian bread and tomatoes will put your taste buds in a fiery frenzy. These taste so unbelievably delicious charred on the grill! A perfect meal for those busy weeknights, and double the fun for lunch leftovers tomorrow. Yes, please!
Summertime sweetness in a bowl. An easy, healthy(ish) recipe that will be a sure hit at any summer soiree! I've clearly got a thing for basil and pasta. Pass the yum!
Toasted pistachios, creamy avocado, quinoa and grilled vegetables make this salad a home run. Light, refreshing and every ounce of delicious. I'm all about presentation, and this number will be the prettiest plate at the party. It's the anthem of summer in a bowl.
Fresh lemon, herbs and garlic — bright and summer veggies that will cost you only 400 calories. I have a weakness for chicken skewers on the grill! These are definitely on repeat all season long.
My husband loves soup, and this blend is nothing short of delicious. Comforting, fresh and packed with summer produce goodness. We live nearby a few farms, so I definitely plan to shop local and pick up some yummy ingredients for this dish! Perfect for lunch, dinner and everything in between.
Another Pinch of Yum recipe because they're THAT good. My favorite part about this one is the roasted spiced chickpeas. Definitely adds a fun element to the dish. Oh, and it only takes 20 minutes to make. The perfect lunch/dinner companion. Am I right?
What are your favorite healthy dinner recipes?