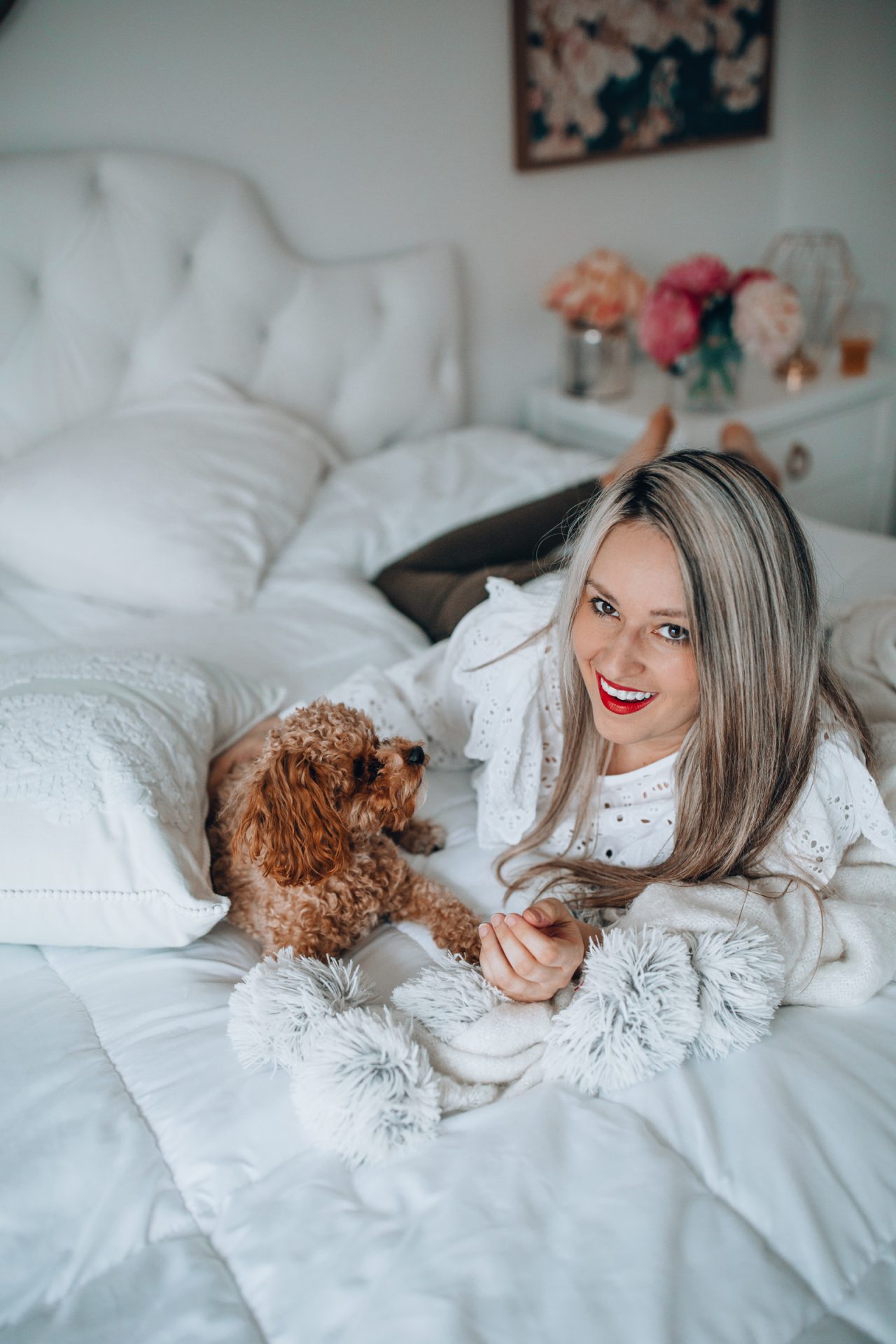 This is a sponsored post written by me on behalf of Freshpet. All opinions are 100% mine.
It's officially been one year with our beloved Frankie bear. Most days are spent chasing her around the house because she's stolen yet another one of Harlow's toys. (eye roll) Did I mention the part where Frankie was recommended for the 'advanced' class in puppy training? She also enjoys barking as soon as we put Harlow down for a nap. Sound machine inventors, I owe you. But, that Frankie — she has the biggest heart (probably from stealing ours). I honestly can't imagine life without her in it. It's our beautiful chaos that I wouldn't trade for the world. The bond these two have, it's indescribable. Frankie always manages to put a smile on Harlow's face (even when she's irritable). I can't even take her out without people stopping us on the street, she is seriously the cutest. dog. ever.
Since Frankie is such a valuable part of our life, we're extremely picky when it comes to dog food choices. I've heard such nightmare stories about animals getting sick from food, that I'm extra cautious with the brands we choose for her (especially because she's small). We recently discovered Freshpet, and it's 100% farm-raised meat with zero additives or preservatives. All natural with no grain, gluten soy or fillers. Frankie's favorite is the'Freshpet's Tender Chicken Recipe for Small Dogs — It's tender, with bite-sized morsels and has targeted levels of protein and fat to support small dog high energy requirements (I repeat: high energy). It's literally the next best thing to a home cooked meal for your pet, and she absolutely loves it. (Find Freshpet near you)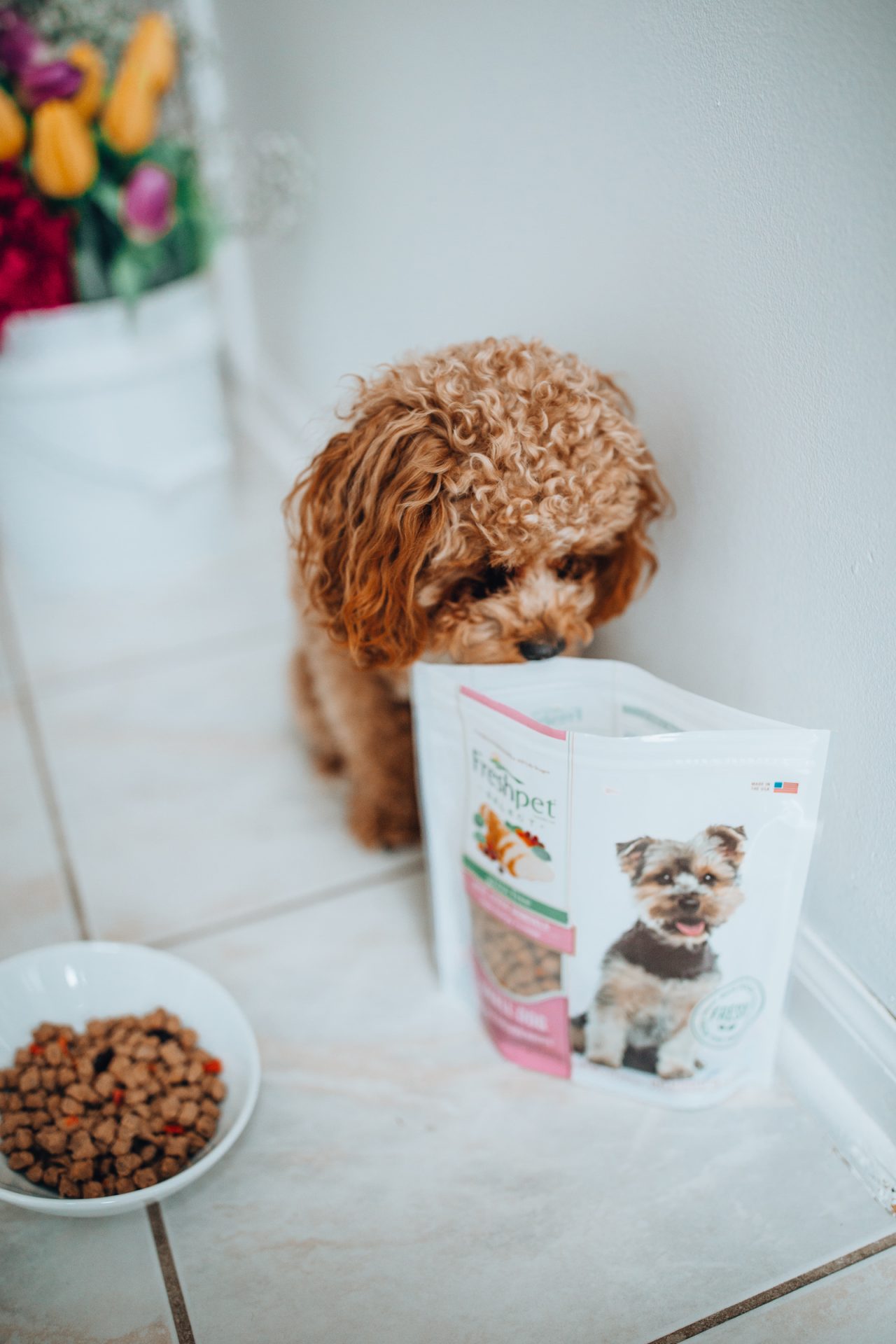 I grew up with animals, it's all I know. Nothing better than coming home from school to be greeted by your biggest fan. Not to mention, taking away the pain on those not-so-fun days. I wanted my babies to experience this type of love. There's literally nothing better than a puppy bond! After researching the best ways to transition a dog to a newborn (would you guys like to see a post on this?) I came across countless, scientific articles that state the health benefits of dogs on newborns. I know dogs play a large role in therapy — but, I had no idea just how significant dogs play in a baby's health. Here are some of my favorites:
Studies have found that babies who grow up with pets (dogs and cats) are actually less likely to become sick than children who are without a pet in the home. Researchers can't pinpoint exactly, but they think it has something to do with what pets carry into the home from outdoors. Helps strengthen immune system to fight off assaults, etc

Researchers also found that babies with pets are 44% less likely to develop an ear infection (isn't that amazing?)

Kids with dogs in the home were illness free 73% of the time opposed to only 65% (without animals)

The presence of pets has been linked to lower risk of allergies among babies

Dogs can help children stay safe: dogs hear/smell things that the average human cannot. Frankie is only 8 pounds, but she is mighty. Always barking at the sight/sound of strangers keeping our family alert. She's a great 'security guard'
Make sure to follow along with Freshpet on Facebook, and Instagram! Be sure to check out more Motherhood posts before you go!