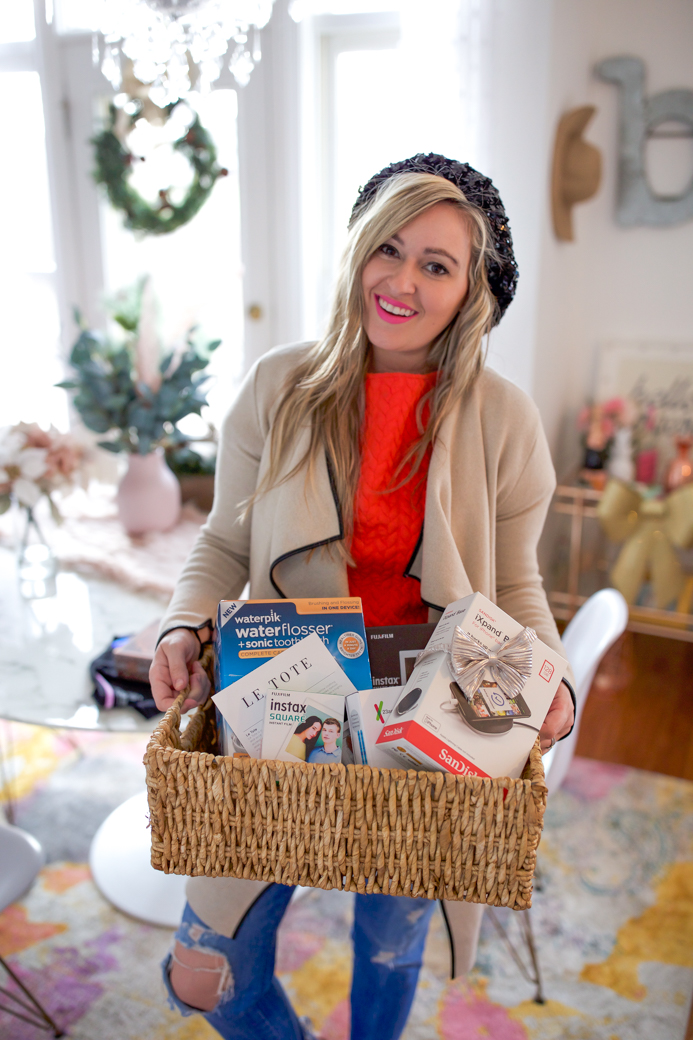 You guys, we literally have 12 days of shopping left! How did that creep up on us so quickly? I absolutely love buying gifts for family/friends. I really put a lot of thought/detail into each person to make it extra memorable and meaningful. The holidays (like many) are my absolute favorite time of the year. There's nothing better than wrapping gifts with Christmas movies in the background. Last year, I even offered a gift service to help my readers find the perfect present for those 'hard to buy' for. (I'm always up for the challenge, and like I mentioned above, I love finding gifts!) Today, I'm sharing some last minute gift ideas for those toughies we all know/love. It's always my mom and husband that stump me the most! What about you? I made sure to include gifts that wouldn't get tossed in the closet. Products that will actually get used — No mug here!
Waterpik: Complete Care 5.0 Water Flosser and Sonic Toothbrush // The holy grail of toothbrushes, folks! I'm obsessed with this one because it's not only chic (so important, ha) but it's extremely practical. This gift will literally be used 2-3 times a day, and the water flosser is a total game changer. The water flossing removes the sticky plaque that forms along our gum lines. It also feels really good! (nerd alert!) A great gift idea for your parents/significant other.
Le Tote Fashion Subscription Box: Subscription boxes are always a great gift because they're practical (sense a theme yet?) and it allows the receiver to pick-out their favorites. Le Tote is a fashion subscription box that partners with more than 150 million brands. You're able to build your own style box of 3 clothing items and 2 accessories. You can choose to keep the item(s) (20-50% off retail) or send back with free shipping/returns and swap for another. It's beyond easy, and the customer service is stellar. Definitely a fab gift for mama!
23andMe: DNA Ancestry Kit: Definitely my favorite gift idea of all! This gift is so personable, and educational. You're able to gain a newfound  appreciation, love and respect for your family after learning more about the genetic connections you share. All you have to do is order the kit, follow the instructions (spit into the tube) and register your sample. In 6-8 weeks, you'll receive an email to let you know your reports are ready in your online account. It's like Christmas all over again. What are you made of?!
Sabon: Cheers to Rose Tea Kit: One of my favorite beauty brands! Sabon's best selling body scrub and body lotion are packaged so adorably for the bubble-bath (raises hand) fanatic in your life. The rose tea scent is beyond heavenly, and a great gift for your college at the office since it's perfect for on-the-go.
Sandisc: iXpand Base: The base is a hassle-free solution that lets iPhone users automatically save photos, videos and contacts, all while charging your device. This is perfect for just about anyone — My entire camera roll consists of my baby girl (only 3 months old) so this is definitely my go-to at the end of the night. Back up those memories!
FUJIFILM instax SHARE SP-3 SQ Printer: This amazing device actually allows you to print any photo taken with your smartphone. You can easily print images from Instagram, Facebook, Google Photos, and beyond. You can even print photos from Instagram based on a specific hashtag. It's also very chic — I keep it on my desk! I love having real photos again (not just on my phone!)
Arctic Cool: Instant Cooling Shirt: This technology is super cool for your workout buffs! It has a fiber-based, cooling management system to move moisture away from skin — this actually lowers the temperature of the fabric so you won't overheat. My husband plays basketball, so this is definitely up his alley!
This post is in partnership with Babbleboxx. All opinions are entirely my own. Thanks for supporting brands that make Heart of Chic possible! xx