I just had to share Target's new baby line: Cloud Island. It's like Pinterest and Target had a baby and birthed the most beautiful collection of all time. OK, maybe I'm getting a little carried away, but it's seriously pinterest-perfect, and the ultimate inspiration for baby K.As I step into my 27th week of pregnancy (eeeek!) — I'm starting to dream up the perfect nursery for my baby girl. I'll be sharing more of my inspiration in the coming weeks, so stay tuned. In the mean time, 
Cloud Island Target
The collection consists of 500 swoon-worthy pieces that range from $5-$90. Bonus: All bedding products, changing pads and mats are chemical free, so you can sleep (wait, what's that?) a little better at night. Whether you're looking for modern, gender-neutral or a floral fairytale (guilty) — you're going to fall in love with these gorgeous details! Feel free to mix and match and have fun with the decor. I'm sharing some of my favorite pieces below, but you already know I bought most of the entire floral fields collection (oops!) Oh, and just to disclose: no, this post is not sponsored (I wish…) I'm just that obsessed with the line. I'm sharing my favorites below, so make sure to check them out. Pieces are going incredibly quickly!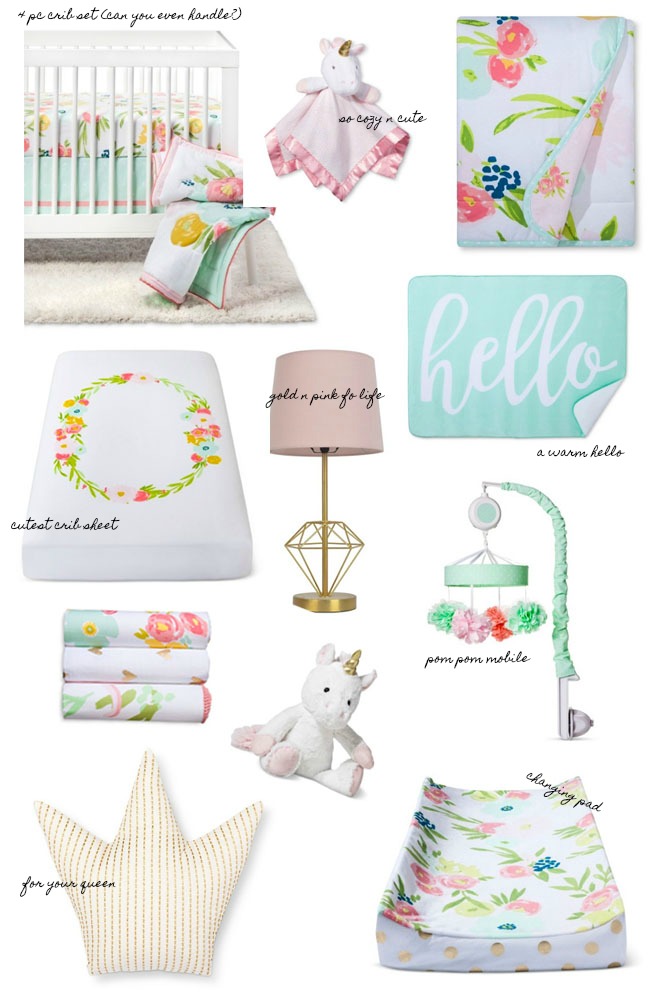 crib set | security blanket | floral blanket | crib sheet | lamp |hello blanket | pom pom mobile | unicorn stuffed animal | crown pillow | floral changing pad cover
  


                    
                    
                


            
Some themes from collection include: black and white, desert dreams, floral fields, neutral, adventure awaits & more.
*images via Target.com
Be sure to check out more home decor posts before you go!