This has been long overdue! I'm finally sharing the inspiration behind my baby girl's nursery, and can't wait to see it all come to life. Furniture has been ordered, and it's arriving next week (assembled, yay!) Wallpaper has been purchased, but let's be honest — putting that off because I'm the worst DIY'er ever. (Does anyone have any tips for putting that stuff up? Wine is obviously out of the question). My handsome hubby painted & here's the color reveal. Isn't it amazing? Things are slowly coming together, but I'm most excited to see the wallpaper up, and furniture in. Maybe then it will feel a bit more real? Still hasn't hit me! Not sure it ever will. I plan to do a nursery reveal in the next month, so keep your eyes open. It will be the first 'completed' room of this house. Mama's most excited for that!
A few things I'm struggling with (perhaps my fellow mama-to-be's can help?!)
-Artwork: So many options, so hard to choose! What are your favorite places to get artwork?
-Shelving: I want to get a couple white shelves for books/trinkets — Any ideas?
-Lighting: I purchased a gorgeous chandelier (can't wait to share) but I'm still in need of a floor lamp. Have you seen any cool ones around? Tell me!
So, here's the short version. I love florals. I had a flower wall at my wedding, and my baby shower is garden themed. If I could live in the middle of a garden (bug-free) — I would. Target recently came out with this collaboration, and I'm all about it! I registered for the bedding, and I'm completely obsessed. I wanted something girly, yet whimsical. A floral fairytale with a vintage edge. I cannot wait to lay my butterfly to sleep! Here's some more floral nursery inspiration:
via //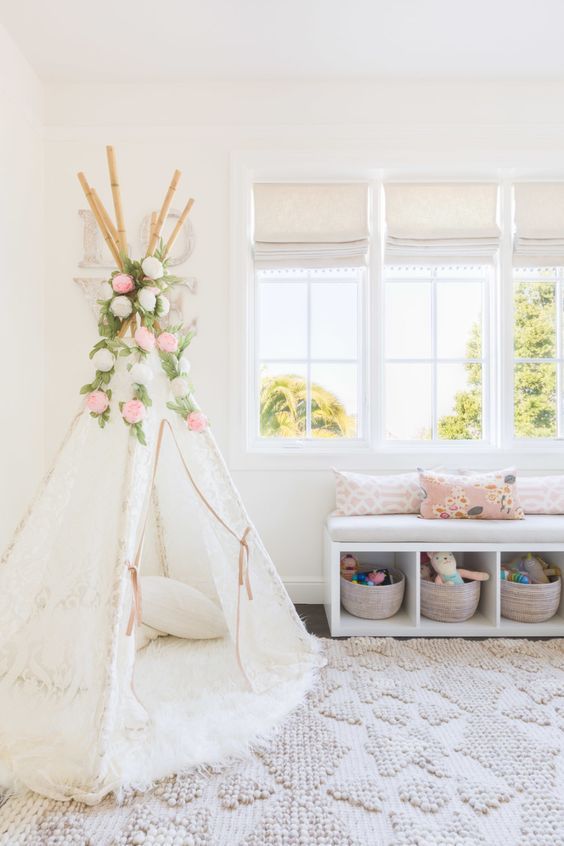 image via //  I am obsessed with this white pouf! Just ordered mine!
Do you have a nursery reveal on your blog? Please share below! I want to see! xx