---
*I'm giving away 2 tickets to a 2018-19 Blackhawks home game at the end of this post! Info below!
---
One of my goals this year is to adventure more. Whether that be an impromptu trip to the city, date with Kevin or packing the family up for vacay — I just want to do more. Sure, traveling with a toddler can be difficult (definitely has been holding me back) but I want to experience more with Harlow in tow. I'm tired of letting my personal fear hold me back from creating fun memories.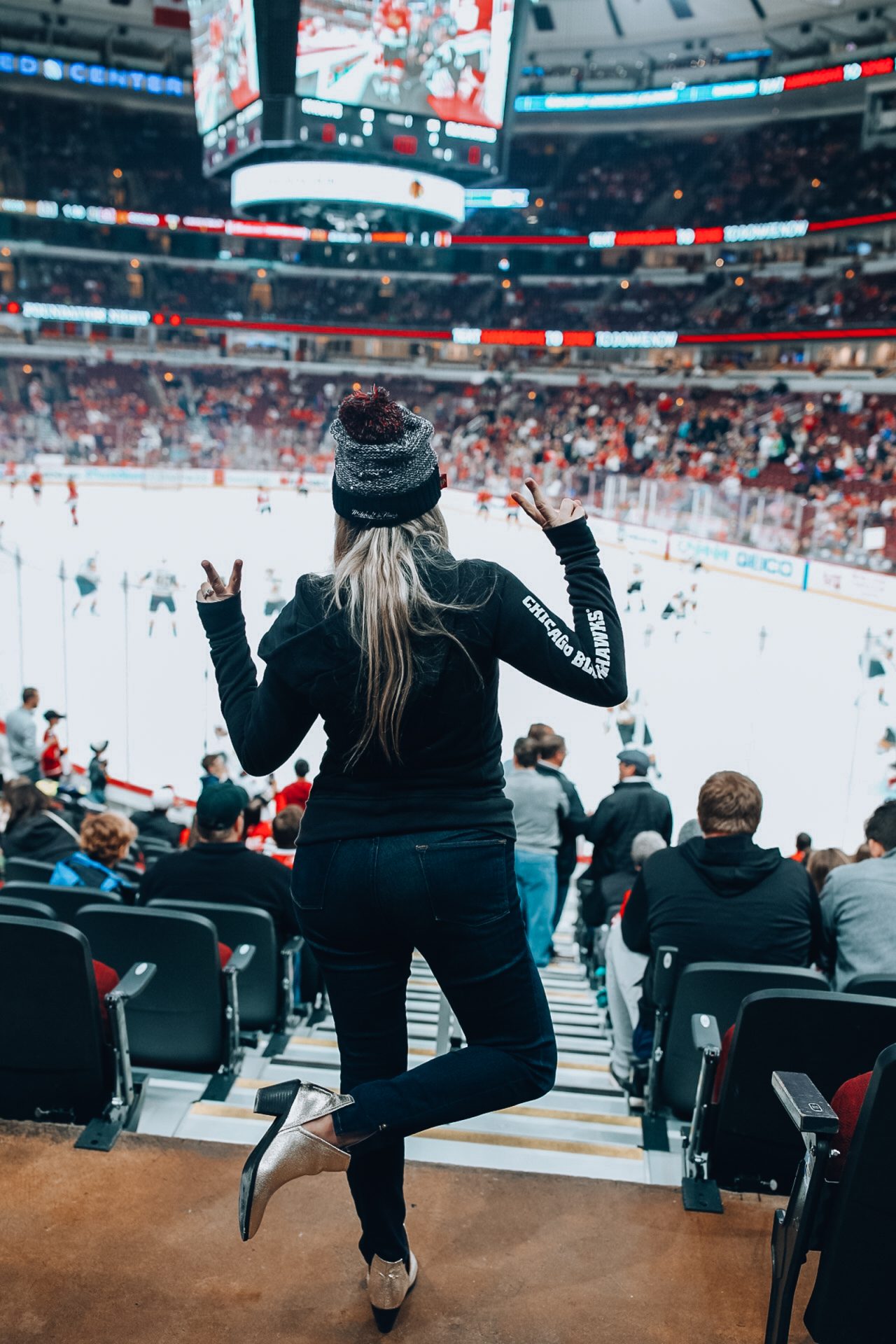 CHICAGO BLACKHAWKS GAME
Last weekend, we had the privilege of attending a Chicago Blackhawks game (vs the Vegas Golden Knights). As I mentioned above, I've made the intention to spice things up this year. Since Kevin and I usually venture to a local restaurant for date night, I thought this would be the ultimate kick-off to 2019 goals! It was even more fun that Kevin's never actually attended a game before. We stayed downtown, and made a fun weekend out of it all! There's nothing quite like the energy of the Chicago Blackhawks. I'm convinced they have some of the biggest fans out there. The excitement only adds to the experience during the game, and it's such a fun time. They played the Vegas Golden Knights, and slipped the W in sudden death. It was such a close game, but made for one hell of a game.
The United Center just introduced the Atrium (my first time seeing!) and it's a hub for locals and guests from around the world to gather and celebrate the home teams. Housing the Michael Jordan statue, box office (where we picked up our tickets), Madhouse Team store, Mad West, and more! They did a phenomenal job on it, and encourages us to head to the games a little earlier than normal. The Madhouse Team store is 10,000 square feet of both Bulls, and Blackhawks gear. Guests can snap a photo in the photobooth, make play-by-play calls from some of the most famous moments in both teams' history and even design their own jersey or hat. Kevin and I were decked out in fun Blackhawks gear. My favorite is the lululemon collaboration which is ONLY available at the Blackhawks Store and Madhouse Team Store. (I'm wearing a zip-up). Here's a full list of restaurants in the atrium to enjoy pre/post games.
During the game, I thoroughly enjoyed a margarita and tacos from Big Star. Such an amazing addition to the UC! Honey Butter Fried Chicken is my other go-to, but they have over 30 vendors to choose from so you won't ever go hungry. Make sure to check-out the full list here so you can prepare those taste buds ahead of time.
---
Now, here's your chance to win a pair of tickets of your own! (Please note: the game must be mutually agreed on with the Blackhawks organization). Simply follow the instructions below, and I'll be picking a winner on Monday, January 21st! Best of luck, and GO BLACKHAWKS! xx
Click here to see tickets/game schedule!
---
WIN CHICAGO BLACKHAWKS TICKETS
---
*This post is sponsored by the Chicago Blackhawks. Please note: All opinions/experiences are entirely my own. Thanks for supporting brands that make Happily Inspired possible!