The sun is shining, and the forecast is finally heating up. To celebrate the start of warmer days, I'm creating the ultimate thirst-quencher: cucumber melon water. It's beyond refreshing, and delicious — not to mention, simple. (winning!) It's the perfect drink to hydrate while soaking up the sun. Oh, and it reminds me of being at a hotel spa, so that certainly counts for something. 
Since Chicago has really hot, humid summers — It's extremely important to hydrate. (Especially for us pregnant mamas) Another go-to has always been eos products. I keep them with me everywhere, and they're the perfect accessory to take on the go. Did I mention they're adorable? I'm currently crushing on the spring 2017 limited edition pack. They have cucumber melon (do you sense a theme here?) and coconut milk — feels so refreshing on my lips while sitting poolside. The hand lotion is another must, and comes in the cutest colors/scents. It contains aloe, antioxidants and nourishing shea butter. Seriously, isn't the packaging the best? It's my favorite thing to throw in my beach bag — great for sharing, too.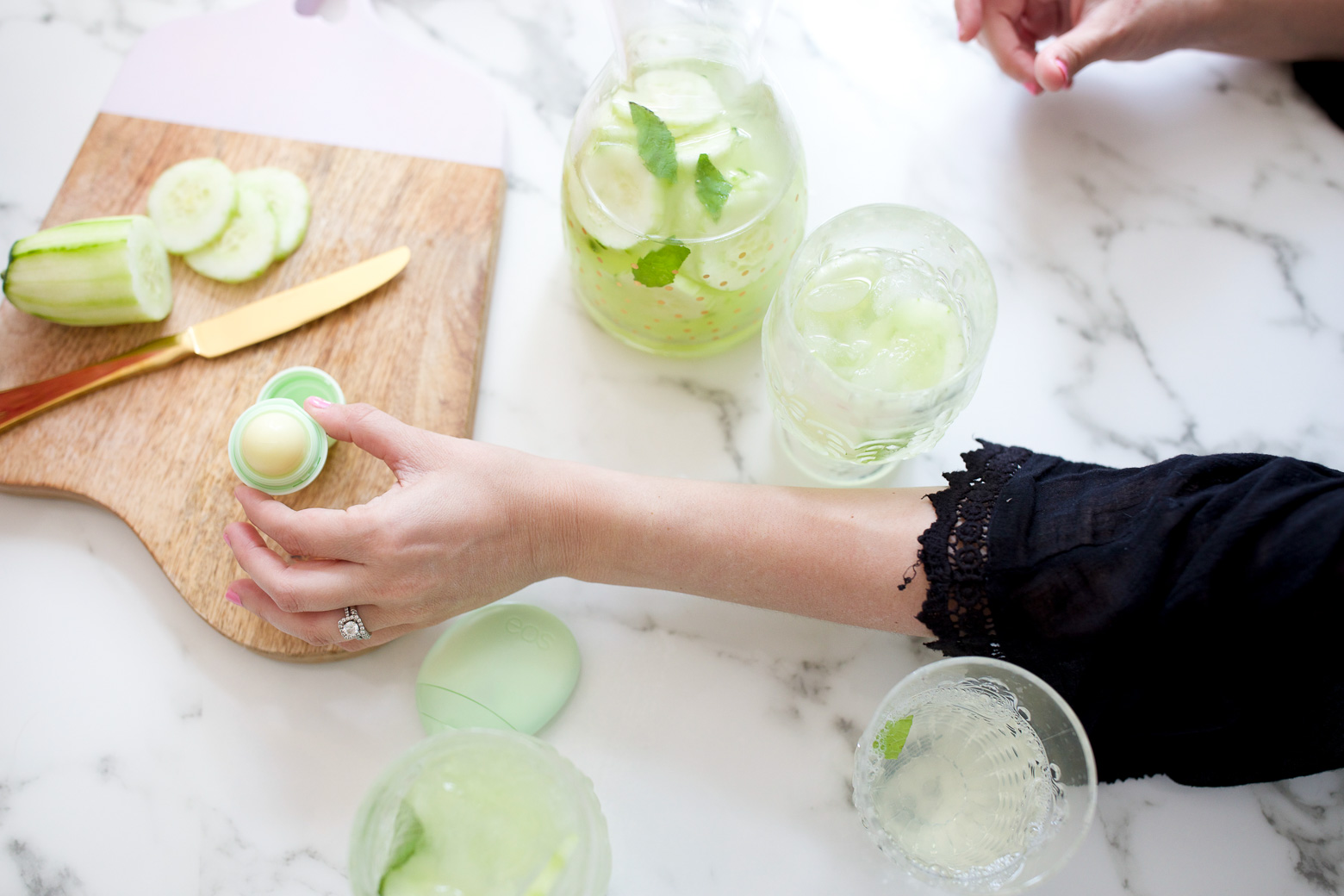 CUCUMBER MELON WATER
---
1/2 english cucumber, sliced
1/2 honeydew melon
6 cups of ice water
Sugar (optional)
CUCUMBER MELON WATER IN 5 EASY STEPS
---
Take a vegetable peel, and slice the melon over a bowl (so you can get the juices)
Place the melon strips, and juice in the pitcher
Add slices of cucumber
Pour in the water (and sugar if you want to make it sweeter)
Serve immediately, or keep in fridge for 24 hours
How are you staying refreshed this summer?
This post is sponsored by eos. As always, opinions are entirely my own. Thanks for reading!