Today, I'm sharing some of my birthday wishlist ideas. I was trying to remember the last time I treated myself to something, and it's been so long! I just bought this net tote bag from Mango (one of my favorite retailers) and this bamboo coffer bag. Thought it would be cute for date night. Since I'm into everyday wear as a mama, I wanted to keep things casual, but chic. What would you add to your birthday wishlist? Tell me below in the comments!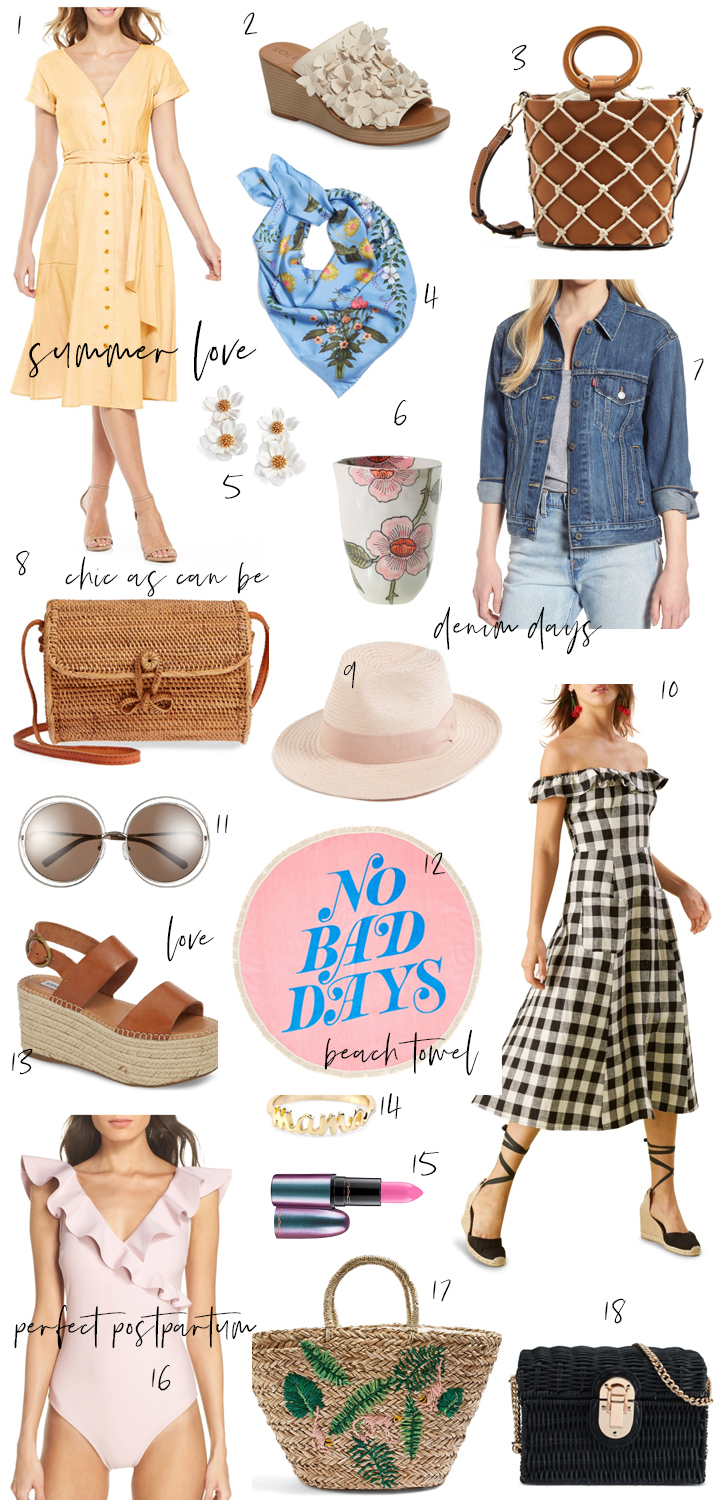 I also got this embroidered tote, and it's even cuter in person! Unfortunately, it's sold out. But this one is a great alternative. Same exact bag, just different design. It's really spacious for the beach & beyond.  I went a little bag crazy, but again — can't even remember the last time I bought one. Sometimes, we all need a reason to go on a mini-shopping sprees // birthdays are a great excuse! What are you treating yourself to on your birthday wishlist?
SHOP BIRTHDAY WISHLIST
1. Gal Meets Glam Vanessa Button 2. Sole Society poppie wed sandal 3. Net tote bag 4. Floral scarf (need this in my life) 5. Kate Spade floral earrings (RIP) 6. Daisy vase (thought it would be so cute in the bathroom) 7. Levi's denim trucker jacket 8. Woven crossbody bag 9. Straw panama hat 10. Reformation Hattie off the shoulder dress 11. Oversized sunglasses 12. No bad days beach towel 13. Steve Madden platform sandals 14. Mama ring 15. MAC limited edition mirage lipstick 16. Ted Baker Henika one piece swimsuit 17. Topshop Barrio embroidered straw tote 18. bamboo coffer bag 
---
BIRTHDAY WISHLIST | 10 MORE IDEAS I'M LOVING
Purchase a stock (I'm loving that Pinterest is public right now!)
Invest in a designer bag (to pass down to my daughter one day)
Take a cooking class with my husband
Get matching sun hats for me and my 20 month old daughter
Spend the day at coffee shop I've never visited before
Buy a beach cruiser to bike around the neighborhood (they're so cute!)
Take a trip sometime this year with just me, myself and I. I'd love to spend my days working on myself!
Have a family picnic
Get a manicure (small but fun!)
Tickets to a show
---
32ND BIRTHDAY
My birthday was last week (my first one as a mama!) and I had the best time up north in Michigan with my family (Frankie included!) It's where Kevin proposed, and where we both love to escape to. My in-laws just purchased a time-share at Crystal Mountain, so we'll definitely be spending more time there. The drive is definitely hit/miss with a baby — 7 hours to be exact. Something tells me it's only going to get harder as she gets older, ha. Can any mama's attest to this?
This trip included many first for Harlow: she went to the pool, beach, played with sand, and enjoyed a blueberry pancake.
We had my birthday dinner at Arcadia Bluffs golf course overlooking the lake. I treated myself to rosè, and filet mignon. It was divine! For those of you unfamiliar — it's on Readers Digest list as a top course in the world. It's honestly the most breathtaking sight. A bagpipe plays in the distance while you enjoy some sips and eats. Harlow was in the best mood, too. It was pure perfection. A birthday to remember for a lifetime! Make sure to follow along on Instagram for the behind the scenes. AKA: Real life.
Stumped on what to put on your birthday wishlist? Make sure to check-out this category for more ideas!
SaveSave