Gratitude is one of the most overlooked tools that we have access to all day, everyday. Expressing gratitude can make you happier, in addition to improving relationships, productivity, sleep and health! In fact, people who keep a weekly gratitude journal report optimism, fewer physical symptoms and so much more. So, how do we adopt an attitude of gratitude, you ask? Follow along with me as I start a journal of my own! Sometimes, simple strategies reap huge rewards. Here are 10 benefits to starting a gratitude journal: (if you aren't quite sold yet) 
(Kitchen details + journal) //
'Think happy thoughts and they will shine from your face like sun beams, and you will always look lovely' -Roald Dahl
GRATITUDE JOURNAL BENEFITS
A gratitude journal doesn't have to be elaborate. Simply write down 3 things you're grateful for as soon as you wake up, and before bed. These could be anything from enjoying a delicious flavor of ice-cream, to landing a big promotion at work. We're coaching our minds to cruise on positivity. Anything, and everything is acceptable! I wrote: fresh flowers, a great sleep & hot coffee. (The simple things are so, so sweet!) Here are a few simple things I'm grateful for at the moment (#1 will make you laugh!) 
Sleep: We'll start with my favorite one, sleep! Spend just 10-15 minutes writing down a few grateful sentiments before bed, and you may sleep longer, and better. Our minds are usually on overdrive as we're trying to fall asleep; worrying about the kids, work anxiety — causing stress levels to increase which reduce sleep quality. Writing down a few things before bed will induce the relaxation response, and hopefully send you off to snoozeville.
Physical Health: Gratitude reduces toxic emotions (ranging from rage, frustration, regret and resentment) A researcher concluded that gratitude effectively increases happy, and reduces depression.
Emotions: Gratitude reduces feelings of envy, and makes our experiences happier. It also helps us bounce back from stress — winning!
Energy: Studies have found that gratitude and vitality are strongly correlated. When we are grateful, we are more likely to report physical and mental strength.
Social Butterfly: Higher levels of gratitude equate to a developed social capital than those with lower levels. It helps you get mentors, and network more effectively.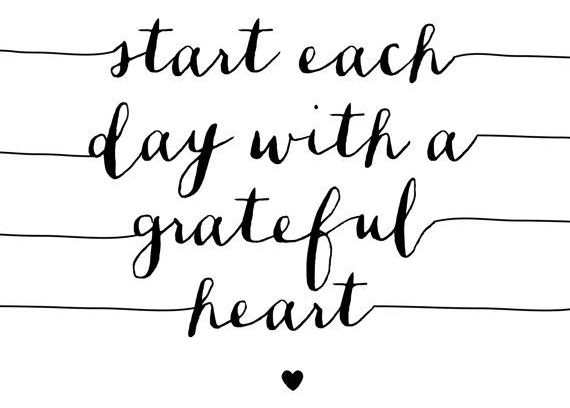 Productivity: Those who are highly confident, and optimistic are able to be more productive because they can direct their focus to work. When this is operating on a negative level, your mind is elsewhere, and work will fall to the cracks.
Mental Strength: Research has shown that gratitude not only reduces stress, but it also plays a role in overcoming trauma. Recognizing all you have to be thankful for, even during the worst times of your life inhibits resilience, and power. We all have the opportunity to cultivate this practice — Just takes a few moments to focus on all we have. Why is it that it's so much easier to complain?
Self Esteem: When we're confident, and happier — we'll perform better. It also reduces self-comparison — rather than becoming jealous/resentful of people who make more money, or have better jobs, grateful people are able to appreciate other people's accomplishment. I've talked about this before here, give it a read!
Relationships: Showing appreciation can help boost your circle. Showing gratitude in others (not just ourself) will reap ongoing friendships. The act of kindness is simple: open a door for someone, say thank-you to a co-worker — acknowledging other people's contributions can lead to new opportunities. It'll also make you feel good inside. We need to spread more love, people!
Relaxation: Ahhh, sit back and relax. Having a positive, grateful mindset will reduce stress-factors and allow for some relaxation. I don't advise this, but I will write down a few things I'm grateful for while taking my daily bubble-bath. (With my iPhone — should probably invest in a waterproof case, because the day where my phone goes for a swim is near!) For those of you in corporate, spend a few minutes during lunch break outside: Will help you coast throughout the day!
Make sure to follow along on Instagram for more behind the scenes! (aka real life)
Will you start a gratitude journal? Tell me in the comments below!